Amateur
British Open 2022: Who is Barclay Brown? Get to know the surprise amateur on the leaderboard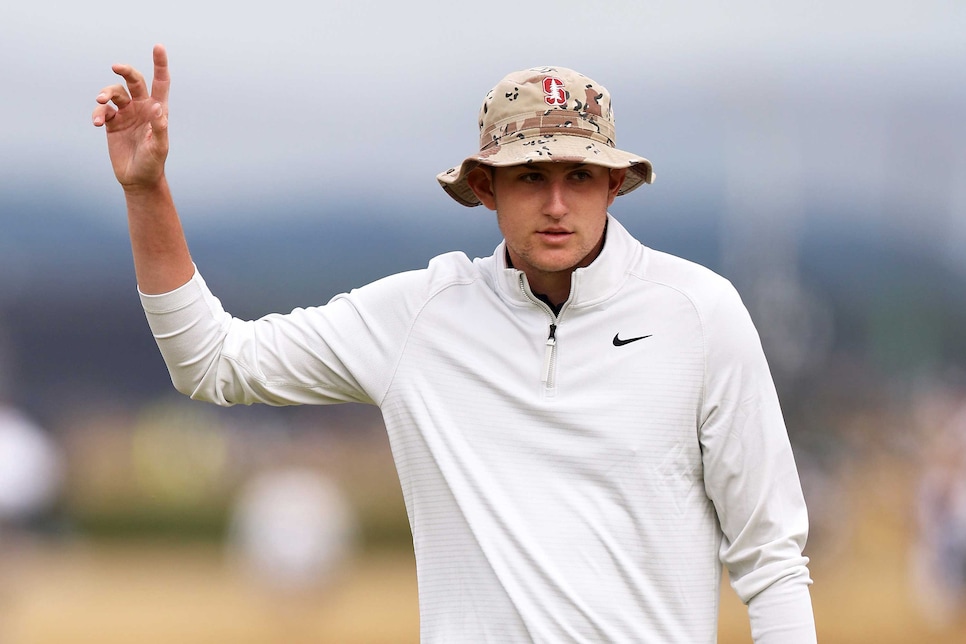 Barclay Brown reacts to making a 63-foot birdie on the 17th green during the opening round of the Open Championship.
Harry How
ST ANDREWS, Scotland — How do you describe the expression on amateur Barclay Brown's face as he walked off the 18th green Thursday at the Old Course having completed one of the most memorable rounds of his young career? Happy? Overjoyed? Surprised? Relieved?
Maybe a little bit of them all.
Had the 21-year-old Englishman been able to sleep through a fitful night before his 6:46 a.m. tee time, his dreams likely wouldn't have included a four-under 68 in his first Open Championship, at the Home of Golf, with a birdie on the notoriously evil Road Hole. But it happened, and now Brown, a rising senior at Stanford, was trying to absorb the fact he was contending at the 150th Open.
"Very pleased with that. Very enjoyable," Brown said. "Fortunately, I was able to keep it relatively stress-free."
That doesn't mean there was no stress at all. Particularly on the first tee.
"I was unbelievably nervous at the start," said Brown, which included overnight as he struggled getting rest ahead of the round. "Once I got through the first couple holes, it was nice to calm down a little bit and hit some good shots."
It's been a whirlwind few weeks for Brown, who shot a four-under 140 to advance through the 36-hole qualifier at England's Hollinwell Golf Club. From there, the 2021 GB&I Walker Cupper joined the English national team for practice at Royal St. George's, which wasn't a bad place for him to work on his game ahead of coming to St. Andrews. A links course that hosted the previous year's Open Championship. It's about as ideal a place as you could find to get ready for golf's oldest tournament.
Upon arriving in Scotland on Sunday, Brown, his family and girlfriend have been staying in a house in town, but Brown hasn't done much beyond the course. Trying to prepare and stay focused. And handle expectations.
Mind you, there is a little bit of a reputation to uphold for Brown, who hails from South Yorkshire near Sheffield, an area in England that has produced a few recent major winners, Danny Willett at the 2016 Masters and Matt Fitzpatrick taking the U.S. Open title in June. Fitzpatrick sent Brown a message after he qualified at Hollinwell and has been an inspiration of sorts.
Brown's highlight came on the 17th hole, where he hit what he described as the best drive of the day, setting up a 131 yard approach with a gap wedge that he skipped on to the green. From there, he holed a "lucky" 63-footer for the rare birdie on the Road Hole.
"Changed my line further left on 18 knowing I had that birdie," he joked afterward.
Brown, No. 46 in the most recent World Amateur Golf Ranking, is coming off a college season in which he had runner-up finishes at the Pac-12 Championship and the NCAA Regional. For his career, he's got a win (2021 Cowboy Classic) and eight top-10 finishes along with a 71.71 stroke average.
The 68 on Thursday puts him in nice company. In 2015 at St. Andrews, American Jordan Niebrugge shot a 67 to sit two off the lead. The lowest round shot by an amateur in an Open was Tom Lewis' 65 in 2011 at Royal St. George's.
At St. Andrews seven years ago, another amateur, Paul Dunne, made headlines when he shared the lead entering the final round only to stumble with a closing 78.
"I just wanted to play the best I can," Brown said. "I obviously want to win the silver medal [for low amateur] but beyond that just put four good rounds together."
MORE OPEN CHAMPIONSHIP 2022 STORIES FROM GOLF DIGEST