FIRE PIT COLLECTIVE
British Open 2022: Reflecting on St. Andrews and the champion golfers embraced here
Editor's Note: This article first appeared in Fire Pit Collective, a Golf Digest content partner.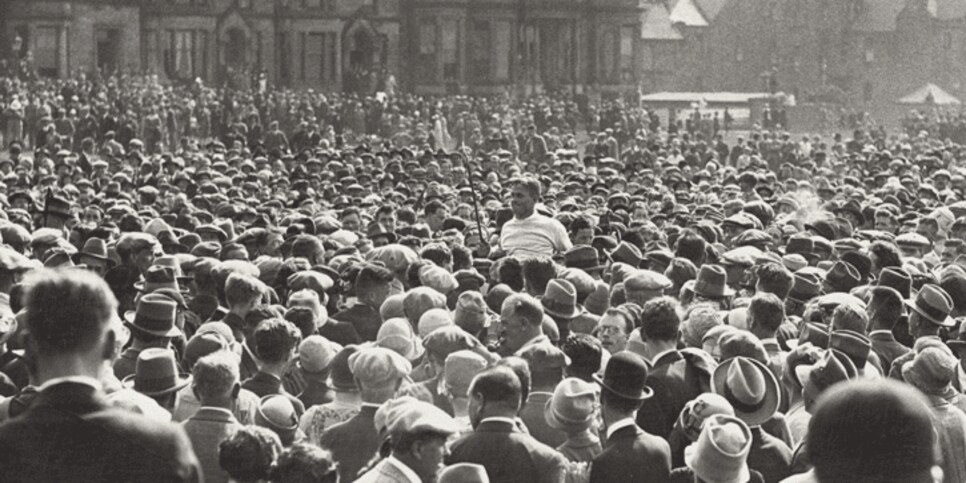 ST. ANDREWS, Scotland — It's all part of a piece, Bob Jones to Jack Nicklaus, Mrs. Sam Torrance to Mrs. Jack Nicklaus, Younger Graduation Hall then and Younger Graduation Hall now.
Mrs. Sam Torrance, in case you don't know, is the spectacularly beautiful wife of the Scottish golfer Sam Torrance whose film credits, as Suzanne Danielle, include Serving Girl in the 1980 hit Flash Gordon. She met Sam while flying on the Concorde, the late, great super-jet, from the U.K. to the United States for the 1987 Ryder Cup, held at Muirfield Village. Jack's course. Jack was the U.S. captain. The Europeans won. Imagine the flight back to Great Britain. Talk about your flying parties.
My most personable cab driver and I were discussing Mrs. Sam Torrance soon after leaving the Edinburgh Airport on Sunday morning, because — well, why wouldn't we? "Sam was punching above his weight there, he was," the gent said, driving a manual. We segued from there to Elie, Machrihanish, the Gullane courses and other emotional subjects.
The next day, on the first tee of the Old Course, there was Sam, chatting up Barbara Nicklaus. His good wife was not present. I would have noticed.
Thirty-one years ago, my good missus, Christine, and I, as newlyweds, rented a flat above a hairdresser on South Street here for a fortnight. We're going to reconnoiter here after the Open for some more linksland fun. We have pressed, long-dried wildflowers in various books at home from earlier Scottish hikes. I am staying on South Street this week. To open the front door early in the morning while wearing plaid pajamas, and seeing the glaziers across the street reporting to work, is to feel like a citizen, for a short while anyway. You know, the chance that a local might nod at you, townie to townie.
You can call St. Andrews a golf tourist town, and it is. But it's also a university town, a medical center, a working burgh, a beach town, a great place for walking tours, by day and night. The other day, right by my house, the agent David Winkle and family were on a walking tour of the city with a large group led by a tall guide in a reflective visor. Winkle represents Dustin Johnson and other prominent players, so he can't get too far from his phone. I said, "Pay attention, Dave. There will be a quiz later!"
On Tuesday afternoon, at a grand University of St. Andrews auditorium called Younger Graduation Hall, Jack Nicklaus was made an honorary citizen of St. Andrews. Earlier in the same ceremony, Lee Trevino, Bob Charles, Sandy Lyle, Jose Maria Olazabal and Catriona Matthew were given honorary degrees by the university. Matthew, a Scot, won the 2009 Women's British Open and has captained Europe to victories at the last two Solheim Cups. She was spectacular. They all were. The Scots take formal seriously. They also excel at drinking, golfing and cab-driving. Also, they're personable. If you ask the lady behind the counter at the newsagent for directions, she comes out of the shop and onto the street to send you on your way. I asked a University of St. Andrews public-affairs person if I could attend the Tuesday event, and he met me in front of the British Golf Museum to hand me a printed invitation! You know that whole print-it-at-home thing? Neither do the Scots, bless their souls.
I walked from the press tent to Younger Graduation Hall because you walk everywhere here, if you can. Tiger had a morning press conference. He has been doing this for 25 or 30 years. It used to be all me-me-me with him. Now it's the game. His place in the game is in stone. His standing in the game will evolve meaningfully from here. That's my take. He's not going to be Jack and he's not going to be Arnold. But he can be himself, his own now-and-future self, and that will be more than enough. He can stand for the continuum of the game. That might sound highfalutin. It's not. It means you leave the game in better shape than you found it. Fred Couples did that for Pat Perez. Raymond Floyd did it for Fred. Please don't use the phrase pay-it-forward. It's weird.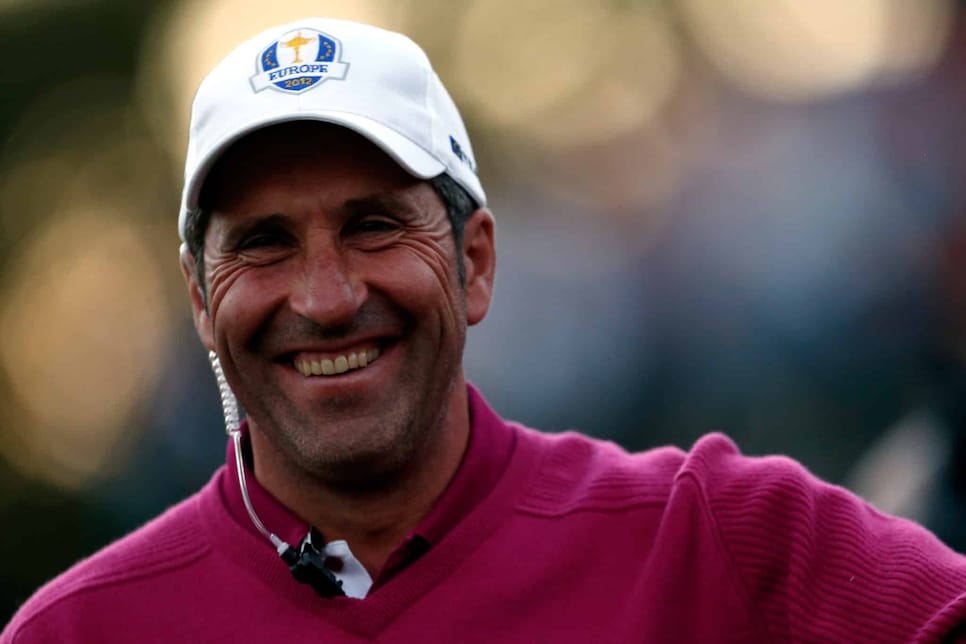 I love Olazabal. We all do. We don't know him, because he's shy and reserved, but he exudes class, in word and deed. My friend Sam Reeves is in his late 80s and he is friendly with 50 or more golfers who have won majors. When he speaks of Olazabal, it is with the highest reverence. In his brief remarks on Tuesday, speaking perfect English with that elegant Spanish accent, Olazabal mentioned the golfer's obligation to play by the rules. It's so basic. If a tournament golfer doesn't play by the rules, he's stealing from his opponents and from the public, and denting his or her own soul forever. The rest — and there's a lot of that — really is commentary. Olazabal, like many European pros from working-class backgrounds, didn't go to university. "I have followed the rules," Olazabal said, early and simply. "Life can be wonderful," he said with equal simplicity, at the end. He looked splendid in his black academic gown.
They all did. (Big Jack's was red.) I've said this many times: To me, Trevino, more than any other legend in the game, is like a movie star. The perfect tailoring, the fluffy white hair, the ability to turn it on with the snap of the fingers. No test could measure his intelligence. He said he never played amateur golf, and he won the first tournament he played in, the Texas State Open in 1965, as a pro. But pro implies money, of course. Trevino's point, on Tuesday and every day, is that golf has given him his life. That's why Tiger was hanging on his every word on Monday afternoon, when they played in a four-hole exhibition together. Golf, Trevino said, "is the only thing I know how to do."
Trevino was introduced by Anthony Lang, a professor of International Relations at the University of St. Andrews, and he was witty and insightful and brief. (Talk about your big three!) As Trevino waited, his feet were apart to shoulder width, like he was ready to make a swing. They all stood like that. Lyle spoke of his parents and how they raised him. I once went to Sandy's childhood home and interviewed his father, a club pro. Lyle cited a version of what his father told me about the swing: "Make it pretty." Lyle, remembering his father on Tuesday, said, "Make it nice." On Monday night, at about 7, Lyle and his wife, Jolande, went walking down the 1st hole on the Old Course, arm-in-arm, Sandy with a small carry bag on his shoulder.
Lyle won the 1985 Open at Royal St. George's. That was the first Open I ever attended. I caddied in it, but my guy, Jamie Howell, missed the cut. I was right there on Sunday when Lyle won, and I was right there when Peter Jacobsen tackled a male streaker minutes earlier. I had never heard Peter Alliss's BBC commentary about the tackle until Lyle's presenter, Robert Fleming for the university, cited it on Tuesday: "What a lot of fuss about such a little thing." Trevino cracked up, and so did a thousand others in the packed hall. Some years later, Alliss improved my life by pointing me to a Scottish golf pro/philosopher who preferred cheap cigars and too-tight shirts named John Stark. On Wednesday, in Younger Graduation Hall, there was a memorial service for Alliss. There cannot be another one, not on national TV. The world's gone too straight.
Jack wrapped up the day, though there were itty-bitty sandwiches in a gorgeous, sun-drenched courtyard when it was over, and there were these little sweets you could swallow in a single bite; it was a chocolate thing with a tiny white circle on it that looked like a ball marker made of sugar. Somebody asked a police officer for directions to Younger Hall and was told, "It's about a 9-iron away." To which the guy said, "Depends who's hitting it." The golf, the golf, the golf. My buddies and I played Elie on Tuesday night. On the tee at half-past-6. On the tee, from USA . . . four American golf bums with press credentials in their hire cars or wee golf bags or rental flats!
Nicklaus is one of my heroes. Let's keep it to the golf here, the family values, the rules are sacred. (Who among us does not have a blind spot?) In my many interactions with Nicklaus, I have never known him to be anything other than honest, straight, fair and intelligent.
Some years ago, he asked me, "Well, how old is Rory McIroy?"
Nicklaus doesn't do about.
He said, "Hey, Alexa, how old is the golfer Rory McIlroy?"
Yep, Jack had the place wired for sound.
"The golfer Rory McIlroy is 26 years old."
Nicklaus gave me a look: You got lucky.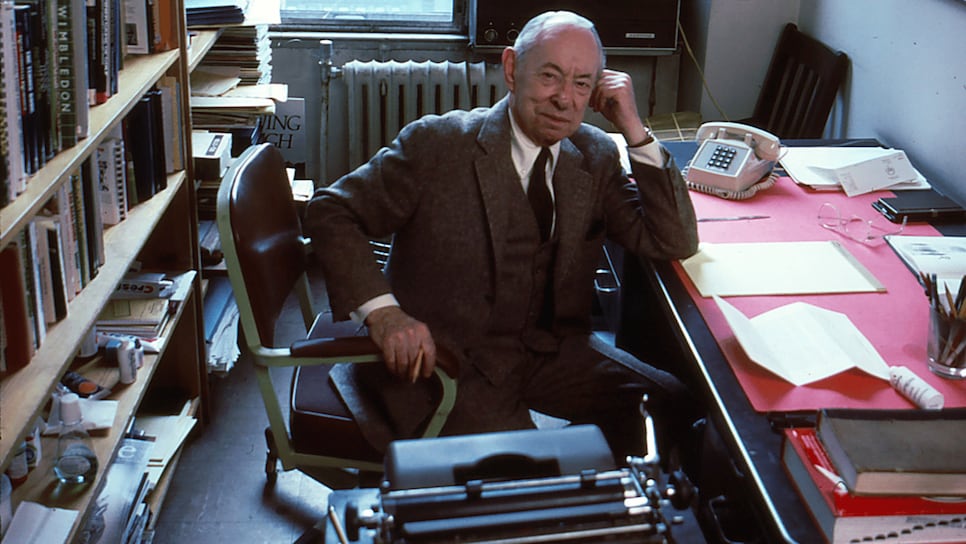 I'm not going to do a whole thing about Nicklaus at Younger Graduation Hall on Tuesday, but here's a blip.
I like to read. That's my main hobby, along with movies with Christine, golf with friends, longish jogs with no goal in mind and a few other things. Reading Herb Wind (above) on Bob Jones as a kid shaped me more than I could say. It was all such a dark, beautiful mystery to me: Jones, in Younger Graduation Hall, becoming an honorary citizen, in 1958, Herb was there to capture it for posterity. How did Herb get there? How did Jones have the wisdom and grace to say the things he said? Jones spoke of friendship and citizenship and life its own self. He said, "I could take out of my life everything except my experiences at St. Andrews, and I would still have had a rich and full life."
Herb wrote it up for Sports Illustrated. The song the townspeople sang for Bob became the headline for his story: "Will Ye No' Come Back Again?" It gave me goose bumps, reading it as a kid. Nicklaus's father first saw Jones in 1931 at Scioto Country Club in Ohio. Nicklaus was talking about it the other day. The continuum. On and on and on it goes. The braiding. It adds meaning to my life, and maybe you feel the same.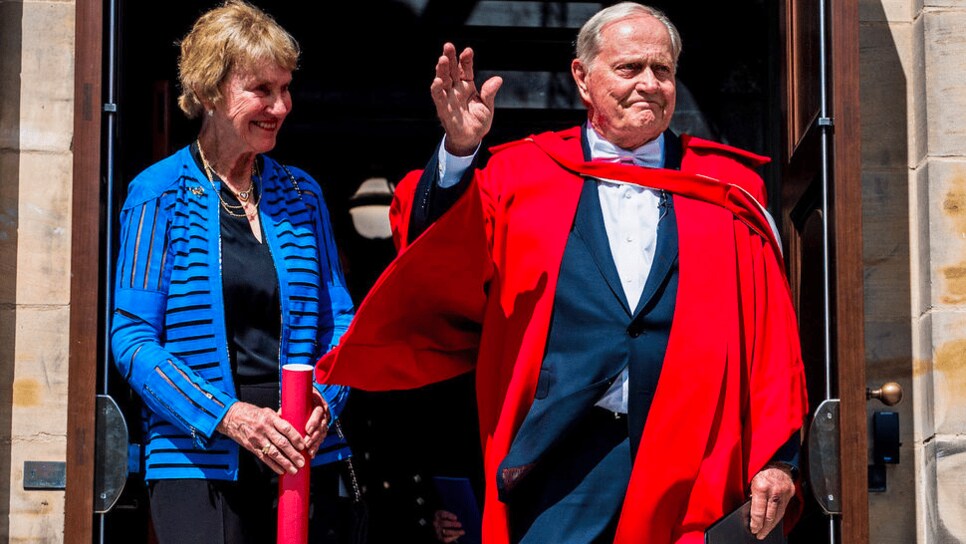 Nicklaus signed a document. "OK," he said, in his no-nonsense way. "It's official." He cited Jones, and the I-could-take-out-from-my-life line. Not a line. A sentence.
Who among us will be back? We cannot, of course, say. Not Woods. Not Nicklaus. Not you. Not me. I was here in person and you were here, at least in spirit. So we've got that going for us.
St. Andrews is a home for Big Jack, now and forever. Those glaziers start early. The gulls do too. Life in the burgh, what Tiger and Herb everybody else called the Home of Golf. Some game they came up with here.