Gambling
British Open 2021: Who could be the next Ben Curtis (or Darren Clarke) at Royal St. George's?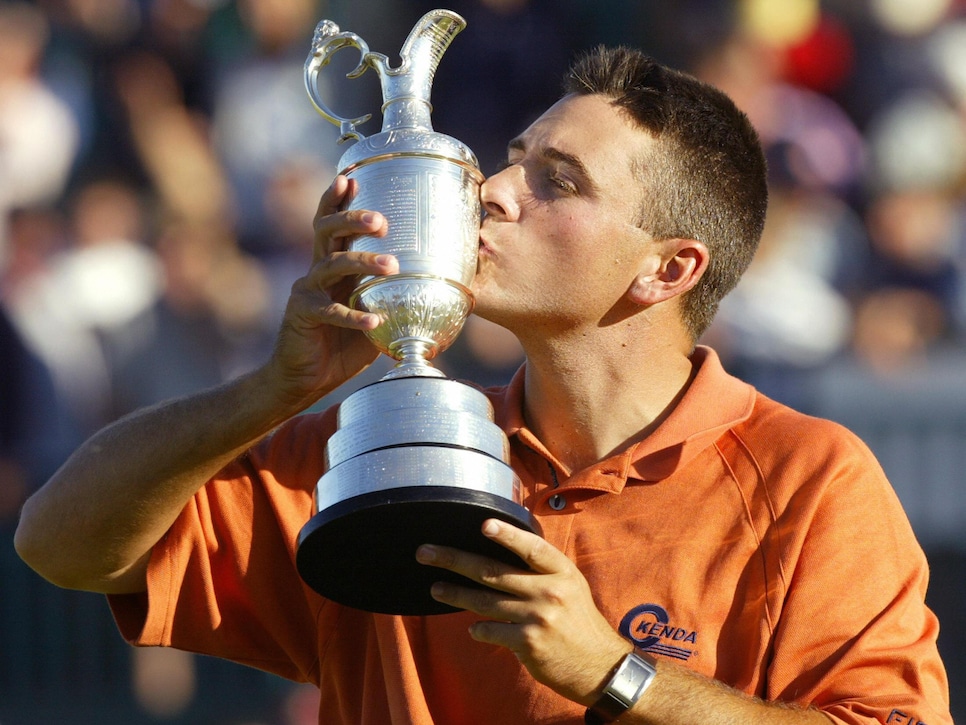 According to 15th Club's Justin Ray, only four players outside the top 100 since the Official World Golf Ranking's inception in 1986 have won the Open Championship. And two of them have come at Royal St. George's. The last two times the English course has hosted the tournament in 2003 and 2011.
But while wins by Ben Curtis and Darren Clarke shocked the golf world, they couldn't have been more different. Curtis, ranked 396th entering that week in 2003, was making his major championship debut. And with his one-shot victory over Vijay Singh and Thomas Bjorn (Tiger Woods and Davis Love III finished two back), he became the first major first-timer to win since Francis Ouimet at the 1913 U.S. Open.
In contrast, Clarke, ranked 111th, already had 13 European Tour titles to his credit and had played in plenty of majors—but had never won one. In fact, it had been a decade since he'd even finished in the top 10 at one as he neared his 43rd birthday that week in 2011. He also hasn't come close to finishing in the top 10 at a major since. Seriously, his Wikipedia page is wild: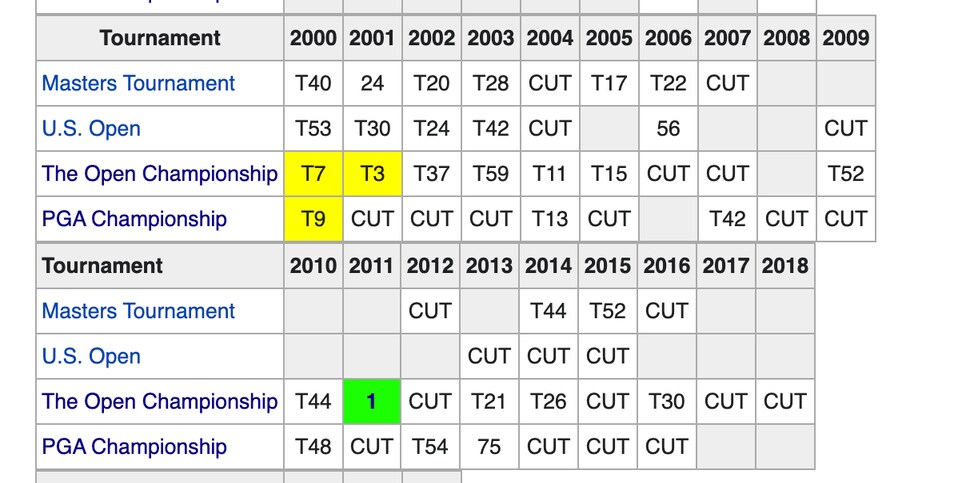 So with the Open returning to Royal St. George's this year, who are the top candidates to replicate the wins by Curtis and Clarke? Let's take a look.
To be honest, finding golfers with similar profiles to either Curtis or Clarke was difficult, but especially for Curtis. He entered his first major barely ranked in the top 400, but his 300-to-1 odds weren't as long as you'd think for someone of his status.
That number was matched by some books with Phil Mickelson's win at the PGA Championship earlier this year and only passed in recent history by Todd Hamilton at 500 to 1 to win the 2004 Open Championship. But most guys making their major championship debuts would be listed higher. And the current player ranked No. 396, Koumei Oda, is not in the field.
Curtis, however, was coming off a T-13 at the Western Open that lowered his odds a bit. It was the first top-25 finish on the PGA Tour for the rookie, and it's the only reason he even got into the field at Royal St. George's.
According to Westgate, there are 14 players listed at 300-to-1 odds including Ben An, Joel Dahmen, Mike Lorenzo-Vera, Justin Harding, Rafa Cabrera-Bello, Brandt Snedeker, Aaron Rai, Adam Hadwin, Joost Luiten, Padraig Harrington and Lucas Glover. The casual fan has heard of most of these guys, the last two of which are major champs. We can assure you the casual fan hadn't heard of Ben Curtis before the 2003 Open. (Of course, it should be noted that Curtis went on to have a nice career that included three more PGA Tour wins, a Ryder Cup appearance and a runner-up at the 2008 PGA Championship.)
So we'll rule that group out and focus on three others: Dean Burmester, Jason Scrivener and Johannes Veerman. Although, Burmester has played in majors before, he's never played in the Open. He's a two-time Euro Tour winner, though, so again, miles beyond what Ben Curtis had accomplished at the time.
Scrivener is also making his Open debut. His lone pro win came on the PGA Tour of Australasia, but at 32, he's been around a bit. So Veerman is probably the closest comparison.
At 29, he's three years older than Curtis was in 2003, but like Ben, he's making his major championship debut. Also, the Texas A&M product is coming off his best finish on the European Tour, a solo third at the Irish Open that vaulted him from No. 350 to No. 239 in the OWGR.
If you're looking for someone who's 26 years old, like Curtis was, how about Matthias Schwab? The Austrian played in two majors last year, but this will be his first Open. And despite consistent play, including a current streak of 15 consecutive cuts made on the European Tour, he's still looking for a maiden victory as a pro. You can't get Schwab at 300-to-1 odds, but at 200-1, we'll call it close enough.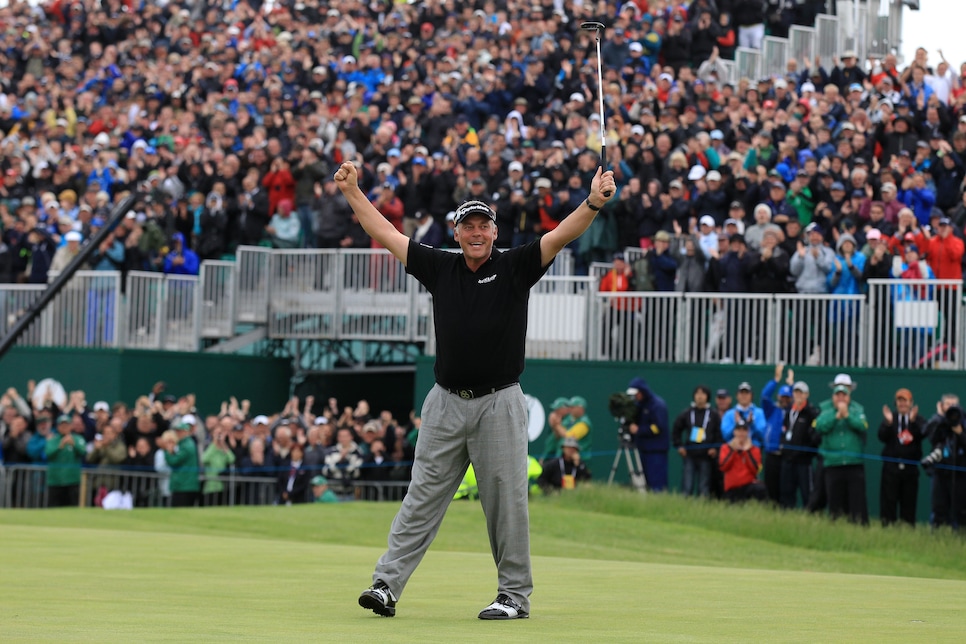 Again, tricky. We were looking for a five-time Ryder Cupper past his prime who has never won a major before and who is ranked outside the top 100 in the OWGR. If we stick to that exact criteria, there's really no one. But we'll stretch it a little.
Lee Westwood seems like an obvious candidate, but he's ranked inside the top 30 and nearly won two weeks in a row on the PGA Tour earlier this year. He's also only 60-to-1 odds currently so he's out. Matt Kuchar at 200-1, though, is interesting.
It's been only two years since his last top 10 at a major, but he's missed the cut in his last six major starts. He also just turned 43 so he's about the same age as Clarke. And his closest call at a major came the last time the Open was in England when Jordan Spieth nipped him at Royal Birkdale.
And then there's Ian Poulter. His 12 Euro Tour titles are nearly identical to Clarke's total entering the 2011 Open and he's a similar age at 45. More similar? His 125-to-1 odds.
With Poulter and Kuchar ranked 56th and 64th, respectively, they wouldn't be nearly the surprise Clarke (or obviously, Curtis) was in that regard. But with those kind of odds, if Royal St. George's can deliever another underdog, you could make out quite well.
Here are the current odds from William Hill Sportsbook: