For Country
British Open 2021: English golfers hope 'home' game can end long stretch of Open woes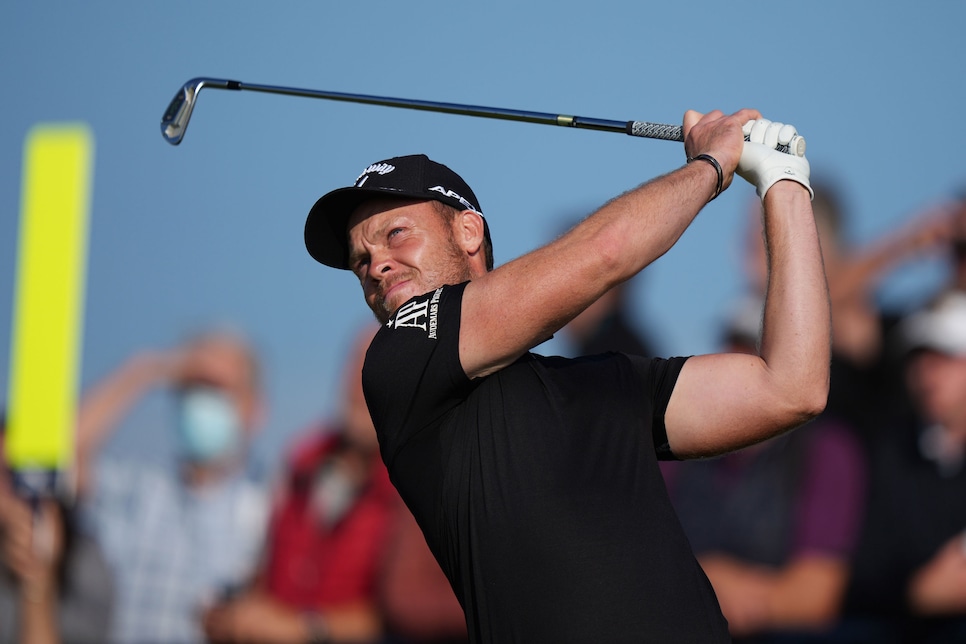 Danny Willett plays his tee shot on the third hole during the first round at Royal St George's.
Mike Hewitt
SANDWICH, England — As records of futility go, it's not quite peerless. But it's still pretty damning for a proud golf nation, one that has produced any number of good-to-great players over the years. But the fact remains. Since Tony Jacklin won the Open Championship at Royal Lytham in 1969, only one Englishman, Nick Faldo, has lifted the claret jug skyward. And even "Sir Nick" never managed to win on home ground. All three of his victories were achieved north of the border in Scotland.
And there's more. In the 25 years that have passed since Faldo won the 1996 Masters—the last of his six major titles—101 Grand Slam events have been played and only two of them have been won by Englishman. Still, if the opening skirmishes here at Royal St. George's are anything to go by, that long and almost barren spell might be three days away from drawing to a close. There's a long way to go before Sunday evening, of course, but by day's end Thursday a number of Englishmen had already played themselves into early contention with six posting three-under 67s to sit just three off the Day 1 lead.
Perhaps the most surprising of those was Danny Willett. Just 38 days on from an operation to remove his appendix and fix a troublesome hernia, the 2016 Masters champion shot his 67. Compatriot Andy Sullivan matched that score, as did Jack Senior, Justin Rose and Tommy Fleetwood. Paul Casey got round in 68 and Marcus "The Bullet" Armitage also broke par with a 69. Richard Bland, first man off the first tee at 6:35 a.m. local time, is on level par.
While all were no doubt delighted with their performances, Willett was most pleased. After a missed-cut at the Scottish Open last week—and still suffering the lingering after-effects of the emergency operation he underwent the day after the Memorial Tournament—his expectations were lower than most. Which, as so often in golf, was perhaps no bad thing. Five birdies came the 33-year-old's way, easily outnumbering his two dropped shots.
"Playing for the first time pain-free was delightful," Willett said. "I've been able to hit balls on the range, but slower than I would on the course. But Detroit two weeks ago [Rocket Mortgage Classic] was good. It was painful, but OK. And last week in Scotland it was bit colder, which didn't help. But I could feel it [the pain] was getting to the end. Saturday was the first time I sneezed and went for a pee and it didn't hurt."
That feeling of freedom was only enhanced by the welcome Willett received from the galleries dotted around the Kent links. Clapped onto every tee and every green, he reveled in the reception he and his fellow Englishmen received.
"It's nice to be playing at home," he said. "The Open is very special. And to have fans back is great. If we'd played last year, it would have been a travesty. We need them back. They are the best fans in golf. And it's nice to be egged on and clapped onto every tee and green. And it's always nice to put on a good show in your home country."
Casey was just as pleased, if not more so, after a bogey-free start to his week. The nerves he used to feel prior to majors has long been replaced by an excitement. For the 43-year-old (he turns 44 next week) this championship is "an opportunity." Which makes sense. For all the success he has enjoyed on both sides of the Atlantic, the four-time Ryder Cup player has yet to finish first in one of the four events that matter most.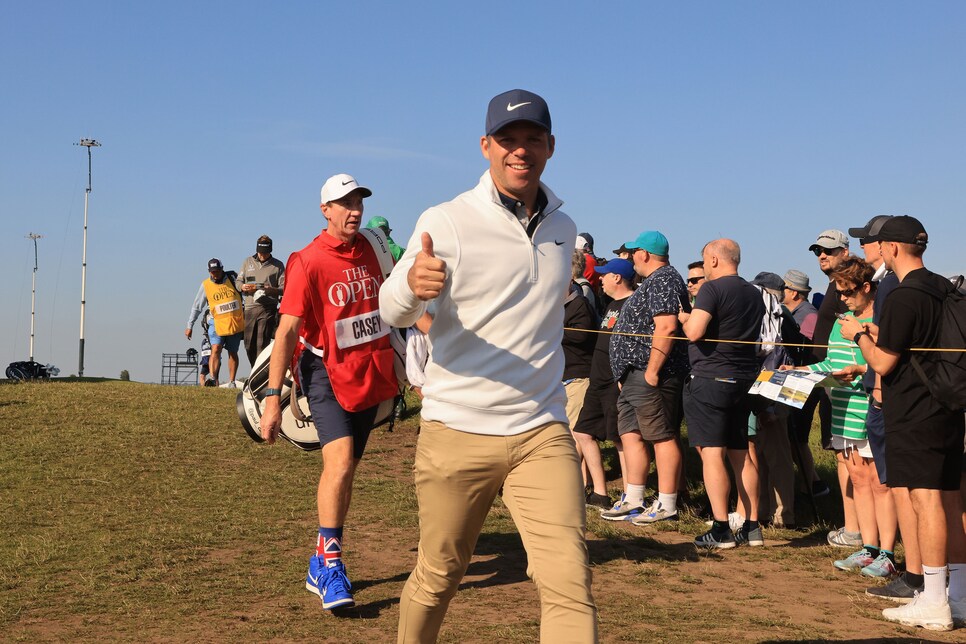 Paul Casey is among the golfers who hopes to be the first English golfer to win the claret jug since Nick Faldo in 1992.
Andrew Redington
"There was a time when I was extremely nervous teeing it up, to the point where it affected my performance, and now honestly, I couldn't be more excited to play," Casey said. "The desire is still there. I haven't won one. I desperately want to, but I don't feel like that's adding pressure. I just feel excitement every time. The only time I feel like I get really nervous now is the first tee of the Ryder Cup."
Speaking of which, the biennial contest with the Americans is still on Willett's radar screen. But only just. Last week the veteran of the 2016 contest at Hazeltine National sat down to dinner with European captain Padraig Harrington and a number of other contenders during the Scottish Open. It was a gesture Willett appreciated. Right now, he sits 16th on the European points list and 18th in World points. Neither has him all that close to automatic qualification. He lives in hope though, albeit there is some realism in the mix, too.
"I haven't actually looked at the rankings," he said. "But there are big points up for grabs from here on in. And I've obviously played before. It is definitely something want to do. But I do feel it has been left just a little bit late this time."
Maybe not. Three more 67s would make a lot of pain go away for good. And all of England would surely cheer. For the first time in quite a while.