News
British Open 2018: 8 gut-wrenching Open Championship near misses you might not remember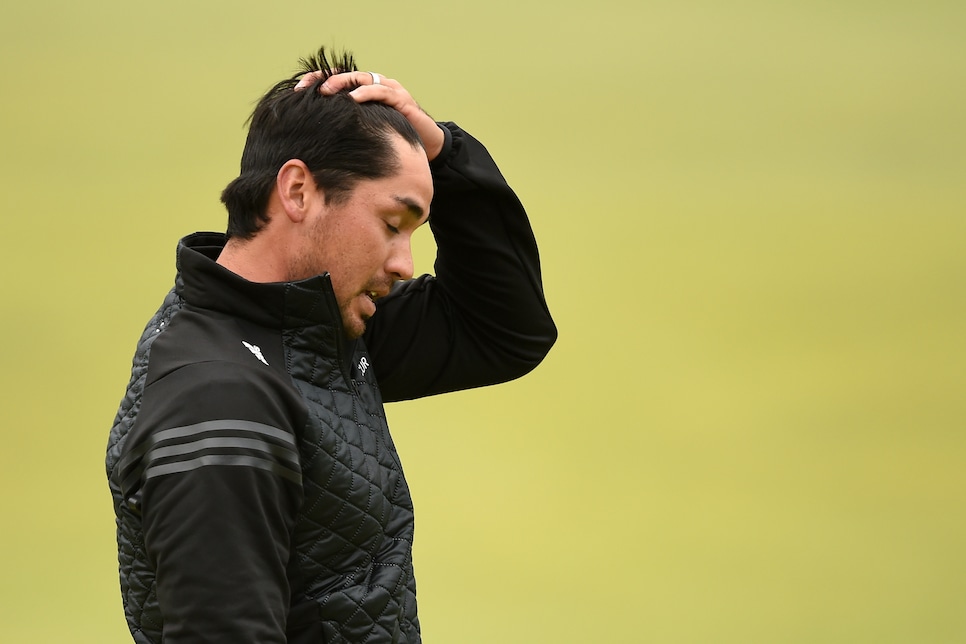 While some would describe a near-miss by someone in a major championship as "painful" to watch, there's no denying it makes for gripping television. Nothing captivates an audience quite like a late-round collapse, and the Open Championship, which begins this week, has a knack for providing some of the more trainwreckian collapses in recent memory.
As Carnoustie gets set to host its eighth Open, the most nightmarish of these near-misses comes back into focus, that being Jean van de Velde's epic meltdown on the 72nd hole in 1999, leading to Paul Lawrie's lone major win. But the Frenchman is not alone in his Open Championship suffering. Since then we've witnessed Sergio Garcia's close call in 2007 (at Carnoustie, of course), Tom Watson's near-miraculous triumph at the age of 59 in 2009, Dustin Johnson's blow up in 2011, and Adam Scott's fall in 2012, just to name a few.
And those are just the ones we remember. What about the guys that had equally close calls those same years that we completely forget about? What about Justin Leonard, who, in 1999, could have won the tournament outright had he not bogeyed the 72nd hole? Instead, he, too, was lucky to be in the playoff, one he wound up losing alongside van de Velde. Seems like he got off scot free (yes, he did win in 1997, which helps).
Not to call anyone out, but we dug up some of the other haunting misses you may not recall, beginning with the least gut-wrenching and gradually working our way up to altogether soul-crushing.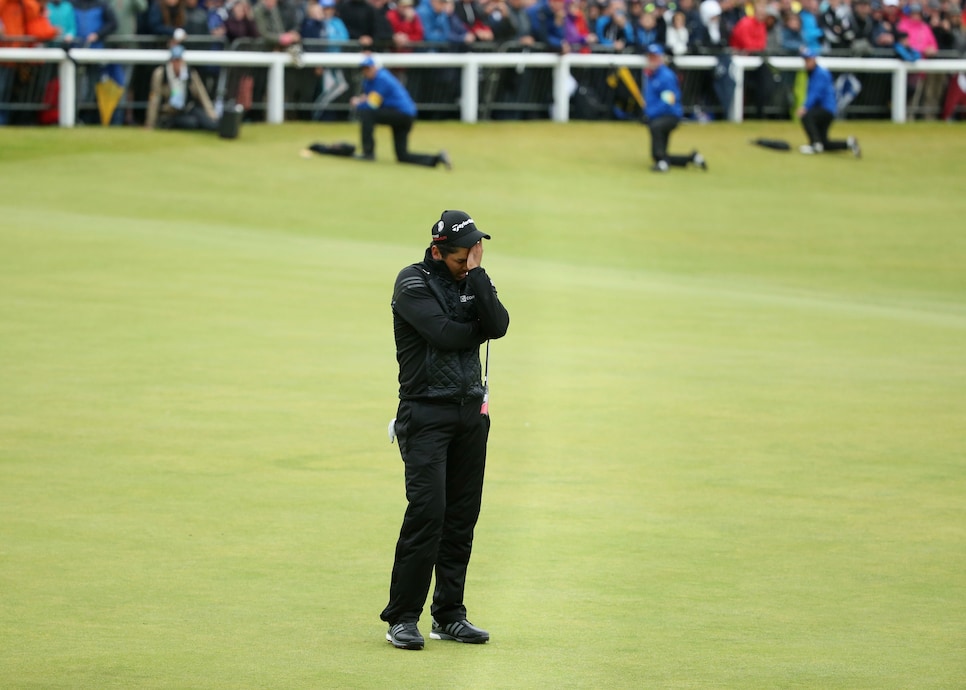 OK, so you might remember how close Day came since 2015 wasn't that long ago, but it does feel like the lasting memory from that Open Championship at St. Andrews is Jordan Spieth nearly capturing the third leg of the calendar-year Grand Slam and coming up short. A bogey at 17 ultimately did him in, and he wound up in a tie for fourth with Day at 14 under, one shot out of a three-way playoff between eventual winner Zach Johnson, Marc Leishman and Louis Oosthuizen.
But Day has a case for his heartbreak being even worse than Spieth's that year, as he opened with four straight pars followed by back-to-back birdies on Sunday, appearing to take control. He needed just one birdie the rest of the way, or two to win, but instead made 12 straight pars to close out his round, including one at the 18th, where his birdie putt was right on line but stopped half a foot short. Tough break, but he would go on to avenge that loss a month later at the PGA Championship at Whistling Straits.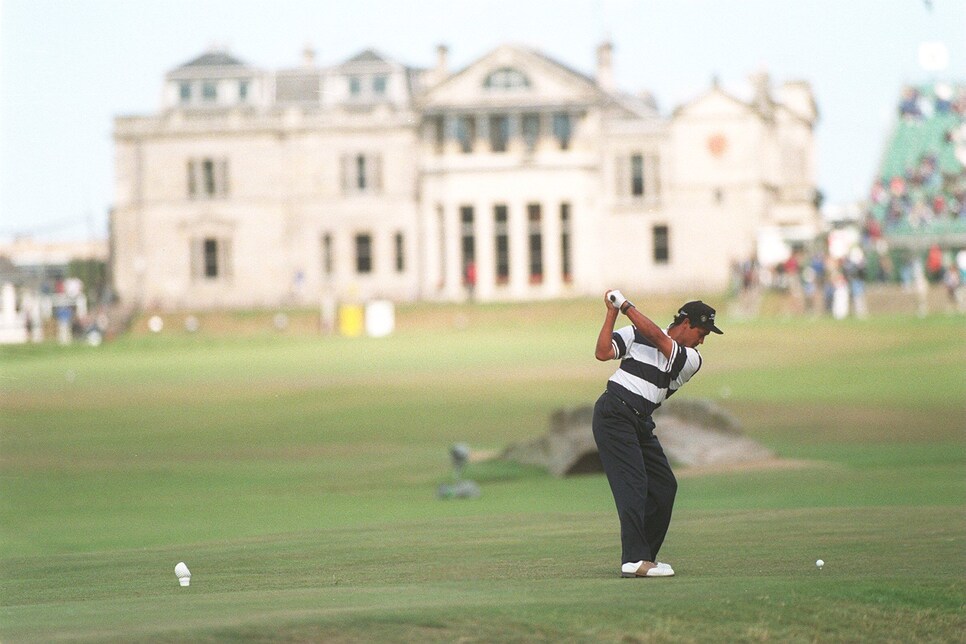 When you think of the 1995 Open Championship at St. Andrews, chances are you think of blonde mullets, green Reebok pullovers, and Costantino Rocca's incredible putt to force a playoff with John Daly, who would eventually win the last of his two major titles. What you definitely don't think of is 2005 U.S. Open champion Michael Campbell, who entered the final round as the solo leader in just his second Open appearance, two shots ahead of Rocca and four clear of Daly. A final-round 75 would have gotten him into a playoff with Daly and Rocca at six under, but the New Zealander carded his worst round of the week, a four-over 76 that included a birdie at the last when he needed an eagle.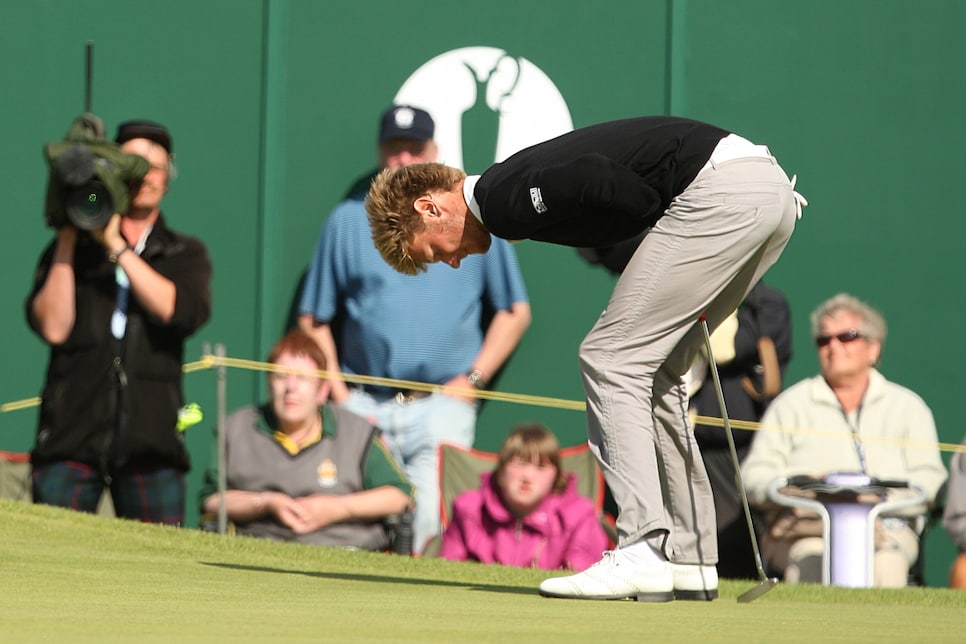 The 2009 Open Championship at Turnberry will be remembered for a lot of things, and it's fair to say that Chris Wood is not one of them. There was 59-year-old Tom Watson looking to make history, plus Lee Westwood closing in on his first career major. And of course Stewart Cink, who would eventually win in a playoff over Watson.
So we forgive you if you don't recall the fact that Wood had just as good of a chance to take the Open as fellow Englishman Westwood, each of them arriving separately at the final hole at two under, needing only par to get into the eventual playoff or birdie to win. Westwood bogeyed, adding to his lengthy list of close calls at majors, and so did Wood, who had tied for fifth at the previous year's Open as an amateur at Royal Birkdale. At the time, back-to-back top 5s in the Open was likely a thrilling accomplishment for the rising star, but nine years later, Wood has failed to finish inside the top 10 at the Open in five appearances since.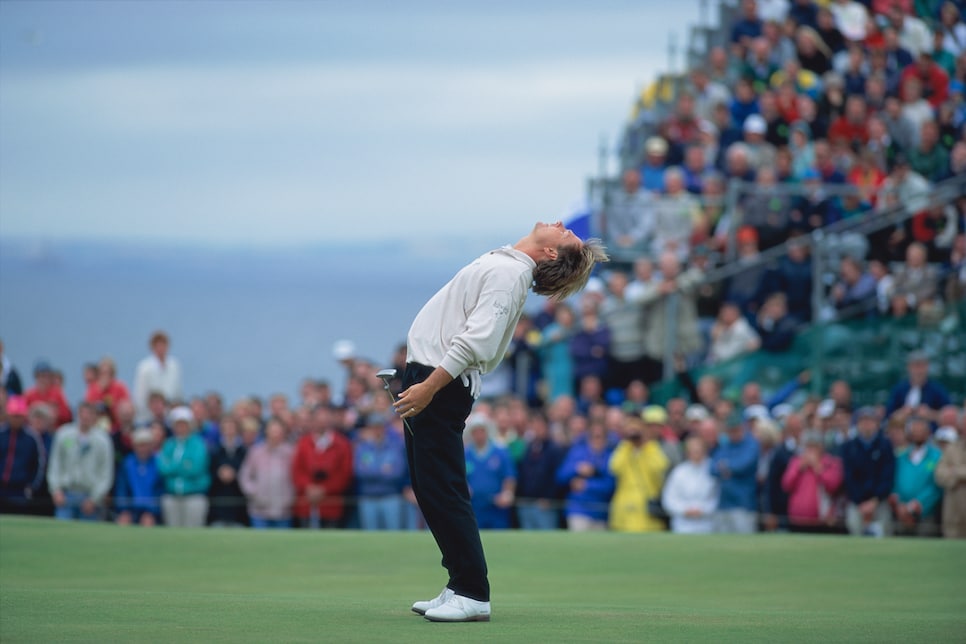 In just his second Open Championship start, a full 12 years after his first, John Cook came to the 72nd hole at Muirfield as the solo leader at 12 under, with Nick Faldo not far behind him in the 17th fairway at 11 under. Faldo's approach at the par-5 17th found the green in two, and he went on to make birdie to get to 12 under, where he would finish. Cook had blocked his approach at the 18th right of the green and into the gallery, but was able to chip it about 10 feet past the hole and leave himself a par putt that would have been good enough to force a playoff. Cook's par effort barely slid by on the low side and he took a bogey to fall to 11 under and lose by one after Faldo parred 18 for this third and final claret jug. Cook gave himself a few more chances in majors, including the PGA that year, where he tied for second, but he was never able to win one.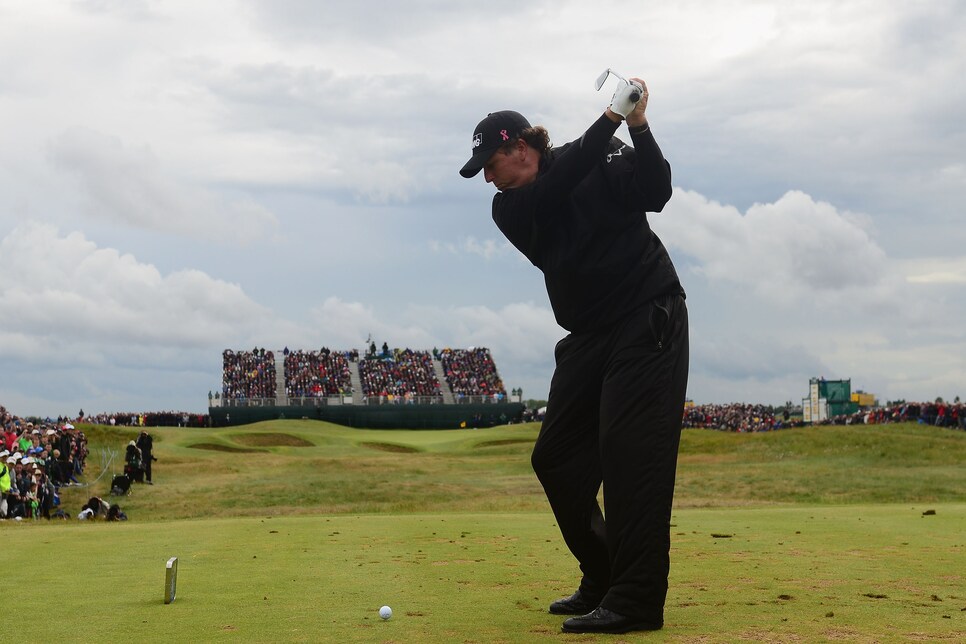 Dustin Johnson's disastrous double bogey is the meltdown most remember from Darren Clarke's victory in 2011 at Royal St. George's, but Phil Mickelson's back nine would like a word. After getting off to a blistering, six-under through 10 holes start, Lefty had pulled to within one of Clarke's lead of seven under. Despite all that momentum, Mickelson three-putted for bogey at the long par-3 11th, lipping out his two-footer for par and falling apart after that. Bogeys at 13, 15 and 16 saw him drop back to two under, three back of Clarke. In an alternate universe where Henrik Stenson doesn't play out of his mind in 2016 and Phil keeps it together down the stretch in 2011, he's a three-time Open Champion.
2003 - Thomas Bjorn and Vijay Singh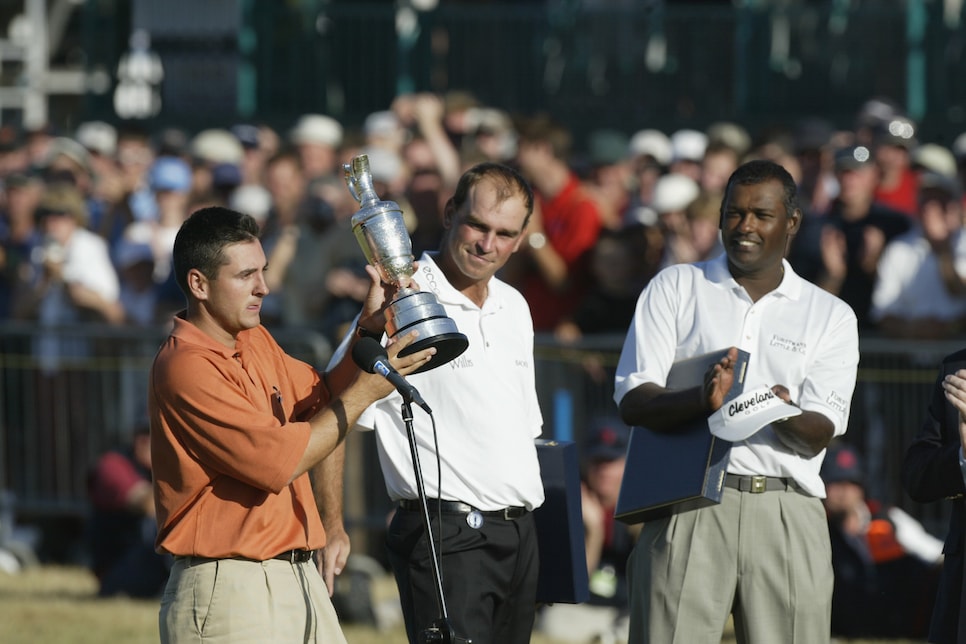 Anytime Tiger Woods pulls to within one of the lead with a few birdies on a major championship Sunday and doesn't win, he's likely going to be the one receiving the "near miss" label. But both Thomas Bjorn and Vijay Singh have to be losing more sleep than Tiger over what happened on Sunday at Royal St. George's in 2003. After they both birdied the par-5 seventh, the pair tied for the lead at three under, one stroke ahead of both Woods and that year's champion Ben Curtis. Singh's stumble began immediately, as he bogeyed the next hole as well as the 10th and 13th to fall back to one under.
But Bjorn kept it together, making six straight pars and then a birdie at the par-5 14th to grab the solo lead. Disaster soon followed, with Bjorn finishing bogey, double bogey, bogey, par to get into the clubhouse at even par. As for Singh, a birdie at 14 got him back in red figures for the tournament, but he too couldn't finish, bogeying the 16th and making par at his final two holes to also finish at even. Curtis wasn't much better, but his four bogeys on his final seven holes was enough to edge them both by a stroke and be the last man standing after some vintage back nine carnage at the Open.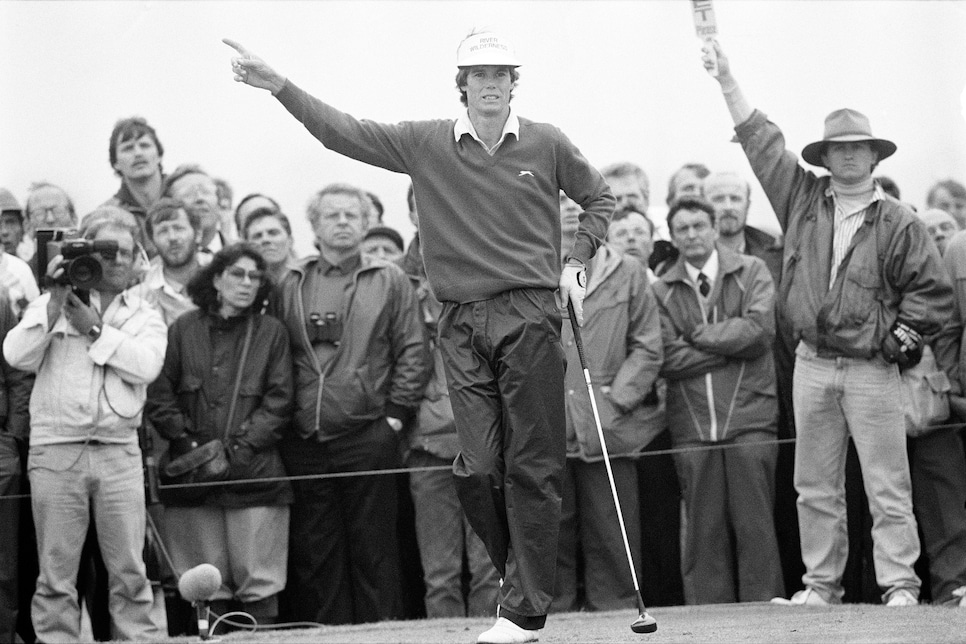 In his first career start in the Open Championship, Paul Azinger led by three strokes with nine holes to play on Sunday at Muirfield. But Nick Faldo quickly chased him down, getting to within one stroke as Azinger made his way to the par-5 17th. There, he found a fairway bunker off the tee, eventually leading to a costly bogey and squaring him with Faldo, who saved par with a testy putt at the 72nd hole to get in the clubhouse at five under. At the 18th, Azinger's approach found another bunker, and he left his third some 30 feet below the hole, then missed the putt to finish bogey-bogey and fail to even force a playoff. It would end up being his best finish in 12 starts, and he was only able to win one major thereafter at the 1993 PGA Championship.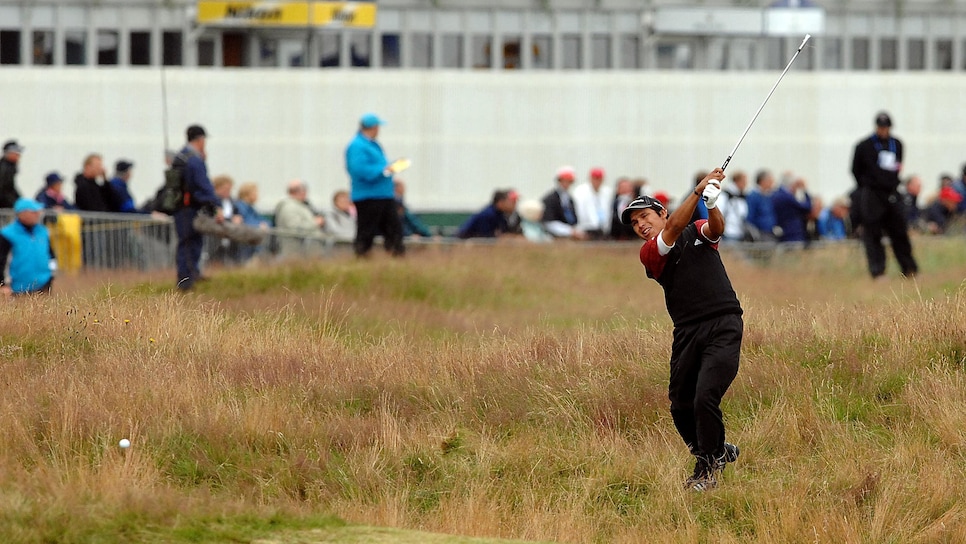 Steve Parsons - PA Images
As our Joel Beall breaks down with much more depth here, Andres Romero's finish on Sunday at Carnoustie in 2007 ranks among the most heartbreaking in major championship history. While Sergio Garcia's second-to-last putt at the 72nd hole gets all the glory—for lack of a better term—Romero's final two holes were by far more difficult to watch. The then 26-year-old Argentinian had a legitimate chance to shoot the first 62 ever in a major, having made four straight birdies beginning at the 13th hole to get to seven under for the day and nine under for the tournament, which gave him a share of the lead with that year's winner, Padraig Harrington.
Then, Romero, who had began the day seven back of Garcia, fell apart at the 17th, attempting to hit a 2-iron from an impossible lie and hitting it out of bounds. He went on to make double, and then bogeyed the 18th, when a par still would have gotten him in the playoff between Garcia and Harrington at seven under. An even tougher pill to swallow was that the double at 17th was Romero's second double that day, and he still managed to card a final-round 67. Sometimes, it's just not meant to be.