News
British Open 2018: Reliving one of the most thrilling, and heartbreaking, rounds in Open history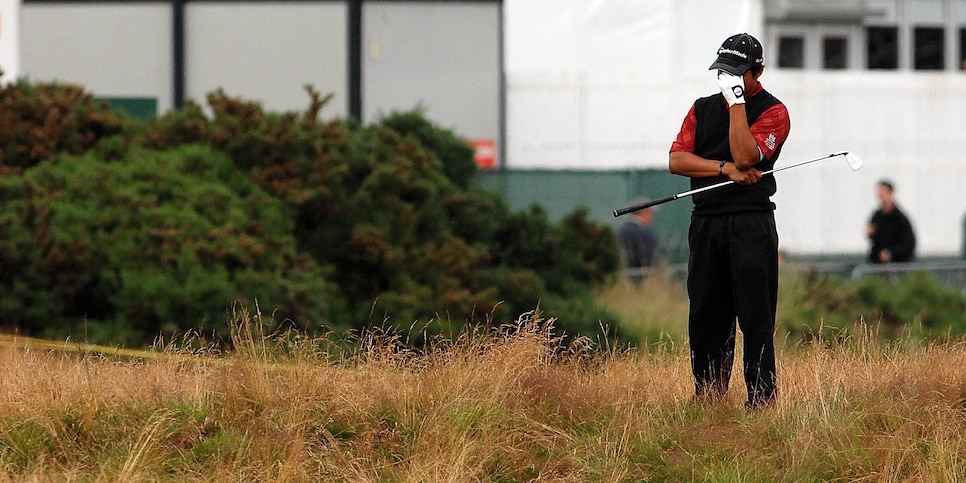 Photo By: Steve Parsons - PA Images
There is a golf course in Argentina's Mendoza province, tucked away in the countryside's vineyards and olive orchards, that boasts a replica of Carnoustie's 17th hole. The Scottish salvo resides in South America thanks to José Jurado, although it's unlikely he would see it as such. Known as the "Godfather of Argentinean Golf," Jurado was leading the 1931 Open Championship before his drive found the Barry Burn on the 17th. He doubled the hole and bogeyed the 18th, losing the title to Tommy Armour by a stroke. "Jurado, a dazed man, went through the crowd and into the room reserved for the players behind the first tee," The Scotsman reported, "and broke down completely and cried like a child." Juardo would refer to that Open as "painful" and "my nightmare."
Decades after his collapse, Jurado's grandson, Ricardo, designed the course in Mendoza, Viñas del Golf, in 2007 as tribute to Jose's legacy. Why he recreated the 17th, a caustic reminder of Jurado's anguish, is a mystery.
Or perhaps Ricardo was prescient. Knowing months later a fellow Argentinian was to suffer, on the same hole, a similar fate.
Imagining reliving your biggest heartbreak on a daily basis. That's the burden Andres Romero has shouldered this summer. "Everyone remembers me from what I did that Sunday," he told Golf Digest through his caddie and translator Angel Monguzzi. "And I hear it much more, everybody talks about it, because the championship returns there this year.
"But I remember that Sunday well."
That Sunday—July 22, 2007, the final round of the 2007 Open Championship. A morning which began with Romero seven strokes back of 54-hole leader Sergio Garcia. An afternoon that saw Romero with a two-stroke lead on the 17th tee, a chance at the first 62 at a major championship and to complete the second-biggest comeback in Open history.
A night spent wondering where it went wrong.
It's a question Carnoustie is notorious for prompting. Its name will forever evoke Jean van de Velde's meltdown in 1999, Jurado's missteps in 1931, the stumbles of Garcia, Padriag Harrington and, yes, Romero in '07. You do not conquer Carnoustie; you survive to tell its tale.
But what a story a Romero victory would have been. Romero had come from poverty, his family of 10 living in a two-bedroom domicile. He survived nephritis (inflammation of the kidney) at age 9. Romero found his way into the game by caddying at a country club down the street from his home, and by 16 had turned pro. For years he got by on 30-day loans and checks from members at the club, as he struggled to make his way to golf's premier ranks.
"They were hard times," Romero recalled in a 2008 interview with Sports Illustrated. "I had to play well to pay people back. Sometimes, on the road, I'd go to bed early because there was no money for dinner."
He was not a complete unknown; that was the case the year before, when he finished T-8 at Royal Liverpool with a world ranking outside the top 300. Conversely, the then-26-year-old had zero wins outside of South America, and gambling books treated Romero's prospects accordingly at 125-to-1 odds heading into Carnoustie.
Through three days, it didn't appear Romero was going to break the bank. He had played well at the venerable links, shooting par or better in each round. He was also a distant T-9, barely in shouting distance of Sergio. But Romero felt like he had a puncher's chance. "I came in confident, I had been practicing well," Romero says.
He came out of the gate by recording three birdies in his first six holes. "The way I was hitting it," Romero insists, "I knew I could go low."
Despite those red figures, he remained five back. He then parred the par-4 seventh—notable, because it was the last par of his day, the start of one of the more dramatic stretches in Open history.
Romero's birdie at the eighth was negated by a bogey at the ninth, making the turn in 33. Romero bounced back with birdies at the 10th and 11th; coupled with three bogeys in four holes from Garcia, Romero found himself tied for the lead—an excitement that appeared to be brief. On the 12th, Romero badly pushed a 2-iron in approach, his ball finding a gorse bush, and had to take an unplayable. Hitting a blind fourth over more landscape, he managed to find the green. Still, he walked away with a double, his bid seemingly deflated.
Except Romero answered by rolling off four consecutive birdies, all converted from outside of 12 feet.
"I felt so good that day," Romero says. "I played beautifully, I was in control of my irons."
Scottish fans never fail to recognize exceptional play, but the galleries were especially behind Romero. He was a sight to behold, wearing a pooka-shell necklace and responding to every shot in animated fashion. Carnoustie requires patience and precision, yet Romero toured it with an aggressive ignorance. The Scottish are not a flashy bunch, but how could they not get swept up in Romero's contagious energy and daring play? On a course known for bringing competitors to their knees, he had posted 10 birdies in 16 holes. Romero now had a two-shot lead as the rest of the field faltered. The claret jug was his.
"I felt like I was in control because I was hitting it so well," Romero says. "Every shot did what I wanted it to do.
"And then, of course, 17 happened."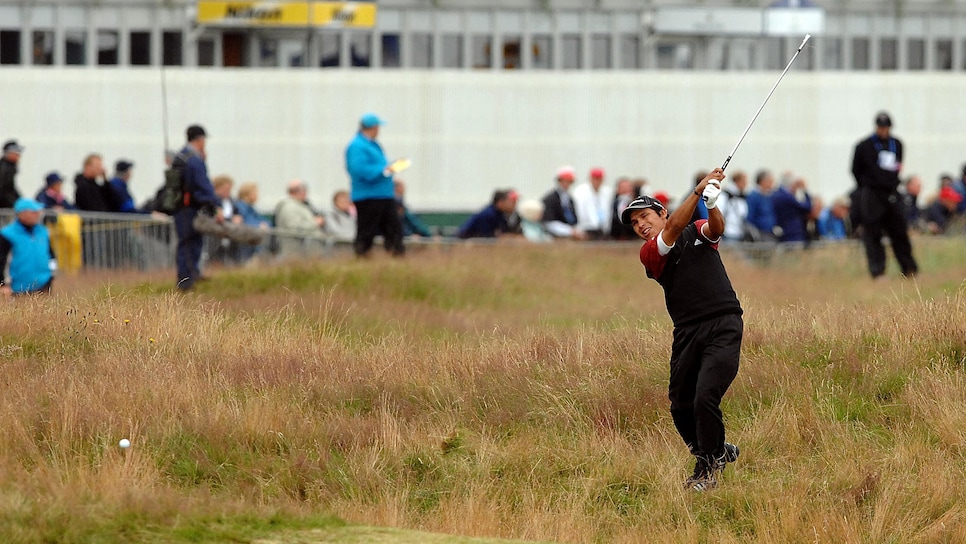 Steve Parsons - PA Images
While not as difficult as the infamous 18th, Carnousite's 17th is no pushover. The Bally Burn snakes its way towards the green from the left to right. A pot bunker grabs drives that attempt to carry the burn on the left, deep rough awaits for those who bail to the right.
The latter is where Romero found himself after not following through on his tee shot. Cameras showed Romero's ball was buried, ostensibly forcing him to lay up with his second.
But laying up wasn't an option. It's not in Romero's vocabulary. "I never considered playing it safe," Romero said after the round.
Bold, yes, the type of bravado that brought him to this spot. In that instance, however, fortune did not favor the brave.
Romero grabbed his 2-iron, the one that led to the double at 12, and tried to hack it forward. His mighty swing released a screaming line drive, but one that headed for the burn. Water would have been trouble. What happened was worse.
"It was a bit unlucky," Romero said.
Romero's ball ricocheted of the burn's stonewall steps and sailed 50 yards left. It came to rest beyond a fence by the 18th hole, out of bounds.
"I hit a very bad second shot on 17," Romero said. "I wasn't certain of what club I wanted to play. Perhaps that was my mistake. I was doubting between a wood and an iron. The second time around I did it the way I should and I hit the right club."
With a 3-wood now in hand, Romero put his fourth on the green, and two-putted for a double. Simultaneously, Harrington eagled the 14th, equating to a four-shot swing. Romero was now two down as he headed to the last.
As witnessed in '99, Carnoustie's closing hole can wreak havoc. With obstacles still in Harrington's path, a par from Romero could go a long way.
To his credit, he split the fairway, his drive perfect. The second shot was decidedly not. Romero pulled his 8-iron from 190 yards, and came this close to his second out-of-bounds ball in as many holes. The ensuing chip wasn't much better, and a long par putt hit the back, but not bottom, of the hole. Romero walked off 18 with a double bogey/bogey finish for a 67.
He did not try to spin what the world saw.
"The pressure certainly caught up with me," he said that evening, "and the pressure the last two holes on such a big event."
Romero wasn't alone. Harrington found the burn twice on 18, taking a double to finish at seven under. Garcia had a 10-footer for his first major victory, but failed to convert. Harrington and Garcia went to a playoff, with Romero missing out by one shot.
Not that you would know it. Romero was upbeat, seemingly immune to what had just happened.
"I am happy," he said at the time. "When the best players in the world are here and I played the tournament I played, I played with the No. 2 in the world [Jim Furyk], I felt very comfortable playing with him and I felt I belonged there.
"No disappointment at all."
But, a decade later, Romero acknowledges a sentiment held by many. "I had it," Romero now says. "I know I should be an Open champ."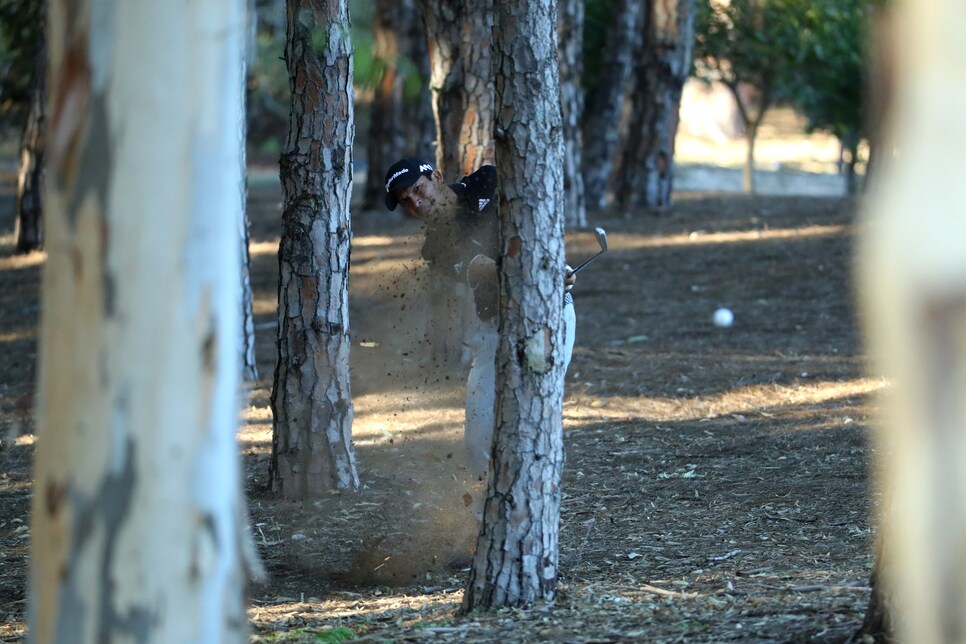 Your memory might say otherwise, but Romero did not disappear after Carnoustie. He won the following Sunday at the Deutsche Bank Players Championship for his first European Tour victory, and turned in a T-6 at the Bridgestone Invitational the week after. Playing mostly in the United States in 2008, Romero won the Zurich Classic, and posted top-10 finishes at the Masters and PGA Championship (where he tied Oakland Hills' course record). Earning Rookie of the Year honors, Romero was a star in the making.
"He has a lot of quality, a lot of ability," fellow Argentinian and major champion Angel Cabrera said about Romero. "Mucho, mucho talento."
Unfortunately, that star never shined brighter, and slowly lost its luster.
There were swing changes that didn't take. Others posit he never learned to play conservatively, and, with money for the first time in his life, some asserted Romero got comfortable. These are more theories than smoking guns. What's incontrovertible, however, is that Romero was never the same after 2008, finishing inside the FedEx Cup top 100 just once after that ROY campaign. He made headlines for matters other than his game, such as futbol star Carlos Tevez grabbing his bag at the 2012 Open Championship or injuring his hand by punching a sign at the 2015 Barracuda Championship. Once among the game's best, Romero fell to 837th in the world rankings.
It hasn't been all darkness: last year, playing on a sponsor's exemption, Romero won the BMW International Open, his first victory in eight seasons to regain status on a major tour. Still, that triumph proved to be a one-off rather than a reawakening, as Romero has just one top-25 in 21 PGA, European and Web.com Tour appearances since.
Hoping to return to Carnoustie, Romero competed last week in the John Deere Classic, just his third tour event this year. Romero held the lead halfway through Round 2, and was fifth entering Sunday's final round. But he was unable to make a Sunday charge, finishing 11 shots back of winner Michael Kim.
Romero looks back at the 2007 Open and acknowledges the obvious. "I made a mistake," he says. "And many people saw it."
It's also not a moment shrouded in regret. He did something most can only dream. His voices inflects a sanguine, not sad, spirit.
Unlike his fellow countryman Jurado, Romero does not weep over Carnoustie. Far from it.
"Yes, what happened on 17 and 18 [hurts], but all those birdies on the back nine, it was something special," he says. "That is not something I want to forget."