Momma Mentality
Bradley Beal had absolutely the correct response to scoring 50 with his mom in the stands on Mother's Day
Ladies and gentleman, we're going to ask you to buckle your seatbelts and make sure your tray tables are in the upright and locked position. What we have to say might shock you: The Washington Wizards are red, SIZZLING hot. They've won 15 of 20, Russell Westbrook is on an historic tear, and on Sunday Bradley Beal dropped an even 50 on the Pacers, bringing him neck and neck with Stephen Curry for the NBA scoring title.
But it wasn't your ordinary half-hundred for Beal. It just so happened to go down on Mother's Day with his mom and dad in the stands watching on, and after the game the Wizards guard spoke about his motivation to ball out.
"They drove up three or four hours so the last thing I'm gonna do is waste their damn time watching me play like ass," Beal told reporters. "My momma wouldn't let me live that down."
You absolutely have to love this. Sure it's not the ooey-gooey sentimentality we usually get on Mother's Day—hell, Pascal Siakam bought his mom a house this weekend—but it's brutally honest and also a glimpse at how Beal got as good at basketball as he did growing up.
For those of us who are just here for the mushy stuff, however, don't worry, Beall delivered that too.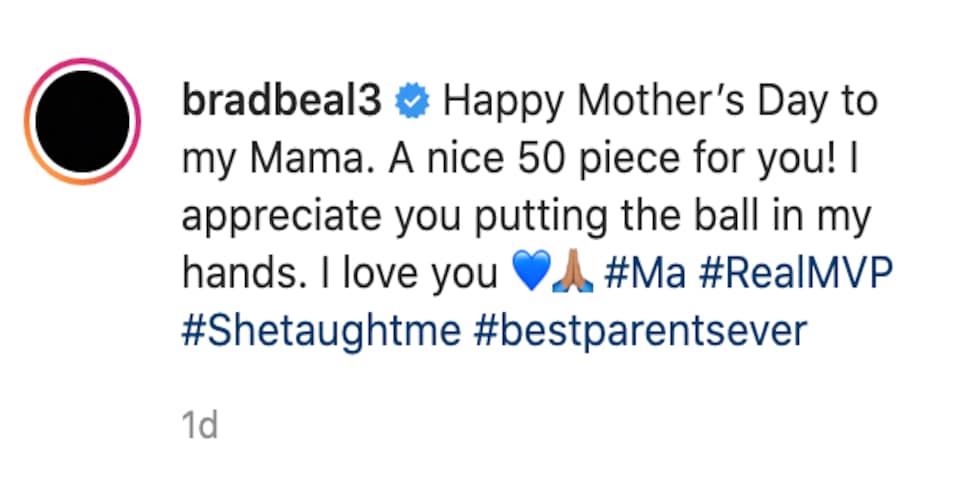 If the Wizards keep this up, Mama Beal might just get to watch her son in an NBA playoff (or at the very least play-in) game this month.