Vamos
Bob Stoops keeps weird coach bath season rolling, says he's open to tequila dousing after Alamo Bowl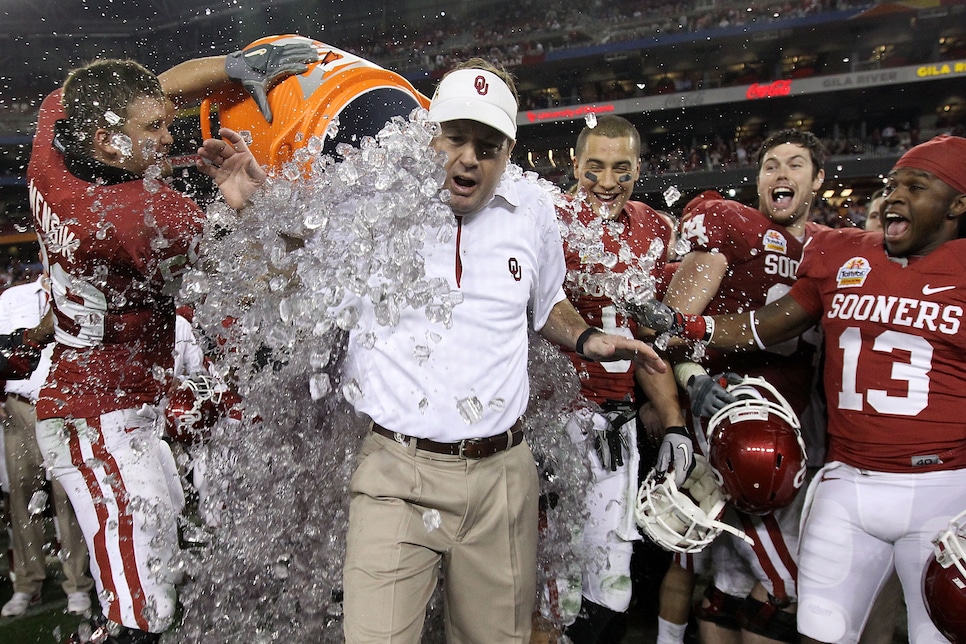 We're smack dab in the middle of college football bowl season. It's been a bumpy ride so far, thanks in large part to COVID and draft-bound players opting out, but one tradition has held firm: Coaches getting doused in all manner of weird stuff following a win. We've seen the traditional Gatorade, the french-fried potato, and, if reports are to be believed, a mayonnaise bath come Thursday's Duke's Mayo Bowl. That's a three-course meal in some parts of this great nation.
Now interim Oklahoma Sooners coach (and permanent Oklahoma Sooners legend) Bob Stoops is keeping the literal gravy train rolling, telling The Athletic's Jason Kersey that he would be down for a tequila bath should the Sooners win their Valero Alamo Bowl showdown with Oregon.
"What's the administration gonna do? Fire me?" is proof that Coach Stoops has lightened up considerably in his advancing years. Of course Oklahoma isn't going to fire him. He barely works there as is. But if you think Stoops is down for just any tequila bath, however, he's not. There's only one sweet agave nectar Stoops is willing to get doused with and that's Rock N Roll tequila, a brand Stoops became an official partner in last year. It comes in little guitar shaped bottles, because of course it does.
So will Stoops one-up coach bath season with a coolerful of tequila or will the Ducks eat the worm? TBD, but if the Sooners are up late, you just might want to tune in.