Tour Life
Billy Horschel reveals the 'danger' of having his wife caddie for him this week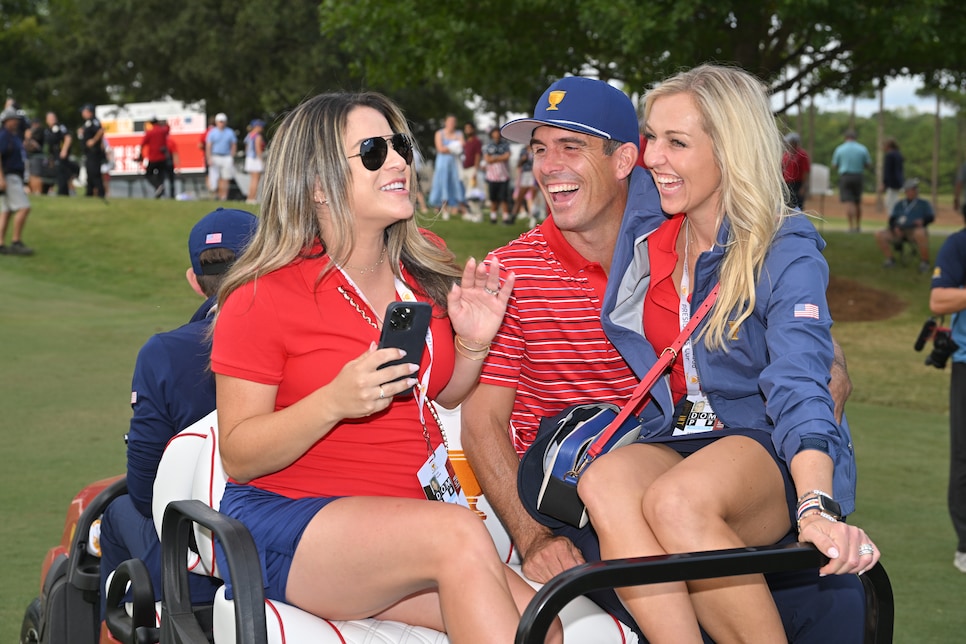 Fresh off his Presidents Cup debut, Billy Horschel is playing in this week's Alfred Dunhill Links Championship without his usual caddie, Mark Fulcher. But that doesn't mean the seven-time PGA Tour winner doesn't have a familiar face on his bag in Scotland.
During a mid-round interview with the DP World Tour, Horschel explained Fulcher is "having green card issues" so he turned to his wife, Brittany. And although the 2014 FedEx Cup champ feels in good hands with a fellow former University of Florida golfer, he's unsure how much her employment is going to cost him.
"I don't know what she's getting paid this week," Horschel said with a laugh. "She hasn't told me what she wants, so that's a danger right there."
Billy probably should have gotten that in writing before they started. You know, like a prenup. Just for spousal caddying. Anyway, here's the funny clip (Billy starts talking about Brittany at the 1:38 mark):
"She's been doing everything really well, and I'm not sure who's in charge," Horschel continued. "I think she's called me 'Boss' more now than ever in her entire life. I appreciate her calling me 'Boss,' but it doesn't have to be that way."
After an opening 71 at Carnoustie, however, the Horschels currently find themselves outside the cut line. So they've got some work to do if anyone is going to get paid. Just kidding. Brittany is definitely getting something for lugging Billy's golf bag around—especially if the weather turns nasty as expected—no matter how he finishes.