News
The Horschels' Battle With Alcoholism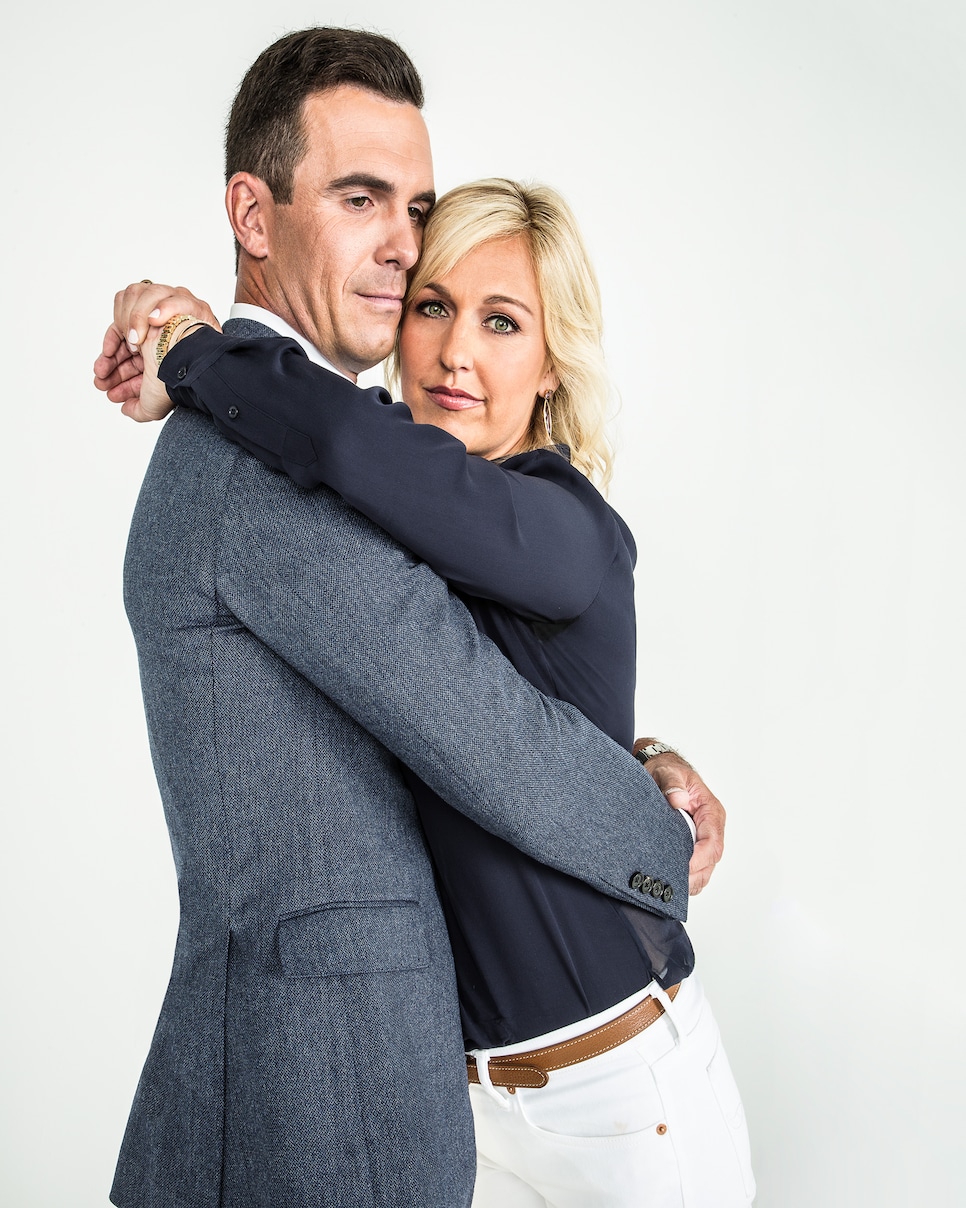 Other players won major championships in 2017, but no win carried more emotional significance than when Billy Horschel captured the AT&T Byron Nelson in May. The playoff victory, Horschel's first title in more than two years, also came a year to the day after his wife, Brittany, entered treatment for alcoholism. The couple had kept their struggle private, but the day after the tournament, Brittany shared on social media her difficult road to sobriety, and both have since sought to use their journey as inspiration for others.
BILLY HORSCHEL
It was a tough road for us. Looking back now, I don't think I realized my wife was an alcoholic. But over time you could tell she couldn't control her drinking. Other people would be having drinks with dinner or whatever, but she didn't know when to say "No more," because she didn't want to stop and feel bad.
As a professional golfer, I've always been pretty good at compartmentalizing and shutting off whatever's happening off the golf course so it doesn't affect my play or practice. However, coming off the course, I always wondered what was waiting for me. Did my wife have drinks out there today? What kind of state was she in? It just wasn't joyful. When you're done playing golf, you want to be able to enjoy being around the people you love, and it was difficult for me to do that.
It probably wasn't until the beginning of the 2016 season that we started to realize this was a serious situation and we needed to do something about it. Brittany and I had a lot of intense arguments about her drinking, and what helped me was hearing from our friends and family who said they were seeing the same problem and they were scared for her. That's when we got everyone together for an intervention.
It's funny, but people always think that when you're in the public eye, it's a really glamorous life. Yes, we're definitely lucky. We get to travel to some great places and make a great living. I mean, after making as much money as I did in winning the 2014 FedExCup, the safe assumption is that life would be easier. But money doesn't solve most problems. In many ways we're no different than people who work 9-to-5 jobs. We're trying to make a marriage work, trying to raise our kids. And by sharing our story, we're hoping people can see that as well.
BRITTANY HORSCHEL
There's definitely this perception about traveling the tour, and some of that is just the world we live in. There's this great pressure to be perfect—the perfect wife with the perfect family and the perfect house. Billy had won all this money by winning the FedExCup, and yet I never felt more inadequate.
I started to lose myself into a bad depression, and that led to a lot of drinking. It was a really scary time, and all the while everyone thinks your life is a party. It was just a lot of hiding.
For a while I told Billy that it was fine, that I could control it. But deep down, I was scared and really ashamed. He could sense that, and by the time he got our friends and family together to intervene, I was ready to get help. The next day I checked into a rehab facility.
It was a very difficult process to go somewhere and leave our daughter behind, but what helped me through this process was a simple equation: I could give up one thing to save everything, or continue to drink and risk losing it all. That's what has propelled me ever since.
To emerge from all that and be able to put the pieces of our lives together, I eventually realized it was something I wanted to share with the world as a way to help others. I knew it was something I wanted to do, and Billy winning on the one-year mark and having this emotional reaction afterward just felt like the right time.
They say you're only as sick as your secrets, and I felt like I was hiding who I really was, so to have it out there for the world to see was really freeing. I'm so proud of the last year and the woman I've become. I no longer feel this pressure to be perfect, because I know I can't be. No one is. I struggled with getting help for so long because it's perceived as so ugly. But when someone can share their recovery story, it's actually really beautiful. —With Sam Weinman