The Loop
Big Papa-to-be swings for gender-reveal fences, strikes out spectacularly
The sports-themed gender reveal is the New Big Thing for prospective pops across Instagram. Golf balls, hockey pucks, alligator watermelons. Doesn't matter. Just stuff those suckers with blue (or pink) chalk and let her (or him) rip. It's fun, it's exciting, it's idiot proof....or at least it was idiot proof. Enter this expecting hoss, who, bedecked in batting gloves, a backwards hat, a fresh pair of Oakley Gascans, and some moisture-wicking urban camo, lined up his dream gender reveal scenario—game 7, bases loaded, 3-2 pitch—took a big, fat, juicy cut, and whiffed so hard he almost came out of his rotator cuffs. CONGRATULATIONS, IT'S A GIRL!!!
But in all seriousness, while this is gut-wrenchingly hilarious to literally everyone else on earth, it is very clearly NOT a joke to this guy. He's been looking forward to this moment for weeks. He found a company that makes gender reveal softballs for like $29.99 a pop and bought one. He took some cuts in the batting cage. He even stretched. And then, suddenly, the pitch is a little up in the zone, and poof, all his hopes, dreams, and expectations go up in the Nebraska breeze, bright pink ashes of what could have been.
On the bright side, that is one of hell of a bat flip. Take a bow, sir: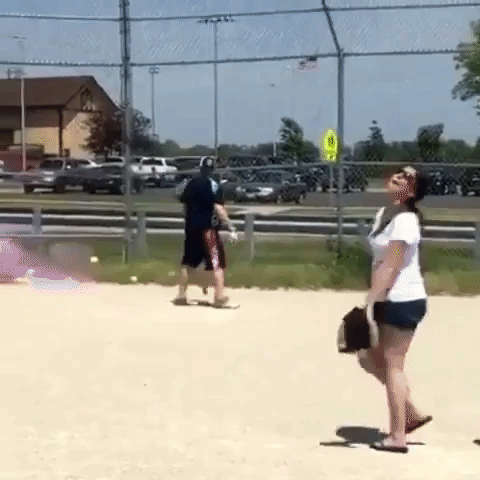 UPDATE: Dun, dun, dun, another one bites the dust.