Style Tips
The best golf sunglasses for every face shape
*All products featured on Golf Digest are independently selected by our editors. However, when you buy something through our retail links, we may earn an affiliate commission.*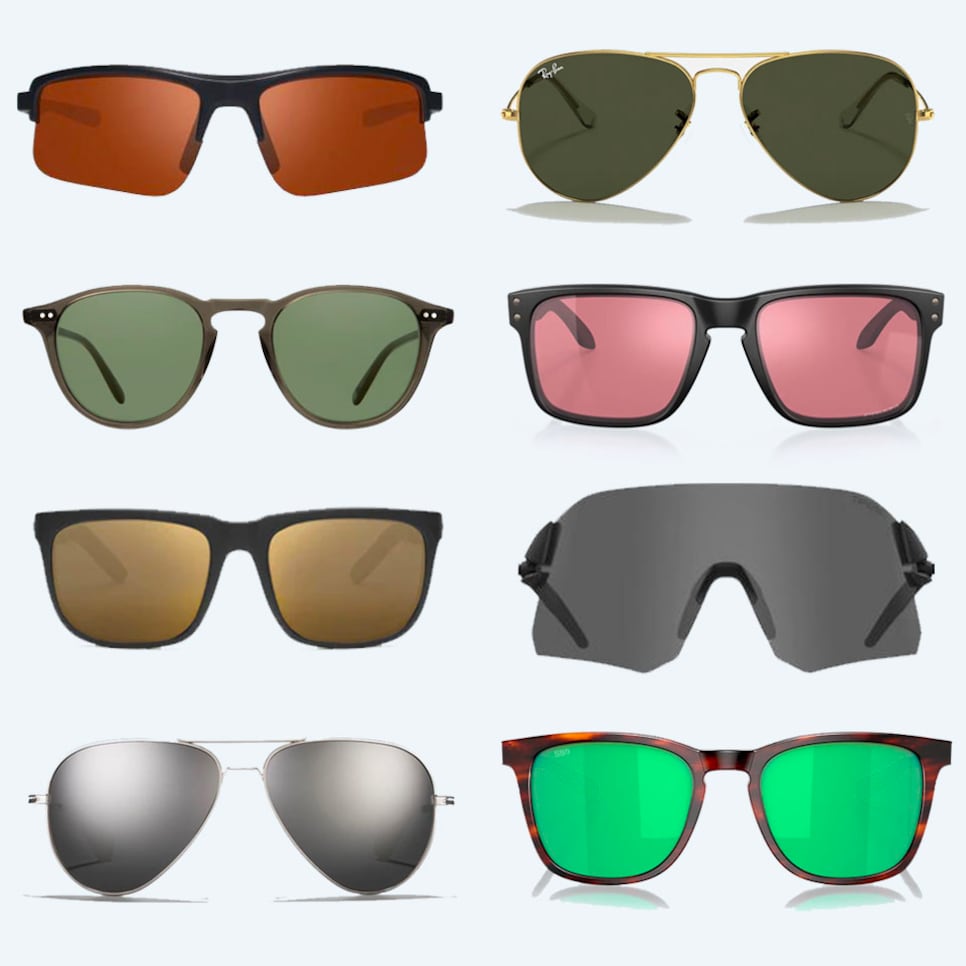 For golf, remembering to pack a quality pair of sunglasses is almost as important as remembering your driver or a sleeve of balls. While not technically considered equipment, sunglasses—or lack of—can have a huge impact on your game. Improper eyewear in sunny conditions will make it harder to track the ball, read the greens and cause eye strain. Without UV blockers, you'll also risk damaging your vision and the area surrounding the eye. An ill-fitting pair of shades will add unnecessary distraction or discomfort that can be a detriment to scores.
RELATED: How to stay cool during hot summer rounds, according to our editors
There are a lot of options to choose from when shopping for golf sunglasses. Find a lens that blocks UV light and while most gravitate toward polarized sunglasses, that's not always the best choice for golfers. Polarized lenses reduce glare and light reflections that can impede vision—but make it harder to read a putt when glare (sheen of grass) can be a tool.
Once you have the proper eye protection and lens technology down, you might be overwhelmed by the variety of frame styles. You'll want to find a pair that fits both your personality and face shape. In general, you'll want to find a frame that is the opposite of your face shape. Wider frames will lengthen your face for a flattering look for those with rounder faces or bigger foreheads. Those with more angular faces will benefit from a rounded frame like an aviator to balance their features out. If you're still confused, don't fret, we've rounded up the six types of golf sunglasses you need to know about.
Sporty sunglasses are by far the most popular in golf. The wraparound shape provides low-profile coverage designed for high-impact activities. The slightly wider frame that curves around the face will prevent light from hitting the eyes at all angles in the swing. Many pairs have a semi-rimless frame that'll ensure clear vision in the peripherals and when looking down at a putt. Sport sunglasses create an ultra-athletic look in which many golfers prioritize performance elements over style, but there are some stylish options out there.
RELATED: Annika Sörenstam teamed up with Revo for a line of limited edition unisex sunglasses
Another popular frame shape in golf is the square or rectangular option. Best suited for round, oval or oblong faces, the angular frame will offset the curves of the face for a flattering look. Narrower rectangle lenses that aren't wider than your face are great for those with longer faces. Large square frames create a great balance for those with circular faces, so opt for a pair like the Oakley Holbrook Sunglasses ($162).
Aviators are a style that look good on almost anyone, especially those with square or oval faces. It's one of the more stylish options in the golf eyewear realm with the classic Ray-Ban style seeing a resurgence in popularity since the "Top Gun" movie sequel was released earlier this year. Thin frames look and feel the best on this style with plenty of lens color and density options to play with. If you were a fan of the mirrored shades Phil Mickelson has recently been rocking, the Roka Phantom Titanium Sunglasses ($290) are the pair to match Lefty's look.
Oversized/Shield Sunglasses
Oversized sunglasses provide the most face coverage from harmful UV rays and can be a great statement-making accessory. Shields have become a popular style in golf and in the fashion world because of the unconventional look and ultra-lightweight feel. Rimless shields can soften up the angles on square-shaped faces, while round faces will benefit from a more angular shield. Simple oversized glasses are a safe option for larger faces and those trying to play golf incognito.
Round, Clubmaster and Browline Frames
Rounded and top-heavy shades are a retro look that flatters most face types. Especially suited for diamond, oval and triangular faces, shades that are bolder on the upper part of the frame will broaden and complement smaller jawlines. These browline and clubmaster glasses were popular styles in the 1950s and have seen a resurgence in the last few years.
RELATED: Our favorite accessories for golf
If even thinking about trying to find the best frame to fit your face stresses you out, here's an option almost guaranteed to look good on any face: wayfarers. It's the rounded trapezoidal shape worn by The Blues Brothers and Tom Cruise in "Risky Business." Likely sold anywhere eyewear is available, wayfarers range drastically in price, color and material, so be sure to do a little homework on the quality control front to make sure you get a durable, comfortable pair with proper eye protection technology.