Eyewear Launch
Annika Sörenstam teamed up with Revo for a line of limited edition unisex sunglasses
*All products featured on Golf Digest are independently selected by our editors. However, when you buy something through our retail links, we may earn an affiliate commission.*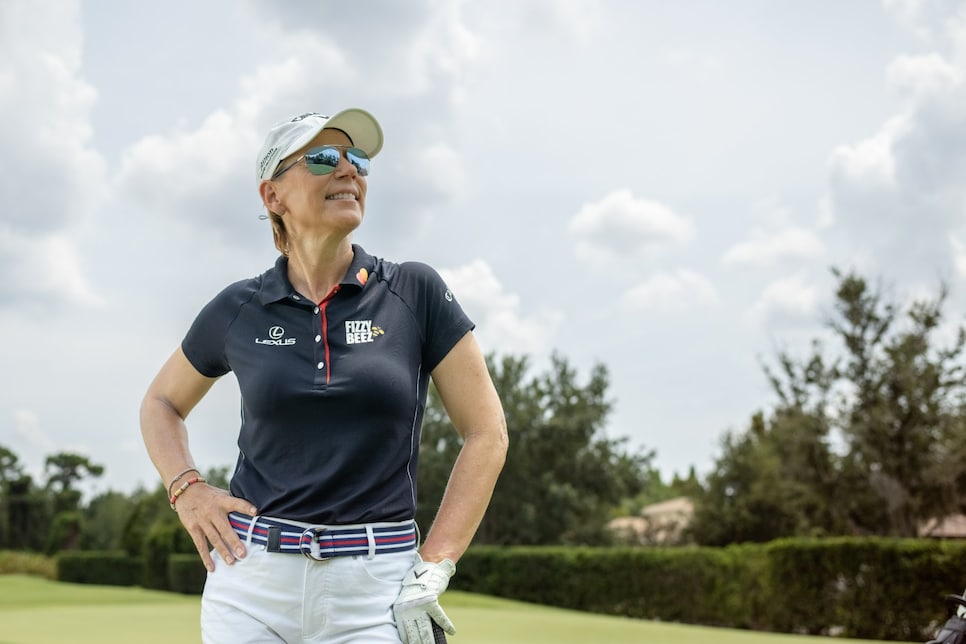 "I've always been into health and fitness and taking care of myself has always been important, it's no different when it comes to eye protection," Sörenstam said in an interview. "My mom has a bit of an eye issue and my dad has issues with glaucoma and macular degeneration, so I know [eye issues] run in our family and am trying to do what I can to protect myself."
RELATED: Best Sunscreen And Lip Balm For Golf
The collection features two unisex designs which come in three colors each. The first is a sporty-yet-classic aviator, all-purpose and available in a timeless champagne, a poppy sky blue, and a sophisticated hazelnut. The second design is sportier, called the "Annika 2," and features a wraparound frame that fits snug to the face and blocks out sunlight from all angles. This, which is marketed as being "for golfers, by golfers," comes in a similar blue and brown shade, as well a snazzy green-and-tortoise shell look that feels especially poignant for golf. The designs also feature Revo's signature NASA-inspired lens technology which ensures greatest protection on the eye as well as visibility for the golfer, particularly important when it comes to reading greens and water hazards.
The eight-time LPGA Player of the Year—who describes herself as an "Uber driver for my kids,"—wears sunglasses every day, whether she's watching her kids play soccer outside or golfing (she lives to caddy for her son, Will). Her near-teenage daughter, Ava, even commented on her go-to sunny look, one day asking, "Wow, mom do you have those glasses in my size?" The answer was an easy yes.
Sörenstam has been involved in the production process, and describes the line as being fashionable and functional, perfect for "busy women" who need grab-and-go options. Sörenstam herself often tosses her sunnies into her golf bag, so she wanted a design that's durable. Another request she had is that it fits tightly but softly around the nose, so you don't get those marks around your eyes which can cause pain and distraction on the course.
"I love to be involved in all my partnerships, I want to be in the mix," the Swedish golfer said. "I don't want to put my name on something that just shows on the package and I didn't know anything about it. I like to see the prototypes, I'm not an expert, but I share what styles I like and put them in a blender and see what comes out."