WGC-Dell Match Play
Rookie's impressive start on the PGA Tour is only getting better with upset win at WGC-Dell Match Play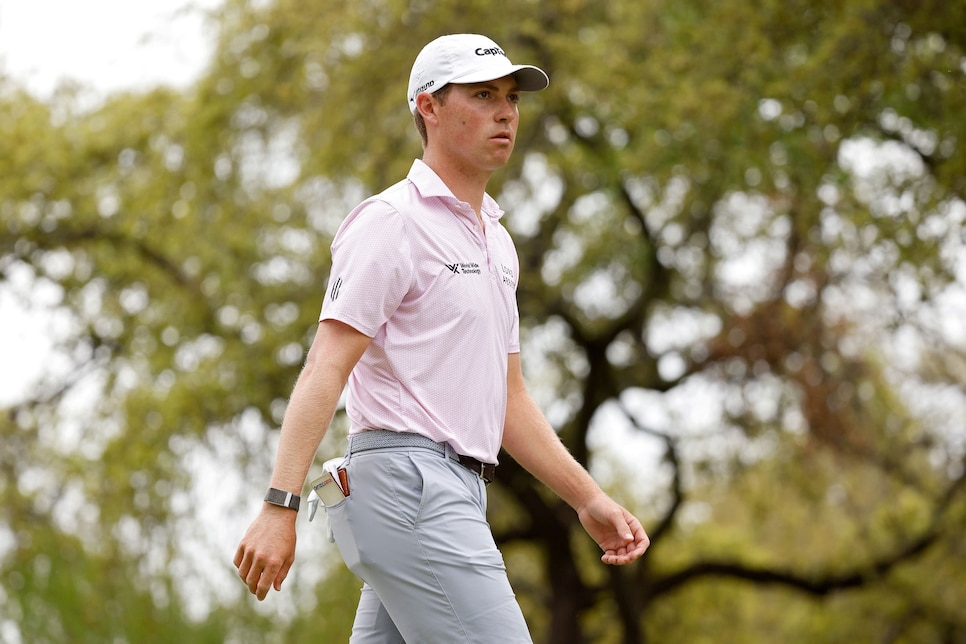 Ben Griffin walks off the eighth tee during Day 1 of the WGC-Dell Technologies Match Play at Austin Country Club.
Mike Mulholland
AUSTIN — Ben Griffin made one serious mistake in the entirety of his Day 1 match against Tyrrell Hatton at the WGC-Dell Technologies Match Play on Wednesday, and it came on arguably the best match-play hole at Austin Country Club. On the short par-4 13th, with its tempting green lying just beyond the watery reach of a Colorado River inlet, the 26-year-old PGA Tour rookie having an impressive season for somebody who'd given up on the game only a few years earlier, stood on the tee and felt that he had the perfect wind. Putting his 2-up lead out of mind, he reached for his driver, stepped up to the ball, and hit a perfectly straight shot he feared might run over the back of the green. Instead, it came up short … the kind of short that ends with a splash.
As you might imagine, he was asked about that mistake after his round—good-naturedly, since he went on to win the match 3 and 1—and his answer revealed a bit more than just a surge of ambition at the wrong moment. It spoke to the impressive mindset of a golfer coming into his own.
"He's one of the best players in the world," Griffin explained, "and I figured my game plan when I was on that hole is, I've got to hit driver, because if I don't hit driver and lay up, he's going to hit driver and potentially put it close … I'd do it again. Twenty more times."
Griffin, who says he is often mistaken for Justin Thomas on the course, gives off more of a Matt Kuchar vibe up close, mostly because of the easy grin he'll flash at the slightest provocation. If you had his story, you might be grinning too—Griffin gave up the game in 2021 in the face of escalating credit-card balances and diminishing results while trying to work his way on to the PGA Tour. He took a job as a mortgage loan officer and settled in for the long haul of office life. That didn't sit well with him, and after a chance meeting with a managing partner at the investment firm Lord Abbett (whose logo he now wears on his shirt) and two other businessmen, Griffin suddenly had angel investors and a bit of financial cushion to pursue his dream.
The 2018 University of North Carolina alum graduated again in 2022, this time from the Korn Ferry Tour playoffs, and earned his way onto the PGA Tour last fall. He came a hair's breadth from winning in Bermuda last October, and his results this season—six top-25s in 19 overall starts, putting him 37th on the FedEx Cup points list—have been steady enough to secure a 62nd seed here at the last Match Play in Austin.
"When I first turned professional, I probably wasn't as resilient as I needed to be, wasn't as fearless," Griffin said on Wednesday. "I thought about it too much and now it's just let's try to make birdies and have fun with it. The more fun you have, generally speaking, the more kind of mentally stronger you get, in my opinion, because you're a little more aggressive sometimes, and I feel like you start pulling off shots and can gain confidence really fast. I've pulled off some good shots recently and I've just been gaining more and more confidence as it's gone on."
Together, the two quotes said it all—what Griffin lacked in the early part of his career was boldness, and it's boldness that has propelled him to his recent heights. Yes, he put his shot in the water on 13, but the fact that he tried it, while it might not have been the wisest move strategically, was indicative of the mindset that changed his career.
Griffin established his lead on Hatton on holes 4 through 6, pouring in three straight birdies—two of which Hatton matched—and held the lead through 13, when he gave one back. When he poured in a nine-footer for birdie on 15, he extended the lead back to 2 up, and closed it out on 17 when Hatton, who was playing with Shane Lowry's old caddie Bo Martin, conceded the match. An impressive win against a top player was made even more so by the fact that Griffin hasn't played match play golf in a very long time.
"Probably the U.S. Amateur in 2017," he said afterward, going back in his memory. "In our conference tournament [at UNC], we never had a match-play portion, so I really only played the U.S. Amateur and U.S. Junior and maybe like Wyndham Cup AJGA events, stuff like that, maybe the North & South Amateur. … Honestly, I feel like I've never played incredibly well in match play portions."
Playing out of Group 14, Griffin next meets Russell Henley in a late match Thursday. Henley lost to Lucas Herbert on Wednesday, and Griffin will hope to score a second straight win to set up a Friday showdown with Herbert for a chance to make the weekend. There are tantalizing possibilities beyond that, including a longshot of making the World top 50 and earning a Masters berth, but regardless of how this week ends, you can bet Griffin will go down swinging. If there was fear inside him at the start of his professional golf journey, it's long gone, and he'd rather be in the water than retreating to the safe roads that led him to civilian life in the first place.