Never give up
Players 2023: Tour pro gets emotional talking about the 'angels' who revived his pro golf career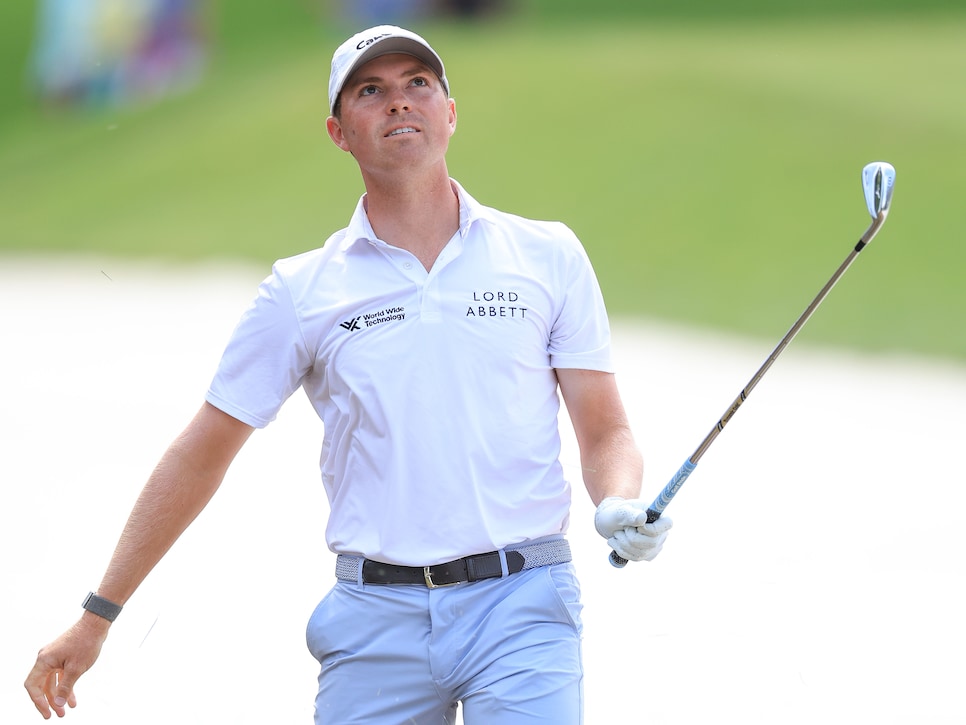 Ben Griffin watches his shot on the 15th hole during the second round of the Players Championship.
David Cannon
PONTE VEDRA BEACH — Not long after suffering a deflating double bogey on the 18th hole at TPC Sawgrass Friday afternoon, costing him a share of the clubhouse lead in the Players Championship, rookie Ben Griffin was fighting back tears. It was his only blemish on an otherwise sparkling scorecard. The smile he wore nearly all day disappeared. His eyes turned red. He sniffled. Tough finish.
Then again, his emotional letdown occurred some 20 minutes after he signed for a one-under 71 amid heavy gusting winds, and his smile, which probably couldn't be sandblasted off his face, disappeared only briefly. And then only after he began to talk about how he could be sitting in an office somewhere looking over mortgage loans instead of sitting two off the lead at the time in the PGA Tour's flagship event offering a $25 million purse. He began talking about the people who made it possible—not only his parents, who had been helping to keep his professional dream afloat, but also the unlikely benefactors who believed in him and made it possible for him to pull that dream out of a desk drawer and start living it again.
"I thought I was done," Griffin said of his decision in 2021 to take a job as a mortgage loan officer because his credit card balances were escalating in direct proportion to his diminishing confidence and competitive prospects. He was almost certain that "I didn't want to be a golfer anymore."
But then the angel investors appeared—and they really were angels of sorts to a kid who had lost his way but used to enjoy success in junior golf and college against the likes of contemporaries Scottie Scheffler and Collin Morikawa, who are now major winners.
There was Doug Sieg, the managing partner at the investment firm Lord Abbett, who offered to pay Griffin's expenses for two years after they played nine holes together one day at Sea Island Golf Club in Georgia. And then there were two businessmen he befriended at the Price Cutter Charity Championship, a Korn Ferry event in Springfield, Mo. The duo, Jesse Ahearn and Mike Swann, paid for his entry fee to Q School.
Unburdened by the financial worries, Griffin made it through Q School. Then he graduated last fall from the Korn Ferry Tour on the strength of three runner-up finishes. And then, in just his eighth PGA Tour start last October, the University of North Carolina product found himself tied for the lead at the Butterfield Bermuda Championship and was out front with seven holes to play before finishing tied for third.
Which brought him to his debut in this week's Players, where first place pays $4.5 million—or, if your Griffin, trying to purchase his first home, is a big help on a down payment.
"Too high," Griffin, 26, said, grinning, when he was asked to put on his banker's hat and assess today's rising interest rates. "Yeah, I picked a good time to get out of the mortgage industry, and I don't know how, but people think I'm a wizard for timing it so perfectly."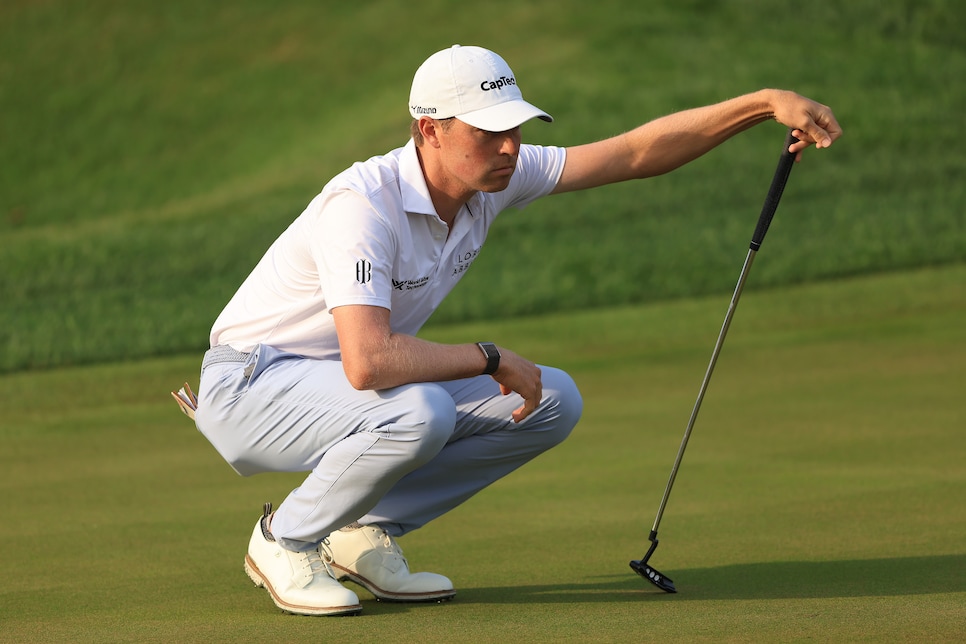 Ben Griffin has been strong on and around the greens during the first two rounds of the Players Championship.
Sam Greenwood
He certainly has been a wizard at TPC Sawgrass, especially in putting and around the greens, where he is gaining more than four and three strokes, respectively, against the field.
Griffin's performance is no surprise to Ahearn, an aviation executive, who thinks the sky's the limit for his young friend. Standing in the background as Griffin spoke to the media, Ahearn also was getting emotional as Griffin struggled to express how "blessed" he was to have found people who believed in him.
"He's told that story dozens of times, and that's just who he is. He's so genuine," Ahearn said. "You can see that he appreciates what people have done for him, and we could just see that he had the type of game where this is what he should be doing."
"They're the only reason I'm playing golf right now," Griffin said of his generous friends. "I will always have that perspective the rest of my PGA Tour career and benefit me going forward."
Griffin, whose great-grandfather played in baseball's major leagues for the Yankees, Red Sox and Phillies, said the only difference in his game compared to his wilderness years of mini-tours and Monday qualifying is his approach to it. No magical fixes were needed. No swing changes. Nothing drastic. Channel Arnold Palmer and go play.
"I just needed to swing my swing and not feel like I need to grind so much," he explained. "A lot of guys just grind and grind and grind if you don't have a schedule and don't have status. For a guy like me, I competed against Scottie Scheffler and Collin Morikawa and had success against them, won against them. So, I knew deep down I had the talent, it was just a matter of figuring out some off-course things … and just doing the right things, managing courses better.
"I just started playing golf and everything fell into place."
This week's visit to TPC Sawgrass was not his first. He attended the Players as a spectator in 2020, the year that the pandemic forced cancellation of the event. He was invited into the player tent for a concert after the first round and sat beside Morikawa. When he completed his second round on Friday, Griffin was just one stroke behind the two-time major winner.
"I was grinding on the mini-tours then for the most part, and fast forward one year later is when I quit," Griffin recalled. "I was close enough with some of the guys playing, and I knew I probably had it in me somewhere to be here one day … but maybe I didn't. But now I definitely know."
And a lot of other people are beginning to realize that, too.