Players Championship
Players 2023: Jordan Spieth sneaks inside the cut line thanks to a fan's knee and a heroic eagle chip-in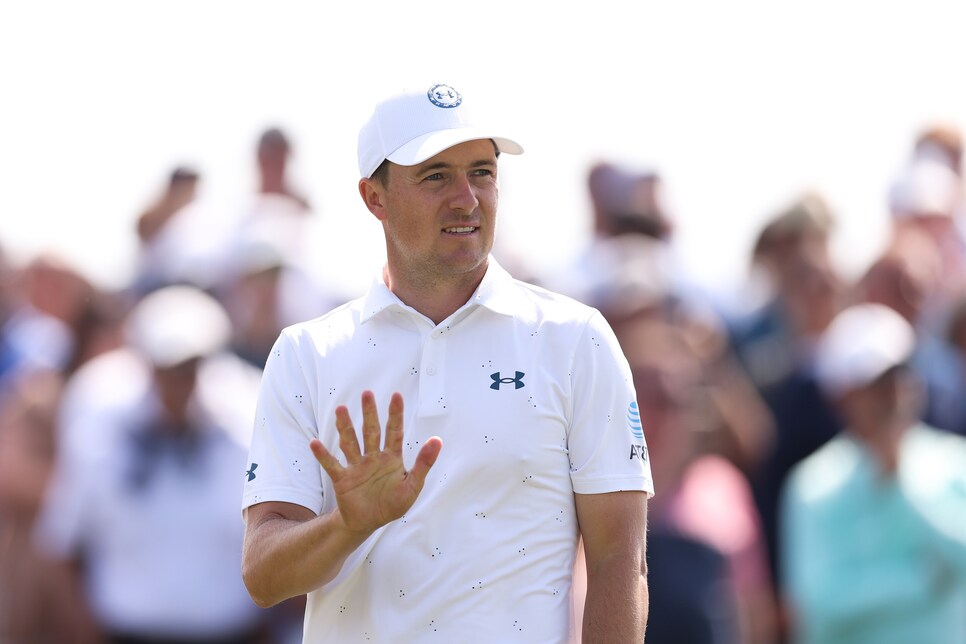 PONTE VEDRA BEACH — Jordan Spieth was having zero fun.
After a birdie-birdie start to his second round on Friday morning at TPC Sawgrass, things went predictably haywire. Things going predictably haywire is sort of Spieth's thing, even when he's playing well (see: last week at Bay Hill). It started with a bogey at the 13th (his fourth), then a double bogey at 14. Six holes later, he nearly hit the green in two at the par-5 second and somehow walked off with a six. His second double bogey of the day came at the par-4 fifth, his 14th. After making a push toward the leaders early, he was suddenly sweating the cut line late.
The thing is, sweating the cut line is not supposed to be fun. It's supposed to be a grind. It's supposed to create tension that otherwise wouldn't be there. It's supposed to make you feel something, even if it's a feeling you loathe.
"I enjoy nothing about being at the cut line," said Spieth. "I seem to have a really hard time refocusing on the lead and pushing forward. At the same time, it wasn't like it was a gettable golf course [for] those really last 11 or 12 holes. But it was before that."
A bogey at the par-3 eighth could have sealed his fate. At two over for the tournament, he needed a birdie at minimum to feel good about his chances of playing the weekend. Then he blocked one off the planet at the ninth tee, his tee ball going so far to the right that it was headed toward the water on the 18th hole (!). "Is that out of play?" Spieth asked his caddie Michael Greller mid-flight. Week: over. Fun: not being had.
By the grace of the golf gods, however, Spieth's ball struck the cart path and then the left knee of a fan standing up on a hill right of the ninth fairway, and it struck it so hard that the ball actually ricocheted back into the middle of the ninth fairway. An almost certain reload turned into a prime chance to save the round.
"My left foot grabbed as I was transitioning, like pain, and I backed off and I thinned one," he said. "And I thinned it into the wind and it was right, which there's water left and right. It was going in one of the waters, and I guess it hit the cart path and short-hopped off the guy's knee and then went out in the fairway forward, as well, and it must have been—the way for it to go off of him, it also then went off his knee, up in the air, over some of the water. I mean, it's the equivalent of flying a green towards a hazard and hitting a grandstand and coming back on the green in a way."
Spieth, not one to waste a insane break like that one, hit his 272-yard second shot just short of the green in the thick rough. From there, he chipped in for eagle, vaulting from two over to even par and safely inside the cut line. Some fun was salvaged.
"Needing to probably birdie to make the cut, I can't really birdie having to drop it over in the right rough over there after hitting my third," Spieth added. "It would have been a one-in-a-million make, instead I ended up making a 3. A lot of times I kind of feel bad about that and don't focus on the next shot, but I hit a 3-wood exactly where I wanted to and hit a chip exactly where I wanted to, so I'm very happy about rebounding from that. But yeah, I didn't see it, but when I struck it, I was like, that's out of play. Then all of a sudden they were like Joe, Max's [Homa's] caddie, said it got a huge kick it's in the fairway. I don't know what it can hit off of over there except for a person.
"Trying to get that guy's information and see literally whatever he wants this weekend because everything from here on out is because it hit him."
Unfortunately, tense times such as this one will be far less frequent in 2024 thanks to the PGA Tour's new limited field, no cut designated event model. It's a shame, because Spieth's second round was among the most fun rounds of this week's Players Championship. Well, fun for everybody except him.