The Loop
Believe it or not, it's been a year since Tiger Woods' "Progressing nicely" tweet
At 8:55 a.m. on February 24, 2016, Tiger Woods tweeted a video of him hitting a shot on a simulator. "Progressing nicely" was the simple, optimistic caption that accompanied the clip, instantly sending the sports world into a frenzy. Remember?
That was a welcomed sight following a depressing press conference at the 2015 Hero World Challenge in which Woods, coming off two back surgeries, said things like, "everything beyond this will be gravy" and "Where's the light at the end of the tunnel? I don't know." But three months later, Woods was seeing the light -- at least, in whatever room he keeps that simulator. He felt good enough -- despite rumors at the time he was having trouble sitting up -- to grab a 9-iron and show off his swing.
Although there were sightings of him hitting other clubs at clinics -- even drivers! -- it took eight more months before Woods finally made his competitive return at the 2016 Hero World Challenge. What a difference 12 months made. Instead of sounding murky about his future at the event, Woods turned back the clock with a Friday 65 and a holed bunker shot early on Saturday that got him to within a stroke of the lead.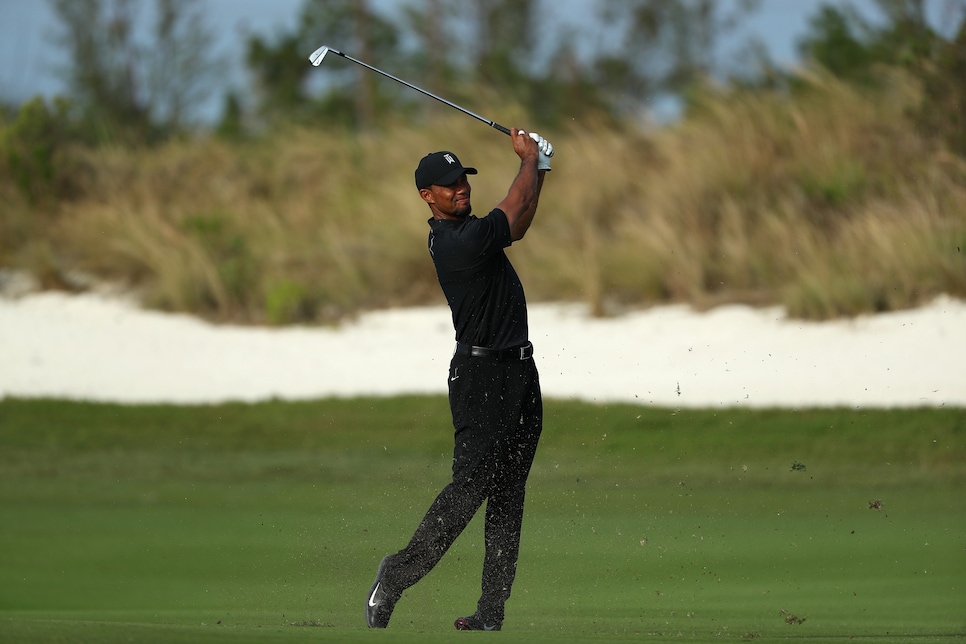 Woods would cool down and finish 15th in the 18-man event, but there were plenty of positives, most notably that his 24 birdies led the field.
Sadly, a year later, Woods can't say the same thing. And even if he did, no one would believe him.
Enough people believed in him at TaylorMade and Bridgestone, though, to give him splashy new equipment deals during the off-season. And armed with a new driver and a new golf ball, Woods announced an ambitious schedule to start 2017. The plan was to play four events in a five-week span. He wound up playing just three rounds.
After missing the cut at Torrey Pines with scores of 76 and 72, Woods shot 77 in the first round of the Dubai Desert Classic before withdrawing. Agent Mark Steinberg said the back spasms his client was experiencing weren't related to the nerve he'd had operated on, but a week later, Woods pulled out of the Genesis Open and the Honda Classic. Just like that, he'd matched his total number of rounds played in 2017 with his total number of WDs.
Tiger also cancelled his press conference as tournament host at Riviera (Steinberg said doctors recommend he "stay horizontal") and was nowhere to be found as Dustin Johnson accepted the trophy on Sunday evening to move to No. 1 in the Official World Golf Ranking -- a place where Woods has spent more than 13 years of his legendary career.
Sadly, Woods has spent most of the past three years on the sidelines. And with Tiger's latest injury, his doubters are becoming more vocal. Former coach Butch Harmon said he's concerned he "might not be able to play at any kind of level again." And Pat Perez was even more blunt in his assessment of the 14-time major champ's current status. "The bottom line is, he knows he can't beat anybody," said Perez, who also added, "he's got this new corporation he started so he has to keep his name relevant."
Perez's candid comments came exactly 365 days after Woods told everyone he was headed in the right direction with a 13-second video and two words.
His next assurance -- whenever that happens -- won't have the same impact.