News
Behold the Gray Revolution: Pro golf's 'old guard' is having a modest resurgence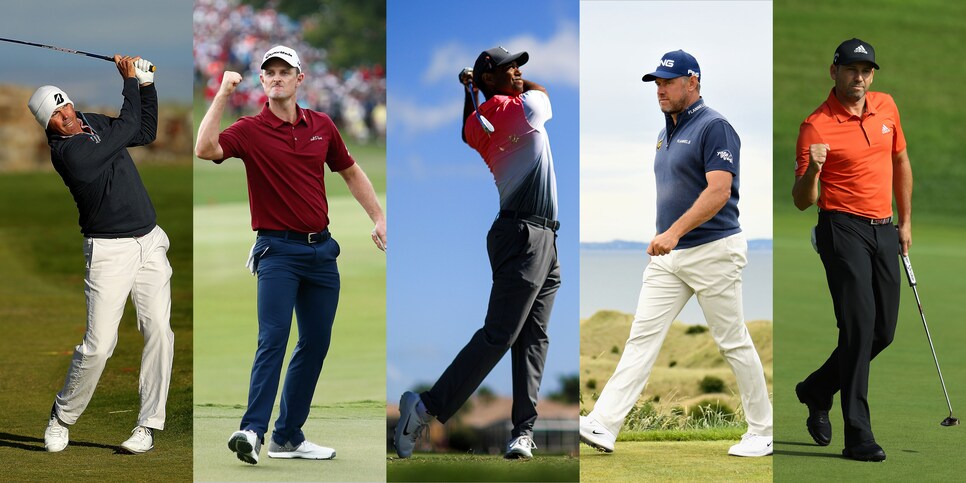 Photo By: Getty Images (5)
"A man is not old until regrets take the place of dreams."
―John Barrymore
It is great fun to second-guess a Ryder Cup captain's picks, but less fun when you commit those beliefs to paper and are later proven thoroughly and dramatically wrong. Time for me to own up: In a piece written shortly after Furyk and Bjorn made their final selections this year, I wrote this about the European captain:
"Bjorn picked Garcia and Casey based on intangibles rather than on who is playing the best golf. Which isn't to say he's wrong, necessarily—time will tell. But there was more than a hint of what the Telegraph's Oliver Brown called a "mates club"—a possible flaw with a system in which a team captain is too close in age to his potential charges."
Casey (41) and Garcia (38), along with fellow oldster picks Henrik Stenson (42) and Ian Poulter (also 42), went on to post a collective 9-4-1 record as Europe ran roughshod over the Americans in Paris. Oops.
Not only was I dead wrong on the four aging horsemen of the Europocalypse—I failed to anticipate the story of the season. Starting even before the Ryder Cup: This has been the autumn of the elders.
Fall officially begins in the northern hemisphere on Sept. 22, and on that Saturday, 42-year-old Tiger Woods shot a 65 in the Tour Championship to propel himself to the top of the leader board. The very next day, he finally broke his five-year winning drought and raised a trophy on the PGA Tour. Simultaneously, 38-year-old Justin Rose secured the FedEx Cup title and the $10 million bonus.
If we were paying attention, we would have seen the signs: After a spring and summer of Koepka and Reed and DeChambeau, the gray-hairs were making a resurgence.
Next came the Ryder Cup, where an extremely experienced European team taught the brash youngsters a lesson. Along with Bjorn's vintage picks, 35-year-old Francesco Molinari was the undisputed star, becoming just the second man in the modern era to earn five points for his team.
A few weeks later, at Valderrama, the 38-year-old Garcia shook off the bad memories from a miserable year on the PGA Tour to win his first tournament of 2018, and just his second since his Masters triumph 18 months earlier.
Elsewhere, Marc Leishman won the CIMB Classic just 10 days shy of his 35th birthday, and Rose prevailed yet again at the Turkish Airlines Classic.
Then, last weekend, if there were any lingering doubts, Matt Kuchar and Lee Westwood put them to bed. Kuchar, a veritable graybeard at 40, won the Mayakoba Golf Classic in Mexico, snubbing his nose at Father Time to win his first event since 2014. And at the Nedbank Golf Challenge, it was 45-year-old Lee Westwood, standing on the doorstep of the senior tours, who secured his first European Tour win since 2014 by holding off a positively youthful challenge from … Sergio Garcia.
Until that point, there was perhaps a little room to doubt the whole "long-tooths own the fall" narrative. The list of PGA Tour winners included Koepka, hype brothers Cam Champ and Bryson DeChambeau, and Xander Schauffele, and they were joined in Europe by striplings such as Tom Lewis, Lucas Bjerregaard and Eddie Pepperell. (Though to be fair, Pepperrell is a bit of an old soul.) If you were a cynic, you could argue that youth was equally ascendant.
But after the shocking dual triumphs of Kuchar and Westwood, the truth was undeniable: Professional golf has become the domain of the graybeards. We are in the Methuselah Era, where age and wisdom precede youth and beauty not only in adages, but on actual leader boards.
It is symbolically perfect—autumn is the season of antiquity, of the nostalgic sepia-toned days of tranquility that come before winter's death. Appropriately, golf's present has become indistinguishable from memory as the stars of yore cover themselves in glory.
Now, you might be thinking ... "wait a moment. A 35-year-old man is not old. A 40-year-old man is not even old. And in fact, the author of this piece is older than at least one of the players he's writing about."
Sure, that's all technically "true" if we're taking about average lifespans. But I'm writing about the life of an athlete, which even in a less-athletic sport like golf is cut off in what would otherwise be its prime. For the sake of comparison, current statistics suggest that people in today's world has about a 4 percent chance to live to age 90. But far less than 4 percent of professional golfers ever win a tournament after age 40, which means that in terms of hoisting trophies, 40 is the new 90. Or 95. Or maybe 100.
In other words, what we're seeing is a Gray Revolution. It's astounding, and frightening, and spectacular. If 2014 marked the start of the youth revolt, in which it seemed that 20-somethings grabbed hold of the sport and refused to let go, the events of this fall are the counter-insurgency. There's no telling how long it will last—time is against them, as is history—but once the venerable revanchist patriarchs seize some of their old turf, it will not be easy to wrench it back. It was bound to happen. Every action begets a reaction, and as we go forward, it's now possible to view the sport as a clash of ages. Literally.
As we consider this new paradigm, I have one more piece of bad news for the youth. It's a statistic that is frankly shocking, and may break their spirits, but in the interest of journalistic integrity I can't keep it hidden. Brace yourselves:
In the autumn of the elders, every single champion on both the PGA Tour Champions in the U.S. and the European Senior Tour … has been 50 years old or older.
And the gray army marches—slowly, with great aches and pains—to victory.