News
Ryder Cup 2018: Jim Furyk has done everything right, and Thomas Bjorn has put himself squarely in the hot seat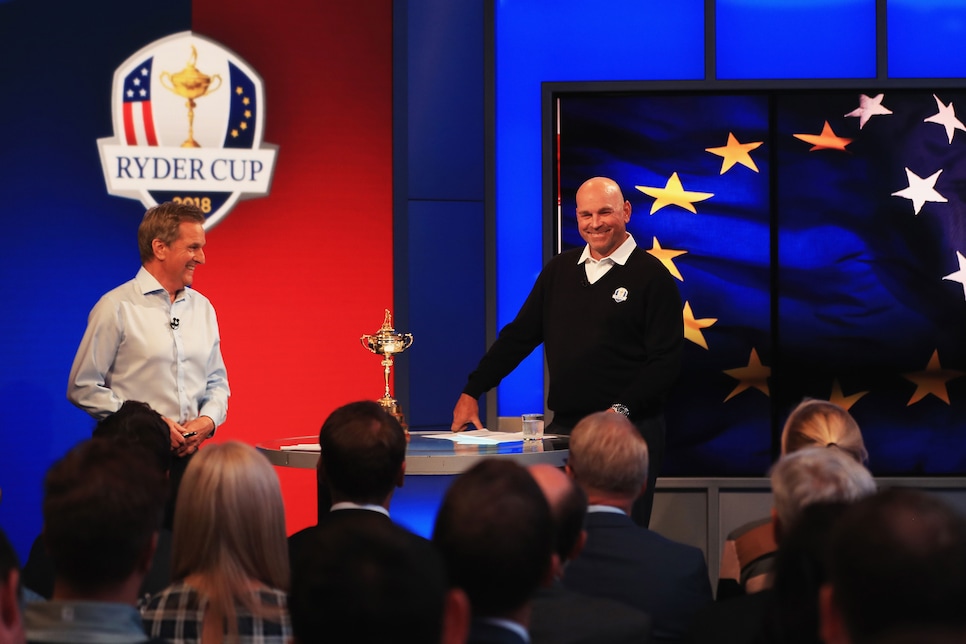 Photo By: Andrew Redington/Getty Images
I have never seen a golf crowd nearly as rabid and mean as the Hazeltine National mobs at the 2016 Ryder Cup. It's possible that in the relatively staid world of golf, there has never been a crowd so hostile. The scene got so vicious on Saturday that several European golfers complained to the press, American players had to "police" their own fans, and the PGA of America was forced to issue a public plea for decorum.
In that cauldron, as the Americans rolled to a convincing victory, only three European golfers posted winning records. One was Rory McIlroy. Another was Rafa Cabrera-Bello, who finished 2-0-1, and went home as the only European not to suffer a loss. The third was Thomas Pieters, who rallied from an opening session loss to post a stellar 4-1 record—the only player on either team to notch four points.
For Cabrera-Bello and Pieters, both Ryder Cup rookies, the three days at Hazeltine went down as a remarkable tribute to their mettle under fire, and a testament to their competitive character. It was the best kind of Ryder Cup experience, under the harshest conditions possible.
I know, I know … get to the point. Well, both Cabrera-Bello and Pieters had played well enough in 2017 and 2018 to earn consideration for a captain's pick this time around, when the Ryder Cup is played again later this month at Le Golf National. Both were in terrific form. Neither of them were picked.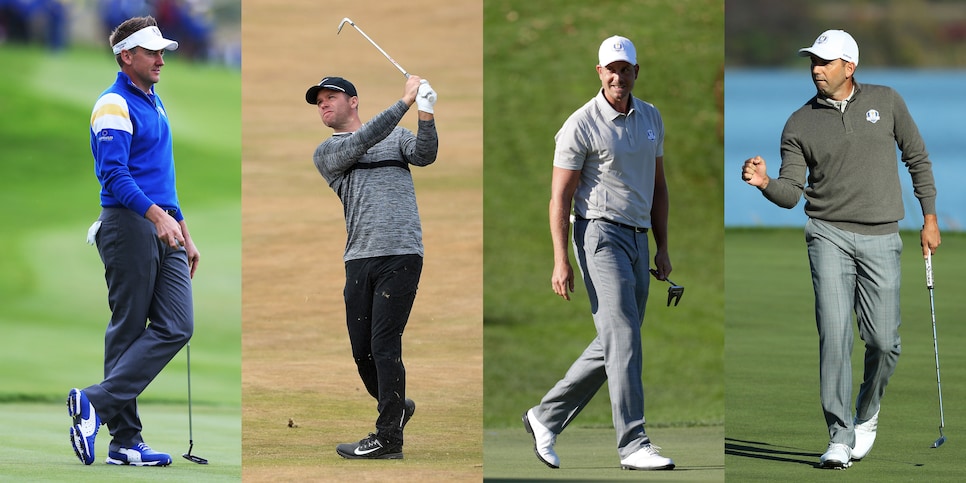 If you consider it a given that Ian Poulter and Henrik Stenson were shoe-ins, then we can safely say that European captain Thomas Bjorn chose Sergio Garcia and Paul Casey over Cabrera-Bello and Pieters. At the press conference announcing his picks, Bjorn used language that leaned heavily on intangibles. Casey—who hasn't played in a Ryder Cup since 2008—won at the PGA Tour's Valspar Championship in March, but still trailed Pieters and Cabrera-Bello in European points by a significant amount after a very so-so rest of the season that included a missed cut at the year's final major (where, incidentally, Bello and Pieters both finished in the top 10). Here's what Bjorn had to say about Casey, and notice the language:
"He's world-class, Paul. These are the things that he, as you say, making hole-in-ones is what he does, and hopefully he does in a few weeks' time. He brings world-class golf to the team. … He just has that demeanor about him that when he gets in those tough situations, he wants it really bad; and in golf, sometimes it goes the right way or the wrong way."
Putting that aside, here was Bjorn's language about Sergio, who has had a stellar Ryder Cup career, but who only went 1-2-2 at Hazeltine and who is in extremely rough form at the moment, having failed even to qualify for the FedEx Cup playoffs:
"You've got to look at Sergio in certain ways. The one thing about Sergio is he's the heartbeat of the team. I've always said that about him. It's like a football team going without their captain. That's what he is ... there's just something about him, and I, for one, have so much belief that he's going to go to France and deliver as he normally does in the team, on the golf course, but as important, off the golf course."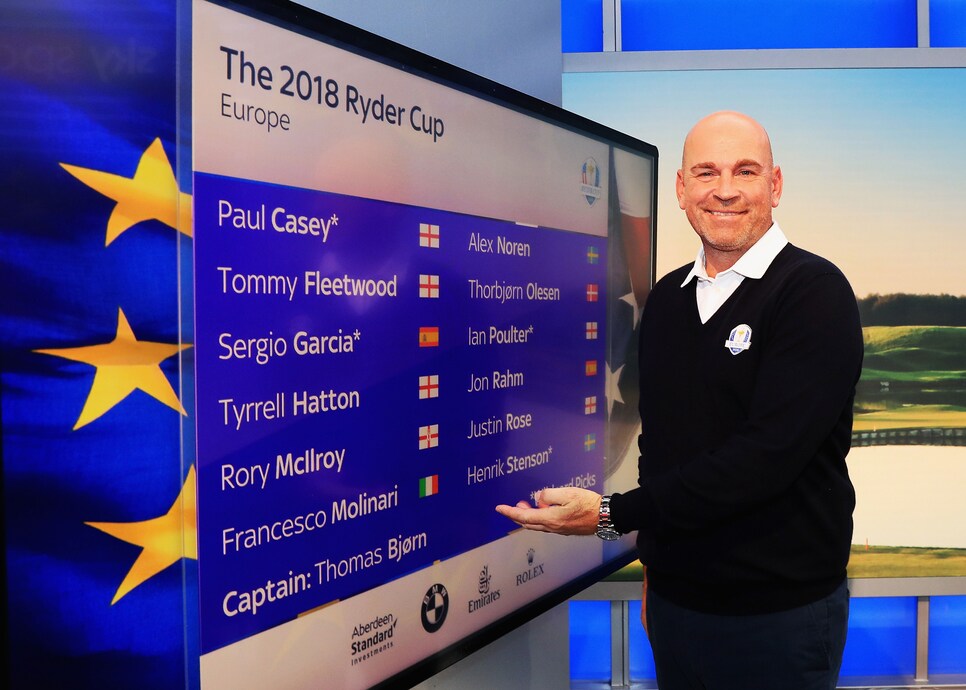 Andrew Redington/Getty Images
In other words, Bjorn picked Garcia and Casey based on intangibles rather than on who is playing the best golf. Which isn't to say he's wrong, necessarily—time will tell. But there was more than a hint of what the Telegraph's Oliver Brown called a "mates club"—a possible flaw with a system in which a team captain is too close in age to his potential charges.
And it's beyond debate to say that he ignored form and stellar (albeit recent) Ryder Cup experience in favor of history and—let's just say it—his gut.
It's never a good thing to be the Ryder Cup captain making the most news. There's a Japanese proverb that says "the nail that sticks out gets hammered down," and though Japan can't participate in the Ryder Cup, captains would be wise to heed their opinion.
The quintessential example of this, of course, came in 2014 and the Tom Watson debacle. Whether he was adding Webb Simpson to the team after a text message, making wild lineup decisions based on ultimately bad instinct or publicly fighting with Phil Mickelson, Watson was by far the more notorious of the two captains. Paul McGinley, on the other hand, was content to be quietly brilliant as he followed and expanded upon the infamous European template, and his team won with ease.
A similar dynamic, though far more muted, played out in 2016. Davis Love III (who did a terrific job four years earlier as U.S. captain at Medinah and was very unlucky to lose) stuck to a solid game plan and a boring demeanor, while Darren Clarke made a controversial experience-first friendship-first captain's pick in Lee Westwood (sound familiar?), panicked with lineup decisions almost from the start and earned a good deal of criticism that even his allies on the team couldn't stifle.
In 2008, the same could be said for Paul Azinger and Nick Faldo, and that example (Azinger's pods vs. Faldo's chaos) is particularly instructive. Perhaps there's another way to put this: When it comes to Ryder Cup philosophy, the system beats the individual.
Now, let's be fair: Jim Furyk had a very easy task with his picks, and it would have taken a Watson-level of incompetence to screw it up. Furyk did avoid a few traps, though—he could have made the mistake of leaving Mickelson off the team, which, though form may have half-justified such a move, would inevitably brought an unwelcome focus to his captaincy and risked planting the seed of future mutiny. Then, at the conclusion of the BMW Championship, Furyk could gone overboard with recency bias and done something silly like select Keegan Bradley or Xander Schauffele. He didn't—he gave a deserved pick to Tony Finau.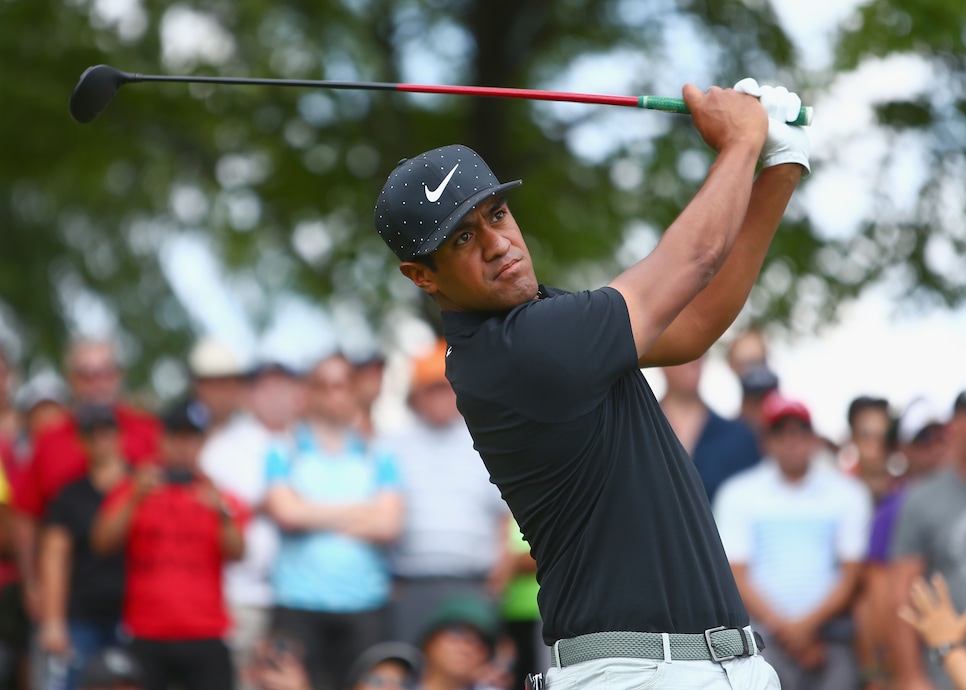 (Photo by Vaughn Ridley/Getty Images)
Beyond that, there is every indication that he's going to follow in the footsteps of Love and cultivate a comfortable, drama-free, predictable environment that gives his team the best possible chance to win. This is the proven path to victory, and he's on it.
Which isn't to say that the U.S. will triumph. The task is beyond formidable, and there's a reason America hasn't won in Europe in 25 years. But it's also evident that the "task force," which has essentially been a punch line since its formation, has accomplished what it set out to do by implementing an efficient system. And it's further becoming evident that, like Clarke, Bjorn is eschewing the template that brought Europe such sustained success over the last 30 years, and treating his captaincy less like the continuation of a great tradition and more like a showcase for his own instincts.
Through the years in the Ryder Cup, we have seen that the group thrives while the individual withers. No one person can whistle a symphony, and by understanding this, the Americans have given themselves their best chance in years to hoist the cup on foreign soil and reverse three decades of negative momentum.