News
No surprises: Tiger Woods, Phil Mickelson and Bryson DeChambeau named to U.S. Ryder Cup team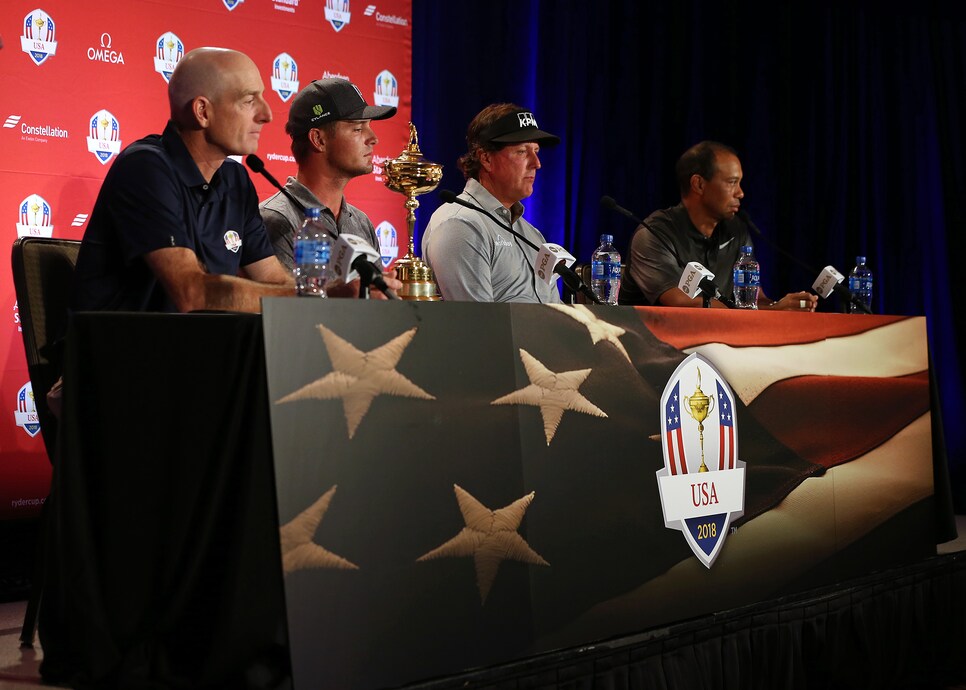 Foregone conclusions don't make for compelling viewing in sports, and no conclusion was more foregone than Tiger Woods, Phil Mickelson and Bryson DeChambeau receiving three of the four captain's picks to the U.S. Ryder Cup team on Tuesday.
Captain Jim Furyk made it official in a drama-free televised news conference in Philadelphia in advance of the BMW Championship at Aronimink Golf Club in nearby Newtown Square.
The fourth and final captain's pick will be made after the BMW Championship, allowing the captain to add a player with a hot hand. Even that seems to be a foregone conclusion; the consensus choice is Tony Finau, who finished second in the Northern Trust and tied for fourth in the Dell Technologies Championship.
Woods previously had been named a vice captain of the the team, a decision made when his future on the competition side was still uncertain. Woods, however, has played 16 events in 2018, finished in the top 25 in 10 of them, and finished in a tie for sixth in the Open Championship and second in the PGA Championship to earn his selection. He will no longer serve in that role.
"Tiger and I have had this conversation," Furyk said. "What Tiger and I have decided is he will play in this Ryder Cup and we'll name another vice captain. He's been instrumental in helping not only the captains before, but me as well, as far as strategy, as far as planning, as far as pairings. I'm going to continue to use that knowledge and that strategy. I also want to make sure Tiger gets very focused on that. I want to free him up."
Woods last played on a Ryder Cup team in 2012. "I haven't been part of the team playing wise for six years," Woods said. "This year, to have the honor to be able to play again is beyond special.
"At the beginning of the year, that was one of my goals, to make this team. I got the call from Jim, and he asked if I would serve as vice captain. 'Absolutely. Anything I can do to help you out.' Deep down I wanted to make the team. I hadn't really started playing golf again. But still the goal was at the end of the season to make this team. As the year progressed, I kind of gained some traction. I was somehow able to get some high finishes and lo and behold I'm part of this team. It's incredible, to look back at the start of the year … as I said, it's beyond special."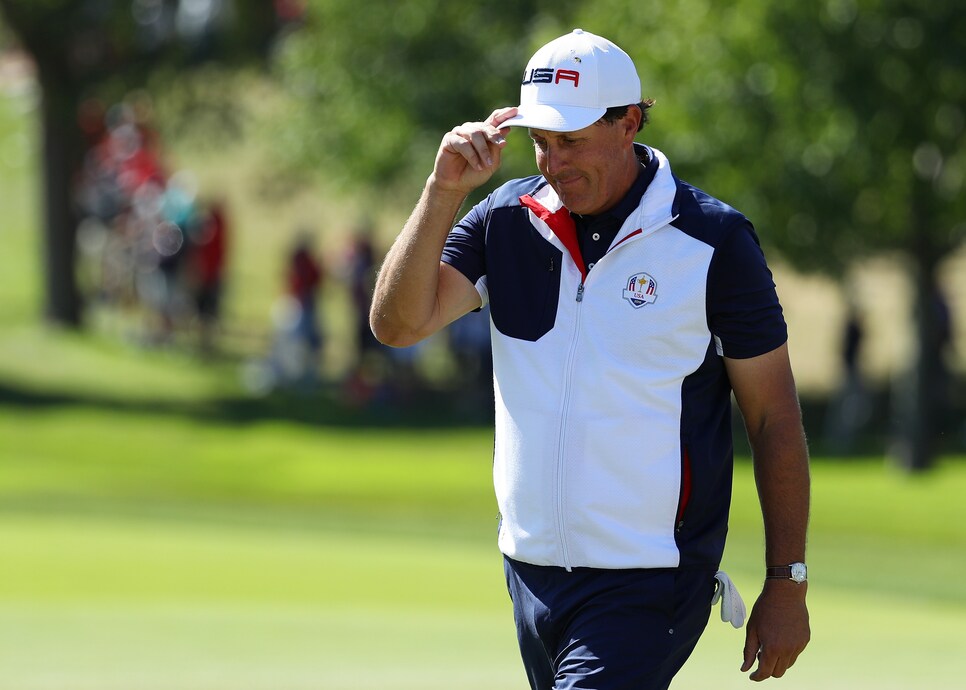 Mickelson, meanwhile, failed to qualify for a Ryder Cup team on points for the first time in his two-decade-long career. Yet he finished 10th in the U.S. Ryder Cup standings, ahead of Woods, who finished 11th. Mickelson won the WGC-Mexico Championship earlier this year and has finished in the top 25 in 15 of 22 starts. He has played on 11 U.S. Ryder Cup teams but there remains an feat he still hopes to accomplish.
"It's obvious the one thing that's been missing is for our team to go over to Europe and win," Mickelson said. "I'm very excited about the team this year, excited to be a part of this team. We have some incredible players, great leadership and a really special opportunity to do something we haven't done in a long time. It's going to be a great challenge because we know how strong the European side is and how well the play at home. But it's a wonderful chance and opportunity to do something I haven't been a part of in my career."
DeChambeau, who finished one spot short of qualifying on points, solidified his standing with consecutive victories in the Northern Trust and the Dell Technologies Championship the last two weeks.
"Obviously, a tough spot," Furyk said. "Finished ninth in points. He put a ton of pressure on himself, I'm sure. But to see the way he worked through that, hit the ground running, won the first two playoff events, just incredible. Not only won but won definitively on the back nine. I guess, thanks, you made it real easy on the captain."
DeChambeau had missed the cut in the PGA Championship, another in a string of poor performances.
"I think I had a couple tough goes the past couple months," he said. "It's always about how you respond in situations. You can be frustrated and disappointed. That passion is always there. I knew what I could do, the capabilities I had. I just had to figure out a couple things in order to move in the correct direction.
"It was disappointing to miss the top eight. I regrouped. Took a week off. I was able to figure a couple of things out with my putting."
A Woods-DeChambeau pairing would seem a cinch, too. The two have played practice rounds together on several occasions this year, including at the Players Championship, the Memorial Tournament, the U.S. Open, the Open Championship and the PGA Championship.
Furyk also announced that David Duval, Zach Johnson and Matt Kuchar would serve as vice captains, along with Davis Love III and Steve Stricker, who had previously been named.