News
Bryson DeChambeau continues going where no golfer has gone before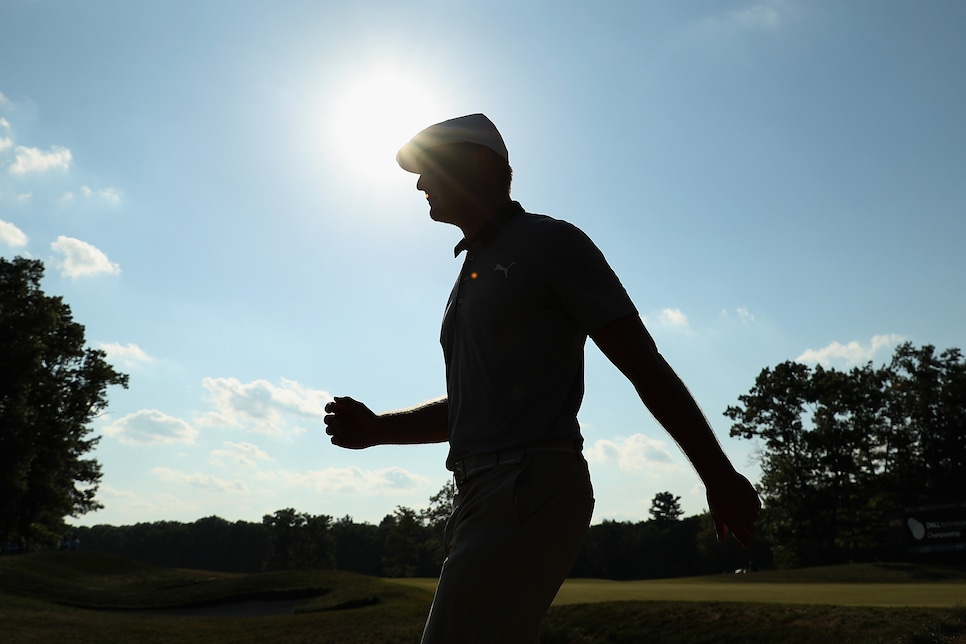 NORTON, Mass. — Bryson DeChambeau still remembers his first science project. He had a theory about gravity: That it pushed outward and not inward. "It actually got pretty high up there in the science fair," he said Monday night from TPC Boston. "It was pretty well explained."
His approach to golf has taken him to even greater heights.
For all the variety in players' games on the PGA Tour, there is a level of sameness to many of them, and at first glance DeChambeau's methods seemed quirky and novel to many, if not almost gimmicky. A few months ago, he was a one-time PGA Tour winner who could talk physics until your ears fell off, was identifiable by his Hogan cap and single-length irons, and known for talking about spatial awareness, standard deviation and proprioception.
Now you can add four-time winner before the age of 25, as well as a lock for one of Jim Furyk's four captain's picks for this year's Ryder Cup.
DeChambeau's two-stroke victory on Monday over Justin Rose at the Dell Technologies Championship was his third in his last nine starts, second in as many weeks and is more than contemporaries Rory McIlroy, Jordan Spieth and Rickie Fowler have in all of 2018 combined.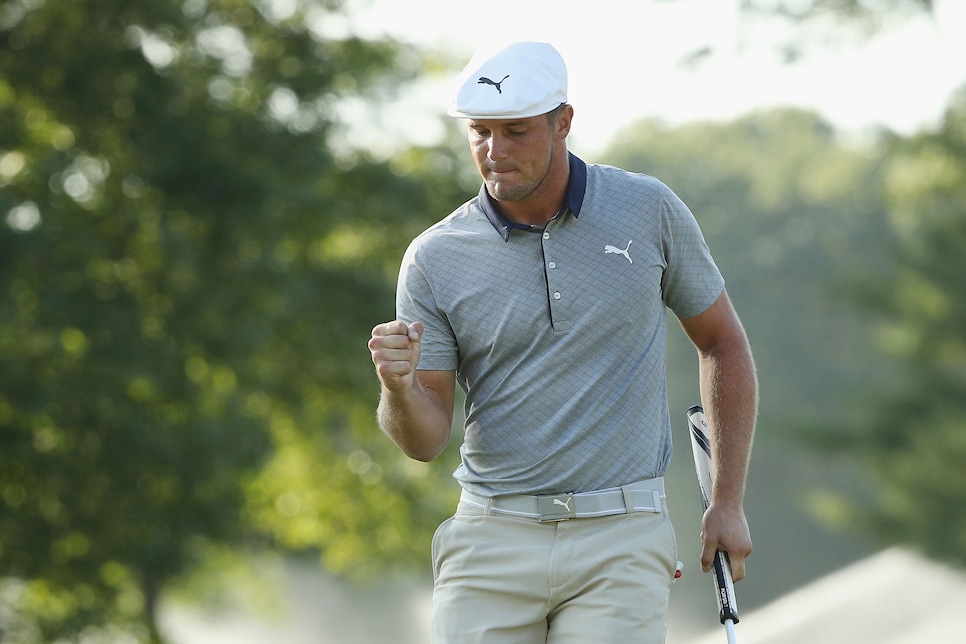 The win also vaulted DeChambeau, who started the year at No. 99 in the Official World Golf Ranking, to seventh and keeps him atop the FedEx Cup standings as he joined Vijay Singh as the only other player to have won the first two legs of the PGA Tour's postseason race. He'll be guaranteed to be No. 1 heading into the season-ending Tour Championship regardless of what happens at next week's BMW Championship.
And this is only the beginning.
"I was at a different level at that point in time relative to last year at this time," DeChambeau said. "I was trying to figure out why it wasn't up to my standard. I built something really, really consistent in the beginning of the year, and I kind of lost it. Kind of got lucky finding it. And now I'm starting to understand why I was so good in the beginning of the year.
"That's kind of a scary thought for me, at least, because it shows what I can do."
What DeChambeau did at TPC Boston, where he began the final round a stroke behind leader Abraham Ancer, was grab hold of the tournament with a two-putt birdie from 50 feet on the seventh hole, followed by a 12-footer for another birdie on the 220-yard eighth and then one more on the ninth after sticking his approach to the back right pin to six feet.
Cameron Smith made a late charge with a pair of birdies on 15 and 16, but DeChambeau also birdied 15 to keep a two-shot lead. Needing an eagle on the par-5 18th to catch DeChambeau, Smith came up short of the green with his second shot, the fall landing in the hazard Smith had to settle for a bogey. Game over.
It wasn't that long ago, however, that more than a few people in golf questioned whether DeChambeau's approach would hold up, particularly on the game's biggest stage and in the grind that is the PGA Tour. During his college recruitment, some schools stopped calling rather than accept DeChambeau for all the quirks. Similarly, early in his pro career, he struggled to find consistency in his game, burned through a couple of caddies and at times even questioned himself.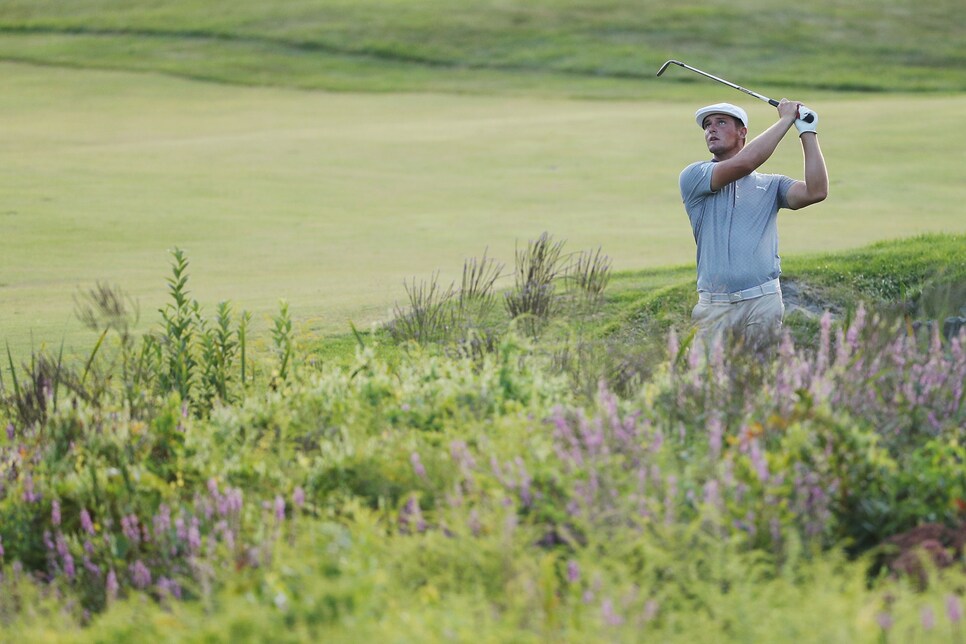 Whatever doubts existed, however, were extinguished not just Monday but have been over the past 14 months.
"I'm playing golf at the highest level and winning at the highest level," DeChambeau said. "And I'm consistently performing at the highest level. So there has to be some validity to it. Is everybody going to do it? No. But it works for me, and I believe this it's going to benefit me in the future, as well."
But it isn't just the method. It's the hard work behind it that he has put in that has paid off in a big way. "There was a lot that had to change in order for me to get here," he said, citing about 30 things he went about differently.
Some of that, though, included sticking with what got him to where he is.
In the spring of 2017, DeChambeau toyed with a longer backswing to hit the ball farther. He missed seven straight cuts. So he scrapped that plan and went back to the same swing that helped him become only the fifth player to win an NCAA title and U.S. Amateur in the same year. His first career victory, at the 2017 John Deere Classic, soon followed.
Then came wins at this year's Memorial, last week's Northern Trust and this week's Dell Technologies, each impressive in their own way.
A lot of players would have been happy with the trophies, or the spoils that come with them. But what stood out to DeChambeau was executing the shots to earn the victories.
"I remember all of them," he said.
At TPC Boston, that included the approach on 15, the 332-yard drive he piped on the difficult 14th and the tee shot on the 232-yard 11th. They were the kind of shots that the game's elite execute when it matters most. At just 24, DeChambeau is more than well on his way to joining them.
"How much better can I get?" he said. "I don't know what the future has, but I can say there is another level."