News
Bryson DeChambeau vs. Cam Champ: Who is golf's true Prince of Hype?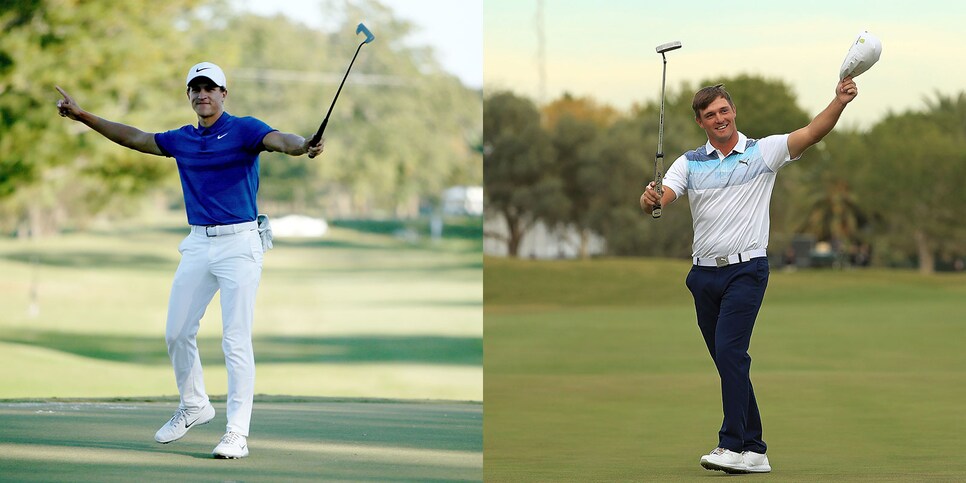 The last two weekends have given us a pair of extraordinary moments in the typically ordinary stretch of the season that we call "fall golf." (Or, "fake offseason.") On Oct. 28, 23-year-old Cam Champ used the illegal plutonium bazooka that he calls a driver to win his first PGA Tour event at the Sanderson Farms Championship, finishing at 21 under. A week later, fellow youngster Bryson DeChambeau won his third event in five tries by using nuclear physics and the Mongolian art of body-mind-nature-love proprioceptive neural melding to win the Shriners event with the exact same score. The hype for both men is at a fever pitch right now, but which of them deserves the most hype? There can be only one Prince of Hype, and the time has come for the lordlings to duel.
To answer this important question, I've designed a hype-meter that pits the two against each other in various critical hype categories. Like DeChambeau, it's scientific. Like Champ, it's powerful. And like golf itself, the wearer of the princely crown shall be decided by the greatest format of all: match play.
Bryson DeChambeau is an excellent name. It's complicated, exotic and extravagant. It sounds a little like a masked medieval knight who wins a joust and then kills the evil king using chivalry. Translated from French, the surname means "of the fields," which is apt for golf. It is, in most ways, good. But "Cam Champ"? Sorry Bryson, "Cam Champ" is iconic. It has echoes to short, legendary names like Babe Ruth and Tiger Woods, it works great in its longer form (Cameron Champ), and, well … it has the word "champ" in it. With its simple elegance, it makes "DeChambeau" look a little gaudy, like the name equivalent of Kramer dressing like a pimp.
Category 2: Physical Presence/Looks
Champ does just fine here—he goes for the slim Tiger-esque Nike look, though he doesn't have quite as much meat on the bone, which makes him slightly less intimidating. His face settles into a natural sneer on the course, and mostly he blends in with a lot of other guys. DeChambeau has an actor's facial versatility—he can go from total despair to innocent joy to grim determination to calculating genius in the blink of an eye, and the Ben Hogan flat cap suits him well. You can pick him out immediately on the course, and you're bound to remember his face.
I'm sure Champ is smart, but come on—we're talking about The Quantum Mechanic here, or whatever his latest nickname is. Along with the fact that he's prone to breaking out a compass or a nautical sextant to measure his putts, or that he sees the world like Keanu Reeves in the matrix, he's also pretty good at managing the media in a way we may have underestimated:

I know it's part novelty act, but even the novelty act is smart. There's no contest here.
Score: DECHAMBEAU leads, 1 up
Champ makes a move that he calls "the slingshot" when he hits the ball, and he drives the ball like a golden god. He's second on the PGA Tour right now, and he led the Web.com Tour last year by a good 10 yards. This despite the fact that he weights 180 pounds soaking wet. He is made of pure power, and DeChambeau is the kind of golf nerd who probably stays up all hours of the night watching slow-motion films of Champ's swing, trying not to melt.
When we're talking hype, younger is better. Champ is 23, so he wins. At 25, DeChambeau is barely even younger than Jordan Spieth, who already has three majors.
Bryson DeChambeau revolutionized the entire sport by making all his irons the same length in order to streamline his swing. Cameron Champ … (checks Google) … seems not to have revolutionized the entire sport.
DeChambeau has nicknames for his clubs: Herman, Jimmy, Tin Cup, Azalea, Gamma, Mr. Ward and King. Cam Champ … (checks Google) … doesn't have any nicknames for his club? Come on! What is he even doing??
Score: DECHAMBEAU leads, 1 up
Category 8: Emotional Range
Stoicism is not great for hype—the more you wildly emote, the more people see you as fascinating and want to know more, right up until the point that it becomes annoying. Sure, silence can be provocative, too, and mysterious people can draw you in, but in general golf is a sport where reserved, often boring personalities are abundant, and emotion stands out. That said, look at the sheer agony and despair on display here:
It's a full-blown existential crisis, and as far as I was concerned, he was never going to win again. It's Kabuki Theater-level emoting, and it rules.
Score: DECHAMBEAU leads, 2 up
Look at this fist pump from DeChambeau's crucial Sunday eagle putt last week—it lives up to some of Tiger's great pumps, and it's evocative of Rafael Nadal in the way he sort of charges into it:
It's cool as hell! As for Champ, here's how he reacted after making the winning birdie putt on 18 two weeks ago:
Not terrible. But for a maiden PGA Tour win, I wanted more. He's got some work to do.
Score: DECHAMBEAU leads, 3 up
Category 10: Off Course Needle-Moving Ability
A worthy hype prince can get people excited off the course just as easily as he can on the course. Stephen Hennessey documented many of the ways DeChambeau excels in this department, from his left-handed backward autograph to the time he re-wrote a physics textbook to his "vector putting" system to the latest, most hilarious story about how he's going to leave the flagstick in the hole to aid his long putts. And that piece doesn't even include that the USGA had to change its rules because the dude brought out a compass! Clearly, Cam Champ is severely out-classed here.
Score: DECHAMBEAU leads, 4 up
Category 11: Actual Accomplishments
I'm starting to sense a pattern here …
Score: DECHAMBEAU leads, 5 up
Category 12: Use of the Phrase "Like I Said" in a Single Presser
Am I inventing things now just to give Cam Champ a win in what has become a Europe vs. U.S. style blowout? MAYBE. But I make the rules here, and on Saturday at the Shriners, Cam Champ was asked 10 short questions, and managed to use the phrase "like I said" an astounding nine times in his responses—including in his first response, when it was technically impossible for him to have been referring to anything he actually said. That's one hell of a verbal tic!
Score: DECHAMBEAU leads, 4 up
Category 13: Most Recent Appearance on the Cover of Golf Digest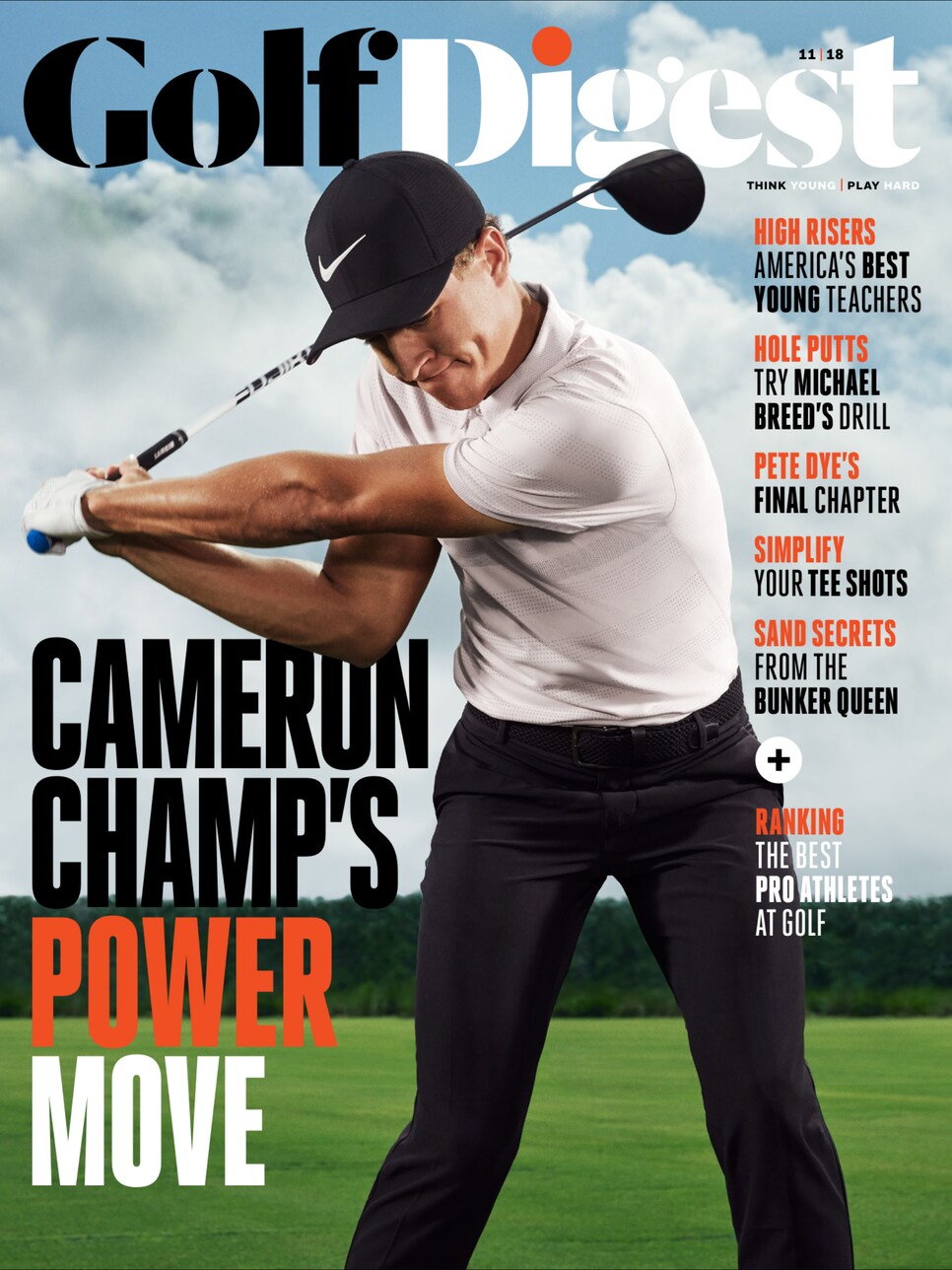 Score: DECHAMBEAU leads, 3 up
Category 14: Greatest Golf Porn Potential
Despite all of DeChambeau's science, it's Champ's driving ability that delivers the true golf porn, and we haven't seen him on Protracer very often. But when you consider that his club speed tops 130 m.p.h. and the ball speed gets close to 200 m.p.h., he exists on a different planet. Watch Alex Myers go deep on his technique, and keep in mind that his own coach, Sean Foley called him "the Usain Bolt of golf."
Score: DECHAMBEAU leads, 2 up
Category 15: Most Intriguing Hobby
Cam Champ likes to work on his truck, which is fine. Bryson DeChambeau does post-Impressionist paintings of Ben Hogan, which is …
Score: DECHAMBEAU leads, 3 up
Category 16: Hatred Inspiration Potential
Not even close. A certain kind of person gets super annoyed at DeChambeau—if you're at all anti-intellectual, he's basically the devil—and there's nothing like a polarizing personality to jack up the hype. Cam Champ isn't quite notorious enough to compete.
Score: DECHAMBEAU wins, 4 and 2
There you have it: a bloodbath. DeChambeau would have won the last two categories—Incendiary Quote Potential and Overall Eccentricity—in a rout. Champ is exciting, and I can't wait to see what he has in store this coming year, but nobody quite rises to DeChambeau's level. He is truly the Prince of Hype, and one day he shall be King.