Farmers Insurance Open
Beau Hossler feeling Torrey Pines vibe just when he needed it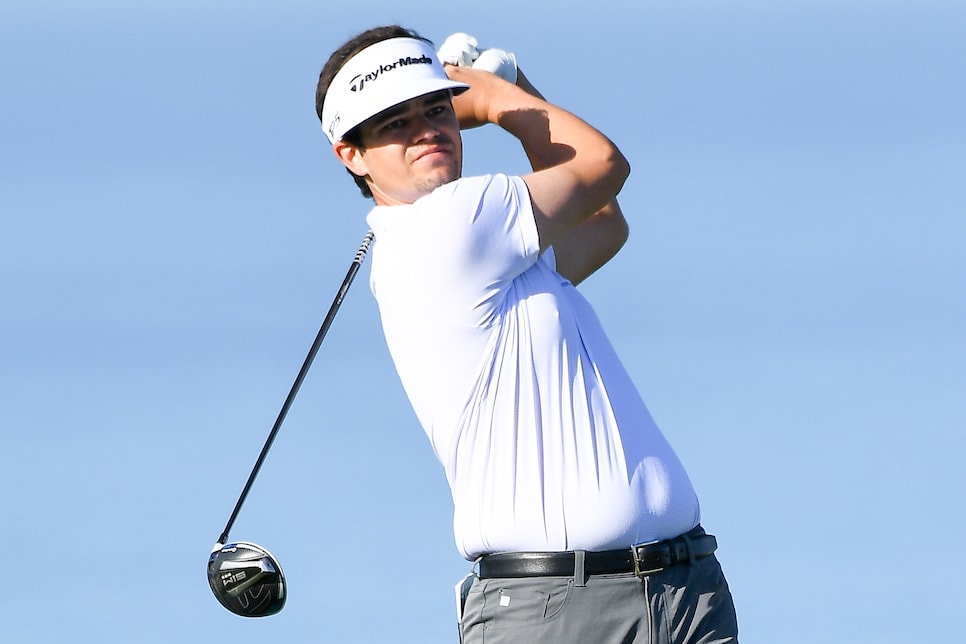 Beau Hossler watches his tee shot on the 11th hole on the North Course during the first round of the Farmers Insurance Open.
Brian Rothmuller/Icon Sportswire
SAN DIEGO — Beau Hossler isn't just looking to move in a positive direction this week in the Farmers Insurance Open, which he started on Thursday with six-under-par 66 on the Torrey Pines North Course. In his own words, he's looking for "validation" of the work he's been doing after a 2019-20 season in which he posted only one top-10 in 22 starts.
Having not finishing better than T-23 in any of his eight tournaments at the beginning of the new wraparound season—while missing three straight cuts to end the calendar year—Hossler toiled in earnest with his coach, Dana Dahlquist, making "fairly significant" changes that he started to feel good about during the break at his home course of Spanish Oaks in Austin, Texas.
"I was glad to have some time and not have to force shooting low scores right away," said Hossler, who started 2021 by missing the cut last week in The American Express. "I wanted to make sure I was doing things right and learning, most importantly, so that I can hopefully help myself on the golf course when I don't have his eye looking at it.
"I feel like I'm progressing in that direction, which is great. Certainly, a long way to go and this is one round in the 60s, but like I said, I'm pleased with the trajectory of my game and I'm optimistic about what this year's going to bring."
Hossler, of course, is the former wunderkind from Southern California who qualified for the 2012 U.S. Open at Olympic Club at 17, made the cut and took the lead briefly in the third round. He ended up fading a bit and was beaten for low-amateur honors by Jordan Spieth, whom he'd follow at the University of Texas, where both were stars.
Hossler's pro career, however, hasn't had the sharp upward trajectory that Spieth experienced early, though he still is only 25. In his first full season in 2018, Hossler twice finished second, including a playoff loss to Ian Poulter in the Houston Open. With five top-10s that year, he reached the FedEx Cup Playoffs' penultimate tourney, the BMW Championship.
In his next two full seasons, he hasn't consistently played at that level, posting one lone top-10. In 2019-20, it was clear where Hossler's struggles were: He was 149th in strokes gained/off the tee and 188th in SG/approach, and that didn't make up for stellar putting (24th in SG). It has to have weighed on a player who had every reason to expect prodigy-like pro success.
"Yeah, it's tough," Hossler said. "I want to compete and win, but when you're hitting it kind of all over the place it's hard to do that. As you know, the scores on tour most weeks is 15 to 20-plus under par, and the fact is you're just not going to shoot those scores with your putter alone.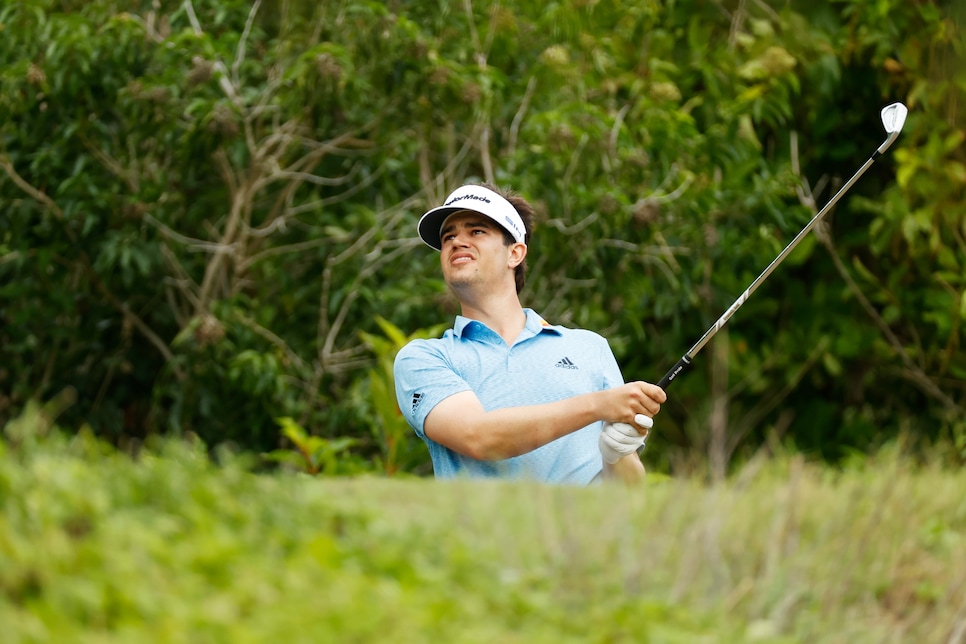 Beau Hossler, shown at the 2020 Bermuda Championship, went to work in the winter break to sharpen his iron play.
Gregory Shamus
"I've putted really well, but I've just not hit my irons well, not hit my wedges well, and that's obviously what I put a lot of work into. I will continue to do that because I think once I do that, I have a great chance to be a really good player out here."
But he's also trying to temper his own or anybody else's expectations.
"It's a process. The expectations are high," Hossler said. "Other people have expectations—not that that really affects me whatsoever—but I know what I'm capable of doing and it's just a matter of executing and doing that again."
Torrey Pines is a good place for Hossler to get that feeling back. He won the IMG Academy Junior World Championship on the South Course in 2011 and was runner-up in the event after his experience in the U.S. Open. And the single T-10 last year? It came in the Farmers, when Hossler also shot 66 on the North and eventually tied for ninth.
"I love it here, I think it's a real test," Hossler said. "You don't get any weird stuff happening out there; it's a tough test, but it's right in front of you, you know exactly what you need to do on every shot, and it's just a matter of whether you execute the shot or not."
For Hossler right now, it's encouraging to know he might actually pull that shot off.