CFB MVP
Austin Peay's helicopter-arm QB won the college football weekend
Another summer has (almost) come and gone, which means one thing: football, football, football, and some more football. It is, unequivocally, and I cannot stress this enough, the most wonderful time of the year.
And with the return of CFB comes the return of CFB MVP, one of our favorite weekly fall installments here at The Loop. For those of you familiar with this weekly award, welcome back. For any newbies, we're glad to have you here. Quick explainer: each week, we select a player, a mascot, a fan, a golf ball, a binge-watching coach or a frisky couple as that particular week's CFB MVP, the one who won the weekend.
For Week 0, 2022, the choice was easy, mainly because there was not a ton to choose from with so few games on the schedule (that will NOT be the case Week 1). Without further ado, we give the weekend to Mike Diliello, the quarterback from Austin Peay who threw a brutal interception and then became the talk of the internet for his attempt at a tackle near the end zone:
Just an incredible, incredible sequence of events here. The angle certainly doesn't help Diliello, who appears to literally throw it directly at Western Kentucky defensive back Upton Stout, who waltzes into the end zone as Diliello loses his balance and helicopter-arms his way into row 3. Here's a better angle, which might make it look worse, actually:
Yep, way worse. The really unfortunate part is that Diliello had a solid game that was on national television. He went 15-for-21 for 156 yards and two touchdowns, plus he had a rushing touchdown. As 30-point underdogs, the Governors covered with ease, even cutting the lead to eight points with eight minutes left before the Hilltoppers kicked a late field goal for a 38-27 win. And yet, all anybody will remember of Diliello, who will not be on TV again until Austin Peay plays Alabama in Week 12 for some reason, is this: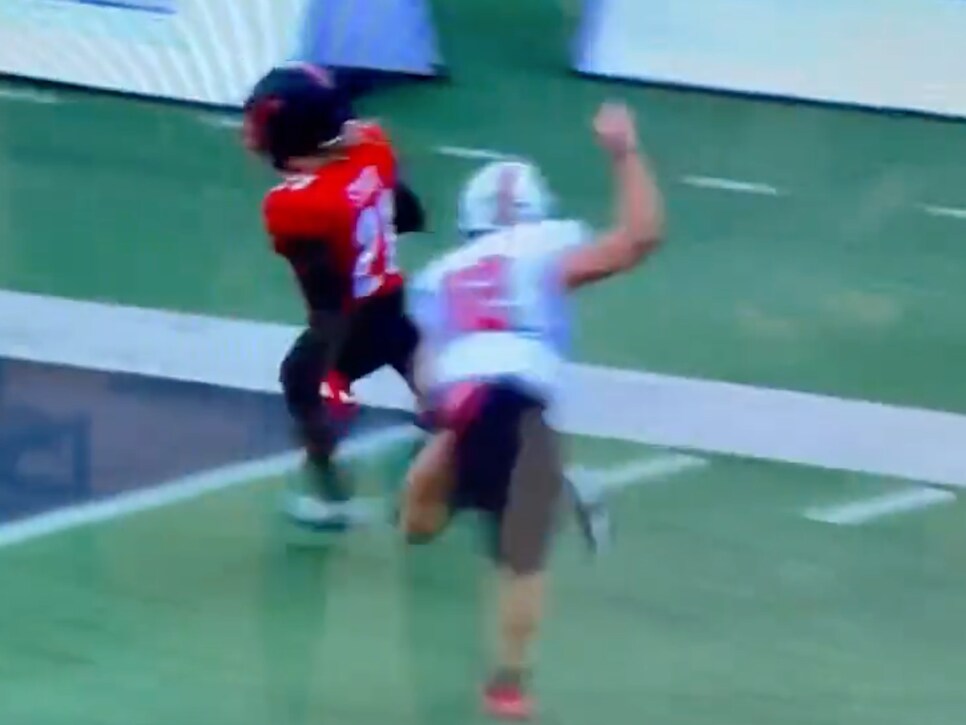 Tough scene. That's Week 0 life, for ya.
(In this section, we dole out helmet stickers to highlight those who *almost* won the college football weekend)
Five helmet stickers: Whoever came up with the slot machine idea at UNLV
No explanation necessary. It's perfect. And yes, UNLV won, 52-21, over Idaho State. Here's to many more slot machine pulls in 2022 for the Rebels.
Four helmet stickers: The ref who was warming up to ... ref
You talk about being addicted to the #craft. This is it right here. No stone unturned. No flag unthrown. No whistle unblown. This man was born ready.
Three helmet stickers: The Big Sky Conference's social media manager
In case you missed it, an overhyped Scott Frost-led Nebraska team lost to Northwestern in Ireland, 31-28, as a two-touchdown favorite. After the game, some random person tweeted that Cornhuskers belong in the Big Sky Conference of the FCS, and the Big Sky conference was having absolutely none of that:
Sheesh. Get rekt. The good news is Nebraska has two very winnable games coming up against North Dakota and Georgia Southern, both at home, before welcoming in the rival Oklahoma Sooners for a true gut-check affair for Frost and co. Anything less than 3-1 heading into the Indiana game in Week 5 and that seat is going to get extremely hot for Frost, who has yet to reach a bowl game in four seasons in Lincoln.
Minus-three helmet stickers: Desmond Howard

We'll have whatever the hell he's having.