college golf
With Viktor Hovland and Matthew Wolff as teachers, Austin Eckroat is going through his own tour school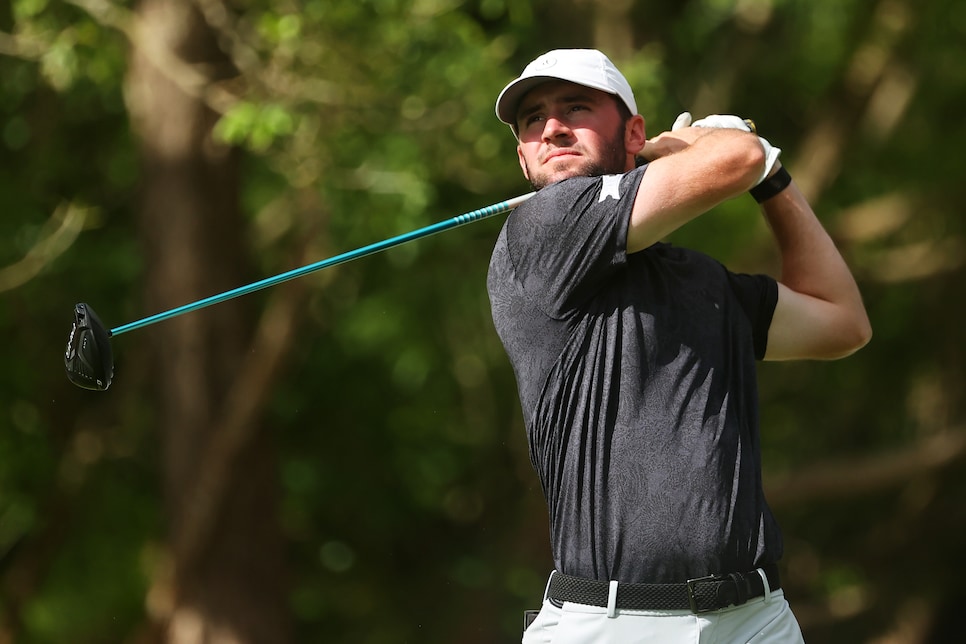 Amateur Austin Eckroat hits a drive during last year's Mayakoba Golf Classic on the PGA Tour.
Hector Vivas
Imagine being a college golfer living with a PGA Tour pro. Two different worlds to be sure, but Oklahoma State's Austin Eckroat knows first-hand what it's like.
Eckroat, 22, and former Cowboys star Victor Hovland, 23, are roommates in Hovland's house in Stillwater, Okla. Eckroat rents a room, and when Hovland happens to be home—which isn't all that frequent these days—the college senior has got at his disposal for advice and career counseling the 13th-ranked player in the world, a two-time tour winner in 2020 who is currently second in the FedEx Cup standings.
Eckroat also played junior golf and in college lived with former OSU teammate Matthew Wolff. At 21, Wolff is actually younger than Eckroat, having left school early after winning the NCAA individual title and winning on the PGA Tour in only his fourth start in 2019.
Eckroat has had a front-row seat to see how well Wolff and Hovland adjusted in going from the top levels in college to the upper echelon of the pros. From watching them pick sports management agencies, sponsors and schedules, "I kind of got to live vicariously through them throughout those stages," Eckroat said. "Some things you don't even think about. … I think I'm better prepared for that next step."
As one of the most consistent collegiate golfers in the country, Eckroat has had a stellar career. It all started with being a part of OSU's NCAA title team as a freshman year in 2018. In that same season, he also got his first individual college win at the Wyoming Desert Intercollegiate.
On Monday, Eckroat received one of amateur golf's biggest honors when the USGA named him to the 2021 U.S. Walker Cup team, which will play Great Britain & Ireland in May at Seminole Golf Club. "I'm really looking forward to it," Eckroat said.
Thirteen days after the Walker Cup comes the NCAA Championship at Grayhawk Golf Club in Scottsdale, and then it will be on to the pros in June for Eckroat, who has a strong chance to earn Korn Ferry Tour membership through the new PGA Tour University program.
First announced in June 2020, PGA Tour University gives the top college seniors in the nation access to the developmental tours of the PGA Tour. The top five seniors at the end of the 2020-21 college season get a membership on the Korn Ferry Tour and an exemption into the final stage of KFT Q school. Those who finish sixth through 15th will receive membership onto one of the PGA Tour's international tours—Latinoamerica, Mackenzie (Canada) or PGA Tour Series-China.
It made Eckroat's dream of playing professional golf that much easier. Eckroat is currently 15th in the World Amateur Golf Ranking and third on the PGA Tour University Rankings. As an amateur, he's played on the PGA Tour twice, missing the cut in the 2019 U.S. Open at Pebble Beach and, impressively, tying for 12th in the 2020 Mayakoba Golf Classic last November.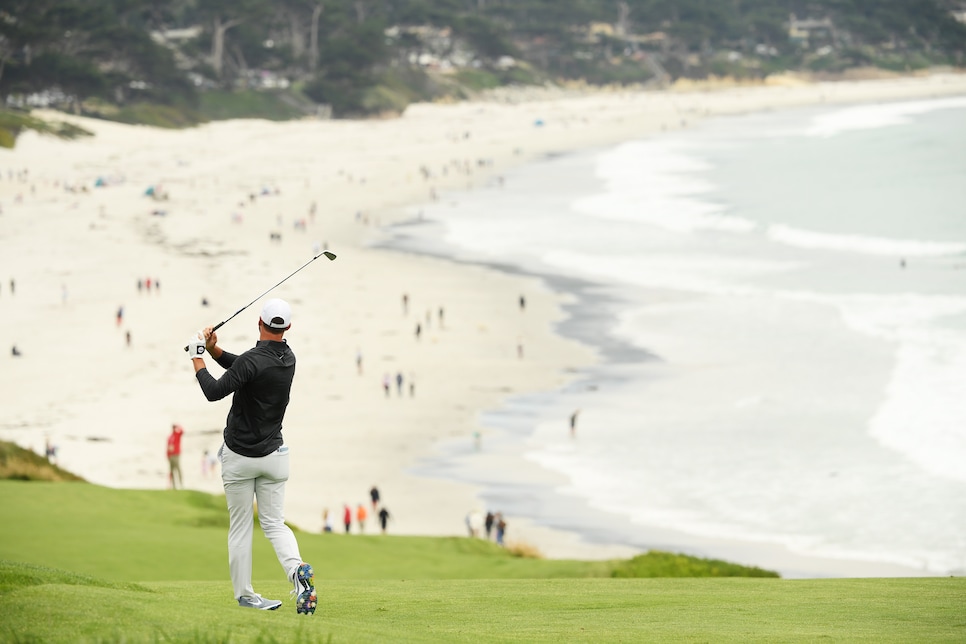 Austin Eckroat has played in two PGA Tour events, including the 2019 U.S. Open at Pebble Beach, where he missed the cut.
RK
To prepare for upcoming events, Eckroat is focusing on his swing mechanics and "keeping things simple" with his main swing coach, his dad, Steve Eckroat, and Ryan Rody, the director of instruction at Tulsa's Southern Hills Country Club. Eckroat said that the relationship between him and OSU head coach Alan Bratton has been "awesome. He understands the game really well" and he has helped Eckroat grow personally and as a golfer, and mature over the years.
"College has been a mini exposure [to the pros]," Eckroat said. "So, the adjustment period to the Korn Ferry Tour should be easy."
Prior to playing in his two tour starts, Eckroat had only attended three PGA Tour events: the Charles Schwab Challenge and AT&T Bryon Nelson in Texas, and the 2006 PGA Championship at Medinah, where Tiger Woods won. Still, he's ready to get on the other side of the ropes and put his self-described "traditional golf swing" to the test.
Eckroat thinks keeping his swing simple and focusing on the fundamentals have been the keys to his college success. From his freshman year to now, he says his wedges, short game, putting and strategic approach (thanks to Coach Bratton) have been his biggest areas of improvements. While he thinks his game off the tee is often underrated, he believes it will be an asset to him on the Korn Ferry Tour.
The pause of collegiate golf around the country due to the COVID-19 pandemic gave Eckroat the chance to simply enjoy golf again with his friends. It took him back to when he was 10 years old in his hometown of Edmond, Okla., where he would play golf every day, sunset to sundown, without a stress in the world. Eckroat and his buddy, Quade Cummins, a senior at the University of Oklahoma (who is seventh in the PGA Tour U Rankings) were playing at their home course, Oak Tree Country Club, during the downtime and were mentioning to each other that, "It's hard to play golf whenever you're not preparing for anything … you're just playing to play." But, playing in an amateur event in Dallas just for fun gave them some motivation during the extended break to improve some things.
While the two-time college winner has his sights on potentially joining the PGA Tour alongside Hovland and Wolff, Eckroat already has some dream tournaments he's striving for, including one day playing in the Masters, the Memorial and the Waste Management Phoenix Open. He knows getting into his hometown major, the 2022 PGA Championship at Southern Hills (moved from Trump Bedminster) is a long-shot goal, but he thinks he can pull it off.
Eckroat says the "a-ha" moment in golf for him that keeps him coming back is "striping a long iron down the middle of the fairway and the ball landing right next to the pin." He wants people to know that: "He's a really nice guy, and he never gives up."
This week, OSU is competing in the Cabo Collegiate at TPC San Antonio, and in the first two rounds, Eckroat shot 75-70 to be tied for fifth place.