Amateurs
The U.S. is taking an experienced team to the 2021 Walker Cup with the final 10-player team set for Seminole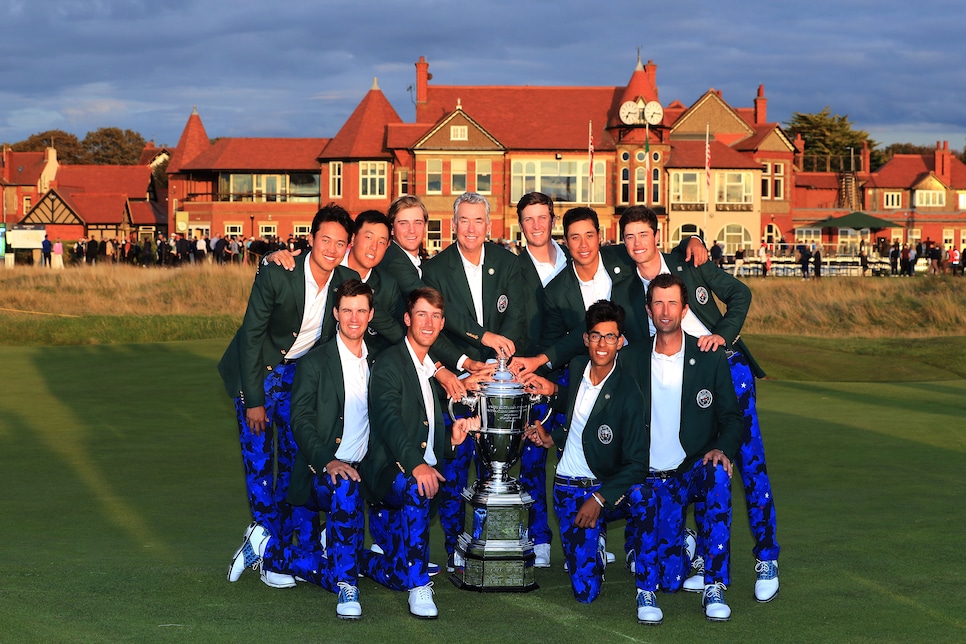 After a victory at Royal Liverpool in 2019 (above), the U.S. Walker Cup team will be seeking to retain the cup at Seminole Golf Club in May.
David Cannon/Getty Images
Experience isn't something recent U.S. Walker Cup teams have always sported, but it's a trait you'll find on the 2021 squad that the USGA formally introduced on Monday morning. Three of the 10 players—Stewart Hagestad, Cole Hammer and John Pak—played for the victorious American team at Royal Liverpool in 2019, with Hagestad also a veteran of the 2017 U.S. side.
Not only that, but the trio has had success, going 7-4.
Pak secured his spot on the 2021 team that will play at Seminole Golf Club in Juno Beach, Fla., come May thanks to his position in the World Amateur Golf Ranking. He was joined last month by three other automatic picks—Davis Thompson, Ricky Castillo and U.S. Amateur champion Tyler Strafaci.
Added to that foursome on Monday were Hammer and Hagestad, along with four others chosen by the USGA's International Team Selection working group: Pierceson Coody, Quade Cummins, Austin Eckroat and William Mouw.
Eight of the 10 team members are playing college golf this spring with four playing in their senior seasons. All are inside the top 23 on the World Amateur Golf Ranking with an average spot of 12.
Adding to the experience factor is the return of captain Nathanial Crosby, who led the U.S. team to a 15½-10½ victory in 2019 at Liverpool.
"It is once again a great privilege to serve as the USA captain and to work with a group who represent the best of amateur golf," said Crosby, who also played on the winning USA Team in the 1983 match. "The 10 team members have a notable list of accomplishments on the collegiate, national and international levels. They will represent the United States in the spirit and tradition of the Walker Cup Match."
For the first time in the nearly 100-year history of the event, the two-day competition against Great Britain & Ireland is being played in the United States during the spring. Because of COVID-19 health and safety guidelines, however, a limited number of tickets will be available for sale beginning in the spring.
Alternates for the team are McClure Meissner and Garett Reband.
2021 U.S. Walker Cup team
Ricky Castillo
Age: 20
College: Florida
World Amateur Golf Ranking: 6
PGA Tour University ranking: N/A
Pierceson Coody
Age: 21
College: Texas
WAGR: 9
PGA Tour U: N/A
Quade Cummins
Age: 24 (25 at time of the match)
College: Oklahoma
WAGR: 18
PGA Tour U: 7
Austin Eckroat
Age: 22
College: Oklahoma State
WAGR: 15
PGA Tour U: 3
Stewart Hagestad
Age: 29 (30 at time of the match)
WAGR: 11
PGA Tour U: N/A
Cole Hammer
Age: 21
College: Texas
WAGR: 19
PGA Tour U: N/A
William Mouw
Age: 20
College: Pepperdine
WAGR: 23
PGA Tour U: N/A
John Pak
Age: 22
College: Florida State
WAGR: 5
PGA Tour U: 1
Tyler Strafaci
Age: 22
WAGR: 13
PGA Tour U: N/A
Davis Thompson
Age: 21
College: Georgia
WAGR: 1
PGA Tour U: 4