PGA Tour University
Controlled chaos: U. of Georgia senior Davis Thompson begins the most hectic semester of his college career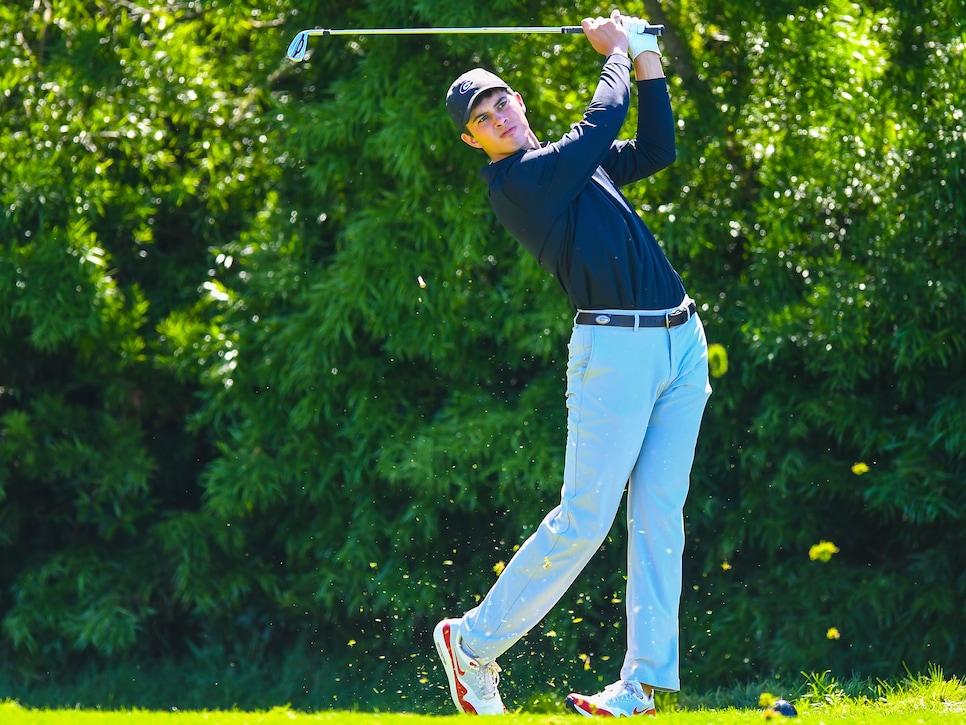 Davis Thompson's roots are in neighboring Alabama, in his hometown of Auburn, but indisputably he was molded from the red clay of Georgia. Those who refer to canines as Dawgs saw to it.
Thompson, a senior, is a pedigreed Georgia Bulldog, whose father Todd once captained the University of Georgia golf team. Todd's roommate one year was Peter Persons, a former PGA Tour winner who has tutored Thompson for a decade or more.
"He didn't have a chance between Todd and me," Persons said.
The Thompson family home, meanwhile, is now in Georgia, in St. Simons Island, where Davis has a litter of Bulldogs (a dawg pound?), PGA Tour members now, with whom he can consult and measure his game against theirs.
On the eve of Georgia's spring season and Thompson's final semester in Athens, the question then is this: Does his game measure up?
The calipers will be working overtime in the months ahead, the most important of Thompson's waning amateur career. First up is the prestigious amateur tournament the Jones Cup Invitational that began on Thursday at Ocean Forest Golf Club in Sea Island, Ga. Thompson is the defending champion.
There, too, is the Walker Cup in May (for which he is a virtual lock to make the U.S. team), the college season (Georgia is ranked fifth in the coaches' poll with Thompson, like his dad before him, serving as team captain) and the PGA Tour University ranking, a new initiative in 2021 that provides a gateway to the Korn Ferry Tour at the end of the college campaign by offering the top five seniors a full KFT exemption through the rest of the season. Oh, and doing this all while still attending school in the midst of the COVID-19 pandemic.
For an aspiring tour player, PGA Tour U might be the most important goal, as well as the one that brings with it the most pressure. Thompson is fourth in the standings, thanks to a junior year in which he earned first-team All-American honors after finishing the coronavirus-shortened 2020 season with a 69.95 average, second lowest in UGa history, and a win and four top-10s.
"I'm not necessarily trying to put pressure on myself to make the top five," Thompson said. "Everybody's journey is different in the game of golf. If I'm in the top five, I'll go, but if not, I'll see what else I should play in. I'm definitely trying not to put pressure on myself. Good golf takes care of a lot of it. Obviously the goal is to be in the top-five ranking, but you can't fall in love with the ranking.
"The Walker Cup is a big goal on my list. I would love to make the team and represent the United States. More importantly, I'm excited to play for Georgia and hopefully the team can make a deep run into the NCAAs."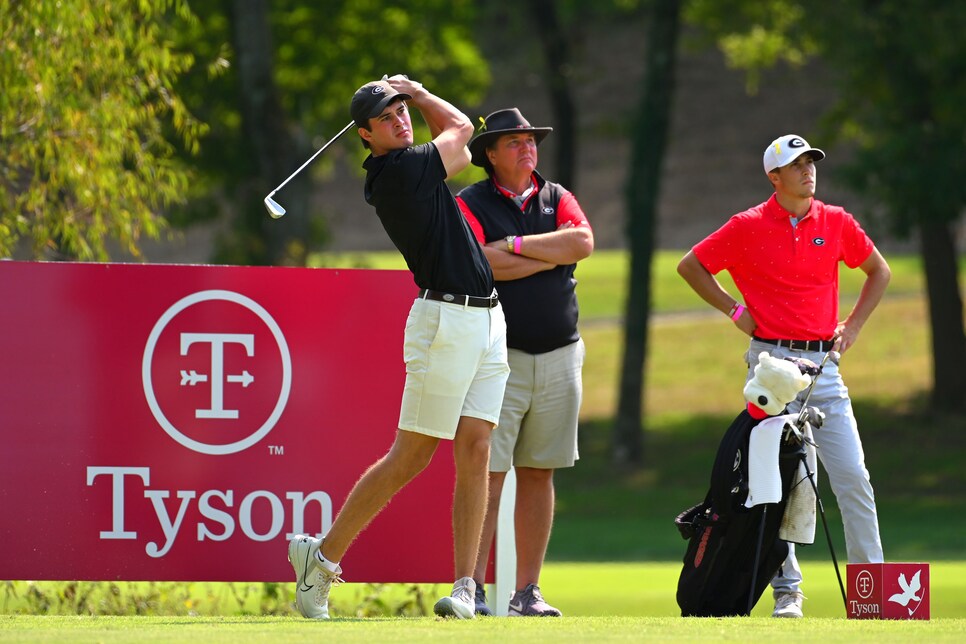 Thompson is captain of the 2020-21 Bulldogs team that ranks fourth in the latest college coaches' poll. (Photo courtesy of the University of Georgia)
The three highest American players in the World Amateur Golf Ranking on Feb. 10 will earn automatic berths on Captain Nathaniel Crosby's U.S. Walker Cup team. Thompson is No. 2 in the WAGR and the top-ranked American at this point.
"We've talked a little about that, this pressure and everything he's going to be doing as far as golf," Persons said from his office in Macon, Ga. "There's pressure right now what he's doing. There's pressure going to the University of Georgia and competing. There's always going to be pressure.
Persons knows the next six months are important, but also contends that every period over the last four or five years has been important as far as his growth. "He thrives in it, the pressure," Persons said. "He's got the mindset, he's got the long game, he's got the short game. We're so excited about his future.
"I think he's done a very good job of overcoming many obstacles in order to reach his goals. He's even keel and that helps him. And finally he realized how good he is over the last year or two."
The discovery likely began with the 2019 Western Amateur, when Thompson was medalist. "That's a big deal," Persons said, noting that the medal portion of the event is 72 holes and that the field is likely the second best in amateur golf.
It was solidified at the 2020 U.S. Open at Winged Foot last September when for a time in the opening round he found himself atop the leader board and on television. Thompson shot 69 that day and was tied for 14th after the first round, though a second-round 78 resulted in his missing the cut.
"That was a really fun week for me," Thompson said. "I felt great going into that event. I had no doubts I could play well. The biggest thing I took away from it is the difference in maturity level between a mature college player and a mature professional. I'm trying to work on that. But it was encouraging seeing my name on the leader board, knowing I could compete out there."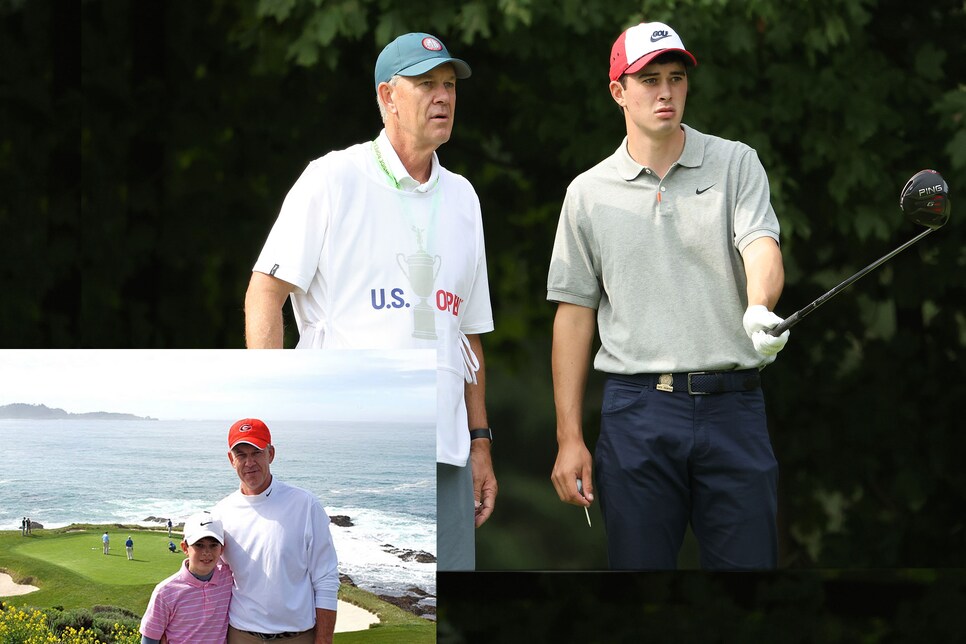 Todd Thompson, Davis' father, caddied for his son in the U.S. Open last September at Winged Foot, having introduced him to the game and taken him to PGA Tour events in his youth (inset). (Photos courtesy of the University of Georgia)
Davis obviously was introduced to golf by his father, who now is the tournament director of the PGA Tour's RSM Classic at Sea Island Golf Club.
"He's had a great influence on me, but not just in golf," Davis said. "I really tried to play as many sports as I could. Football, basketball and golf. And baseball a little bit. I liked golf, but I didn't really love it that much. As I got older I began more and more taking a liking to it. When I was 11 or 12 I got pretty serious about playing it."
It was then, too, that Persons began working with him. His competitiveness even then suggested to Persons that Thompson had potential. His size, too, was working in his favor. Today, he is 6-3, 190 pounds.
"You kind of knew early on because he was so competitive at such an early age," Persons said. "You knew he was going to be a big boy. You knew he was going to have a long game, which is required on tour these days.
"But as a kid he got how important the short game is. He's got a total package. Obviously, he's got the long game, but he also knows how important it is to get the ball in the hole. He's now working on all cylinders."
Persons recalled a specific short-game practice session when Thompson was 14 or 15. An older student with whom Persons was working, a player now on the PGA Tour (he declined to identify him by name) was enlisted by Persons to participate in a short-game competition with Thompson, shot from 100 yards and in.
"All different yardages, nothing but a closest to the hole, and this kid just drilled this guy. At that moment, I knew he was going to be something special.
"I'm so excited to watch his development."