PGA Tour
Lee Westwood's resurgence is part of a bunch of crazy things that happened at Bay Hill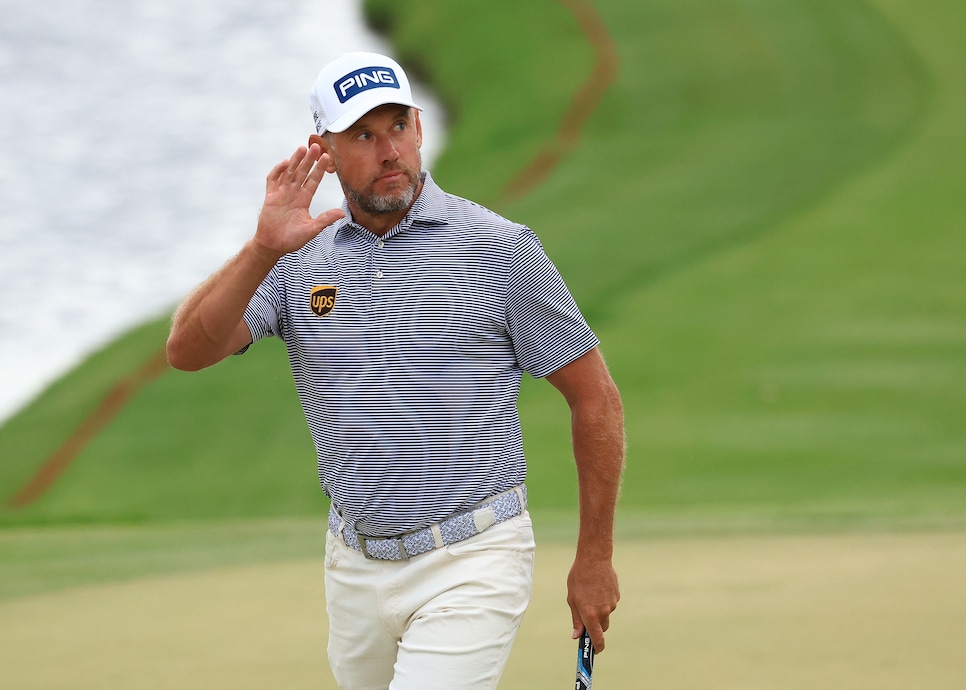 Lee Westwood reacts after making a birdie putt for birdie on the 18th green during the third round of the Arnold Palmer Invitational.
Mike Ehrmann
ORLANDO—Victor Perez made an 11, but that's old news.
Things happened at the Arnold Palmer Invitational on Saturday, and then more things happened, and then the things would not stop happening. Jordan Spieth aced the second hole, on a mishit, and promptly snipe-hooked his very next shot into the water. (He made par, of course). Justin Rose found that same water, then did it twice more, but he did not make par—he made 9, then called it quits 15 minutes later with a bad back. Bryson DeChambeau (kinda) tried to drive the green on a par 5, then celebrated like Barry Bonds when he (kinda) pulled it off.
The cadence was frenetic, the roars jarring. Yes, roars. Real ones. There are 5,000 fans on-site per day this week at Bay Hill but given the eerie silence of the last 12 months, they sound like 50,000. It was easy to lose focus, with the return of GET IN THE HOLE! and look, over there, Spieth just dropped yet another 20-footer.
Fitting, then, that a 47-year-old who has seen it all has his nose out in front.
Lee Westwood, the man who turned pro the year before this writer was born, holds the 54-hole lead at Arnie's place at 11 under after a 65 that featured eight birdies and an eagle.
"I'm looking forward to it," Westwood said of a chance to win his 45th professional tournament but just his third PGA Tour event. "I was just saying that I'm 48 in a month's time, and so it's nice to still be playing in these tournaments. You got to be top 50 in the world, and if you would have said to me 20 years ago, will you still be top 50 in the world at 48, I might have been slightly skeptical."
Not just top-50, but the reigning Race to Dubai winner. Westwood won his third version of what used to be called the European Tour Order of Merit in December—thanks to a win in Abu Dhabi last January, a runner-up finish at the season-ending DP World Championship was enough to get the job done. It's the crown jewel of a mid-40s renaissance that has taken place with his girlfriend, Helen Storey, on the bag. In the COVID era, fist-bumps have replaced handshakes on the 18th green. But these two share a bed, so they kiss after every round.
Is he at all surprised, being able to keep up with guys half his age?
"No, because I haven't lost any of my length, and I haven't lost my enthusiasm to go and work in the gym," Westwood said. "My nerves are still intact, I still get into contention and enjoy it rather than back off.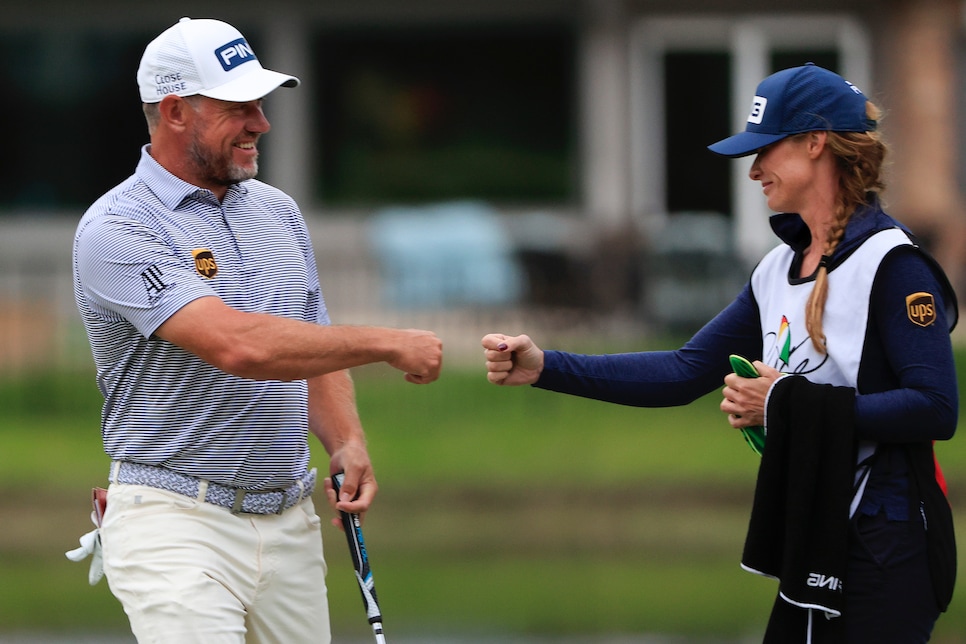 Lee Westwood of England celebrates with caddie Helen Storey after making a putt for eagle on the 16th hole during the third round of the Arnold Palmer Invitational.
Sam Greenwood
"I don't treat (golf) as seriously. I probably have the attitude of 20-year-old Lee Westwood. Through the 30s, I started to treat it a bit too seriously and worry about what people thought or look at trouble on the golf course. Now I just sort of stand up and hit it, and if it goes well, it goes well. And it generally does."
Speaking of length … Bryson DeChambeau is just a shot back, squarely in contention to win for the first time since his tour de force at the U.S. Open. He shot 68, but all anyone wanted to talk about was the 370-yard bomb off No. 6 tee.
"Oh, man, I felt like a kid again," he said. He sounded like one, too. "It was exciting. Especially when you pull it off, and, you know—it was almost like winning a tournament. I don't know. It's kind of the feeling I had. It was like, Oh, I did it."
Corey Conners, the 36-hole leader, survived a slow start and shot 71. He, too, is a single shot behind. One further back are Keegan Bradley, who shot the round of the day with a 64 before the winds picked up, and Spieth, who is looking more and more like the Jordan Spieth of old. He made 140 feet of putts on Saturday, despite the ace and a hole-out for birdie from a bunker on 7.
"It was just another round that, unfortunately, wasn't boring for me," he said. "I'm trying to have boring rounds and I, today was—I felt better leaving the range than I did yesterday on the range, but I hit it a lot worse today than I did yesterday. Outside of, obviously, the shot on No. 2.
"But man, I just, after that (shot) on 2 … it was almost like the first shot at the Ryder Cup kinda feeling, where you're just so amped up."
Ryder Cup comparisons are not something we've heard on the COVID-era PGA Tour. Even the signature moments of the last year—Collin Morikawa's drive on 16 at TPC Harding Park, Rahm's chip-in at the Memorial, Bryson's romp at Winged Foot—have been met with polite applause, at best. With a stacked leader board, fans on-site and the presence of Arnold Palmer looming strong as ever, Sunday should bring a final round some long-overdue energy.
For Westwood, it's a chance to win on U.S. soil for the first time in nearly 11 years. He doesn't recall too much about that oppressively hot day in Memphis, where he won the St. Jude Classic.
"I recall certain things," he said. "Obviously I won in the playoff and Robert Garrigus made a mess of the last hole to give me and Robert Karlsson a chance.
"But I played a lot of tournaments since then—and had a lot of wins since then."