Letter from Europe
How pole vaulter Armand 'Mondo' Duplantis used golf to get through the pandemic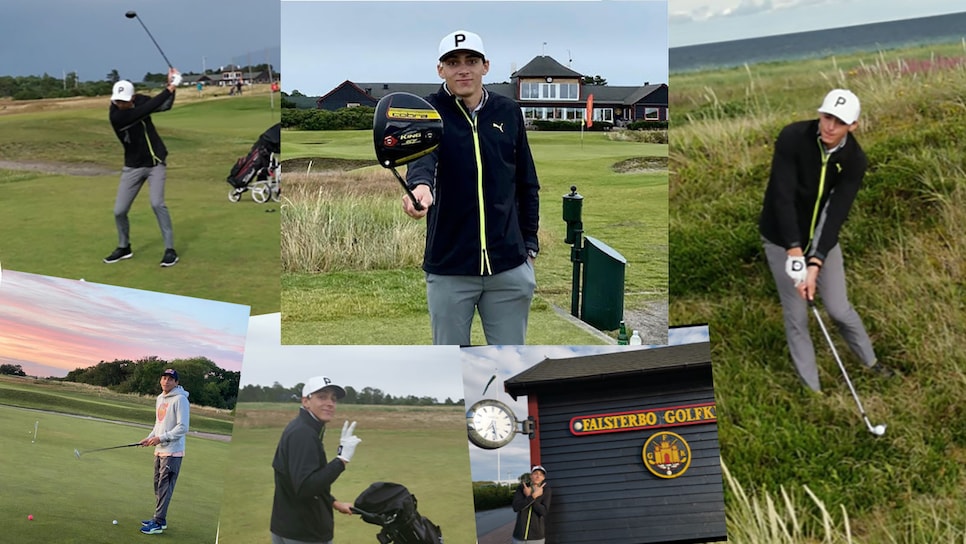 As the wider world has no doubt heard by now, leading male professional golfers have been known to spurn the chance/privilege/opportunity to represent their countries in the Olympics. Varying in quality and believability, the array of excuses offered have typically failed to disguise an underlying lack of enthusiasm, even among strong medal contenders.
Four years ago, the first Olympic golf tournament in more than a century went ahead in Rio without the likes of Rory McIlroy, Jason Day, Jordan Spieth and Dustin Johnson, then the four top-ranked men's players on the planet. This time round, Johnson, Adam Scott, Lee Westwood and Danny Lee have already intimated their intention not to compete for gold, silver and bronze in Tokyo. More will likely follow.
Still, one "golfer" will definitely be there, albeit he won't actually be teeing-up during his time in Japan. It's safe to say he'll be tempted though. Since discovering the game during lockdown 2020, Armand "Mondo" Duplantis, world-record holder in the pole vault, has become an avid player. Already, the American-born left-hander—who represents his mother's native Sweden in international competition—plays off a handicap of 13.
"After the 2020 indoor season ended in March last year, all my competitions were postponed, including the Olympics," Duplantis says. "So my friends and I were looking for something to do. There were two courses open near my home in Louisiana, so we gave golf a go. Before we knew what was going on we were playing five times a week. We fell in love with it."
Amidst this enthusiasm, it would be wrong to say Duplantis completely neglected his true vocation, one that has seen him clear the best-ever height of 6.18 meters, claim the gold medal at the 2018 and 2021 European Championships, win a silver at the World Track & Field Championship in 2019 and top the standings in the 2020 Diamond League (the athletics equivalent of the FedEx Cup). But, with his usual training facilities at Louisiana State University closed, he was forced to practice in his parents' backyard.
"Which is where I started jumping," says the 21-year-old. "My father built a track for me, with a pit and a mat. Anyway, I went back there. It wasn't high-quality stuff, but it was enough to keep a pole in my hands. My event is just like golf in that you have to practice a lot. It's so specific, it needs time."
There are other similarities between the two sports, unlikely as that may seem at first glance. According to Duplantis—who stands a fraction under six feet and weighs 174 pounds, 1½ inches and two pounds less than six-time former world champion Sergei Bubka (any taller or heavier and they would lose the agility they need for the event)—golfing and vaulting are heavy in technical challenges, both mentally and physically. And both are all about timing.
"If I'm feeling fast and strong, I have good results with a pole in my hands," he says. "But not necessarily in golf. No matter how I'm feeling, the ball can go anywhere. Rhythm is so important. When I'm vaulting, I need to get pumped up to run faster. But that's not really what you want in golf. On the course, you have to stay cool. You can't get too excited by the good shots or bummed out by the bad ones. You have to find a middle ground. And you have to look forward in both sports. What just happened doesn't matter. It's all about the next jump or the next shot. Short-term memory is key."
Perhaps the biggest benefit Duplantis has gleaned from his time on the course is the "one shot" nature of golf. In pole vaulting, he can have three attempts at each height; three chances for success. Golf affords no such luxury, a discipline that has given Duplantis a new sense of purpose. At the aforementioned 2019 World Championship, he cleared the same height, 5.97 meters, as the eventual winner, but lost the gold medal because he had failed once more often at earlier heights. It is a lapse he has no intention of repeating.
"Every shot in golf is like my third attempt," says Duplantis, whose parents, Greg and Helena, met when both were on the track team at LSU. "And golf has helped me focus in vaulting. I've been guilty of not taking my first and even second attempts too seriously. Knowing you have a third attempt is not always a good thing. It doesn't allow as much breathing room as you think. So golf has helped me there. Every shot matters. And now I take that attitude into every vault. I know now not to take any attempt lightly."
As for the state of the Duplantis golf game, he has already been brave enough to put it on display alongside members of the Swedish Royal family. Invited by Princess Victoria and Prince Daniel to "hang out" last summer, Duplantis played with the latter in a Texas Scramble and performed with no little distinction. Predictably, however, the first tee was a bit of an ordeal, even for one so used to public scrutiny.
"There were so many cameras there," he reports. "I have never been so out of my comfort zone. I can jump in front of a million people and be fine. I know what I'm doing. In fact, the more people watching me the better. But this was different. There were people lining both sides of this narrow fairway. It was a level of pressure I had never felt before. But I striped one down the middle. It was one of the best feelings I've ever had. I tried to look nonchalant. But I'm not sure I managed to pull it off.
"On the last hole the cameras were back. And I made a 12-foot putt for birdie. A little downhill slider. The Prince made a great comment: 'I guess you just get it done when you need to huh?' Which is one of the nicest things anyone has ever said to me.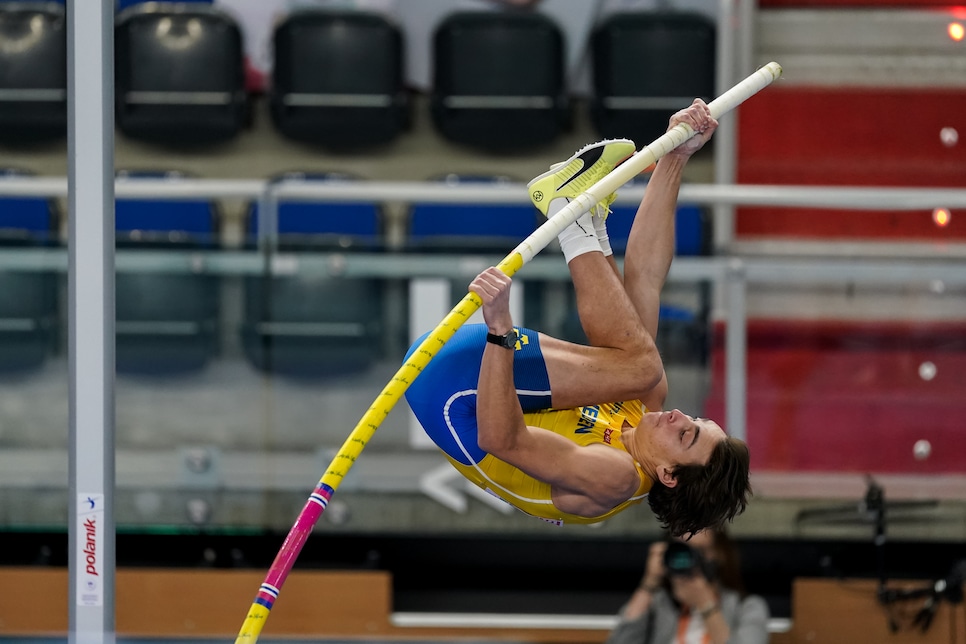 Playing with fellow Puma spokesman Rickie Fowler (whose wife, Allison, is a former pole vaulter), Duplantis further revealed himself as typical of the relatively new golfer. The good shots can be very good. The bad shots are very bad. His short game needs work. He three-putts "way too much." And he often "plays well but scores badly." Through it all though, his enthusiasm for this wondrous game is palpable.
"I really do have the golf bug," Duplantis says. "I'm an addict. It's such a hard but easy game to love. I love competing with my buddies. We're similar levels. So we can have four hours of fun and competition. It's a perfect mix. I also played quite a bit in Sweden last summer. With no Olympics, the competitions were still important. But not important enough to keep me off the golf course (laughs). I played every day. And I got a lot better.
"I'm long off the tee," he continues. "I enjoy that, even when I'm missing fairways. I love the good shots. It's such a special thing and, this time, so different from my sport. You can't just amble along and pole vault six meters. But you can hit a great golf shot, even if you're really not that good. Maybe once in a hundred tries I can hit a shot as good as any pro. That's what drew me in. Early on I'd shoot maybe 110. But all I could remember was the one par I made on 16. Those little victories keep me coming back."
Fowler confirms all of the above. Or most of it at least, calling Duplantis "an impressive athlete," one blessed with "plenty of power" that enabled him to match his professional pal when it came to distance off the tee.
"Mondo actually surprised me," says the five-time PGA Tour winner. "I didn't think he was going to be as good as he was. His swing is raw and athletic and generates so much speed, which is amazing in someone from a sport that isn't really rotational. He's a freak in that respect. We didn't really keep score the day we played. It was just a fun round. But he made a birdie or two and plenty of pars. With a little bit of work, he could be a solid player. Not at tour level, but he could be good, especially once he plays more."
That last bit will have to wait until after the Olympics, of course. But the signs are clearly good for Duplantis the golfer. Remember that world record of his? It was set in Glasgow, Scotland. The home of golf. Perfect.