Letter from Europe
Rose Ladies Series returns in 2021, provides motivation for European players looking for their big break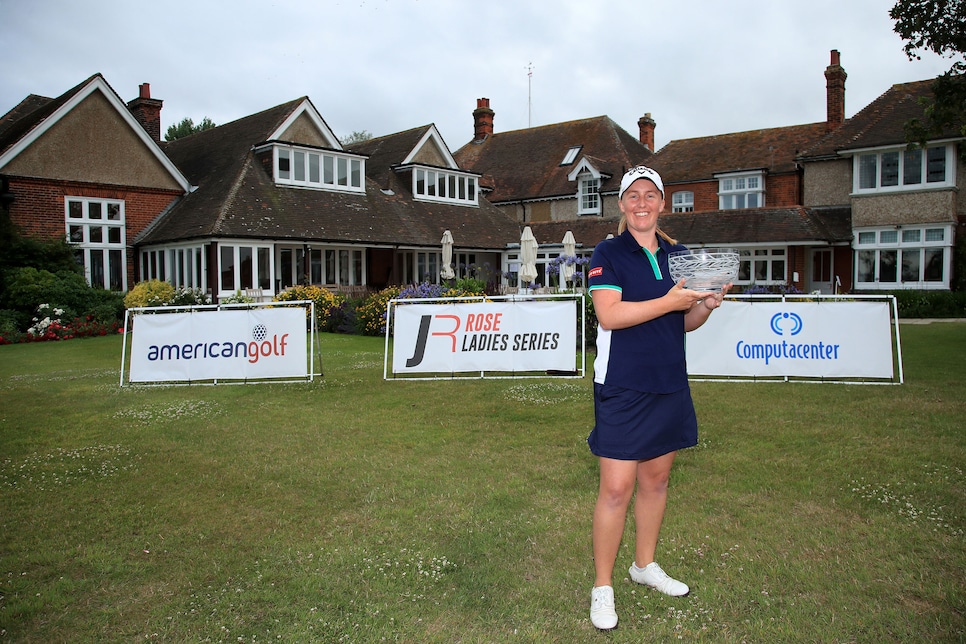 Gemma Dryburgh poses with the trophy after winning her Rose Ladies Series event last July at Royal St. George's Golf Club.
Andrew Redington
With the Ladies European Tour in a temporary pandemic-provoked abeyance last year, Liz Young came up with an idea. To give her fellow pros an opportunity to play and plug the competitive void, the then 37-year-old Englishwoman appealed for sponsors to help set up a one-day tournament at her home club, Brockenhurst Manor. Two who heard the call, via Excel Sports Management agent Paul McDonnell, were Justin Rose and his wife, Kate. And when the couple donated £35,000, matched by American Golf and Computacenter, what would become the "Rose Ladies Series" was up and running.
Last summer saw eight one-day events played over some of southern England's best courses, including Royal St. George's, Moor Park, North Hants (Rose's home course) and The Berkshire. The climax was a three-day 54-hole event over the West Course at Wentworth, home of the European Tour's flagship event, the BMW PGA Championship. (Disappointingly, that Grand Final had to be abandoned on Day 2 because of the threat from a fire on nearby Chobham Common).
Still, the fields at every event, compromising a mix of LET pros and leading amateurs, reflected the need for even the leading performers to hone their games amid lockdown. Solheim Cup players Georgia Hall and Charley Hull (who would win the Order of Merit) both emerged victorious, as did fellow LPGA player Gemma Dryburgh. Dame Laura Davies was another of the 174 players to tee-up in at least one of the tournaments.
But matching the practical and financial assistance the Roses offered was the psychological boost the women felt from the commercial world that so often overlooks them. The LET is hardly the most high-profile circuit in world golf, so for the players to have their existence and struggles so publicly acknowledged by a former World No. 1 represented a major step forward.
Englishwoman Meg MacLaren, a winner on the 2020 RLS and one of the game's most eloquent spokespersons, is just one who appreciated the opportunity offered by a circuit that has expanded further in 2021. The 11-strong schedule contains a maiden visit to Scotland (at Scotscraig in Fife, where a 14-year-old Justin Rose first attempted to qualify for the Open Championship) and, like last year, a stellar list of tournament venues: West Lancashire, Woburn, Royal Birkdale and Hillside will host (or have already) hosted events. At each event, the winner earns £10,000, double what was on offer in 2020.
"Even now, over a year later, the whole thing seems a little surreal," says MacLaren, who plays much of her golf on the Symetra Tour in the U.S. "That a prominent male golfer, one who has won a major, realized some of the realities female professionals face was huge. That alone would have been enough to give us, as females, huge encouragement. Encouragement that the world is changing; that there is hope for progress in a sport that still is stifled by white male privilege. Acknowledgement and respect has been a first step that we have longed for.
"It's hard to put into words how much the Rose Series has meant to us," continued MacLaren, a two-time LET winner. "It goes beyond the financial—although this year particularly the incentives are quite literally career changing. The Series last summer breathed life into what was an awful year for so many people. Going from months of uncertainty and postponements to having legitimate tournaments to play, on championship golf courses, provided much needed motivation for a lot of us."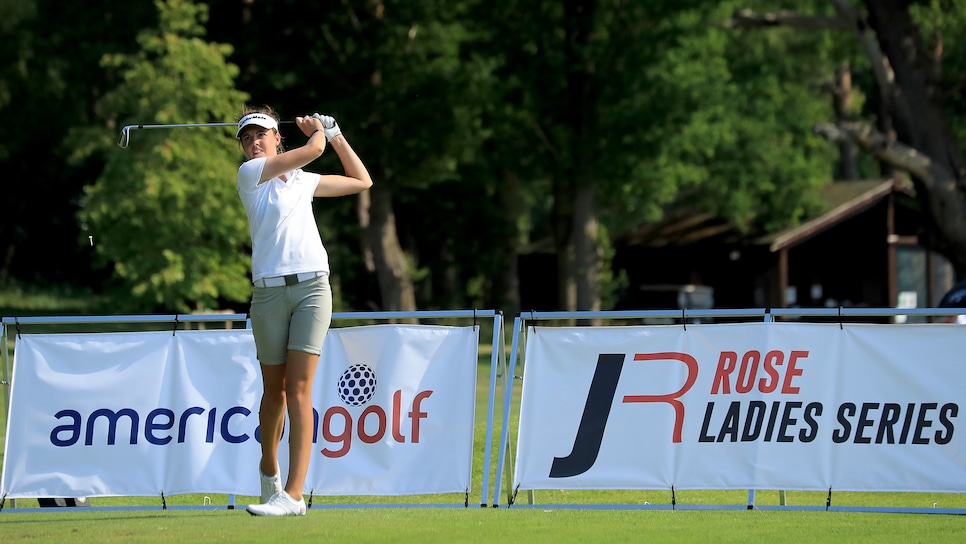 Meg MacLaren says the Rose Ladies Series was a psychological lift as well as financial boost for women to see that a former men's major champion was willing to help them out.
David Cannon
Speaking to Telegraph Sport, Justin Rose explained his reasons for getting involved.
"It's great that we've been able to put this all together and, as ever, there's always so many to thank," said the former U.S. Open champion. "These obviously include the female players themselves, as they were the ones which made the series such a hit. When you have pros with the profile of Charley Hull and Georgia Hall competing, it clearly ramps up the status and, thus, interest. After last year's series, Kate and I were asked if it would be revived in 2021, but our view was that it would be brilliant if it didn't have to be and that there would be ample opportunity anyway for these players.
"But, while the Ladies European Tour schedule is excellent and bodes so well for the future, there are still gaps and that is where we come in. So, the first quartet [West Lancs on April 29, Woburn on May 6, Brockenhurst Manor on May 13 and The Berkshire on May 21] have given the women the chance to hone their games before the LET begins in earnest."
This year's RLS will conclude with the Grand Final at Bearwood Lakes on Sept. 25.