Prepping for St. George's
Shane Lowry excited to (finally) defend Open title, admits needing to get 'bend' in claret jug fixed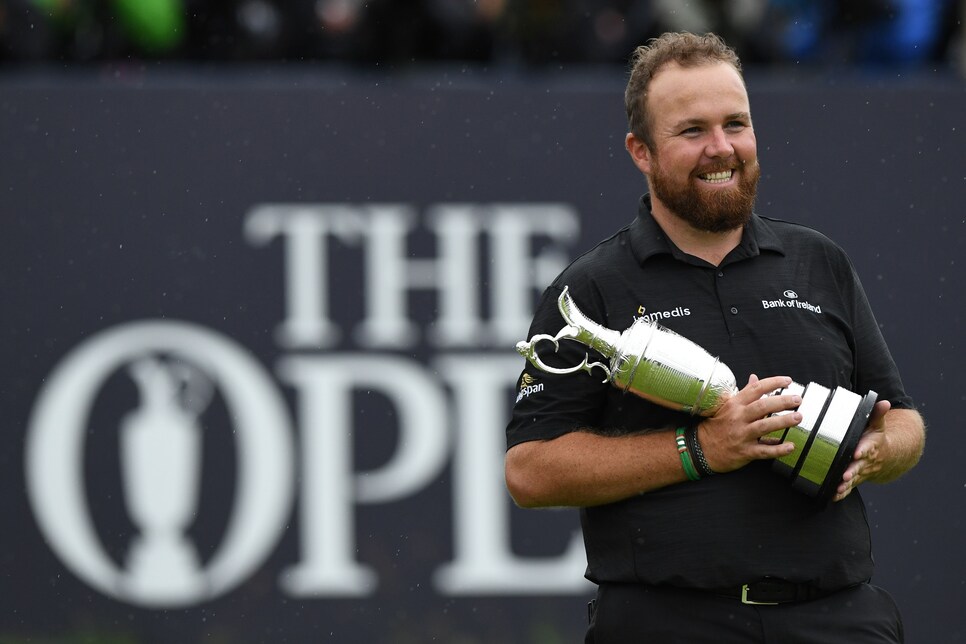 Almost a year on from having to cancel the Open Championship at Royal St. George's, the R&A is currently planning three events—no crowd, limited crowd, unrestricted crowd—for 2021. Only one will actually happen, of course, with the odds strongly in favor of a somewhat restricted crowd event at Royal St. George's. According to chief executive Martin Slumbers, somewhere between 25 and 75 percent of the maximum daily capacity of 40,000 will be on-site when the 149th edition of the game's oldest major takes place this July.
In contrast with last week's PGA Championship at Kiawah Island, Slumbers also expects that those able to attend will be asked to wear masks, with the players and staff living inside the sort of strictly observed bubble that remains part of life on the European Tour. In other words, it's going to be a very different Open, albeit one that will surely be better than no Open at all.
"There is no doubt that different parts of the United States are working under different sets of restrictions," Slumber said during a Zoom meeting with the world's press, one also attended by the reigning Open champion, Shane Lowry. "The big uncertainty for us is clarity with respect to what the government and health authorities want with regard to social distancing. Then there is the reality that international travel remains extremely difficult. The audience this year will be much more U.K.-based. Those things will determine what the atmosphere will be like at the Open."
Still, one thing will look the same at Royal St. George's, which will host the championship for the 15th time. Slumbers was quick to point out that the familiar infrastructure will be in place (and that range finders will definitely not be allowed). The building of the big grandstands around the 18th green and first tee is well underway, this time in a way that can be adapted to take account of social distancing. He was keen too, to underline that there will be no repeat of the crowd scenes we saw on the 72nd hole at Kiawah Island.
"We absolutely will be keeping the spectators back behind the barriers in place," Slumbers said. "We want the players to have the freedom to move and play the final hole unimpeded. We are conscious of the fact that there might be a playoff. So we need to keep that space safe and clear. The 18th fairway will be 'clean' come July.
"Otherwise, I'm cautiously optimistic with regard to the crowd numbers," Slumbers continued. "But we have to be patient and let the government do what they have to do. We will have a clear indication by the middle of June and once we know that we will simply put on the best show we can. I'm keen to get as many spectators in as possible. I do think that is what creates the atmosphere and make the players perform just a little bit better."
That theme was reiterated by Lowry. Fresh from his T-4 finish behind Phil Mickelson at Kiawah Island, the 34-year-old Irishman is clearly eager to show what he can do in front of the crowds that have largely been absent from European events since the coming of the pandemic.
"I was so disappointed last year when all the cancellations were announced," said the World No. 44, whose only previous round at Royal St. George's is the 81 he shot in the stroke-play qualifying round of the 2006 British Amateur Championship. "I selfishly wanted to play in the Irish Open as the Open champion. But I understood. I didn't pack the trophy away in July and think that was my year over. The decision was made for all the right reasons. I'm going to prefer going back to defend my title in front of crowd as opposed to doing it last July in front of no crowds."
Speaking of the trophy, Lowry had an admission to make. A familiar admission, as it turned out. Like some of his predecessors (Zach Johnson being one) the "champion golfer of the year" for 2019 owned up to having a little bend in the claret jug repaired. But that fact should not be construed as a lack of respect on Lowry's part. Quite the contrary.
"I had the claret jug with me in Dubai back in November 2019," he said. "I was wheeling it in its box through the hotel lobby. A guy stopped me and asked if the trophy was in there. He begged me to see it. So I opened the box and let him hold it. He started to cry. That's what that trophy means to people who love their golf. Just to have it and share it with my family, friends and everyone else has been incredible. I'll be sad to give it back."
Lowry and the jug might not be parted for long, of course. Lowry's form has seen a definite improvement over the past few months, especially in the bigger events. His T-4 last week followed an eighth-place finish at the Players and a T-21 at the Masters. All of which has him in good position to make what would be his European Ryder Cup debut at Whistling Straits come September. A close friend of captain Padraig Harrington, Lowry would make a stout addition to the side charged with defending the trophy.
"If I play to the best of my ability over the next few months, I'll be in with a good chance of making the team," he said. "That's my main goal, to qualify automatically or get so close that I all but make Padraig's decision for him. It'll be mentioned that I'm a Ryder rookie. But I don't feel like one. I've won big tournaments. I've competed at the highest level. I feel like I would bring a lot to the team."
One last thing. Like just about everyone else in golf, Lowry has seen the now infamous encounter "enjoyed" by Bryson DeChambeau and Brooks Koepka during last week's PGA.
"I'm not sure they like each other," said Lowry with a smile. "But that's the way it is. There were 150 big egos there last week. So not everyone is going to like everyone else. And it's obvious they don't see eye-to-eye."