Augusta National Women's Amateur
There were big names in the ANWA grinding for the chance to compete at Augusta National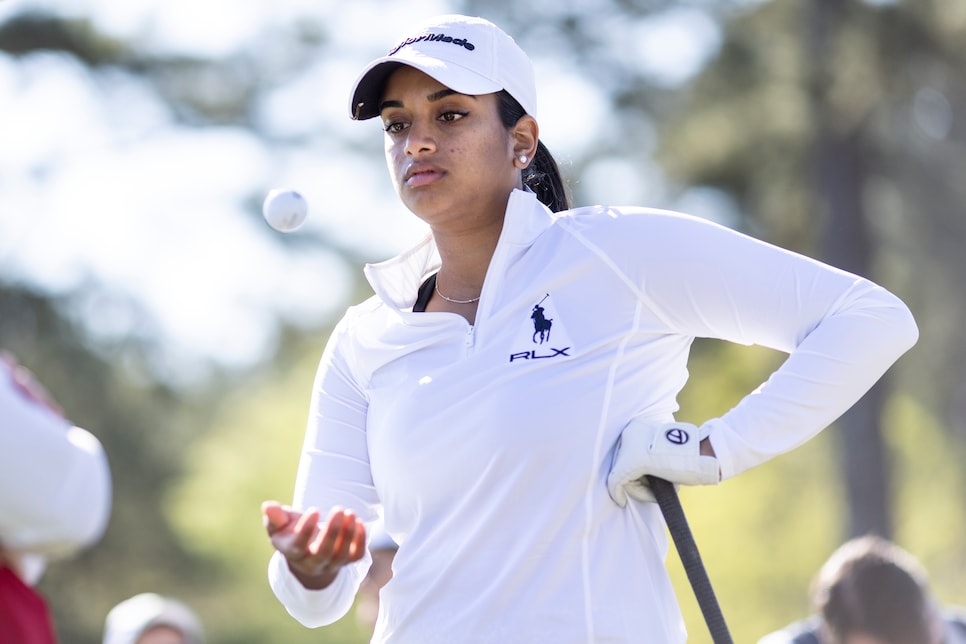 Megha Ganne earned her first trip to Saturday play in the ANWA.
Chris Trotman
EVANS, Ga. — The drama was decidedly not at the top of the leaderboard in the second round of the Augusta National Women's Amateur. Rose Zhang took care of that on Thursday at Champions Retreat by shooting her second straight record round, a seven-under-par 65 that put in the lead and five shots clear of her next-closest pursuer.
Below her, though, were some recognizable names in women's golf who were clawing just to be able to play the final round at Augusta National Golf Club on Saturday. The cut for that honor comes at the top 30 and ties, and top players such as reigning U.S. Women's Amateur champ Jensen Castle, No. 12-ranked Amari Avery, 2021 runner-up Emilia Migliaccio, and Stanford's Megha Ganne entered their last nine holes under enormous pressure and in complete grind mode.
All of them eventually reached the two-over number or better to advance, but not without plenty of drama.
Avery, a USC sophomore who tied for fourth in last year's ANWA, opened this year with a 75 and was in a rut at two over through the day through seven holes after starting at No. 10.
Amari Avery will play in the final round of the ANWA after tying for fourth last year.
Thomas Lovelock
"I came into the week with, of course, high expectations, but you never know how it's going to go," she said. "Being a top player, I expected to be in the top five going into Saturday. Can't really expect those kind of things here. Champions Retreat is a tough golf course and challenging mentally and physically."
At even par through 15 holes, Avery thought she might have blown her chance with a bogey at No. 7. She would have to birdie the last two holes, and she pulled it off to shoot 71 and finish on the cut number, tied for 28th place with three other players.
"I feel like I was stressed for 36 holes straight," Avery said. "I just had to trust in my game and hope that it worked out."
The trio of players who also made it on the number were Kentucky's Castle, who overcame two double bogeys and birdied the 18th hole in a round of 76; Auburn's Megan Schofill, who scored 71 and will play on Saturday for the first time in three tries; and English 19-year-old Lottie Woad, whose six birdies in the round included one at 18.
Migliaccio, 23, was feeling her own pressure. The fifth-year player at Wake Forest nearly won the tournament two years ago, losing in a playoff, and then last year missed the cut. She desperately wanted to compete on Saturday again, and she rallied from suffering a double bogey on the third hole (her 12th of the day) by stringing together three straight birdies to close a round of 74 that put her tied for 21st place at one over.
"I had so many people out there rooting for me. It's really special," Migliaccio said.
There were few players happier and more relieved than Ganne. The 19-year-old Stanford freshman was a breakout personality and player when she contended into the weekend of the 2021 U.S. Women's Open. But the New Jersey native failed to make it to Saturday at Augusta National in two previous tries.
"It was bad. More tears than I've shed for any other event," she recalled. "It's just crazy competitive. You want it really badly."
Ganne said Champions Retreat exposed her weaknesses, and with a lot of work, she felt better prepared this time. It showed, as she shot 73-70 to easily reach Saturday in a tie for ninth. The competitive round at Augusta finally looms.
"It's just a lot more meaningful I think to play a competitive round there. It's what we all are fighting for," a grinning Ganne said. "It just means a lot because I know how strong this field is, and to be in that top 30 is not easy."
Which makes the achievement all the sweeter.