Augusta National Women's Amateur
Defending ANWA champ 'disappointed' to miss cut after rules snafu, caddie rails on critics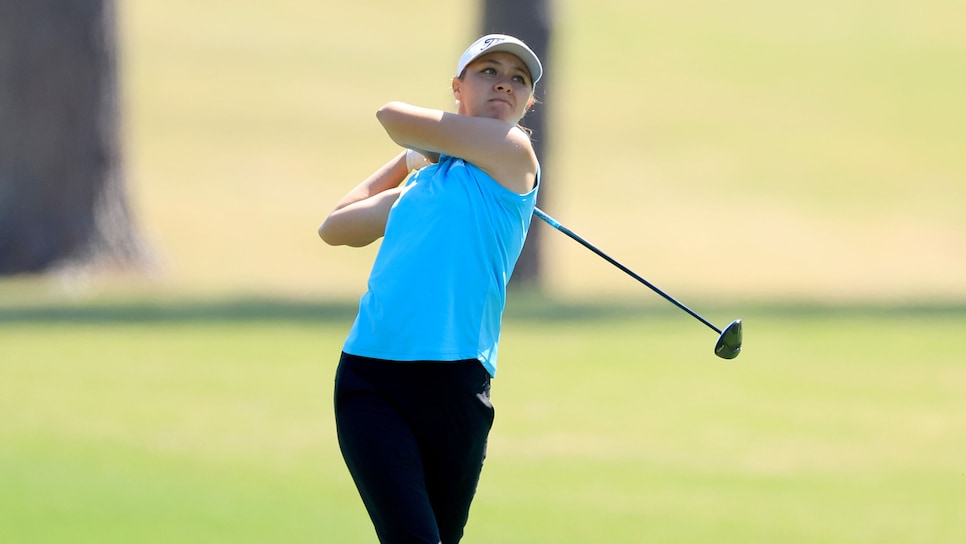 EVANS, Ga. — As Anna Davis stood near the scoring area at Champions Retreat on Thursday afternoon, her demeanor was one of quiet resignation. Minutes earlier, she had signed for a second-round score of even-par 72 at the Augusta National Women's Amateur, and with a four-over total 148, the reigning ANWA champion would not be among the top 31 scorers to make the cut and advance to Saturday's final round at Augusta National Golf Club.
Davis, 17, missed the cut by two strokes—a margin made more painful because she suffered four strokes worth of penalties in her opening round of 76 after she mistakenly played preferred lies for two shots from the rough on the opening hole. The committee issued a rules sheet before the tournament that stated that players could only lift, clean and replace their ball in grass the length of the fairway or shorter.
Without the four lost strokes, Davis would stand at even par and tied for 14th place. Instead, she will simply play a casual round on Friday on the course where she secured an enormous victory last year.
"It's obviously very disappointing," Davis said. "But I didn't play well this week, and then having to start out like that is not ideal, obviously. I don't know. I can't really do much about it now.
"It was a little difficult last night," she added. "But, whatever."
Davis' caddie, Ryan Bisharat, was not nearly as magnanimous about the golfer's rules fate. A University of San Diego graduate who helped lead his team to an NCAA Championships berth in 2021, Bisharat is a family friend of the Davises and was angered by the criticism the golfer received on social media on Wednesday night.
Speaking to Golf Digest on Thursday, Bisharat said, "I loved the way Anna handled it last night, and there were a lot of positives in the media. But the thing that irked me was that I saw too many people saying that there is no such thing as lift, clean and place through the green. I'm literally, like, are you kidding me? There was something on the broadcast saying, she's young, she's 17, she should know you don't lift, clean and place your ball in the rough. I'm thinking, 'Are you serious right now?' I'm jumping up and down. That's not at all the case."
Bisharat said he was angry because he has played in numerous tournaments at all levels that allowed for preferred lies through the greens if the wet and muddy conditions warranted it. He said he competed in a pro mini-tour event in San Diego just two weeks ago that allowed for it. Indeed, he questioned himself on if his mind went immediately to that mode when they set out for the round on Wednesday.
He also contended that there should have been lift, clean and place through the green because of numerous mud balls that Davis incurred after the course received five inches of rain earlier in the week.
Bisharat has taken the setback hard. "It's going to be a long flight home," he said. He is accepting responsibility for the gaffes, because he feels it was his responsibility to know what the specific rules situation was. Bisharat said he did look at the competition committee's memorandum regarding the Model Local Rule that was distributed in the locker room and caddies' room. But he said his eyes went to bullet points about lift, clean and place, and not to the paragraph that designated only the grass cut at "fairway height or less" was designated for preferred lies.
"I read that sheet of paper three times, and it's really embarrassing to say, I'm a college graduate and I skipped over that part every time," he said. "In my defense, in junior golf, amateur golf, pro golf, we have read thousands of those sheets. It didn't look any different than any other one."
Bisharat said he also was disappointed by the way the Model Local Rule was communicated. He said in many other events there is an official on the first tee to offer rules clarifications.
"On the first tee yesterday, there were zero words spoken about lift, clean and place," Bisharat said. "That was the first time in a golf tournament that I've seen that. Not one word spoken about it, but it was on a piece of paper."
Bisharat is likely to be fuming over the incident for some time.
"I'm a little bit different than Anna," he said. "I'm a very blunt person, so I would have handled it a little bit different than she did. I would have said some of the same things the way she did --like stuff happens. But in the interview, I would have been more aggressive."
He smiled. "Waking up in the morning," Bisharat said, "I might have regretted it."