Augusta National Women's Amateur
Can ANWA leader Rose Zhang change women's golf? Yes, according to her Stanford teammate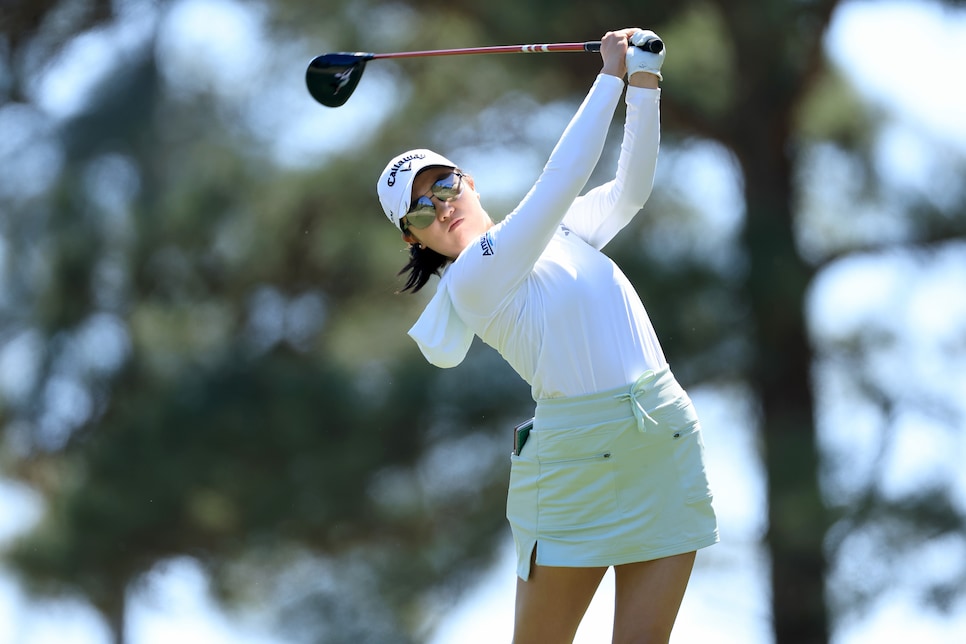 EVANS, Ga — Megha Ganne was asked an increasingly relevant question on Thursday at Champions Retreat about her Stanford teammate Rose Zhang. Can the 19-year-old woman, who seemingly wins every big tournament in her path, change women's golf?
"Yeah," Ganne said, nodding to a spot in the distance. "I think she already is if you look at the leaderboard right now."
The board at Champions Retreat for the Augusta National Women's Amateur was a couple of hundred yards away, and on it were the numbers that nobody had seen in the previous three editions of an event that has become one of the crown jewels in women's golf. In making six birdies and an eagle in the second round, Zhang shot seven-under-par 65—which set a single-round record for the ANWA, eclipsing the previous best mark of 66 that the Californian set 24 hours earlier. Those milestones moved Zhang to 13-under 131 through the first 36 holes (a whopping eight strokes better than the previous record) and afforded her a five-shot lead over Sweden's Andrea Lignell (67-69).
"This is not a course where I could see someone shooting a bogey-free six-under, and what did she shoot today, seven?" Ganne said. "That doesn't come across my brain until I look at Rose go do it. Very impressive."
Following a practice round at Augusta National Golf Club on Friday for all 72 players in the field, the final 18 is set for Saturday at the course where 86 Masters champions have been fitted for green jackets, and potentially more history awaits Zhang. If she merely shoots level par in the final round, she will eclipse 2019 winner Jennifer Kupcho's scoring record by three shots. Expect much better than that.
This is extraordinary stuff, but not the least bit surprising to anyone who has followed Zhang's stellar career. She won the 2020 U.S. Women's Amateur at 17 years old, captured the NCAA individual championship and led Stanford to the team title as a freshman last year, and has been ranked as the world's No. 1 amateur for a record 133 weeks.
Seemingly the only top-level achievement left for Zhang in America is the ANWA, in which she's only come close to winning once, with a T-3 in 2021.
In that '21 showing, Zhang had the co-lead through 36 holes, but suffered a triple-bogey 8 on Augusta's par-5 13th hole. That result was an outlier, considering Zhang hasn't lost an event that she led outright since a junior golf tournament in 2019.
Zhang, of course, was cheerful after Thursday's round, but typical of her nature, hardly boastful.
"I think playing with a big lead is certainly different from chasing from behind or even being one or two shots in the lead," Zhang said. "So, I think that from my past experience it's just very important to understand that you have a whole field kind of chasing you, and anything can happen.
"The job's not done yet," she added. "We still have to go out there and play a good round."
Zhang is simply playing at a level that no other player is approaching in her age group. There was a prime example of that in the second round when her drive on the par-4 ninth at Champions nearly went into the water. From a lie well above her feet, 237 yards to the hole, and fearing a duck hook—"I really didn't know what to do"—Zhang chose a 3-wood, aimed at a TV tour to the right and carved her shot onto the green, 30 feet below the hole. Then she drained the putt for eagle to complete a front nine of five-under 31.
Zhang suffered her first bogey of the week at the par-4 12th, but bounced back with three birdies over the last five holes.
She said she didn't plan on hitting the range much because there is nothing to tinker with, and on Friday she's expected to play her practice round alongside the Augusta National caddie who will carry the bag in the final round, replacing her dad. Zhang maintained on Thursday that she didn't know the identity of the caddie yet, and someone joked that the loopers are probably fighting over who gets that duty.
"Hopefully, they can deal with me," Zhang said with a smile.
Her competitors should be so lucky.