CHARLOTTE — The latest news from the upstart golf league that won't go away diffused slowly throughout Quail Hollow Club on Tuesday, just barely beating the rainstorm that washed away an afternoon of practice for the Wells Fargo Championship.
The proposed system, which is backed by Saudi Arabian money and reportedly hopes to be operational by 2022, would look completely different from what golf fans have come to know over the past century. Instead of 72-hole, 144-plus-player every-man-for-himself tournaments, it would incorporate team competitions with much smaller fields.
"Players and agents are just listening to their vision and pitch," one agent said. "That's about it at this point. Just a lot of listening."
Well, if the reports are to believed, the group has put the ball in the courts of four players who are essentially being asked to take a leap of faith, to leave behind the organization that made them multi-millionaires in favor of something new. Representatives for Johnson, Koepka and Rose declined to comment to Golf Digest.
As news spread around Quail Hollow, plenty of players were hearing of the PGL for the first time in months. The PGL folks seem to have honed in on potential targets, bypassing any conversations with rank-and-file tour players (as well as multiple top-20 players). For those outside the PGL picture, the latest news was met with more than a few eye-rolls.
"I hope it doesn't happen," Harris English told Golf Digest. "This is the best tour in the world. The best players are making tons of money. Why don't we just focus on continuing to improve this tour?"
The timing of the report dripped in irony, dropping just a few hours before the PGA Tour's first mandatory player meeting of the year. The gathering had been on the schedule since at least last week, and there are typically at least one per year. One usually happens at the Farmers Insurance Open at Torrey Pines, but COVID-19 restrictions have made any such meeting impossible until now.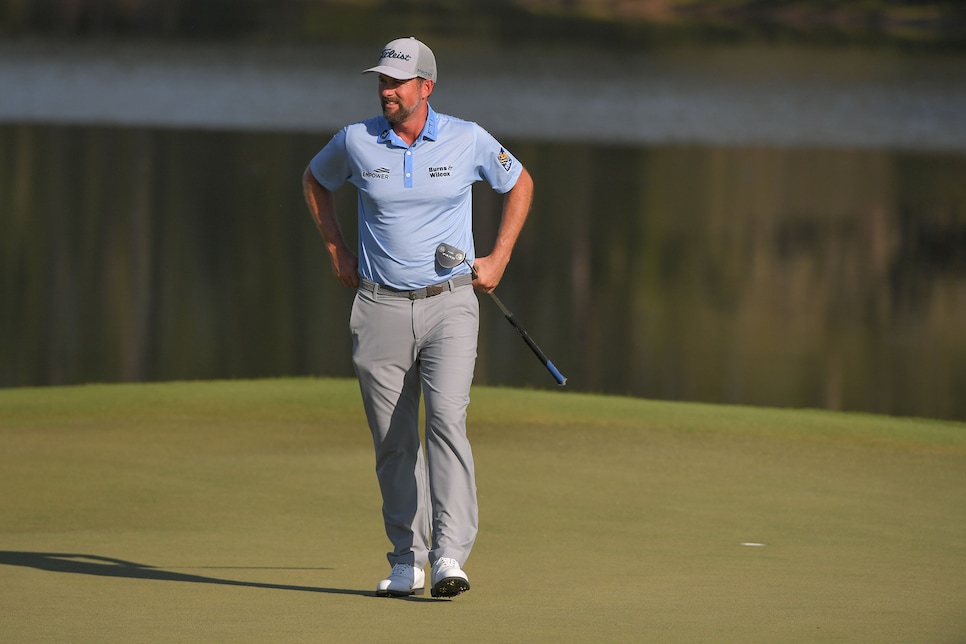 Webb Simpson is skeptical that the PGL can survive if only a handful of top players are on board.
Ben Jared
According to a player in attendance, the meeting lasted just 30 minutes or so and was more a State of the Tour than anything else: Budget talks, financial breakdowns, that sort of thing. No players spoke. The PGL news was acknowledged only briefly, with Monahan saying that the PGA Tour and the European Tour, which joined together in a strategic alliance last November, were united in their position on the league, and reiterating that any players who signed with the PGL would lose their PGA Tour membership. The legality of such a threat remains unclear, as does the position of the four major championships, none of which are owned or operated by the PGA Tour.
"I personally don't think that it'll happen," the player said. "This is the tour's stance, and I feel like major championships will feel the same way. I don't think this thing is going to go ahead, to be honest."
The parallels to the European Super League are unmistakable. In April, an upstart venture promised to upend the soccer universe by presenting an alternative to the in-place system, which requires teams to qualify for the Champions League each year by having success in their domestic leagues. The ESL would feature the same teams every year, and secured commitments from 12 of the top clubs from Italy, England and Spain.
The ESL news was met with outrage from the outset. Rumors swirled that players who played in it would be banned from representing their countries in the World Cup, and fans took to the streets to protest what they believed to be a shameless money-grab that callously ignored clubs' history and culture.
And while you shouldn't hold your breath to see golf fans protest on a putting green near you, the same age-old barriers to change that helped doom the Super League—at least for now—exist in golf. A sense of nostalgia, if you will.
The majors and the Ryder Cup and the PGA Tour are all part of a professional golf ecosystem that has evolved over the past 70-odd years. Signing with the PGL, then, would not be purely a financial decision, but a willing departure from the framework the shaped the careers of Ben Hogan and Jack Nicklaus and Tiger Woods. Simply put, it would shake the game to its foundations. How would the World Ranking work? How would we compare players from different eras?
"Are the best players in the world really going to go to this tour if only eight of the top 25 in the World Ranking are going to go?" Webb Simpson said when asked during a Tuesday press conference. "I think as a top player, I want to play against the best. At the end of the day, you have a career long enough, I think most of these guys, they're financially set. They want to break records, they want to win. Be like Dustin, win 20 times, be a life member, whatever it might be. You create a new tour, all these records get kind of thrown out the window, I think.
"I just think too many things like that are going to come up. I don't think throwing X amount of money at guys is as appealing now as it maybe once was because of how great the opportunities we have on the PGA Tour. Whatever the number is, $350 million we're playing for this year, and what FedEx has done, there's so many opportunities for guys to make a great living here.
"If I'm a guy who's on my way to make history like a Dustin or, you know, a few other top guys, I'm going after—I want to go after records, not a dollar."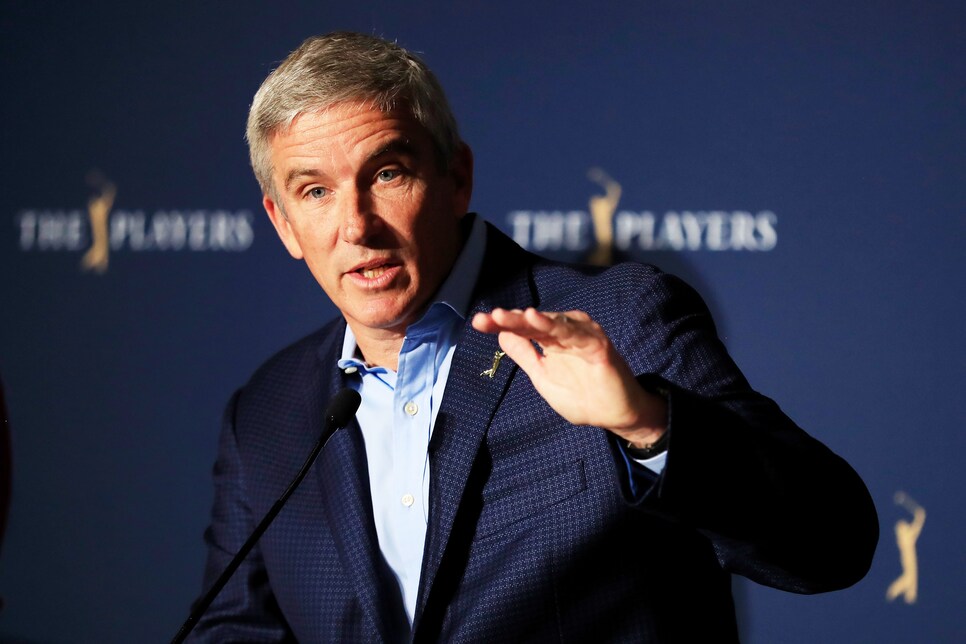 PGA Tour Commissioner Jay Monahan reiterated in a players meeting on Tuesday at Quail Hollow Club that golfers who join the PGL would lose their PGA Tour membership.
Cliff Hawkins
One agent, who agreed to speak anonymously, pointed out that while players who join the PGL may enjoy a lucrative initial payday, they'd risk losing long-term sponsorship dollars from companies who do not want to associate with a Saudi Arabian-financed venture.
"Go look at the pictures of Dustin Johnson holding the trophy in Saudi Arabia," he said. "See if you can find the RBC logo there on his sleeve." He's correct—Johnson did not have the RBC logo planted in its normal spot on his left sleeve during the Saudi International in February, but did have it in his starts immediately before (Sentry Tournament of Champions) and after (Genesis Invitational).
And while the PGA Tour seems intent on taking a hardline stance on the PGL—us or them—executives have shown a willingness to respond to top players' desire to be compensated for the eyeballs they draw, albeit indirectly. Last month, the tour confirmed it has enacted the Player Impact Program, a $40 million year-end prize fund that will reward the 10 players who bring the most positive publicity to the Tour. It was widely seen as a response to the PGL, a way to guarantee a payday for its biggest stars no matter how they play on the course. Perhaps the re-emergence of the PGL possibility will trigger yet another change tweak to its payment structure.
But will the PGL be successful in comprehensively upending golf? One top-100 player assessed the chances rather bluntly: "There's no chance anyone has the balls to go over. Absolutely no chance."