PGA Tour
American Express is living up to reputation as oasis for win-thirsty contenders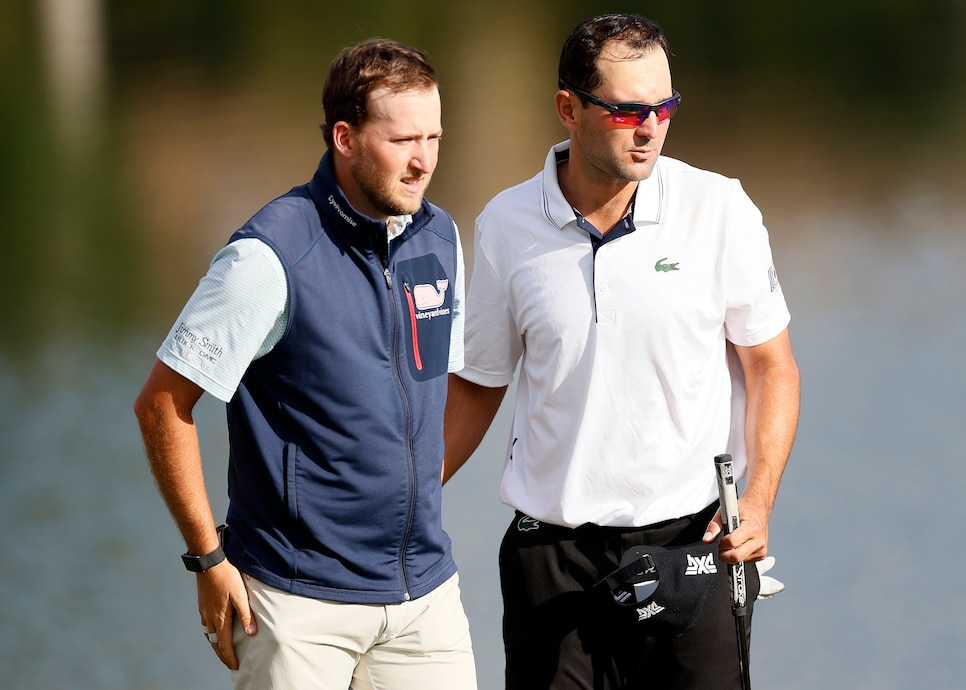 Co-leaders Lee Hodges (left) and Paul Barjon leave the 18th green after the second round of The American Express.
Steph Chambers
LA QUINTA, Calif. — You have to feel a bit sympathy for the people who run The American Express in the California desert. Even when there are predictably bright blue skies, a little dark cloud of golf misfortune seems to drift over their party.
The respect afforded PGA Tour events is weighed by venues and the people who win on them, and the AmEx has had its share of rattlesnake bites through the years. Current World No. 1 Jon Rahm's 2019 win here was a gift, but consider the other champs over the last five years: Hudson Swafford, Adam Long, Andrew Landry and Si Woo Kim.
Fine players, all of them, but not the names that are going to draw TV viewers longer than the time it takes for commercial breaks in NFL playoff games.
It looked like that might all be different this week. The field was arguably the strongest since the mid-2000s, with 13 of the top 50 players in the world here. And there's no quibbling with the pedigrees of U.S. Open champion Jon Rahm and World No. 4 Patrick Cantlay, the reigning FedEx Cup champ.
Throw in tournament host Phil Mickelson, Patrick Reed, Scottie Scheffler, Tony Finau, Justin Rose, Rickie Fowler and Jason Day, and you've got an attractive mix. Certainly, nothing to scoff at.
So how do you end up with this final threesome on Sunday? Lee Hodges, Paul Barjon and Tom Hoge—three guys without a big-league win who would appear as miniscule blips on the radar of the PGA Tour's PIP popularity contest, if they showed up at all.
Kudos are due the trio. Hodges, a 28-year-old former Korn Ferry Tour winner, opened this tournament by making eight birdies and an eagle in shooting 62 at La Quinta Country Club, and on Saturday he collected six birdies on his back nine (the front of the Pete Dye Stadium Course) to score 64 and share the lead at 18 under. He is tied with Barjon, a 32-year-old PGA Tour rookie who graduated from the KFT on the strength of a 2020 win in Huntsville, Ala. A French native and Texas resident, Barjon has only one top-25 finish in 13 career starts, but he's shot 66-67-65 this week—his seven under on Saturday coming with eight birdies on the Stadium. Hoge is 32, has yet to win, but has 18 birdies this week in reaching solo third at 17 under.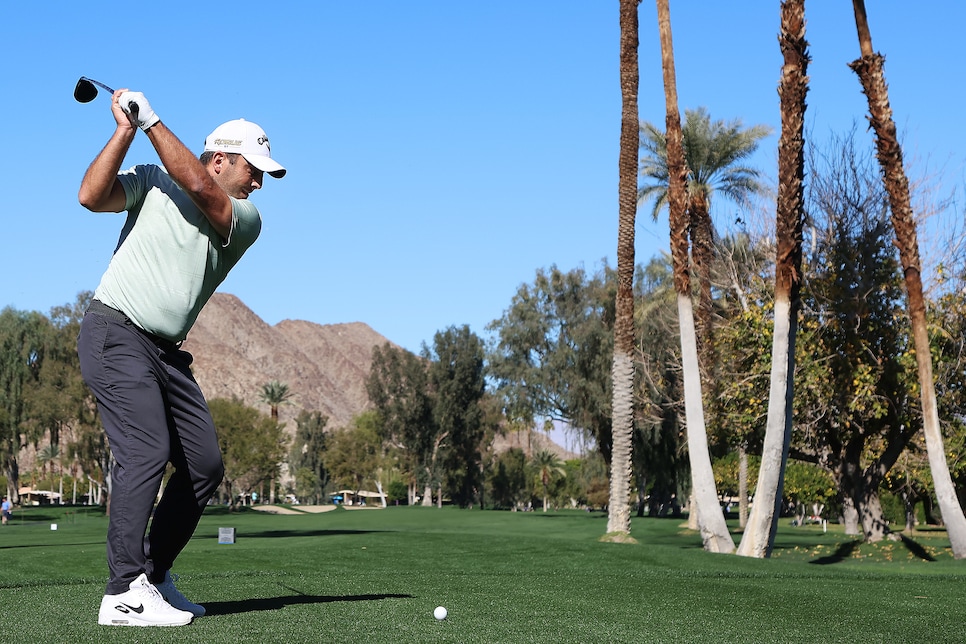 Francesco Molinari plays a shot on the fifth hole during the first round of The American Express.
Sam Greenwood
This is, after all, the land where thirsty seekers can find an oasis amid the rocks and sheep, as evidenced by six first-time winners over the last 15 years. Among the current top 10 on the board, only four have victories.
There are enticing possibilities, of course, in a pack of 14 players four strokes of closer to the lead, and that is not a huge gap to make up, even on a Stadium Course that yielded a scoring average of 70.28 on Saturday in windy conditions that quieted down as the day went on. Expect more fireworks on Sunday in mid-70s temps and only mild puffs of breeze.
Francesco Molinari, the 2018 Open Championship winner, has been impressively consistent this week, scoring consecutive 67s, and is in a six-way tie at three back. The Italian struggled with a back injury last season and his last top-10 finish was nearly a year ago in the Genesis Inviational.
"I don't have any expectations really," Molinari said. "I haven't been in contention for a long time, it's my first event of the year, so it's nice to be up there. Obviously see some good signs about my game."
Harold Varner III is also at 15 under and, in searching for his first win in his seventh season, is coming off four straight birdies on the Stadium's back stretch in his third-round 67.
Enter Cantlay. The 2020-21 Player of the Year opened fiercely with a 62 but faded with a 68 on Friday and grinded in neutral with Saturday's 72 on the Stadium. He's four back and tied with three others, but you can bet the guy on the board others fear the most is him.
Rahm, it would seem, has let this one get away, with a 67 on the Stadium Saturday still leaving him five back.
Hodges and Barjon have played together so much this week they might be able to finish each other's sentences by now. They were paired for the first three rounds and will be there again on Sunday. They insist they're good friends going back to Korn Ferry days, and that familiarity may have been a benefit to them.
"[Hodges] played really good the first day [in shooting 62], really kind of set the tone by making pretty much everything he looked at on the green," Barjon said. "So that's always good to see and just kind of get inspired by."
Among the top four, only Irishman Seamus Power, who is two back after a 66 at La Quinta, has lifted a tour trophy, and those memories are fresh. The 29-year-old won the Barbasol Championship last July in a playoff of J.T. Poston. Power has continued to be a force, with a T-4 at the RSM Classic in November and a T-3 at last week's Sony Open, where he closed with a pair of 65s.
On Saturday at La Quinta, Power went on a tear, shooting six under over five holes, capping the heater with an eagle at the par-5 sixth.
"It was one of those rounds," Power said, "you just kind of made everything you looked at for an hour and a half."