Puppy tales
Lanto Griffin contending in The American Express after freak injury involving his dog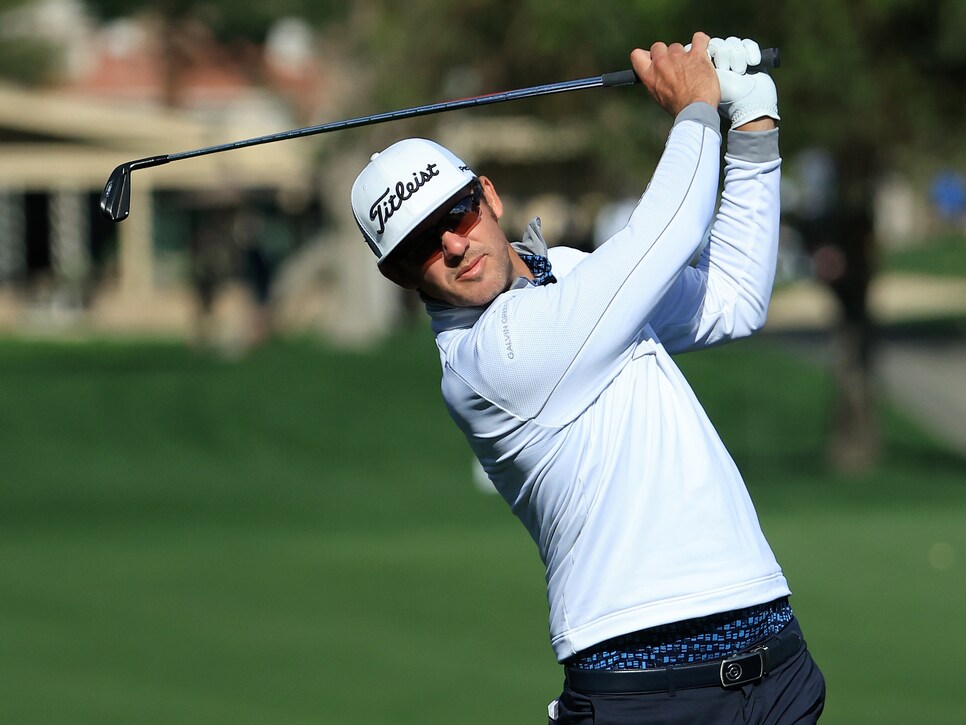 Lanto Griffin plays a shot on the sixth hole during the third round of The American Express.
GETTYIMAGES/Sam Greenwood
LA QUINTA, Calif.—Man's best friend? Absolutely Golfer's best friend? Maybe not so much.
Lanto Griffin will be shooting for his second PGA Tour title on Sunday in The American Express after scoring 3-under-par 69 at La Quinta Country Club to trail leader Tom Hoge by two shots. He arrived this week thankful to be in playing shape after a back injury forced him to withdraw from last week's Sony Open in Hawaii.
Add Griffin's injury to the list of freak occurrences for golfers, like Lucas Glover falling off a paddle board and Rory Mcilroy hurting his ankle in a pickup soccer game. Griffin said that in the week before Sony, his dog Troy, a Lab-Sharp Pei mix he adopted from a shelter during the pandemic, was limping a bit in the middle of the night. Griffin kindly lifted Troy up to carry up the stairs.
"Felt a little bit of a pop," he said. "And it's just kind of a bulging disk hitting a nerve and some inflammation. So doing everything I possibly can.
"I was bummed to miss Sony, took that one off [and] I figure I would come out here; better to be out here in the warm weather and get ready for Torrey [and the Farmers Insurance Open next week]. Torrey is one of my favorite events of the year."
"I guess it's a good decision to come out here," he added, "and hopefully it holds up tomorrow."
Griffin, who is looking for his second career win to add to his 2019 Houston Open victory, shot a seven-birdie 65 on Friday on the PGA West Stadium Course and followed that with a 69 at La Quinta Country Club in more blustery conditions.
He said the back stiffened up somewhat on Saturday, but he was hoping for the best in potentially calmer conditions on Sunday. Besides, he had other sporting concerns on his mind. "I'll go back tonight and watch my Niners hopefully beat the Packers," said the 33-year-old who was born in Northern California's Mt. Shasta.
As for Troy, he's not in Lanto's dog house.
"I love him to death," Griffin said. "He didn't ask me to pick him up, so that was all on me."