When the University of Illinois men's golf team arrived at the 2011 NCAA Championship in Stillwater, Okla., it was looking to break a 70-year-old trend. Not since 1941, when they took fourth, had the Fighting Illini finished inside the top five at the national championship. Coach Mike Small's team snapped the streak, making the quarterfinals at Karsten Creek Golf Club, and since then has finished inside the top five in six of the nine championships, highlighted by a runner-up finish in 2013.
Until Belgium's Thomas Pieters arrived on campus in 2010, Small, who took over the program in 2000, had never recruited an international player. Pieters, the current World No. 35, won the 2012 NCAA individual title and established a connection between his country and Urbana-Champaign that has sent four more Belgians to Illinois, including three-time All-American and PGA Tour pro Thomas Detry and, most recently, two-time Big Ten Player of the Year Adrien Dumont de Chassart, who currently sits fifth in the PGA Tour University Velocity Global Ranking.
To attribute all of the program's recent success to the Belgians would be unfair to Small and the many All-Americans he's recruited—Scott Langley, Luke Guthrie, Charlie Danielson, Dylan Meyer, Nick Hardy and others—but the influx of international talent has been an undeniable catalyst for the program's rise to national prominence.
"The Belgian connection has been the main centerpiece of my international recruiting," says Small, who as a player has won three PGA Professional National Championships and competed in more than 70 PGA Tour events. "The Belgians fit our personality. They're competitive; they grit and grind. If they don't hit it good, they're still competing hard and fighting, and that's what I love."
It's those qualities Small sees particularly in Dumont de Chassart, a fifth-year senior who has not finished outside the top 15 yet in the 2022-23 season heading into this weekend's Southern Highlands Collegiate in Las Vegas. Dumont de Chassart won the 2019 Big Ten individual title as a freshman and nearly did it again in 2021 and 2022, finishing runner-up both years. The two-time All-American has three career collegiate wins, a tally that could be higher if not for some final-round stumbles over the past year.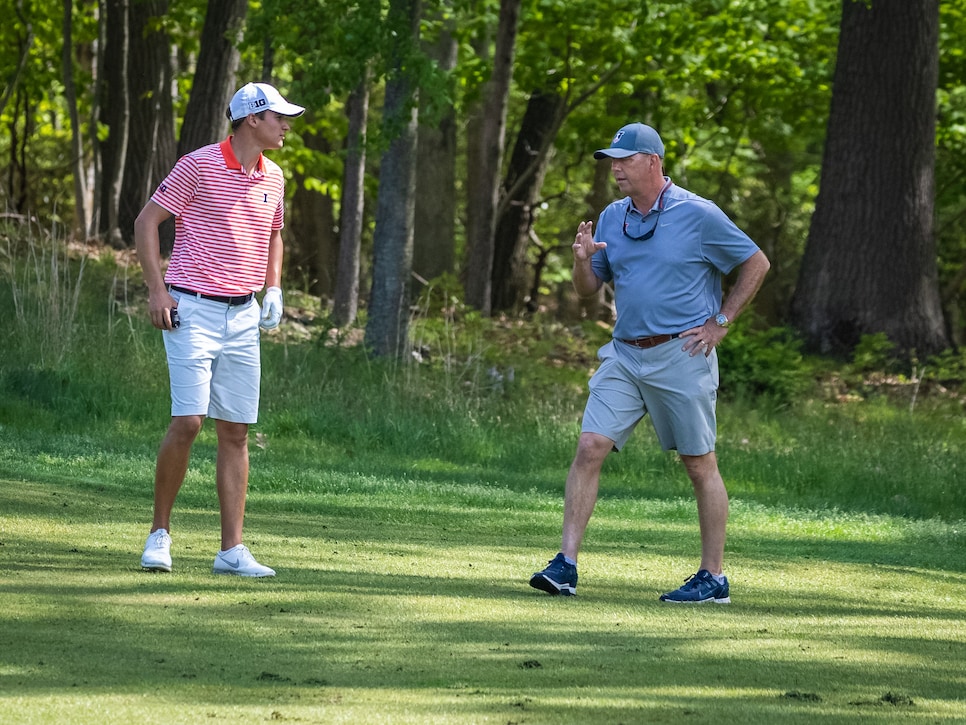 While Dumont de Chassart has had plenty of success at Illinois, coach Mike Small (right) says the way he handles adversity is what stands out.
University of Illinois Athletics
Growing up a mile away from a golf course in Villers-la-Ville, a town of about 10,000 in central Belgium, Dumont de Chassart began playing at age 6. Living a junior golfer's dream, Dumont de Chassart would ride his bike up to Golf la Bruyère, where he developed the game that would lead him to win the 2017 French Boys Championship and finish runner-up at the 2015 Junior Orange Bowl, one of the most prestigious junior events in the United States.
When it came time to decide where he'd play college golf, the choice was simple. "It was always Illinois," Dumont de Chassart says. "I didn't look anywhere else. I just trusted Pieters and Detry. … Back home, every young golfer sees Illinois as the school to go to because of those two guys. Since they have been playing so well on tour, they know that Illinois is the right path to achieve success. I remember playing 18 holes with Detry when he was either a sophomore or junior, and I was 14 back then. He told me about the program, sent a text to Coach Small about me, and I think I got in touch with Coach when I was about 15 or 16."
Sure, the Belgian pipeline is largely rooted in the "If it worked for them, it can work for me" mentality, but at the center of why the program worked for six-time DP World Tour winner Pieters and Detry, who competed at the Tokyo Olympics, is Small's coaching philosophy. At Illinois, golfers learn how to handle adversity and compete—even if that means a little tough love from the coach who knows what it takes to succeed at the highest level.
"Coach is one of the most competitive guys out there. He hates losing," Dumont de Chassart says when asked the deciding factor, other than previous Belgian success, in choosing Illinois. "The program and the mindset. "He can be a little hard sometimes, but I feel like most players, especially young players, they need someone to be a little hard on them. It's not easy at first, but I think that's how you get better. The way we practice, it's just intense. I think people that are here, they just love it because he's good at recruiting guys that are good fits for the program."
To simulate the pressure of tournament competition, Small often organizes team or one-on-one matches, Dumont de Chassart says, where the losing side has to complete a grueling task—like 200 reps on the VersaClimber, a total body workout machine—before coming back for a rematch. Lose again? VersaClimber and repeat. This is just one example of the creative ways Small injects pressure into practice.
"We compete a lot," Small says. "If you can learn to hit the shot under intense pressure, it makes taking it to the course that much easier. I'm a big believer in you practice hard and then when you go to tournaments, you relax, enjoy it and have fun."
The approach has paid off for Dumont de Chassart, who last June came to the final hole at Springfield Country Club in Ohio needing a birdie to qualify for the U.S. Open. Having missed a 12-footer for birdie on the previous hole, the Belgian left little work on the final green, hitting his wedge approach to a foot for the birdie. Though he shot 72-75 at The Country Club to miss the cut, he took a lot of confidence from the week, particularly in how he drove the ball—a former weakness. Small, who walked the practice rounds with him, shares similar optimism about the week.
"Playing in the U.S. Open last year, he didn't have his best stuff, but being there and watching him play, you could tell his maturity, the way he handles adversity, handles good things, and his body language are all like a pro," Small says.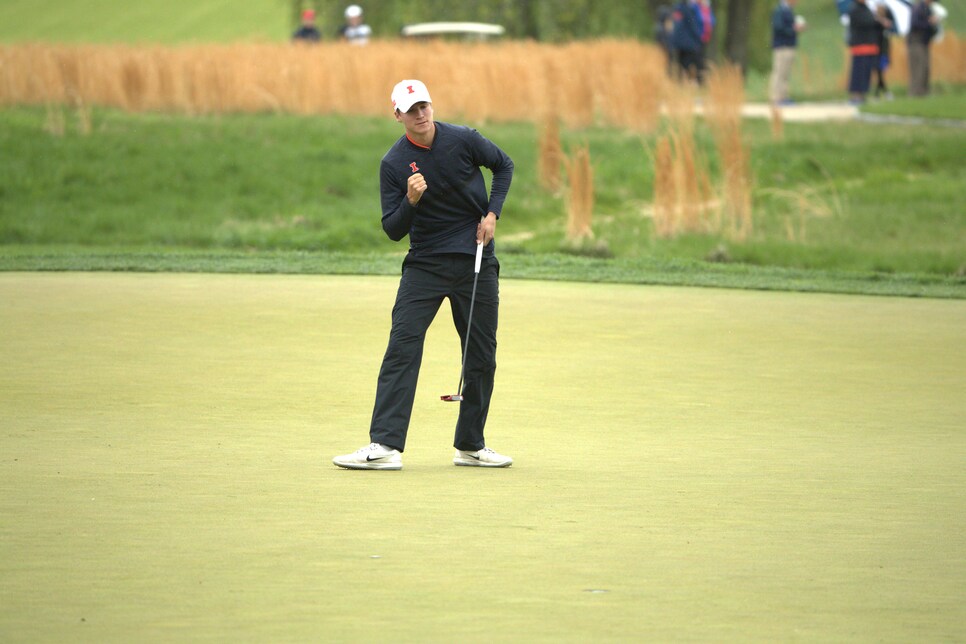 Dumont de Chassert has a win (here in 2019) and two runners-up finishes at the Big Ten Championship.
University of Illinois Athletics
Dumont de Chassart plans to turn professional after the NCAA Championship in May, though he's unsure if he'll begin his career in the United States or in Europe. If he can remain inside the top five of the PGA Tour U. Velocity Global Ranking at season's end, Dumont de Chassart would earn exempt status on the Korn Ferry Tour for the rest of the summer and get into the final stage of PGA Tour Q school for next season. If he has a strong spring and finishes No. 1 in the ranking, he would earn PGA Tour status for the rest of the 2023 season.
Though Dumont de Chassart would prefer to stay in the United States and work his way on tour via the Korn Ferry Tour, his Plan B is to head back to Europe, where he expects to receive a few starts on the Challenge Tour, the DP World Tour's developmental circuit. Either way, the end goal is the same.
"Hopefully on the PGA Tour," Dumont de Chassart says about where he sees himself in a few years. "Playing golf in the States is the place to go. The level is there, and you're in an environment where people are practicing hard, working hard and winning."
Practicing hard, working hard and winning. It's the mindset that has Coach Small eager to keep the Belgian pipeline open. "I would jump at the chance to get another Belgian because I've such good success with them. I've had great relationships with every one of them," Small says.