News
Polish player has shot at making history on European Tour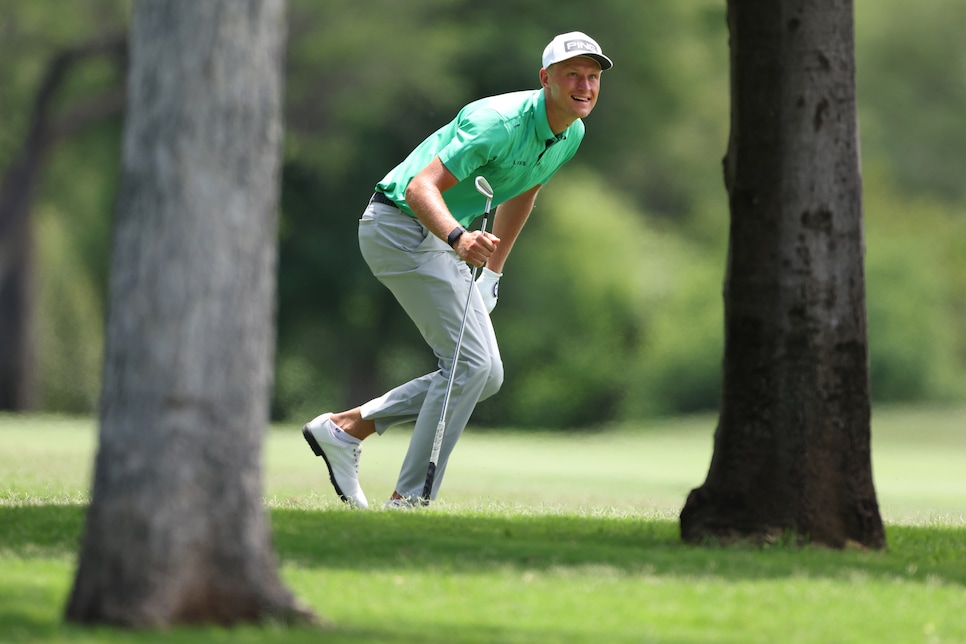 Adrian Meronk plays his second shot on the third hole during the third round of the Alfred Dunhill Championship.
Richard Heathcote
At 6-foot-6, Adrian Meronk is freakishly tall for a professional golfer, yet his stature in the game can grow even larger should he pull off a victory on Sunday in the European Tour's Alfred Dunhill Championship in South Africa.
After posting a one-under-par 71 at Leopard Creek Country Club in Malelane on Saturday, Meronk is 18 holes away from history. Heading into the final round with a one-stroke lead over South African teenager Jayden Schaper, the 27-year-old can become the first Polish player to win on the European Tour.
A victory would continue a steady, impressive rise for Meronk, who had five wins in his college career at East Tennessee State. His performance this week is a bit against his run of play, however, as he has only two top-10 finishes in his rookie season. He entered the week ranked 261st in the world, and his lone pro win came at last year's Open de Portugal on the second-level Challenge Tour.
Meronk was born in Hamburg, Germany, to Polish parents, and the family moved to Poland when he was 2. As chronicled by Golf Digest's John Huggan in October, Meronk's dad was an avid golfer in a country where few took up the game until after Poland's emergence from Soviet control. European and PGA tour events weren't available on television to the Polish public until two years ago, and even today, there are only about 6,000 golfers in a country of more than 37 million.
"I've had a lot of feedback from people at home who have been watching," Meronk told Golf Digest. "There has been a lot of growth in playing numbers this year in Poland. Because of the virus, people have been looking for things to do outdoors. And golf has benefitted. New courses are being built. I try my best to make a difference. If I was to win on the European Tour, it would be huge for golf in Poland. So would making it to the Olympics. I'm in right now through my World Ranking. If I was to do well in that, golf would get a lot of publicity."