Farmers Insurance Open
Why doesn't Adam Scott play more at Torrey Pines when he loves it so much?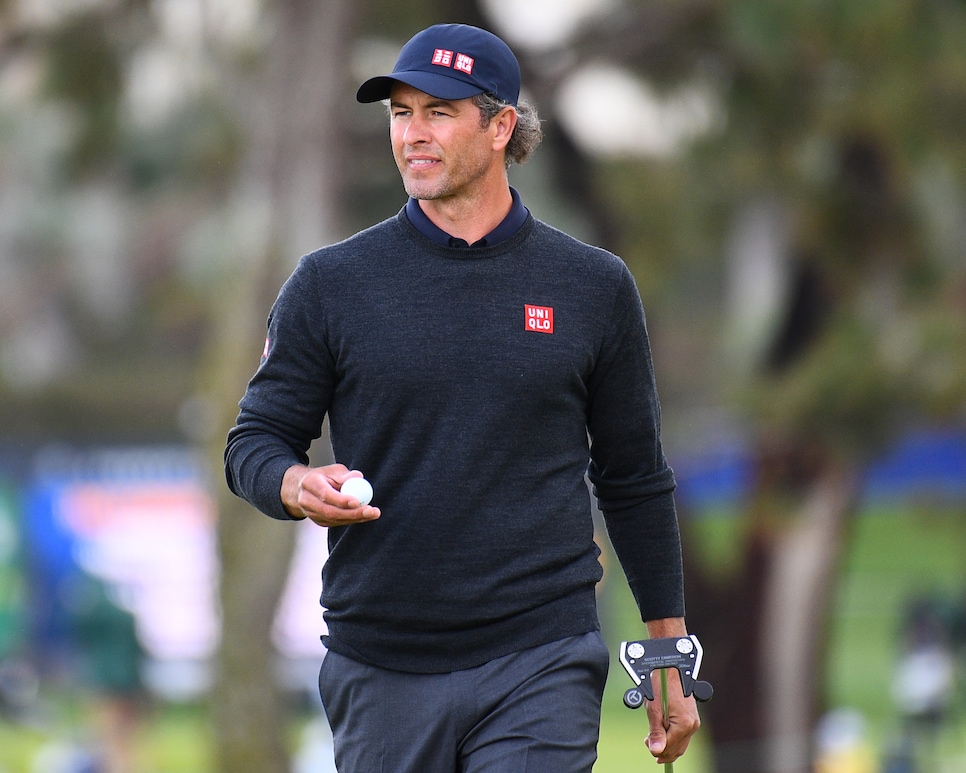 Adam Scott looks on after his birdie on the first hole of the South Course during the second round of the Farmers Insurance Open.
Brian Rothmuller/Icon Sportswire
SAN DIEGO—Adam Scott says the experience ranks with the special moments of his career, and he's a guy who's won the Masters and 13 tournaments on the PGA Tour. In the 2008 U.S. Open, the USGA created the inspired Thursday-Friday pairing of the Nos. 1, 2 and 3 players in the world. That was Tiger Woods, who'd already won at Torrey six times; Phil Mickelson, the hometown hero; and Scott, who had risen to his highest position in the world with a victory earlier in the year at the Byron Nelson.
"The third wheel hanging off the back," Scott said with a smile on Friday after an impressive (given the weather conditions) 3-under-par 69 on the Torrey Pines South Course in Friday's second round of the Farmers Insurance Open. Scott was in a six-way tie for second, one shot behind Viktor Hovland, who finished late with a remarkable 65 on the South to get to nine under.
Woods won the '08 U.S. Open, of course, Mickelson scrambled back on the weekend to tie for 18th and Scott finished T-26 in his first start at Torrey since his Junior World days.
"I think every time I come back I'm reminded of it, being here, but it's a strong, strong memory in my career," Scott said. "… The atmosphere for the whole 36 holes that I played with Phil and Tiger was incredible, but Thursday morning the energy around the first hole was like … I can't compare it to anything else actually. It was not even like teeing off at the Masters or anything like that."
So you think that Scott would have been enthused to return to Torrey Pines every chance he got. Trouble is, it never fit into his schedule of competing in Australia late in the year and having a break before usually returning at either Kapalua or Riviera, with two wins at L.A.'s classic layout.
Incredibly, it took 11 years for Scott to come back and play in the Farmers. His result in 2019? Solo second, two shots back of Justin Rose. He skipped it last year, and now he's contending again.
Does he think he should have played here more over the years?
"Maybe, but hopefully I've got a few more years in me to take advantage of it," said Scott, who will be 41 in April. "But I'd like to take advantage of the next two days, given the position I've put myself in. It's been a little while since I've kind of been right up there heading into weekends, so look forward to what's to come the next couple days."
After winning the Genesis Invitational at Riviera last February before COVID-19 put the tour on hiatus, Scott went on a more extended break than most players. He didn't return until the PGA Championship in August and finished T-22 at Harding Park. Since then, he had to withdraw from the Zozo Championship after a positive COVID test, and he's only made five starts in the new wraparound season, with a T-21 in the Sentry Tournament of Champions as his best result.
He also played in the Sony Open in Hawaii, finishing T-41, so he's already competed this early than he usually does.
"It's hard to force things," Scott said. "Things are not all still as normal and I'm probably slightly underprepared for where I want to be, but I'm working on that. Hopefully I can get to spend enough time practicing and playing and seeing the coach and doing the training and stuff. But it's a little tricky at the moment to get it all done."
One area that has been a nice surprise this week: Scott's putting. It's usually the key to how he ultimately fares, and after finishing 49th in strokes gained/putting last season, he'd fallen off to rank 113th in the smaller sample of this new season. This week, he's fourth in the SG/putting, and the highlight on Friday was making a 21-foot eagle putt on the South par-5 sixth.
"I feel like things are in a good spot," Scott said. "Obviously, I'm playing OK. I play fairly solid every week I play; it's just those small margins I think that have been missing, and they take some consistency to accumulate and push you up to that top level."