Tommy Digest
Adam Schefter says only two NFL teams courted Tom Brady last year, which seems pretty dumb in retrospect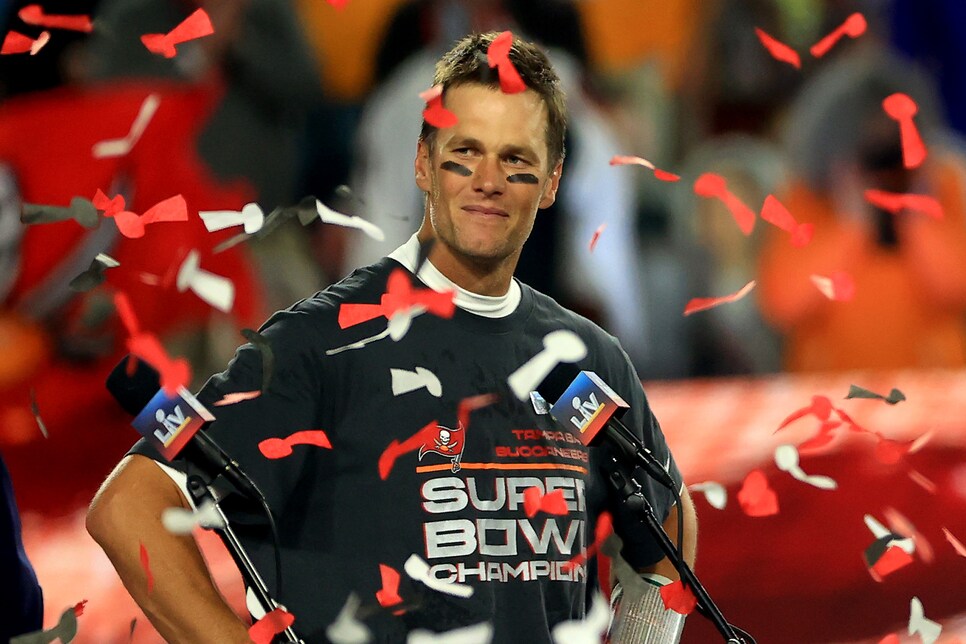 Well folks, it's official: Tom Brady is the GOAT. 43 years old. 10 Super Bowl appearances. 7 Super Bowl rings. Put him up there with Ruth, Aaron, Russell, Jordan, Jack, Tiger, and Serena. Don't bother to order them, because it doesn't matter. The guy is all-time. He's so damn good he even got Robert Horry trending on Monday. Forget Super Bowls, that takes some doing. And yet, despite all the indisputable evidence to Brady's greatness, something interesting happened last year when ol' Tommy Terrific hit the NFL's open market for the first time:
No one was really interested.
This is the kind of narrative that always gets a little overblown in the wake of something as seismic as a Super Bowl championship, but still, TWO TEAMS? That's it? And not just "two teams." Two absolutely laughable franchises at that. You're saying the Colts preferred to go with Philip Rivers? You're saying the Bears, now kicking the tires on Carson Wentz, weren't kicking down the door on Brady? You're saying the Dolphins, who went 10-6 with Ryan Fitzpatrick and Tua Tagovailoa under center, wouldn't have been legit contenders with Brady? It just doesn't add up.
And speaking of things that don't add up, all you need to do is look at what the other LA team just did. The Los Angeles Rams, two years removed from a Super Bowl in which they lost to, you guessed it, Tom Brady, just acquired Matthew freaking Stafford from the Lions for two future first round picks, one future third rounder, and the number one overall pick in the 2016 NFL Draft in Jared Goff. Stafford is a fine quarterback, but he is not Tom Brady and Tom Brady was FREE. If the Rams were so desperate to move on from Goff—so desperate to win NOW—shouldn't they have been in for the six- (now seven) time Super Bowl champ nine months ago? That's a rhetorical question, by the way.
The brain games NFL front offices play against themselves on a daily basis make 'The Queen's Gambit' look like child's play, but if this is true (and there's no reason to believe it's not given the source) then it's the stunner of all stunners. Say what you want about the Flying Creamsicles, but they just won their second Super Bowl in the past two decades with some help from the greatest to ever do it. We wonder how the Cowboys, Niners, Packers, and Washington Football Teams feel about that . . .