News
How Yale, the country's best college golf course, is back from the dead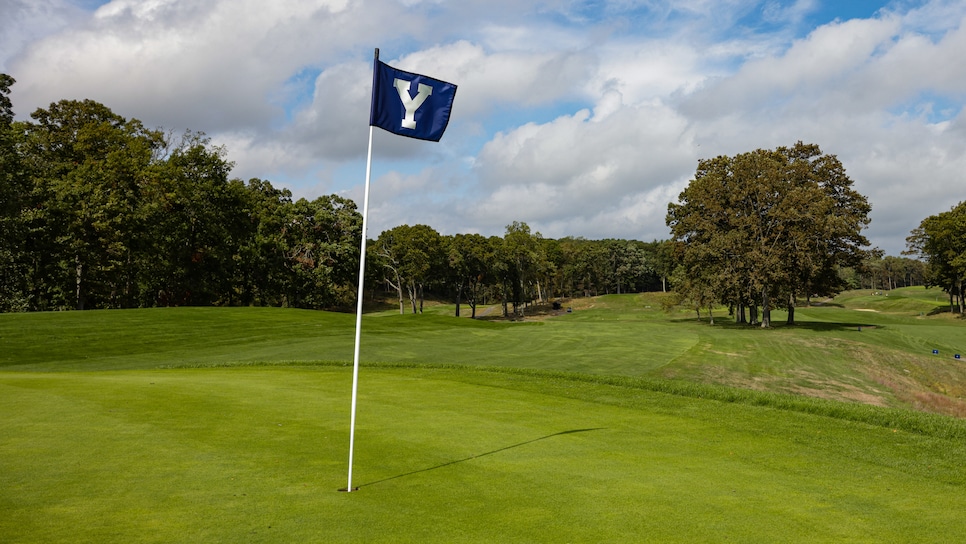 He walked off the course as if witnessing a resurrection. There was a glance back at the green and down the fairway, to confirm what happened had happened.
"It's miraculous, really," Robert Massimilian says. "I came out to see if it was still alive. After everything that's been said, I didn't know what to expect. But this," he says, motioning to the course behind him, and in a sense, what the course has, hopefully, put behind it … "it's just miraculous."
It was the opening round of the season at Massimilian's club. The final week of September is a hell of a late start to the year. But this is no ordinary club, and it's certainly been no ordinary year. For Yale Golf Course, it took until fall for winter to pass.
Charles Blair Macdonald referred to the land that would eventually become Yale Golf Course as "veritable wilderness," and in the century that followed, Macdonald's words became something of a Rorschach test. Built through a forest on top of rocky terrain, boasting deep bunkering, large rolling fairways and undulating greens on a massive scale, Yale G.C. is both a creative, uncompromising challenge and aesthetic wonder. Many view Yale G.C., the vision of Macdonald and his protege Seth Raynor, as a model of Golden Age architecture, and it is widely recognized as the best college course in the country.
However, there is often a contrasting opinion with Yale G.C. It has detractors who find the layout byzantine or silly. (The legendary writer Peter Andrews once noted Yale as "18 good reasons to send your son to Harvard.") Over the years the course lost some of its original design to drainage problems, green shrinkage and tree obtrusion. A botched renovation amplified these woes, and for various reasons the course has been plagued with conditioning issues. These factors cultivated a reputation that Yale was good, really good … but with a little TLC, it could be something more.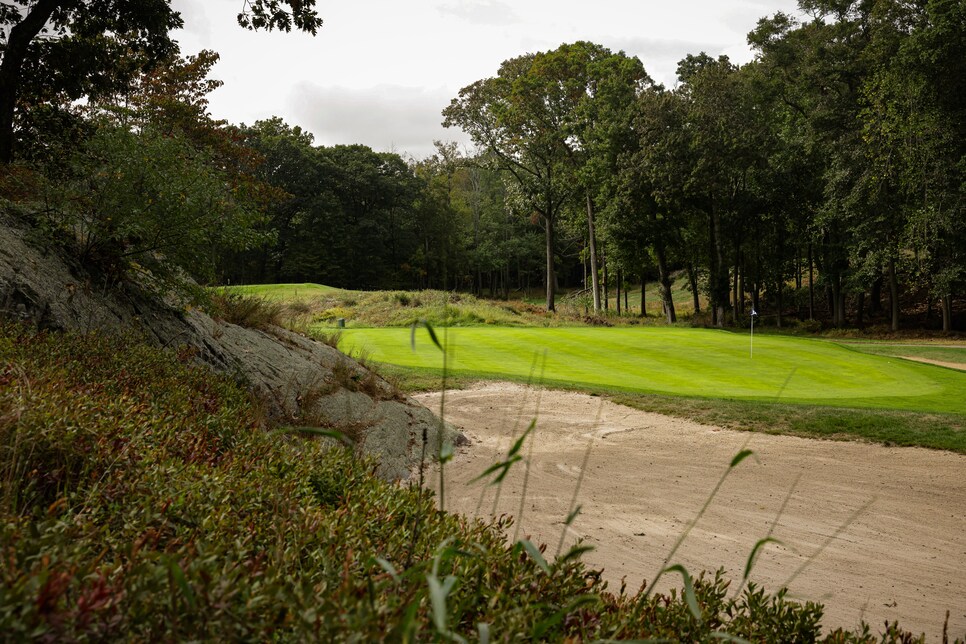 Off the left of the 11th green.
BEN WALTON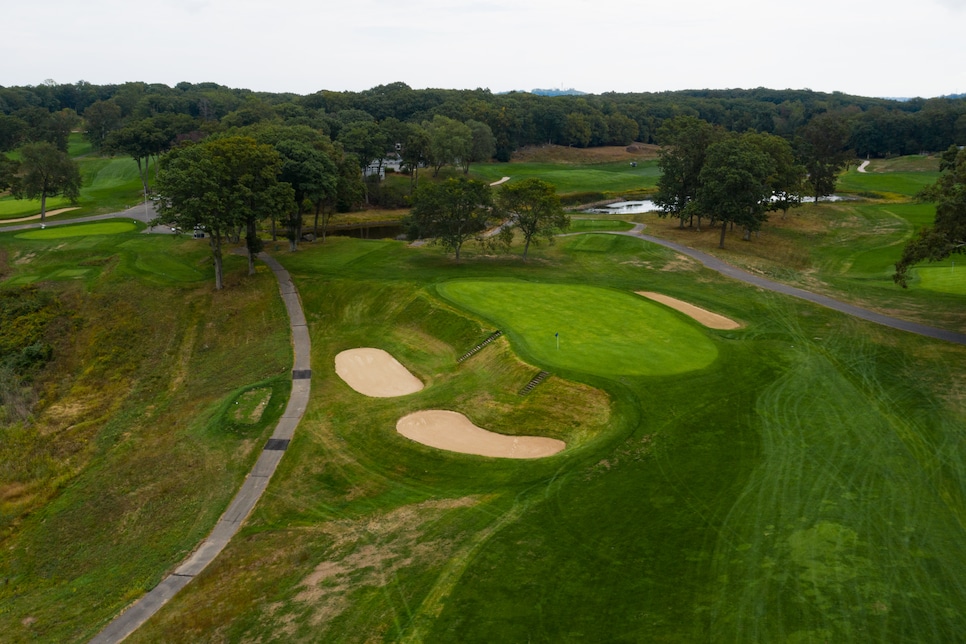 An overhead shot of the second green.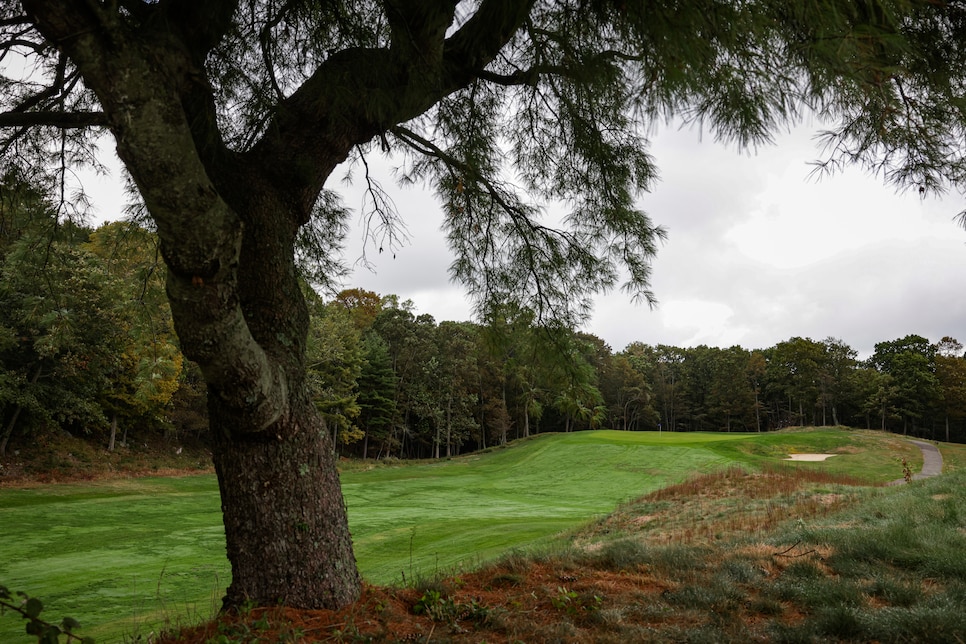 Despite its unfulfilled potential, Yale remained beloved. You just had to see it for what it was instead of what it was not.
"I am from Ireland and have played golf all over the world including many of the greats. Yale is one of the best designs in golf and in my opinion the best Raynor course," says Gerry Mullally, founder of Advanced Golf Nutrition and a member of Yale for 14 years. "It is one of those courses that challenges every part of your game."
"There's nothing like this," says Massimilian, who lives in New Haven and graduated from Yale. "You can play any hole a number of ways. It's a player's course, a fun course. People are always excited to play here."
Unfortunately for Yale members and students, that excitement was suspended in 2020. And the question was raised if it might be gone for good.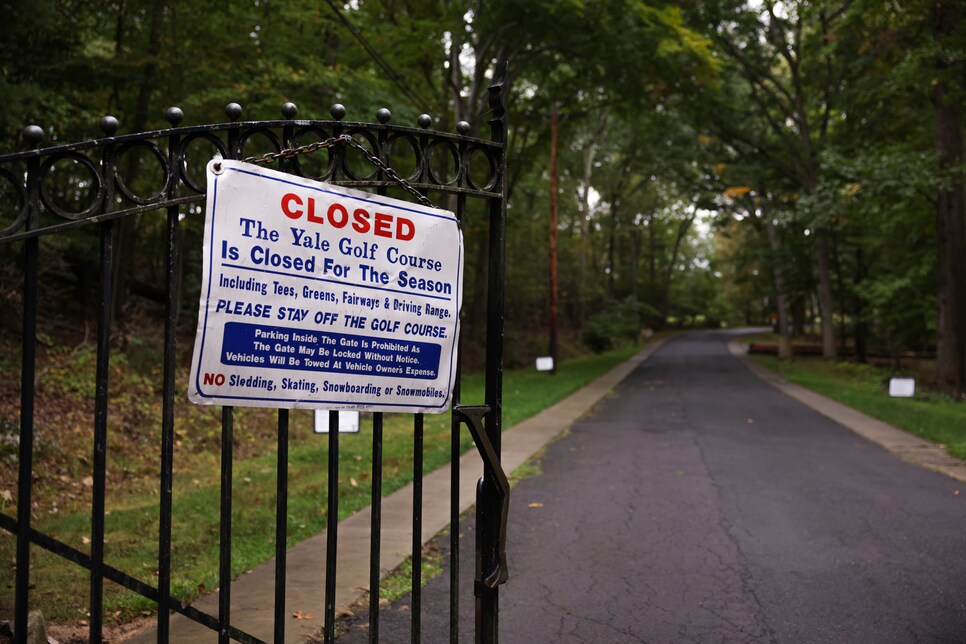 Yale G.C. closed for the 2019 season last November. Three months later its superintendent of 17 years, Scott Ramsay, left, weeks before the course's scheduled 2020 opening. Two weeks later the COVID-19 pandemic hit, forcing Yale University to shutter its campus and facilities, including the golf course. The university reduced the course maintenance staff, which hovered anywhere from 18-24 members, to two. They were limited to four hours of work per day, total, for three months as the university shifted its way through ever-changing health and safety protocols.
Members say there wasn't much communication between the university and the members. Why, they wondered, with golf enjoying a renaissance during the pandemic, was their course closed? "Yale has never been good at communicating plans," Mullally says.
Worse, rumors began to spread about the course's condition. Yale officials told Golf Digest over the summer they were trying to keep up as best they could. Conversely, it doesn't take an agronomist to understand the consequences of no superintendent and a skeleton crew. A few members found a way in to discover for themselves, and what they found was startling.

Photos from June, shared with Golf Digest, show the effects of the shutdown.
In June, photos circulated on social media showing a course in disrepair. Major patches of fairways and greens were burnt. Weeds were in bunkers. The second cut grew so long it made U.S. Open rough look like AstroTurf. Uncontrolled heather encroached every inch of the property. The scenes were post-apocalyptic.
"Leave a golf course alone for two weeks and you may have problems that last the rest of the summer," one architect told Golf Digest. "Disregard it for three months and the damage may be irreparable."
Members who requested anonymity told Golf Digest the photos were distributed not to embarrass the university or its administration, but to raise awareness—and alarm. On that front, mission accomplished, as the photos spurred a wave of commentary from media, club members and architectural purists, all wondering how Yale, with an endowment of $30 billion, could let such a masterpiece be defiled.
The photos made the rounds as news that Peter Pulaski, Yale's director of golf, was leaving in June after two decades of service. Not helping matters were developments with fellow Ivy League members Dartmouth (which was closing its golf course) and Brown (which eliminated its golf program). With the fallout of COVID-19 forcing many institutions to rethink their budgets, and continued silence from the university, there was worry Yale G.C. would be no more.
"People always cite the endowment, and we know there are other things needing money than a golf course," Massimilian said. "But the golf community never felt like the university knew what it had, and when everything happened during the pandemic, some wondered if that would be it [for the course]."
The belief was so strong and prevalent that Yale athletic director Vicky Chun, one of the more respected leaders in college athletics, was forced to address the rumors in a July 6 email. In her correspondence Chun reassured members the university was committed to the course. She outlined the plan for that the maintenance staff to return to full working capacity, and that a search for a new general manager was under way.
"People love the course. They always felt it wasn't taken care of, and it was one of the things we wanted to work on," Chun told Golf Digest. "Then COVID hit and other things take priority." Asked why Yale had these issues when other college courses did not, Chun merely said she accepted full responsibility. "Safety was our concern, period."
Chun acknowledged that "everything was reevaluated" during the course's closure. "[The pandemic] is forcing everyone into some uncomfortable realities. Every decision is now a tough decision with consequence." But, ultimately, Chun and her staff decided that not only would Yale G.C. remain, they would restore it to its past glory.
"It is this world-renowned asset, something everyone is really proud of. And we had to ask ourselves some hard questions, if we were holding up our end of the bargain," Chun said. "We, I, accept the problems our course suffered. But we are working hard to bring it back." Chun said the search was on for a new GM, who would then hire a new superintendent. The course would get the funds it so desperately needed.
Members remained skeptical. They couldn't unsee those photos. Besides, they had heard variations of this promise from the university for years. Yet, six weeks after Chun's email came a surprising follow-up. She had found her man; the course would reopen in a month.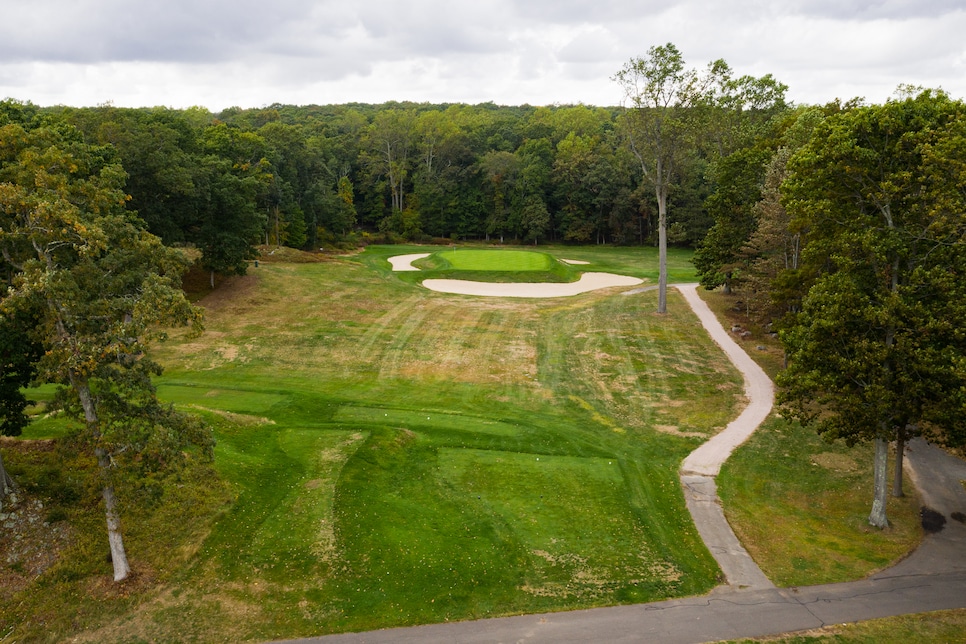 An overhead shot of the par-3 fifth hole.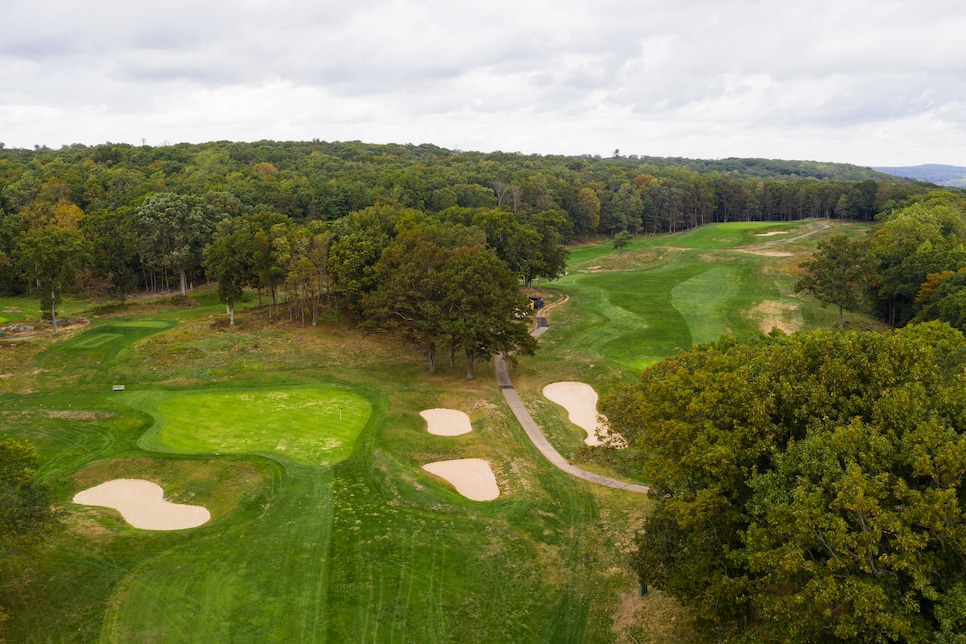 The first green (left) adjacent to the eighth fairway (right).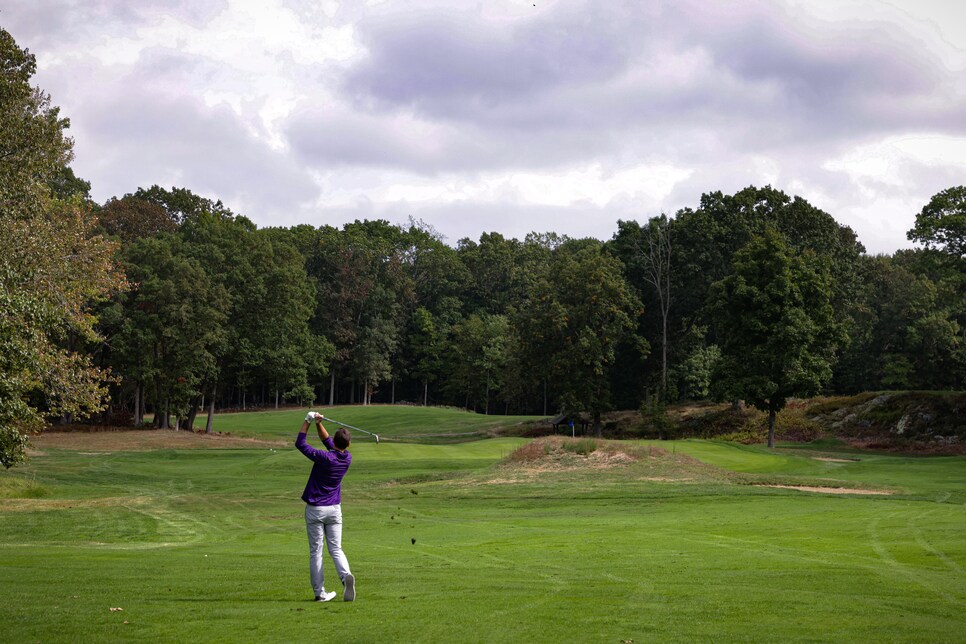 A golfer hits his approach into the par-4 17th.
BEN WALTON
Peter Palacios spent most of the day in the parking lot. He welcomed golfers as they returned to Yale G.C. and was there to greet them at the end of their round. He asked what they thought, what they experienced, requested their suggestions and improvements.
"We got work to do," he says with a smile.
On Monday Sept. 28, Yale G.C. reopened after its summer from hell. Perhaps the better word is "survived." It is not in great shape, each hole showing some degree of scars from its ordeal. There are temporary greens on the 10th and 13th holes. Greens are sprungy, fairways are splotchy and unevenly cut, some bare spots feel like volcanic rock. The greens were aerfied for the first time in 10 years, and the amount of thatch uncovered almost made Palacios faint. Technically there are only 17 holes, as the signature ninth Biarritz is closed, its dam undergoing renovation.
Conversely, to appreciate what stood before them was to know where it's been, which is why, as Massimilian remarked, Monday was a miracle of sorts.
"No, it didn't have its usual bite," Massimilian said. "But what they've done in such a short time, it gives you hope for what's in store."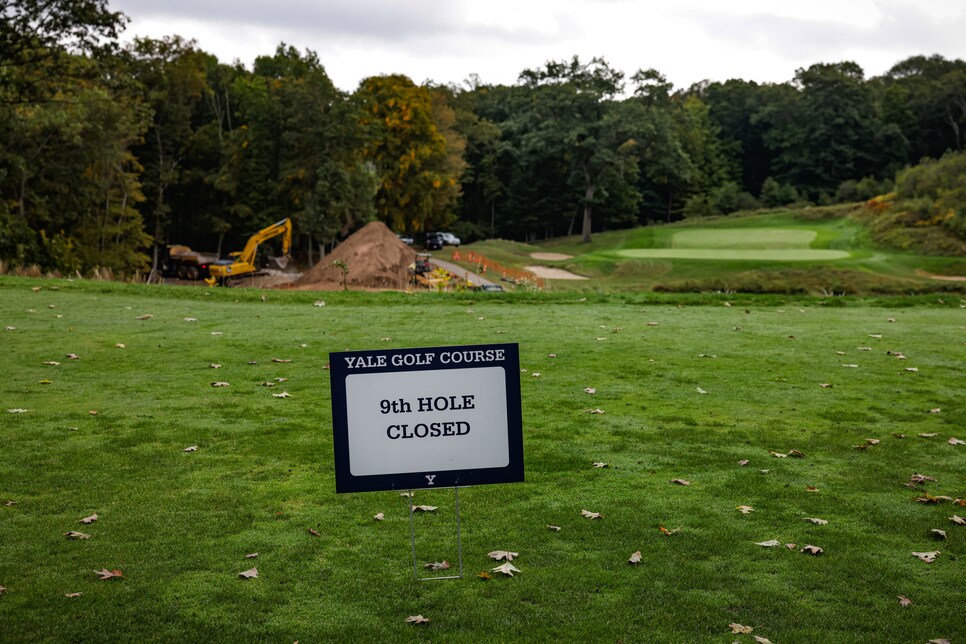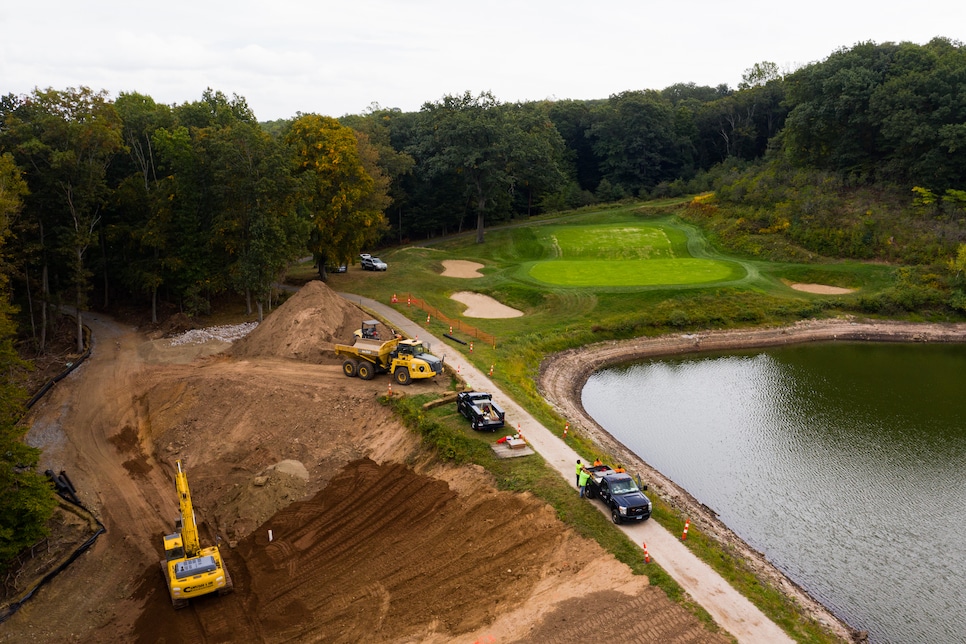 Construction crews are working on rebuilding the par-3 ninth hole.
However Palacios, Chun and the rest of Yale's leadership know the course isn't the only thing in need of repair. Which is why, rather than keeping the property closed for the rest of the year to aid its recovery, Yale opened as the season was coming to an end. The university pumped in $120,000 to get the course playable for the final six-to-eight weeks of the season, including $25,000 in seed alone.
"I've been around golfers my entire life. I have never seen so much passion that exists for this course," Palacios says. "A lot of them feel though it hasn't been returned. That's our first step."
Palacios is under no delusion. He was born into the game, his father a golf pro in south Texas, and Palacios followed suit, taking a job as an assistant pro after playing college golf at St. Mary's University in San Antonio. He worked his way up to general manager, with providence following him at stops in Texas and Florida and Wisconsin. His success beckoned Yale, and he understood its allure and prestige.
He was also aware of its struggles, both in the past and present. During the first round of interviews he asked for a FaceTime view of the course, and when he came to New Haven the first thing he did was walk the property. It didn't take long for Palacios to look past the burn-out and brush and see what lied hiding beneath.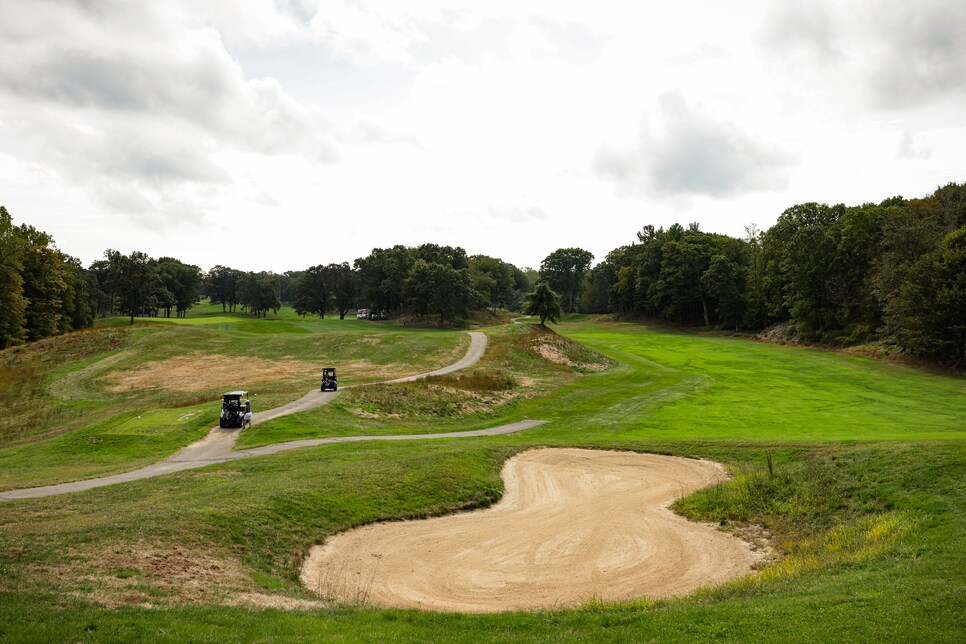 A view from top of a hill shows the seventh (right) and eighth holes.
BEN WALTON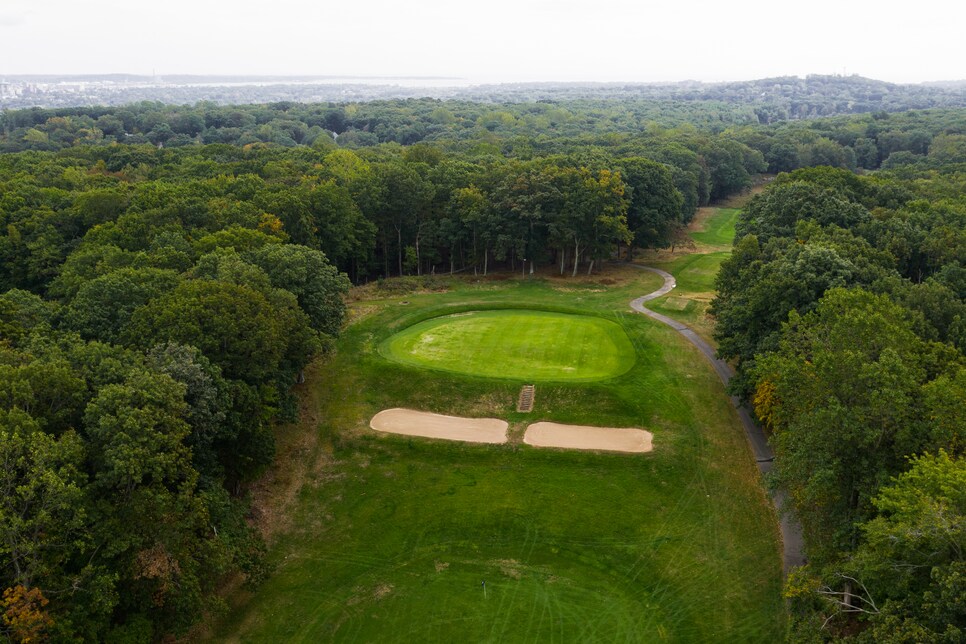 A drone shot of the 10th green.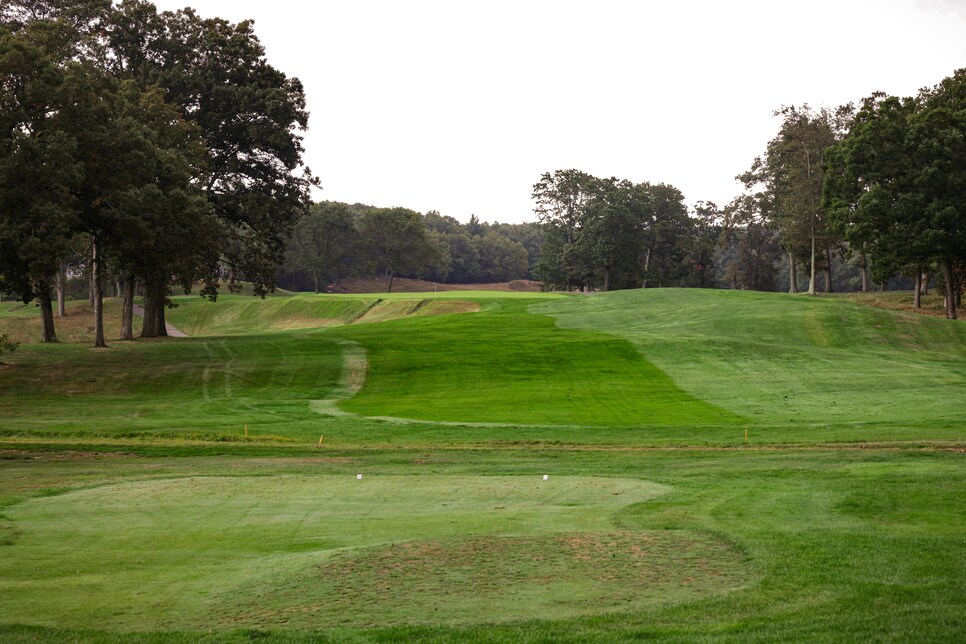 A view from the tee box on the par-4 second hole.
BEN WALTON
"Instantly I saw why this course has such a passionate following," Palacios said. "I was extremely happy where I was in Wisconsin, but there are only so many chances in life to tackle something special. This course is the definition of special."
Finally, it seems like Yale understands it's special, too. Chun let members know this when announcing Palacios' hiring and Yale's reopening, writing, "We look forward to having professional, on-site management in place to provide the Yale Golf Course with the time and attention it deserves as we operate and devise a path forward."
But Yale's recovery will be more than mowers and seed and staff and money. Part of that vision, according to Palacios, is a full restoration to the original Raynor/Macdonald design, using old prints as a guide. "Raynor intended no trees to be in the confines of the course," Palacios said. "Not only does clearing [those trees] out restore how Raynor wanted the course to play, it will improve the turf and conditioning practices, two complaints I know Yale has dealt with in the past." Palacios said Chun is heading up the project, with multiple architects expressing interest.
Yale will also be expanding its driving range, giving its men and women's programs, along with members, a world-class practice facility. Yale hopes to build a new entrance as well, providing a scenic welcome to its members.
But first things first, starting with the reopening. "This is a reward to our members, our students, our community," Palacios says. "They stuck by us. We know the course isn't up to our standards. They know that. But it's getting better every day, and we want to generate excitement for what's coming."
And that excitement was evident, an infectious optimism felt around the Yale property Monday afternoon. "We can make the sell all we want, but it's the players, the community that will buy-in," Palacios said. "And to hear 'Yale is back' from those who have seen the worst ... we have good things coming."
As for Massimilian, opening day served as something else. His annual birthday tradition is to play a round at Yale. With the course closed this summer, he thought about playing somewhere else but decided not to in hopes Yale would eventually return. On Monday, Massimilian finally received his gift.
"Hey, better late than never," Massimilian says.