We are less than two months away from the Sept. 29 start of the Ryder Cup in Italy. The last men's major of the summer has been played, and that means we are squarely in the "speculate wildly about captain's picks" phase of the greater Cup Cycle. What better way to do that, I thought, than to put on my Joe Lunardi mask, break out the standings and statistics and gossip, and cosplay as a bracketology expert of the Ryder Cup?
Who's in? Who's out? Who's on the bubble? Let's break it all down, starting with Zach Johnson's invading Yanks. (And for more obsessive Ryder Cup coverage, listen to the Ryder Cup Radicals podcast).
Selection format: For the second straight Ryder Cup (and probably going forward into perpetuity), the Americans have only six automatic qualifiers, leaving Johnson and Co. six captain's picks to play with. (See the current standings here.)
Automatically qualified and definitely in: Scottie Scheffler, Wyndham Clark
Clark is head and shoulders above everyone in terms of points, and with 25,000 points and counting, Scheffler is head, shoulders, waist and knees above everyone else. See you in Italy, boys.
Would take a miracle not to automatically qualify: Brian Harman
Harman is third in the American standings with more than 10,000 points, with a chance to accumulate more in the FedEx Cup Playoffs. It's mathematically possible that he gets caught, but only if he plays really poorly. Then maybe there's a reality in which he misses the team ... but no, we can't live in the realm of fantasy. Harman is in.
Might not qualify but in regardless: Brooks Koepka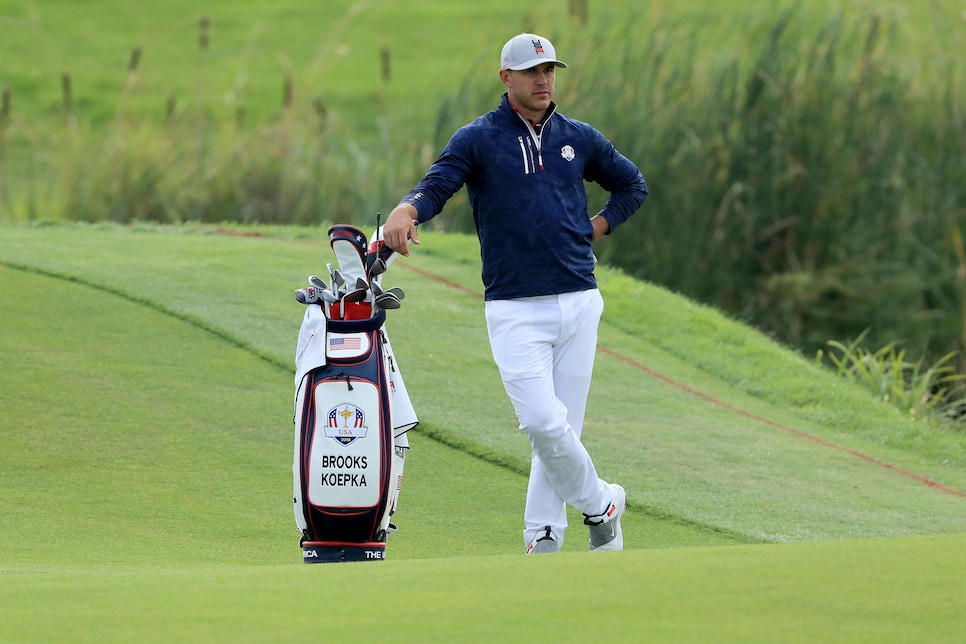 Kopeka is fourth in the standings, but as I wrote after the Open, the fact that there's so much money and points to be made in the playoffs, and he's not playing because he's a LIV guy, means there's at least a decent chance Koepka gets knocked out of the top six by the end of the BMW Championship in three weeks (the deadline for automatically qualifying). Still, the only way he gets left out is if there's some secret animus against the LIV players. Johnson and his vice captains haven't really tipped their hands, but leaving Koepka off ends up being a massive story and veers into the dreaded territory of capital-D Distraction. Even if he were inclined to take all PGA Tour guys, ZJ isn't going to want to explain himself over and over. Koepka's in.
Currently qualified, definitely in: Xander Schauffele, Patrick Cantlay.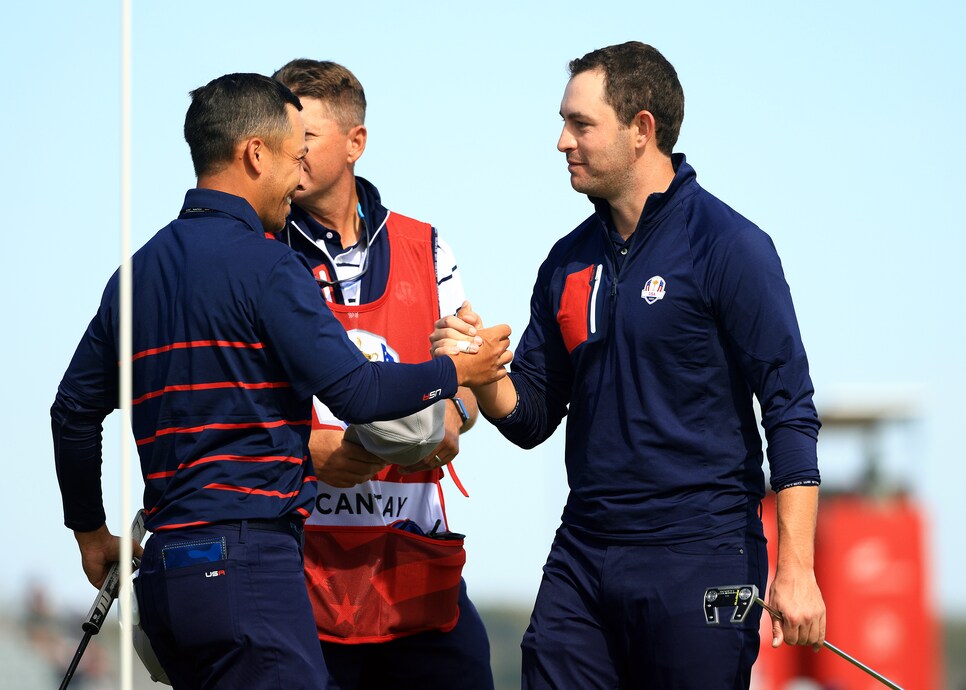 Xander Schauffele and Patrick Cantlay have been a strong duo in team competition.
Mike Ehrmann
Considering how strong their partnership has been in one appearance each in the Presidents Cup (2-1) and Ryder Cup (2-0), one of them would have to break a leg or commit a felony to miss this team, no matter what happens in the playoffs.
Not qualified, but almost in: Max Homa, Cameron Young, Jordan Spieth.
Before last Thursday, you might have been able to talk yourself into a world where one of these guys didn't make the team. I'm not exactly sure how—Homa was brilliant at the Presidents Cup and finally had a good major season; Cam Young is an outright baller who had a chance to win the British Open for the second straight year; and Jordan Spieth is Jordan Spieth. But perhaps it was possible. Then Fred Couples came along on his Sirius show and told us they were in. You have to laugh, because only Couples could pull that off among the vice captains. As he said, he wasn't spilling any big secrets, but it's still hilarious.
On the bubble, but nobody wants him to be: Justin Thomas.
It's not hyperbole to say that Thomas limping into the end of the 2023 season is the worst on-course thing that could have happened to Johnson. Not only is Thomas popular and very good, but at 16-5-3 in team competitions, he's simply the best American team golfer of his generation, and maybe of any generation. You want him on the team. You almost need him on the team.
And yet, he's just not delivering right now and missed another cut at the 3M Open. Couples said before Minnesota that Thomas has to go out and show something at the end of the season, and he has one chance left in this week's Wyndham Championship. If he can't finish inside the top 10 or close, he'll miss the playoffs, and then Johnson will need to make a leap of faith. He still might, but it won't feel good, and JT could absolutely miss the Ryder Cup. Which is bad for everyone except Europe.
Good side of the bubble: Collin Morikawa, Rickie Fowler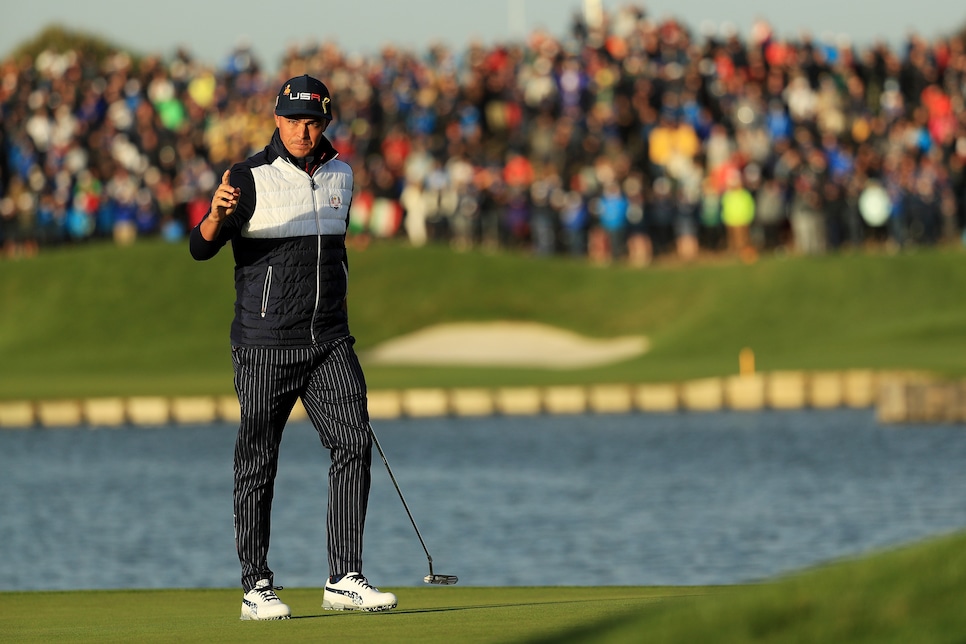 Rickie Fowler figures to make his first Ryder Cup since 2018, thanks to a strong current season.
Mike Ehrmann
Let's operate under the assumption that Johnson and his assistants are looking for any reason at all to include Thomas; that means there are two spots left, and for me, these guys have the inside track. Morikawa was spectacular at Whistling Straits, going 4-0-1 and pairing nicely with Dustin Johnson. He did his job again at the Presidents Cup, going 2-1, and made a winning foursomes team on Day 1 with Young. Morikawa has been so-so in the last few weeks, but a T-2 at the Rocket Mortage Classic shows that the form is there. One good playoff finish and he's surely in.
Fowler is a clearer case. He's been hot all year, won the Rocket Mortage after almost taking the U.S. Open, and a spot of relatively cool form in Scotland and Hoylake doesn't mean much. Unless he really bombs the playoffs, his skill and popularity make him a near shoo-in.
Bad side of the bubble: Keegan Bradley, Sam Burns
Bradley is looking like the classic case of peaking too early. That might sound insane, considering his win at the Travelers Championship came less than six weeks ago, but time moves fast in Ryder Cup season, and one big problem is that he's missed the cut in his last two majors. He also hasn't been in the mix in team events in a long time—Gleneagles was his last Ryder Cup, nine years ago—and has some massive names to overcome.
The problem for Sam Burns is similar to Bradley. He got a crack at the Presidents Cup last year but went 0-3-2 and couldn't make the magic work with Scheffler. Now he's 13th on the rankings list and has only had one top-10 since winning the (admittedly huge) WGC-Dell Match Play. There's no doubt that he's out as things stand, but like Bradley, he still has a great chance if he can catch fire in the playoffs.
The great spoiler: Tony Finau
Just when things seemed relatively simple for the U.S., here comes Finau with a classic T-7 at the 3M Open. Right now, he's not a danger to anyone on the list, but ... can't you just see him going wild in the playoffs? It would be a consummate Finau move, and considering his success at the team events—he was one of the few Americans with a winning record in the 2018 Ryder Cup—he could make life incredibly difficult.
Out, barring a magical playoff run: Denny McCarthy
McCarthy is tempting, because he's one of the best putters on the planet and his game theoretically fits Marco Simone well, but there's no justification unless he wins a playoff event, and he's never won a tour event.
Out, definitively: Dustin Johnson
DJ still had a prayer going into the Open Championship, with the memory of his 5-0 run at Whistling Straits. But he needed something incredible at Hoylake and instead shot 74-81. There's no path here.
Definitely in: Scheffler, Clark, Harman, Koepka, Cantlay, Schauffele, Homa, Spieth, Young.
Last three in: Fowler, Morikawa, Thomas.
First four out: Bradley, Burns, Finau, McCarthy.
Off the list: Dustin Johnson.
Selection Format: The Europeans have two lists—the European Points and World Points. Three players qualify from each list, which means that for the first time, Europe's captain, Luke Donald, will have six picks to fill out his roster. The standings are here.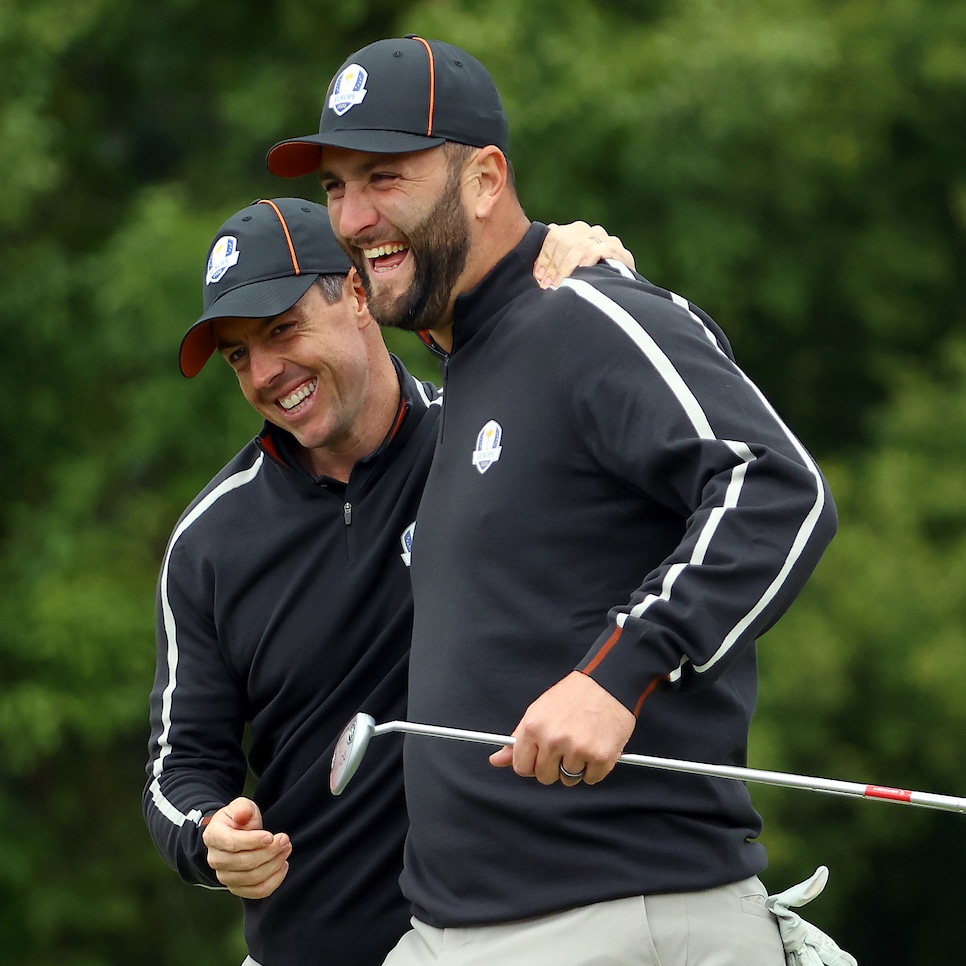 Rory McIlroy and Jon Rahm, shown in the 2021 Ryder Cup, are the clear leaders of Europe.
Andrew Redington
The impregnable duo who would not be left out barring death and maybe not even then: Rory McIlroy, Jon Rahm
This is the ultimate statement of the obvious, but one interesting fact is that the European list is predominant, meaning that if you qualify on both lists, you "count" as a European list pick, and not a World pick. That's where McIlroy and Rahm are, which seems like a good break for Donald, because that means he'll also get three spots for players with strong performances around the world, and those players typically tend to be better than the DP World Tour-only crew who have a better chance to qualify on the European list. Ironically, a change was made in points allocation to give Europeans playing mostly on the DP Tour a better shot to qualify.
Currently qualified and definitely in: Viktor Hovland, Tyrrell Hatton, Tommy Fleetwood
Because McIlroy and Rahm are eating up the top two European spots, these three guys who play on the DP World Tour a lot less than some of their contemporaries are the three qualifiers on the World Points list, even though Rahm and McIlroy are ahead of them. Which is great, because they were making the team regardless, and now Donald doesn't have to waste picks on any of them. If there was doubt around any of these guys, it may have been Fleetwood, but two top-10s in Scotland and Hoylake put that to rest.
Won't qualify, obviously in: Matt Fitzpatrick, Shane Lowry
The European team is wildly top heavy, and Fitzpatrick, who will likely be one of just four major winners to make the team, is the sixth and final of the top dogs. His Ryder Cup record is a disastrous 0-5-0, and he's just off the World Points qualification cutoff, but it doesn't matter—he won the 2022 U.S. Open and this year's RBC Heritage, and you can't keep him off the team.
Same deal for Lowry. He has only played one Ryder Cup, going 1-2-0 at Whistling Straits, but he's a major winner and joins McIlroy and Rahm as a veteran leader. Even if Lowry can't make the playoffs (like Justin Thomas, he needs a good week at the Wyndham for that to happen), it's hard to see him left off this squad.
Qualified, probably in: Robert MacIntyre
This is where things get tough when prognosticating the European side. MacIntyre is currently in the third and final spot in the European Points standings, but there are three counting events left to be played, so he is by no means secure; Yannik Paul and Adrian Meronk are hot on his heels.
Even if MacIntyre drops off, the word is that the captains liked him as a team guy at the Hero Cup earlier this year, which pitted Great Britain & Ireland against Europe. MacIntyre only went 2-2, and his team lost, but his defeats were close, and he played well. A T-2 at the Scottish Open probably sealed the deal for him.
Good side of the bubble: Sepp Straka, Adrian Meronk, Justin Rose, Alex Noren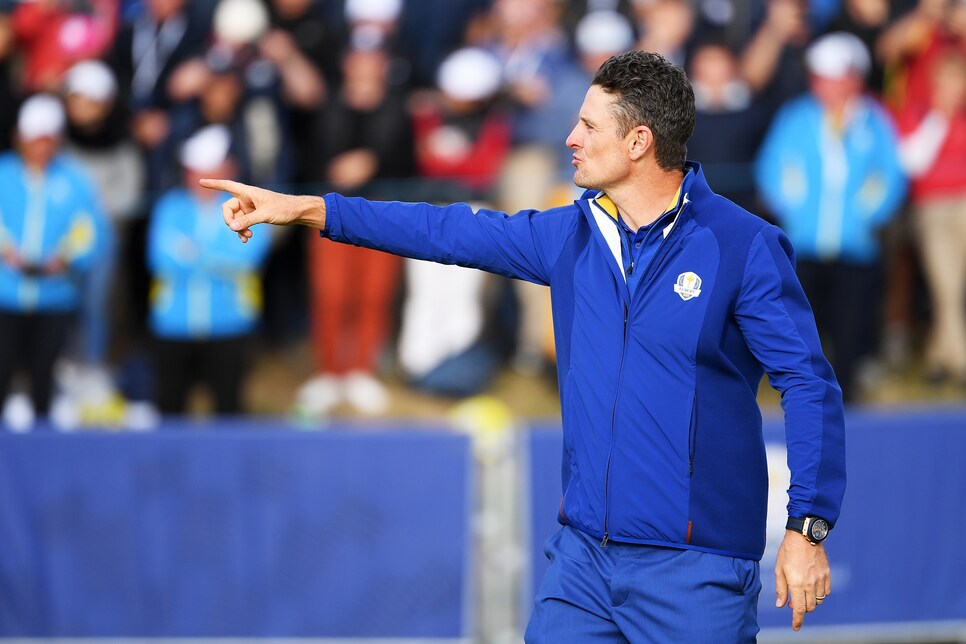 Justin Rose celebrates Europe's 2018 Ryder Cup win.
Ross Kinnaird
Choosing these four was absolutely the hardest part of this entire exercise, and I had to lean on the expertise of fellow Ryder Cup Radical and Euro propagandist Luke Kerr-Dineen. LKD is leaning toward a veteran-heavy last four, and I have to agree with the choices he gave me.
Noren and Rose have Ryder Cup experience (the former once, in 2018, when he went 2-1, the latter five times), and Noren is starting to show form at the right time. Rose missed the cut at the Scottish and the Open, but had a strong American summer, and with a good finish will make the Tour Championship.
Meronk is another guy who impressed everyone at the Hero Cup and has posted good finishes in the last month, while Straka is tried and tested in the U.S. with a win at the John Deere and a T-2 at the Open.
Bad side of the bubble: Yannik Paul, Seamus Power, Victor Perez, Rasmus Hojgaard
I could go in depth on each one here, but the fact is that they just haven't done enough lately to justify picking a rookie. (The possible exception here is Hojgaard, who won in early July on the DP World Tour but missed the cuts in Scotland and the Open.)
When Donald makes his picks, I think he'll need to be really wowed by one of these guys to take a big risk, and they haven't done it. But there's so much left to play for, and a lot can happen in the next month.
Missed their chance: Guido Migliozzi, Nicolai Hojgaard, Adrian Otaegui, Matt Wallace
In theory, it would be nice to have an Italian on the Ryder Cup team the first time it goes to Italy, but Migliuzzi just hasn't risen to that level. Picking a rookie for his nationality is a luxury Europe just can't afford this year.
Hojgaard and Otaegui just don't have the results, and Wallace is off the list after a rough year, though I can guarantee that's just a little bit heartbreaking to European brass, who loved him at the Hero Cup and could use his fire in Rome.
Definitely in: McIlory, Rahm, Hatton, Fleetwood, Hovland, Lowry, Fitzpatrick, MacIntyre.
Last four in: Straka, Meronk, Noren, Rose.
First four out: Perez, Power, Paul, Hojgaard.
Off the list: Migliozzi, Hojgaard, Otaegui, Wallace.