Locks?
U.S. Ryder Cup assistant Fred Couples appears to confirm three bubble boys who are making the American team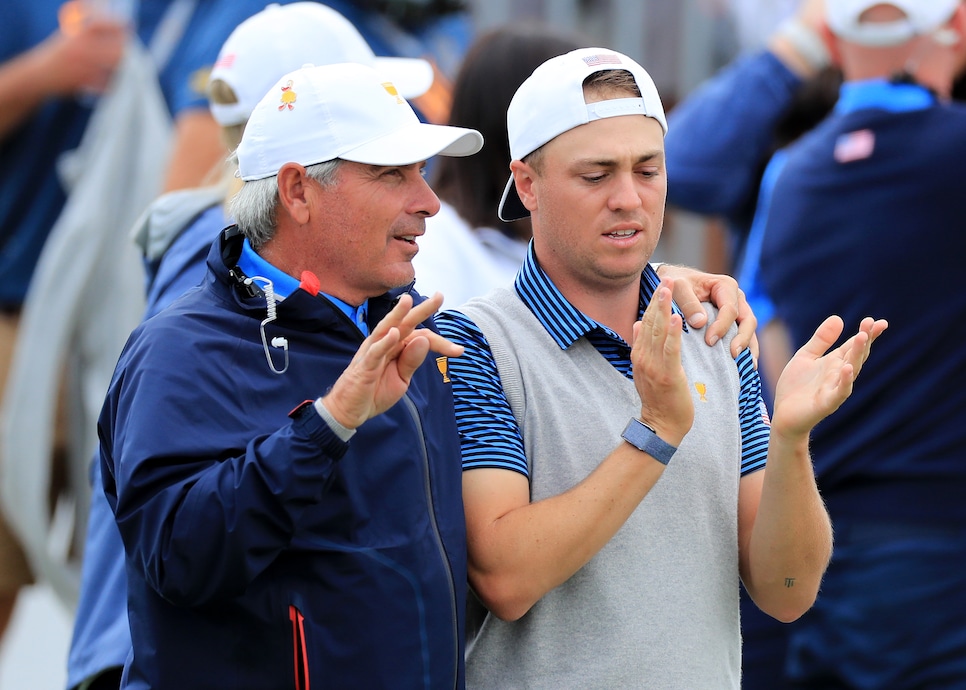 There are still two months until the Ryder Cup in Rome, but with the men's major season over and the rosters for both Team USA and Team Europe set to be finalized in the next month, the intensity of the back-and-forth debates and heated controversies over who should fill out the rosters is on the rise. For the Americans, the central questions surround where do the LIV golfers shake out? And what does this nine-second exchange between Brian Harman and captain Zach Johnson mean? And should Justin Thomas even renew his passport?
Fred Couples seemingly doesn't care for the hoopla—or the secrecy surrounding it for that matter. Not when you consider he appeared to have just announced the U.S. team's plans regarding some of the on-the-bubble boys on his aptly named "The Fred Couples Show" on Sirius XM radio earlier this week.
It's not as if Couples is only loosely connected to the team and thus his guessing is more hearsay than reality. The man is a Team USA assistant captain. Seems like the definition of an insider, no? So hearing the following comments naturally gets your attention.
"Max Homa's going to be in Italy, without getting anyone in trouble," Couples noted during the program. "Cam Young will be in Italy. Jordan Spieth will be in Italy."
So matter-of-factly. Does showmanship mean nothing anymore?
When pushed by co-host George Downing if Keegan Bradley will make the Ryder Cup cut, that's where Couples had to slow down. "I'm stopping," he said at this point.
Listen to our Ryder Cup Radicals podcast below!
As of today, the top six Americans on the points list who would automatically qualify for Rome are Scottie Scheffler (who the PGA of America announced Wednesday is a mathematical lock to make the top six), Wyndham Clark, Brian Harman, Brooks Koepka, Xander Schauffele and Patrick Cantlay. Homa, Young and Spieth are seven through nine in the standings, so these aren't the most daring of choices, but it's still shocking to announce locks this early. Harman recently jumped up 17 spots with his Open victory.
If this lineup stands, that would leave three spots open for the likes of Thomas, Bradley, Tony Finau, Collin Morikawa, Rickie Fowler and Sam Burns. JT struggled with his game of late, missing the cut at three of four majors and posting scores in the 80s at both Los Angeles Country Club and Royal Liverpool. He's looking for some late-season magic at this week's 3M Open to return to form.
"I'm glad he's playing this week," Couples said. "The whole world knows that JT's gotta go to, is it Minnesota, and then Greensboro? He's gotta go to those places and play well."