Ryder Cup
Ryder Cup 2023: Matt Fitzpatrick has yet to win a point for Europe, and you can bet that's huge motivation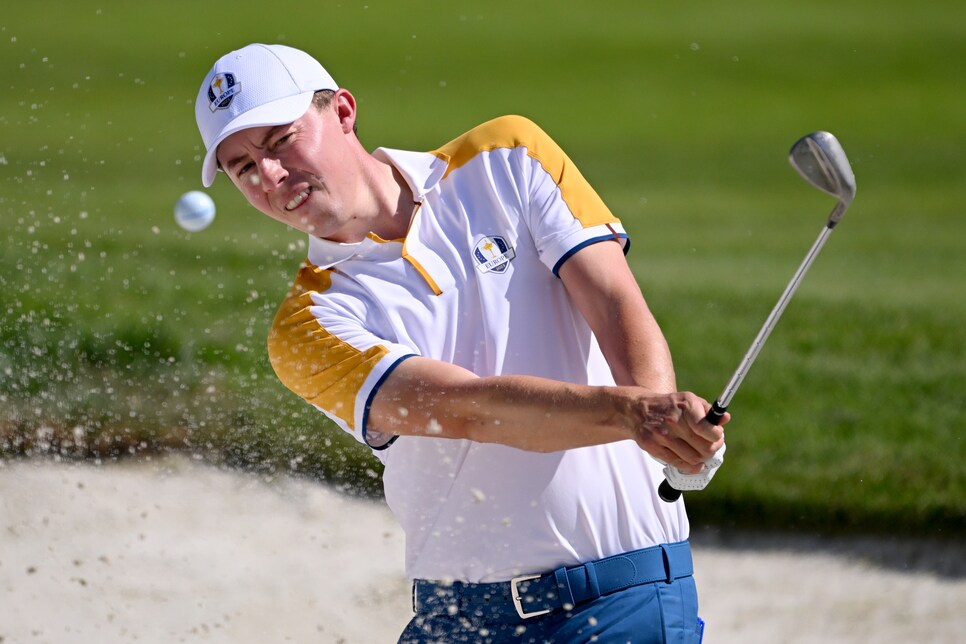 Matt Fitzpatrick plays a shot from a bunker during a practice round prior to the 2023 Ryder Cup.
Ross Kinnaird
ROME — Motivation of all shapes and sizes is never difficult to find at a Ryder Cup. There may be only two teams involved in the biennial encounter between Old World and New, but within that there are 24 agendas. While there is much talk on either side about how much individual records are insignificant—"I'd happily not win a point if that means we win the Cup" is a typical refrain—don't believe a word of it.
Every player is motivated to win as many games as possible. For the team, yes. But also for themselves. The inherent selfishness and ego-massaging that is part of every elite golfer's make-up does not magically disappear for a week every two years, then reappear a week later.
Still, beyond that inherent truth, every player is different in the sense that they all have something within their souls driving them on in what is a special event for all concerned. This week surely no one has more incentive to perform close to his best than Matt Fitzpatrick. In what will be his third Ryder Cup, the search continues for the former U.S. Amateur and U.S. Open champion's first point.
In 2016 at Hazeltine National, a fresh-faced Fitzpatrick played twice in Europe's losing cause. First, the now 29-year-old Englishman went down 3 and 2 to Brandt Snedeker and Brooks Koepka in the company of Henrik Stenson. The singles didn't go any better, Fitzpatrick losing 4 and 3 to Dustin Johnson.
"Looking back, you could argue that I probably wasn't necessarily ready for 2016," Fitzpatrick said. "I was still really young. I wasn't obviously the longest back then. I was pretty short. There's quite a lot of technical difference in my swing between now and then as well. As an experience, I only played one foursomes, and obviously the singles, so that was disappointing. You build it up to be this amazing thing that you wanted to be part of, thinking that you'll get a real good go at it. But I never did, really. Which is obviously disappointing.
"At the same time, the course set-up that week was just not in my favor at all," he continued. "It was just an experience that wasn't necessarily as good as you would have dreamt it to be. But it's what you learn from."
Five years later, Fitzpatrick was back, at Whistling Straits. Clearly a better player than first time round, he still lost all of the three games in which he was involved. Alongside Lee Westwood, he lost twice in the foursomes, before going down on the 18th green to Daniel Berger in what was the last of the singles matches on the course. Long after the destination of the trophy had been decided, it was a bizarre experience for both players.
"The overall match was one-sided," Fitzpatrick said. "It was great, though, because [caddie] Billy [Foster] and Daniel Berger's caddie at the time just took every flag. I'm sure they need up with the most mementos because nobody really cared. I was talking to Daniel as we were going around, and we were kind of saying, 'It's pretty dead.' The match didn't really have any significance by the time we got to maybe the 10th or 12th hole. It was a little bit odd."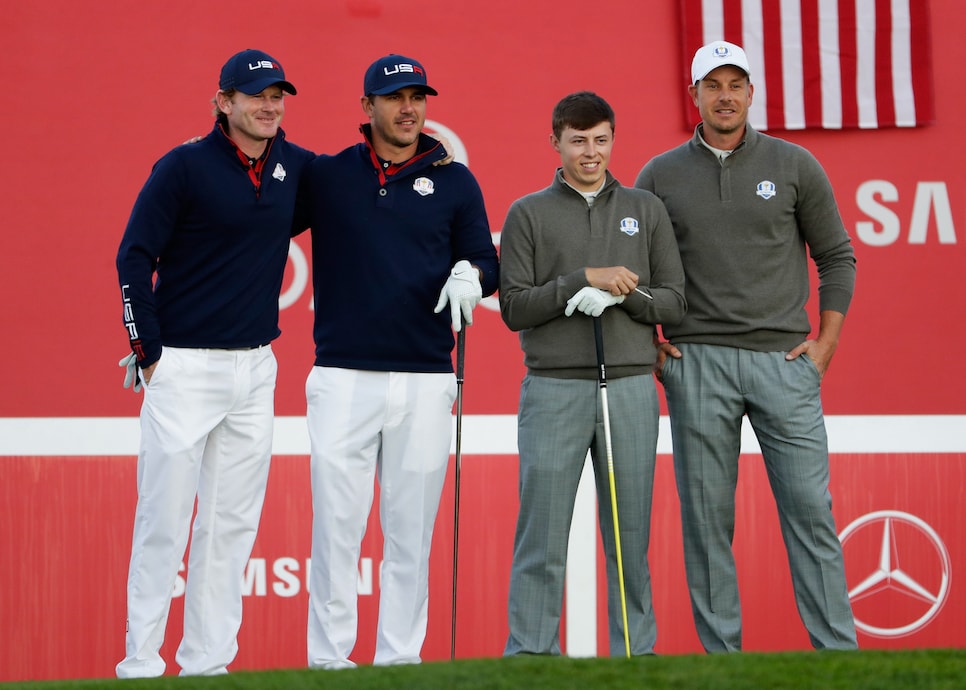 Matt Fitzpatrick stands with teammate Henrik Stenson as they prepare to play a foursomes match against Brandt Snedeker and Brooks Koepka in the 2016 Ryder Cup.
Jamie Squire
Odd and frustrating. Fitzpatrick is from Yorkshire, a county not renowned for the raising of shrinking violets. And the World No. 8 is typical of the breed. He may still look young and innocent as he approaches his 30th birthday, but Fitzpatrick is as tough as the steel they make in his hometown of Sheffield. And he's pissed off. That Ryder Cup record rankles, although to see just how much you have to read between the lines a little this week. Like his teammates, Fitzpatrick is singing along from the "we are team" hymn sheet.
"I want to win a point, of course," he said. "But I really would rather be on a winning team. There's no doubt about that. I think that is what's been so great about the last couple of experiences. Obviously, we've not been on the right end of the result. But just being part of the European team and being amongst the guys that I play with week in, week out makes the Ryder Cup so special for me."
Yes, yes. But here's the tipoff as to the level of desire Fitzpatrick is feeling. In neither of his two previous Ryder Cups did he play a four-ball match. And that is an itch he clearly wishes to scratch, one he clearly thinks will allow him to show his true worth to the team.
"I'm convinced you need to play a four-ball match, to be able to play your own ball, to experience the pressure of playing the full round," he said. "Not just hitting half the shots. I think that's really important."
Indeed. And so is Fitzpatrick. For Europe to win back the Ryder Cup at the Marco Simone Country Club, the likelihood is that he will have to make a contribution. The smart money says he will. Unlike 2016 and 2021, Fitzpatrick arrived in Italy as a major champion.
"That does a world of good," he said. "I definitely feel much more like I belong. I've had that success at the highest level, so I will always have the feeling I can repeat it. Just having that level of confidence is a big help."
Confidence and motivation. It's a powerful combination.
MORE FROM GOLF DIGEST @ THE RYDER CUP