Analysis
Ryder Cup 2023: Don't be shocked by Europe's rout in foursomes; it's become the home team's huge advantage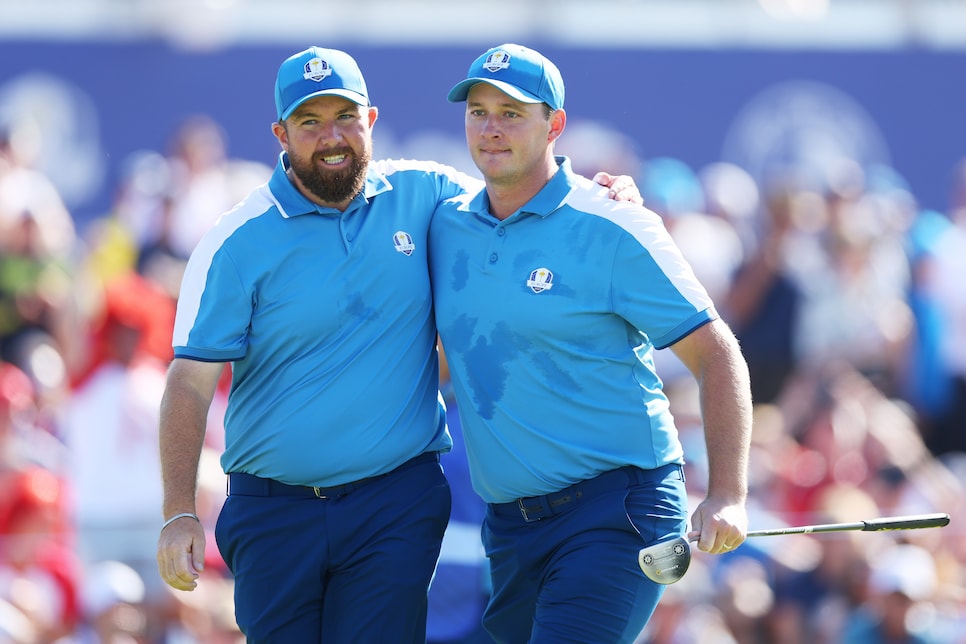 Shane Lowry and Sepp Straka of Team Europe celebrate on the 12th green during the Friday morning foursomes matches.
Andrew Redington
ROME — Depending on your affiliation, you may be ecstatic about Europe's 4-0 thrashing of the U.S. in foursomes on Friday morning in the 44th Ryder Cup, or you may be disheartened. But there's one thing you shouldn't be, and that's surprised. Why? Because while the players and courses change from year to year, the formula we saw play out is very, very familiar.
You may know offhand that the last four Ryder Cups have been blowouts for the home team, but what you may not know is that the engine of those blowouts has been the alternate shot- format. A quick tour of recent foursomes conquests:
2014: Europe wins the foursomes sessions 7-1 and takes the Ryder Cup by five points.
2016: The U.S. wins foursomes 5½-2½ and captures the Ryder Cup by six points.
2018: Europe wins foursomes 6-2 and wins the Ryder Cup by seven points.
2021: The U.S. wins foursomes 6-2 and takes the Ryder Cup by 10 points.
Here's a simpler way to put that, and let's even go all the way back to Medinah in 2012 so we have a full decade of Ryder Cup play: In the last six Ryder Cups, counting this morning's session, the home team is 33½-10½ in foursomes, and 50-46 in all other formats. So, there's been an absolute thumping in foursomes—including just one lost session for the home team in 11 tries—and almost even otherwise.
The funny thing is, even those numbers don't tell the whole story, because they don't show how foursomes sessions were the fulcrum on which all of these matches turned. In Gleneagles, the U.S. won the first session, but Europe reversed the momentum and dealt it a huge blow in the afternoon, and then did the same on Saturday. Paris was almost exactly the same. In the U.S. Ryder Cups at Hazeltine and Whistling Straits, foursomes were first, and the U.S. won 4-0 and 3-1, respectively, to seize control and never let go. Now, Luke Donald has reversed the standard European order because he wanted early momentum, and he's done even better than he could have dreamed, establishing a 4-0 lead that is pretty much insurmountable on the road.
All of this, of course, begs the question of why it's actually happening. Clearly, no side is inherently better at foursomes; it's the home team that's better. One potential explanation is that both teams have embraced analytics, and foursomes is the format in which deep statistical analysis can have the most impact. "But wait," you might be thinking, "can't both sides do that?" Yes, but only one side can influence the course setup to specifically benefit their teams, and they have a lot of time to tweak things exactly to their liking.
But can that explain everything? Anyone who watched the first session at Marco Simone on Friday morning would have been shocked to see how often Europe was chipping in (starting with Viktor Hovland on the first hole), burying putts, and sticking irons, while the U.S. seemed to be in constant trouble off the tee and missing everything longer than three feet on the greens.
It almost became comical; each time the telecast cut to an American shot, it was Max Homa or Patrick Cantlay or Collin Morikawa in some impossible situation near or in a hazard. In total, Europeans won 22 holes, while the U.S. won 10. A less grounded mind might think there's something in the ether making it cosmically impossible for the visiting team to succeed. It's astounding to watch, even though it happens every Ryder Cup. As a viewer, you keep expecting a regression to the mean, and it keeps not happening.
So here we are again. Is this Ryder Cup over? Nothing is impossible, but in this era of the home blowout, the surest way to be competitive is to stave off disaster in foursomes. Instead, the U.S. did what visiting teams have been doing for a decade in this format, which is to step directly into an ambush and offer up almost no defense.
To quote the Talking Heads, "Same As It Ever Was."
MORE FROM GOLF DIGEST @ THE RYDER CUP