Ryder Cup
Ryder Cup 2023: Rory McIlroy says this is week absent LIV golfers will feel consequences of defection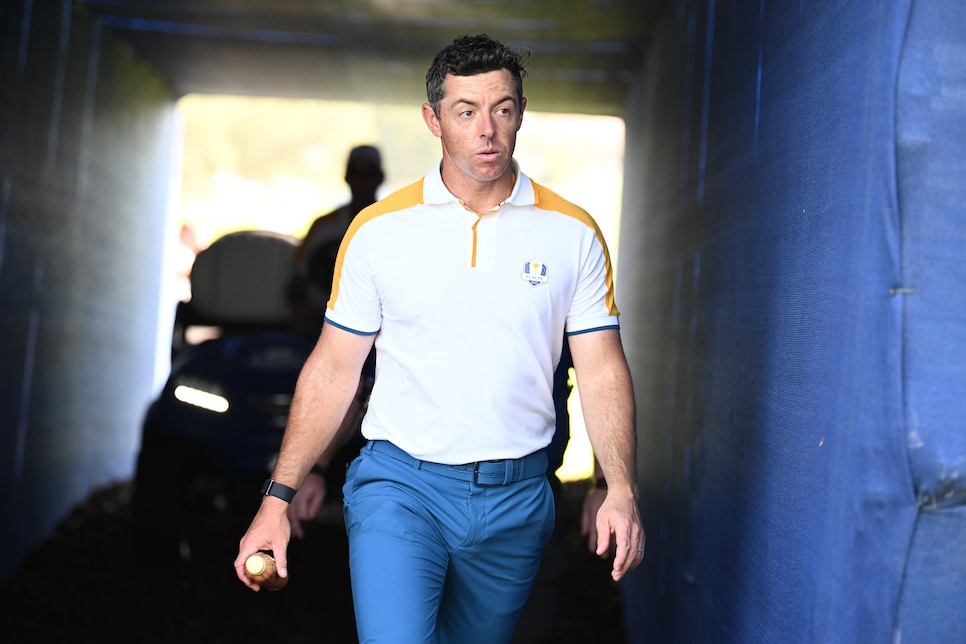 Rory McIlroy walks during a practice session.
Ramsey Cardy
ROME — Rory McIlroy can't seem to escape the topic of LIV Golf. But of all weeks in professional golf, the topic of the rival league was always going to come up at the Ryder Cup, given the impact Ian Poulter and Sergio Garcia had on the European team over the past 20 years before joining LIV last year.
This week's Cup at Marco Simone is the first time since the 1995 edition without Westwood, Poulter, Garcia, Graeme McDowell or Henrik Stenson on the team. Garcia was Europe's all-time leading points scorer (28½) while Stenson was stripped of the European captaincy he was originally assigned for Rome. LIV golfers became ineligible for Europe when they dropped their DP World Tour memberships in the wake of joining the Saudi-backed league and subsequently being sanctioned by their previous home tour, which runs Europe's Ryder Cup squad.
On Wednesday, McIlroy, playing in his seventh Ryder Cup, was asked if he'll miss the trio. The Northern Irishman has been a staunch critic of LIV since its inception last year.
"It's certainly a little strange not having them around," McIlroy said. "But I think this week of all weeks, it's going to hit home with them that they are not here, and I think they are going to miss being here more than we're missing them, so … it's just this week is a realization that the decision that they made has led to not being a part of this week, and that's tough.
"The landscape in golf is ever-changing and more dynamic, and we'll see what happens and whether they will be part of it in the future. I always thought leading up to this week is when it's going to hit home that they are not going to be here."
The void left by seven-time team member Poulter and fellow LIV recruits led to Europe captain Luke Donald introducing four rookies among his six captain's picks: Scotland's Robert MacIntyre, Austria's Sepp Straka, Denmark's Nicolai Højgaard and Sweden's Ludvig Åberg. Shane Lowry and Justin Rose were the other two picks, while the six qualifiers were McIlroy, Matt Fitzpatrick, Tommy Fleetwood, Tyrrell Hatton, Viktor Hovland and Jon Rahm.
"Everyone knows this is a bit of a transitional period for the European team," McIlroy said. "Nicolai, Ludvig, Bob … that's the future of our team and the future of the Ryder Cup."
Rose, a close friend of Poulter's, added in his press conference: "There's a lot of winning culture still in the team, with the people in and around the team, the captain, the vice captains, Thomas [Bjorn], Luke [Donald]. Luke has got an incredible Ryder Cup record. The most winning from a percentage point of view. The winning culture in our team is as strong as ever."
McIlroy holds a 12-12-4 record since debuting at the 2010 Cup. He said the team's camaraderie was bolstered by a reconnaissance trip to Marco Simone earlier this month during the week of the DP World Tour's BMW PGA at Wentworth.
"I thought that was incredibly important," McIlroy said. "Honestly, I couldn't believe that we've never done it before. We got familiar with the golf course and then the time we spent off the course I thought was great. Just sort of sharing stories around the fire pit and describing our journeys in golf and what the Ryder Cup means to us. Getting to know one another a little better, even people that I thought that I knew for a long time, sort of getting to know them a little better, too, was wonderful.
"I think Luke and his vice captains have really sort of tapped into that emotional connection around Team Europe this week, and we have all bought into it. It's been an amazing experience so far, and it's only Wednesday. There's a lot of great things to come. But couldn't be more excited to be a part of the team, and to have those other 11 guys be my teammates."
MORE FROM GOLF DIGEST @ THE RYDER CUP