Farmers Insurance Open
Billy Horschel shoots 63 to lead Farmers after nearly pulling out with injury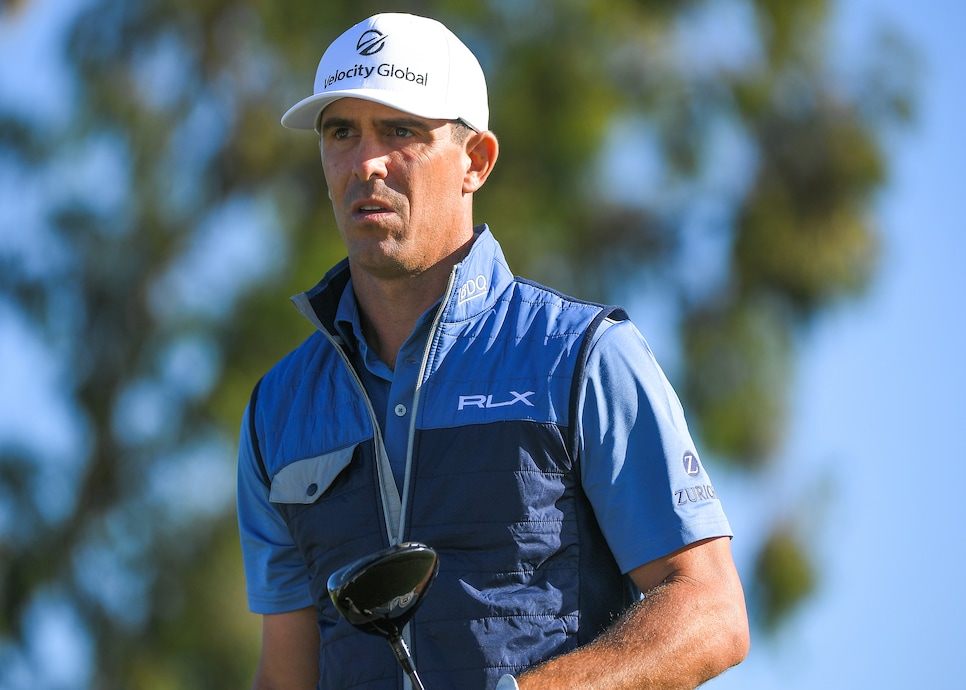 Billy Horschel tees off on 14th hole north during the first round of the Farmers Insurance Open.
Ben Jared
SAN DIEGO — Before he wasn't sure if he'd even be able to start the Farmers Insurance Open on Wednesday because of nagging neck and shoulder pain, Billy Horschel could already say he played a supporting role in the most talked-about injury in the history of the Torrey Pines North Course.
It was seven years ago that Horschel was paired with Tiger Woods in the Farmers. And it was Horschel who good-naturedly began to stoop to pick his opponent's tees off the ground because Tiger's back was seizing up. Woods withdrew after 11 holes, and the circumstance became the stuff of comedic fodder when, in an impromptu parking-lot media scrum, Woods described that his glutes "never stayed activated." The injury was no laughing matter, but Twitter had a field day with butt jokes.
For Horschel's part, he was as disappointed to see Woods leave as anybody in the sizeable throng following them. "It's tough to see a guy I look up to, a guy I consider a friend, to go through being in pain out there," Horschel said after that round.
To be sure, there was not any of the public brooding over the tough decision Horschel had to make for the first round of this year's Farmers. Nobody knew about it outside of Horschel's team.
He said he developed a pain in his neck and trapezoid during a bad night's sleep at the Sony Open in Hawaii, and the pain stuck with him over the next 10 days. It got considerably worse after he arrived at Torrey for practice, and after playing only two practice holes on Tuesday, Horschel said he wasn't sure if he could tee it up when he arrived at the course on Wednesday for the start that was a day earlier than normal. It was a last-hour decision.
"I didn't know if I'd be able to play 18 holes or two," he said.
As we have learned over and over, beware of the injured golfer who is freewheeling it with no expectations. Horschel, 35, was that guy in the first round on the North Course, fully in control in every facet while making nine birdies to shoot a bogey-free 63 and take a one-shot lead over Michael Thompson, who also played the North. (Jon Rahm, champion of the 2021 U.S. Open on Torrey South, had the day's best score on the tougher course with a 66.)
"I told my caddie, Fooch [Mark Fulcher], I said let's just go out there, no expectations and just enjoy, and I think we did a really good job of that," Horschel said.
Horschel said he and physio Brian Smith tried everything, including acupuncture, to get his neck and shoulder better over the last week. Though he said he's not one to take a lot of medication, he gave in to taking some ibuprofen.
"Took that late [Tuesday] morning and it made a world of difference last night," Horschel said. "Still a little worried when I woke up this morning and it felt pretty good. Thankfully, all the work we've done and everything I felt, it never got any tighter. It actually felt like it's a little bit looser right now. Hopefully, we got through the tough of it and now we're on the downhill side, and I don't have to worry about it anymore."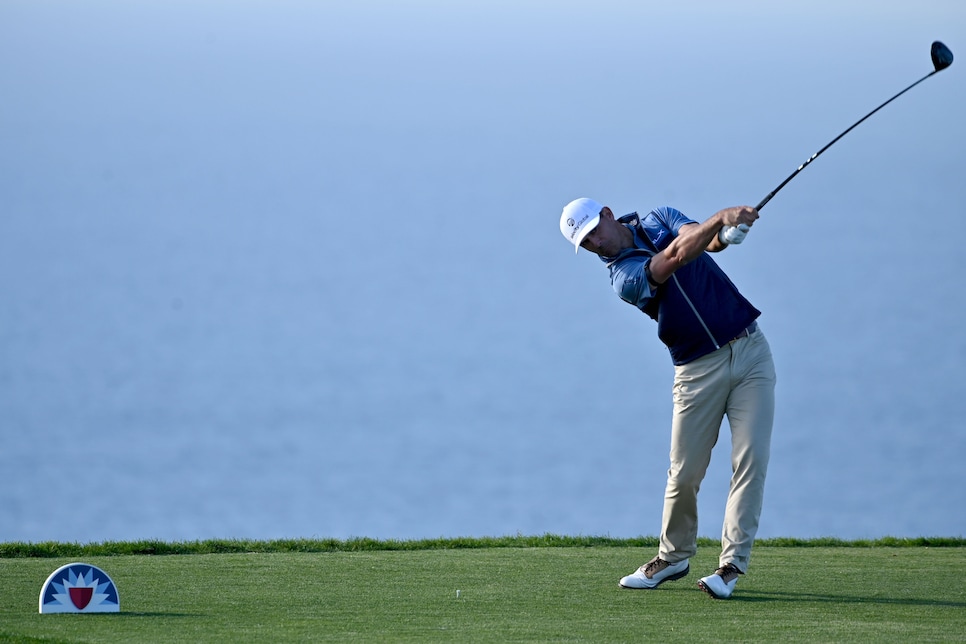 Billy Horschel hits his tee shot on the 17th hole during the first round of the Farmers Insurance Open.
Donald Miralle
Now all Horschel has to worry about is his second-round matchup with the South Course, which played more than three and a half strokes harder than the North in the first round (72.78 to 69.10).
"It's very similar to the North Course, except on steroids," said Horschel, whose previous best score in 11 Farmers starts on the North was a pair of 66s, while his top effort on the South is a 68 in the first round in 2019. His tie for eighth that year was his best finish in the event.
Horschel did have a wild weekend at Torrey Pines two years ago. He stumbled to an 80 on Saturday and then bounced back with a 69 on Sunday. What does that say about the nature of the South?
"It says I hit the ball like crap [on that Saturday]," Horschel said. "Other than that, I think it's the highest I ever shot on that South Course. I usually play it pretty well. I love the South Course; it's one of my favorite courses on tour. But, unfortunately, when you're not hitting it very good and you're not making any putts, we can look like the average golfer, which is what I think all the average golfers like to see once in a while."
Beyond the neck issue, Horschel entered this season feeling confident. He won the 2021 WGC-Dell Technologies Match Play last March for his sixth tour victory, tied for second in the WGC-Workday and finished T-9 in the Tour Championship. In the offseason, he's worked to improve last year's mediocre iron play that put him at 146th on tour in strokes gained/approach.
"My game's in a really good spot," he said. "[Coach] Todd Anderson and I, even with some injuries last week, did some really good work at home. On the swing, has it fully taken hold? No, but I felt really good with what we're trying to do and our process, so I was more into that, not really too worried about the outcome or the score."
And that's how you shoot 63 without even trying.