News & Tours
Jon Rahm on outburst caught on tape: 'My reaction was pretty self-explanatory'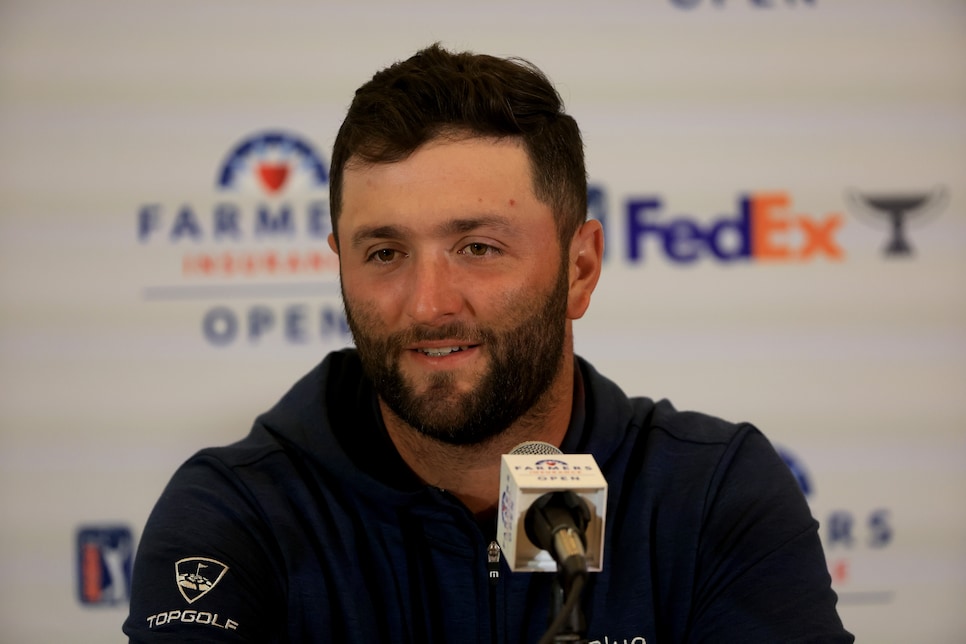 Jon Rahm acknowledged what you heard is what he thought.
During last week's American Express a fan captured video of Rahm ripping the tournament setup. The clip, which went viral, features the World No. 1 walking off a green at the Nicklaus Course at PGA West, muttering a few expletives before decrying the conditions as a "putting contest week." Rahm, who is a previous winner at the La Quinta tour stop, ultimately finished T-14.
Speaking Tuesday at Torrey Pines ahead of this week's Farmers Insurance Open, Rahm was asked about the video and the Spaniard did not shy away from his comments.
"I mean, the video's pretty self-explanatory," Rahm said. "We're the PGA Tour, we're the best golfers on the planet and we're playing a golf course where missing the fairway means absolutely nothing. There were times where missing the fairway by an inch was worse than missing the fairway by 20 yards. That to me is a mistake. I don't know what else to say.
"I also understand we're in the desert, you can't overseed the entire golf course and things like that can't happen, but yeah, we played a lot of golf with zero rough."
Rahm is not alone in this opinion, as some fans have aired their frustrations on social media with the barrage of seemingly easy setups on tour. Asked earlier in the press conference what constitutes an ideal setup in his eyes, Rahm said one that "challenges every aspect of the game."
"I like fairways to be narrow, I like the rough to be up so you can't just miss the fairway and go for the green with whatever you want," Rahm explained. "I would like the greens to be firm. They don't need to be ridiculously firm but firm, and the greens at the right speed. That's tough to say because you have greens here, for example, if you had them rolling 13 it would be unplayable because of how sloped they are.
"But I think a golf course that would challenge us in every aspect of the game and that's where I believe you would find the best player, somebody whose whole game completely is playing good throughout. And if something is missed, you have to make up with really good stuff on the other parts of your game."
Rahm did say if he knew someone was recording he wouldn't have said exactly what he said, yet doubled-down on his belief the setup put a premium on putting and nothing else.
"I can tell you right now with the way I struck the ball last week and the way I putted, if it was in, let's say, major championship conditions, I probably wouldn't have made the cut let alone finished 14th, or I shouldn't have, I believe," Rahm said. "Maybe, maybe not. But I just think it was a bit too easy for the best players in the world. That's just my opinion."
It stands to reason Rahm might find this week's confines more to his liking, as Torrey ranks as one of the hardest venues on the circuit (it's +1.34 scoring average last season was hardest among non-major courses). Moreover, Rahm captured his first tour victory at the 2017 Farmers Insurance Open along with a runner-up in 2020, a T-5 in 2019 and a T-7 last year. There's also the not-so-insignificant reminder that Rahm won last year's U.S. Open, which was conducted at Torrey.
Rahm tees off on the South Course Wednesday at 1:40 p.m. ET with Justin Thomas and Dustin Johnson.