News
The 36 Greatest Caddies of All Time
Behind every successful golfer is a caddie with a steady presence. Here, the 36 greatest of all time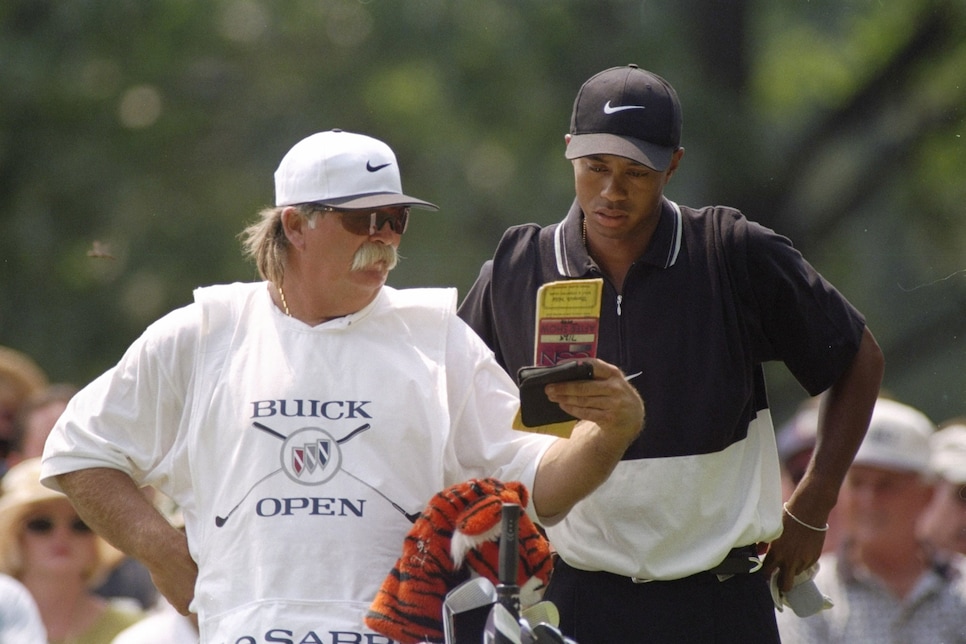 Photo By: Matthew Stockman
Consider a Scottish caddie who went by the name Mad Mac. In the employ of Max Faulkner during the 1951 Open Championship at Royal Portrush, Mad Mac wore a long raincoat with no shirt. Fastened to a lanyard around his neck was a pair of binoculars, which had no lenses. He used them to study putting lines for Faulkner, and at a crucial juncture advised him: "The putt is slightly straight, sir." Fortified by such advice, Faulkner won that Open.
What do we see in Mad Mac, who sadly did not squeeze onto our list of the 36 Greatest Caddies of All Time? Deficiencies to be sure, but also valuable qualities that range beyond merely strapping a bag to his shoulder. Mad Mac was a geographer, unintentional comedian, coach, pack mule and friend. And if his toolbox were a bit deeper and included traits we see in caddies who are on the list, you might find he also was a mathematician, sport psychologist, swing coach, butler, chauffeur and police officer. Caddies might not quite be at center stage in the hit play that is golf, but they do more than whisper lines from the wings. The major-championship and victory totals, longevity and range of players served attest to that.
Maybe the players say it better than we can. Tom Watson, with an assist from writer John Feinstein, set up a foundation in the wake of the passing from ALS of Bruce Edwards, Watson's caddie and longtime friend. Lee Trevino cared financially for his caddie, Herman Mitchell, until his passing. Gary Player bought a house for caddie Eddie McCoy after Player's 1978 Masters win, and Willie Peterson never had trouble soliciting help from Jack Nicklaus, for whom he caddied at the Masters for many years. Pulling clubs is one thing, but to pull such displays of loyalty from the greatest players of all time might be the ultimate measure of worth.
WILLIE (CEMETERY) POTEAT
President Dwight Eisenhower's caddie at Augusta National during his presidency and beyond. The story goes that Poteat was nicknamed Cemetery for surviving having his throat slashed by a jealous rival.
SKIP DANIELS
After the aging caddie toted for Gene Sarazen in the 1932 Open Championship, the Squire wrote: "With Daniels in the Lion's Den," the most beautiful caddie tribute ever written.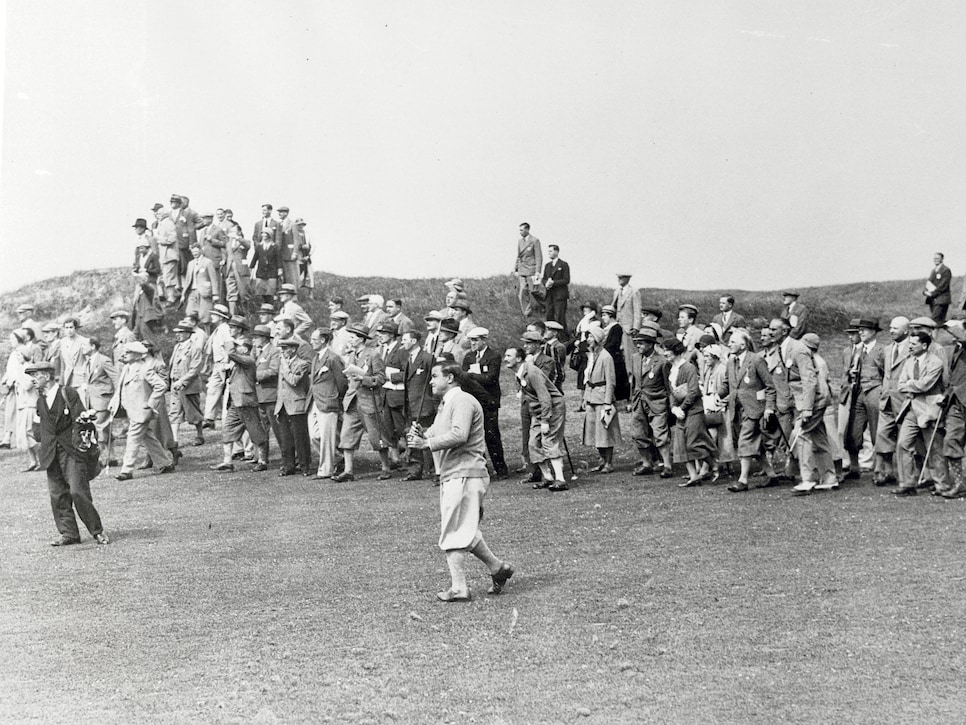 Photo by Bettmann/Corbis/Getty Images
WILLIE LEE (PAPPY) STOKES
Steered four players to five Masters wins. Born in 1920 on the site of the future Augusta National, he helped clear trees to accommodate Alister MacKenzie's brilliant design.
WILLIE PETERSON
Was at Jack Nicklaus' side for five of his six Masters victories. Peterson's leap into the air when Nicklaus holed a 40-footer for birdie on the par-3 16th in 1975 is a Masters highlight staple.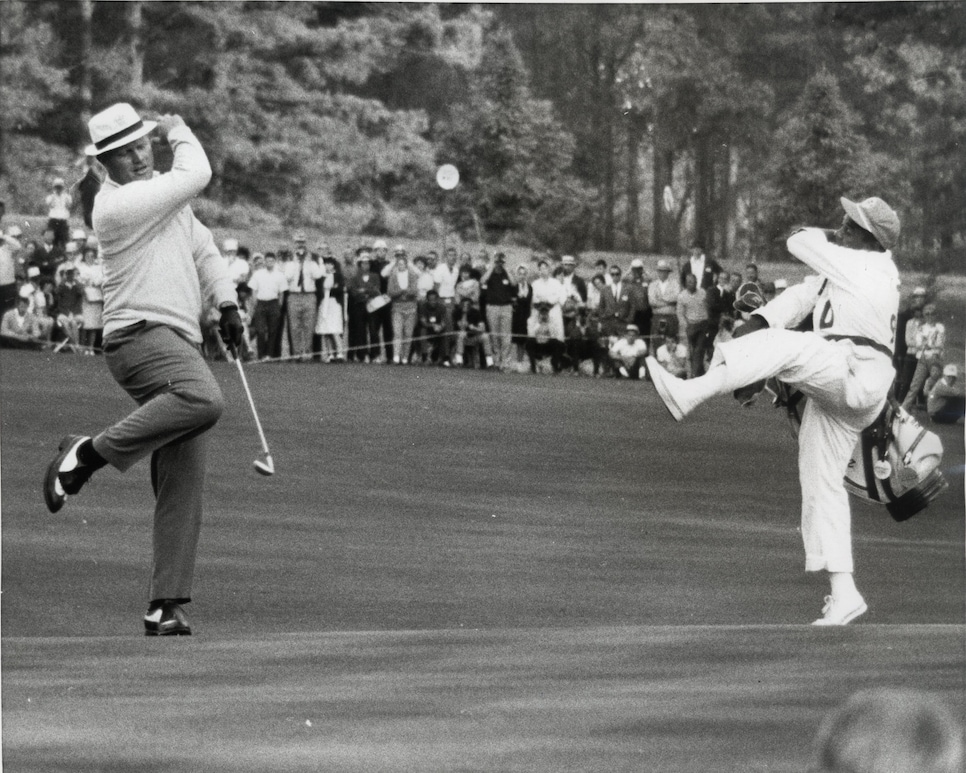 Photo by Augusta National/Getty Images
HERMAN MITCHELL
Lee Trevino's rotund counterpart was with him for 19 years and all six of his majors. His deadpan demeanor made him the perfect foil to the animated Trevino.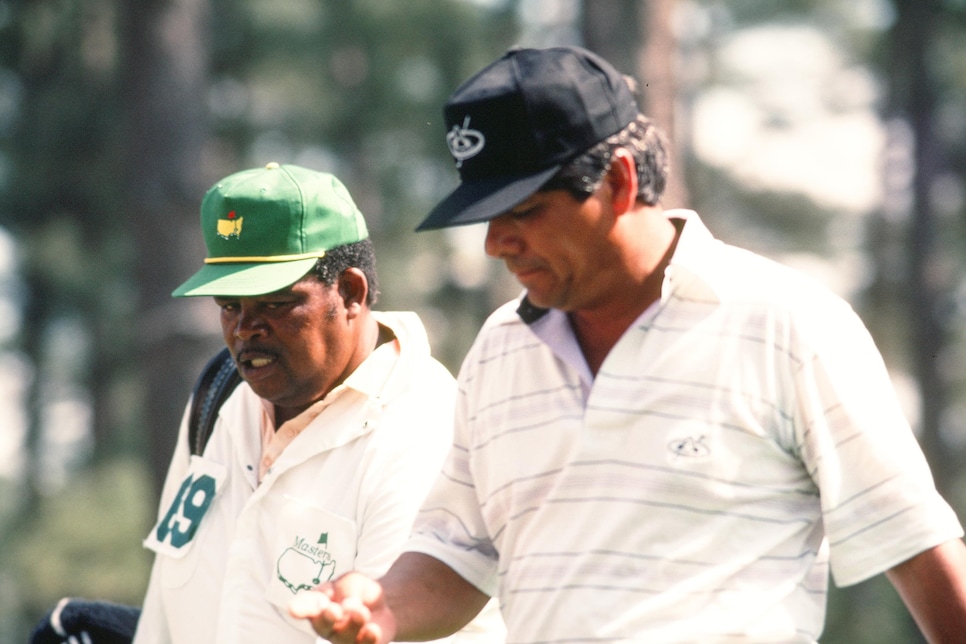 Photo by Augusta National/Getty Images
DAVE MUSGROVE
Highlights of the caddie's 50-year run included Masters and Open Championship wins with Sandy Lyle, one U.S. Open with Lee Janzen and an Open Championship with Seve Ballesteros.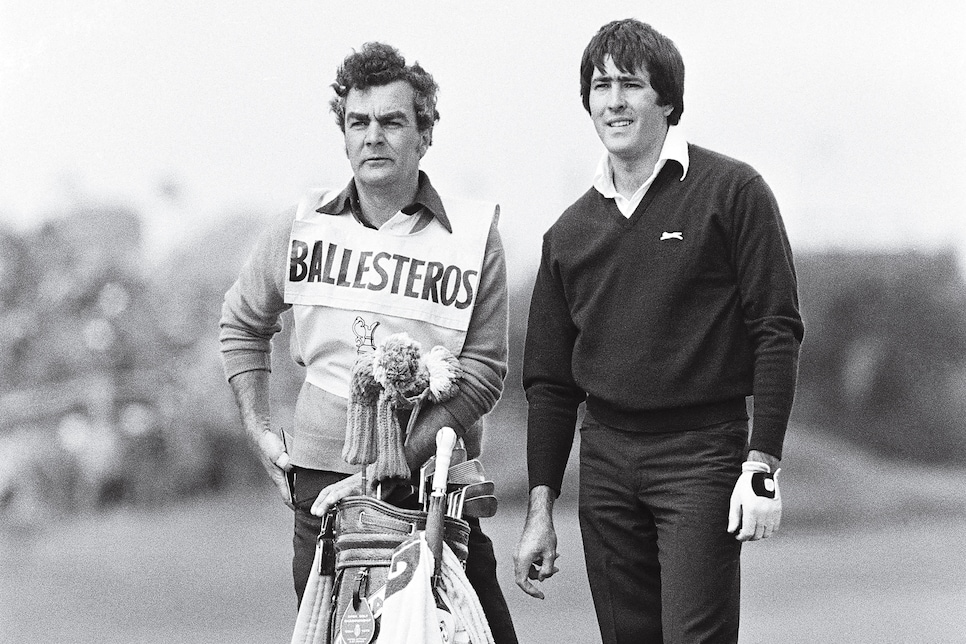 Photo by Peter Dazeley/Getty Images
TONY NAVARRO
A dozen years with Greg Norman, including the Shark's 1993 Open Championship triumph. Others of note: Adam Scott, Ben Crenshaw and Jeff Sluman.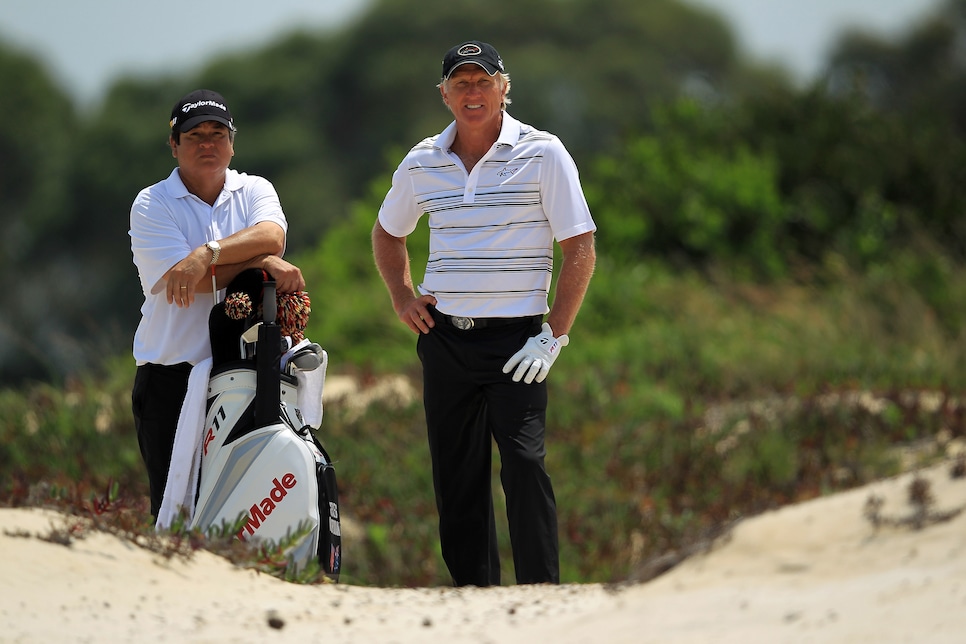 Photo by David Cannon/Getty Images
WILLIE MCRAE
Began looping at Pinehurst on his 10th birthday in 1943. He retired after 74 years this past October, though he still takes special requests. Caddied for Bobby Jones, five U.S. presidents and worked the 1951 Ryder Cup.
JAMES (TIP) ANDERSON
Was Arnold Palmer's man at every Open Championship The King played. When Arnold skipped the 1964 Open, Tip picked up Tony Lema's bag—and shepherded him to victory.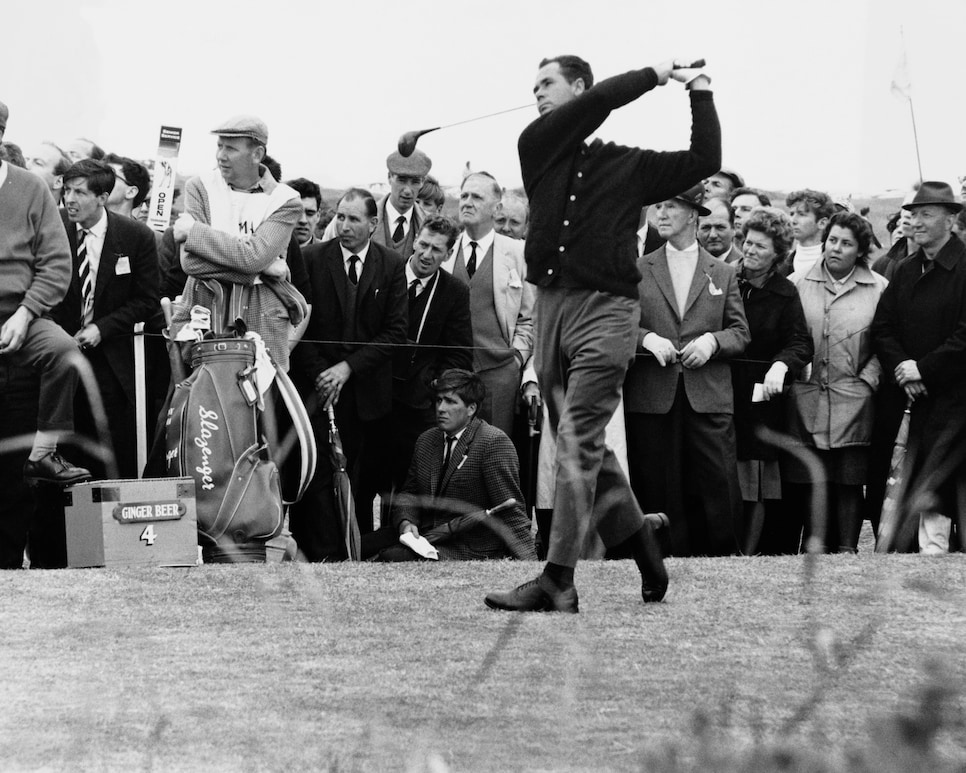 Photo by Hulton-Deutsch Collection/CORBIS/Corbis via Getty Images
MIKE (FLUFF) COWAN
The walrus-mustached, 40-year veteran's first "name" bag was Peter Jacobsen, whom he served for 18 years. After working three years as Tiger Woods' first regular PGA Tour caddie, Cowan moved to Jim Furyk's bag in 1999 and has been there since.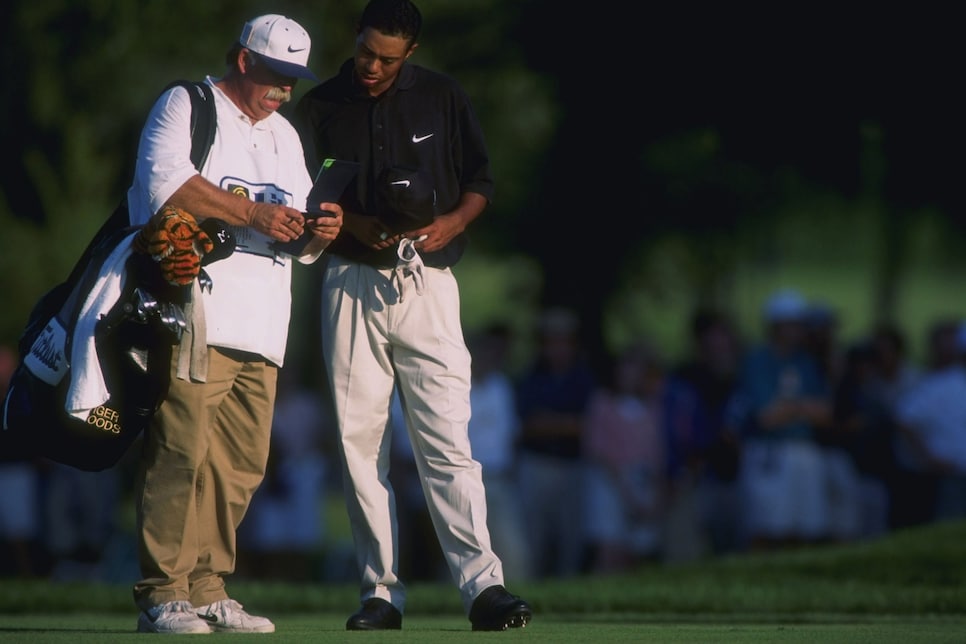 ANDY MARTINEZ
Martinez was at the side of Johnny Miller for 12 of Miller's prime years and was with Tom Lehman for two full decades. All together, Martinez has caddied for eight PGA Tour winners. At 68, he's still going strong.
Photo by Warren Little/Getty Images
BILLY FOSTER
For starters, the seen-it-all bagman spent five years with Seve Ballesteros. Foster then added Lee Westwood, Sergio Garcia, Darren Clarke and, briefly, Tiger Woods to his résumé. Has worked 13 Ryder Cups.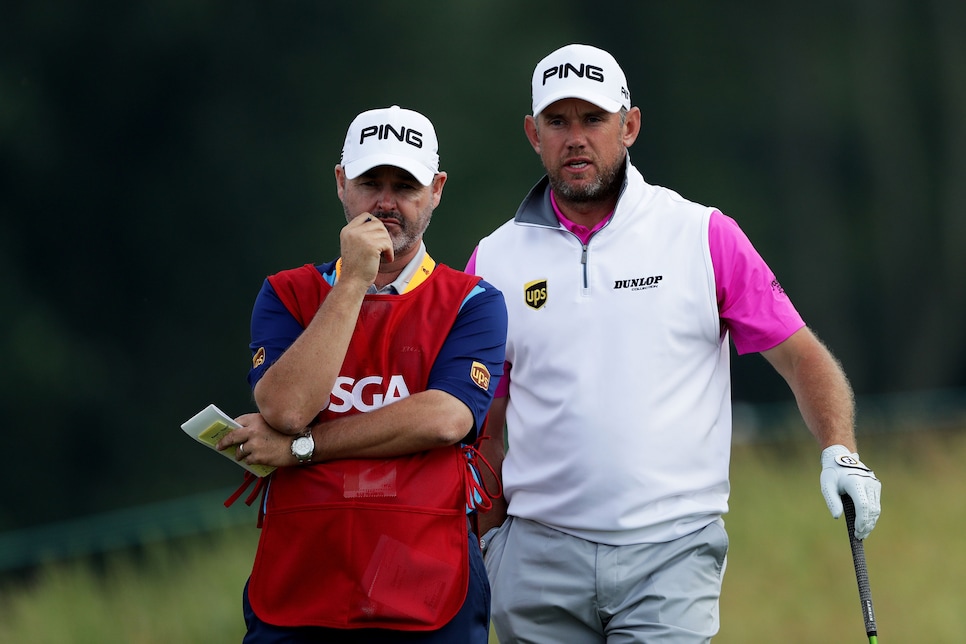 Photo by Sam Greenwood/Getty Images
EDDIE LOWERY
As a waifish 10-year-old, he caddied for Francis Ouimet during Ouimet's titanic upset victory in the 1913 U.S. Open. Later as a wealthy car dealer, he was a benefactor to Ken Venturi, Tony Lema and Harvie Ward.
ERNEST (CREAMY) CAROLAN
A tour caddie for nearly 50 years, he worked for Arnold Palmer during Arnold's most productive years. Other employers included Ben Hogan, Sam Snead, Raymond Floyd and Don January.
ANGELO ARGEA
The concept of caddie-as-quasi-celebrity began with Angelo. His bushy, silver mane, gold neck chain and confident manner looked good alongside Jack Nicklaus.
STEVE WILLIAMS
A no-nonsense caddie known for his expertise and ability to control galleries, he has had success with a succession of great players. His employers include Peter Thomson, Greg Norman, Raymond Floyd and, of course, Tiger Woods, his boss from 1999 to 2011. Several years with Adam Scott followed, an association that ended in 2017.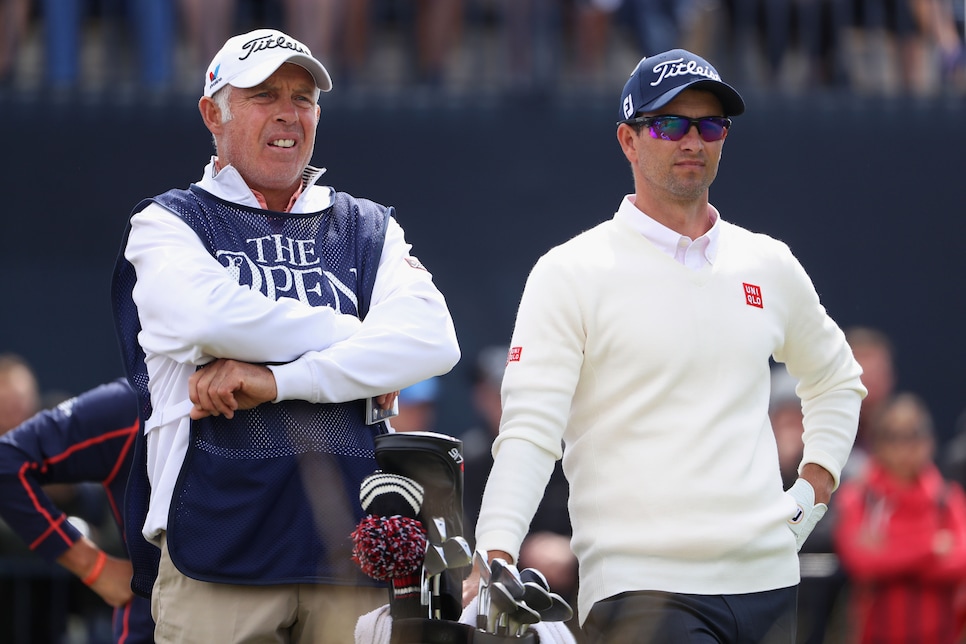 Photo by Christian Petersen/Getty Images
BRUCE EDWARDS
Edwards and Tom Watson were inseparable from 1973-'89. He caddied two years for Greg Norman, then rejoined Watson until passing away in 2004 from ALS. Edwards' courage during his ordeal inspired a nation of golfers and sports fans.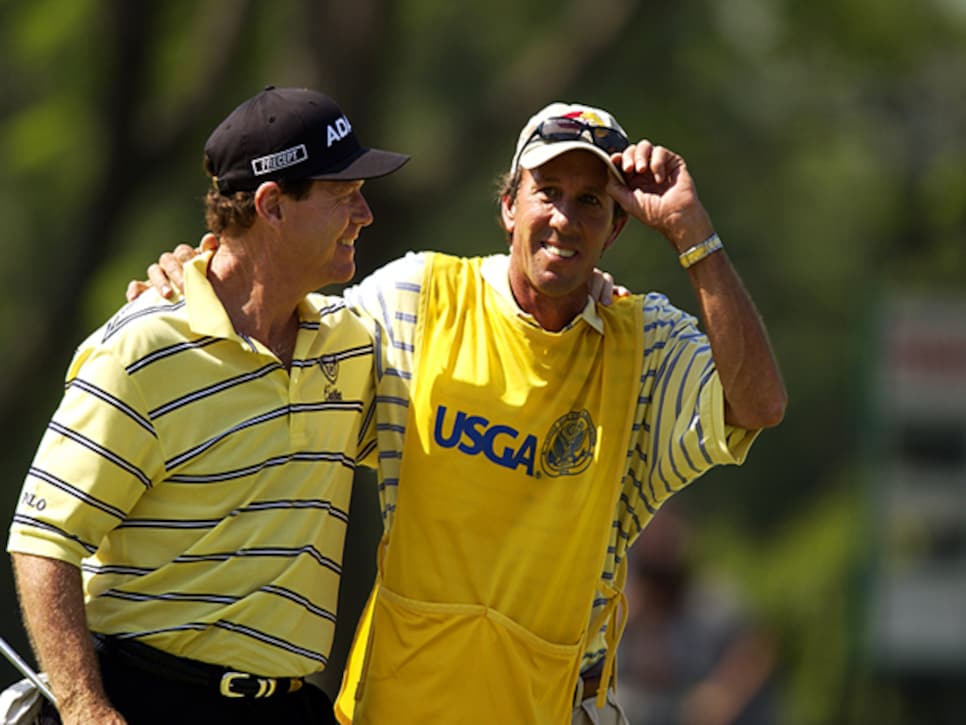 ALFIE FYLES
Was Tom Watson's caddie for all five of Watson's Open Championship triumphs. On the final hole at Turnberry in the famous Duel in the Sun, Watson wanted to hit a 6-iron to the green. Fyles coaxed him into a 7-iron, and Watson, trusting his mate, knifed it two feet from the hole.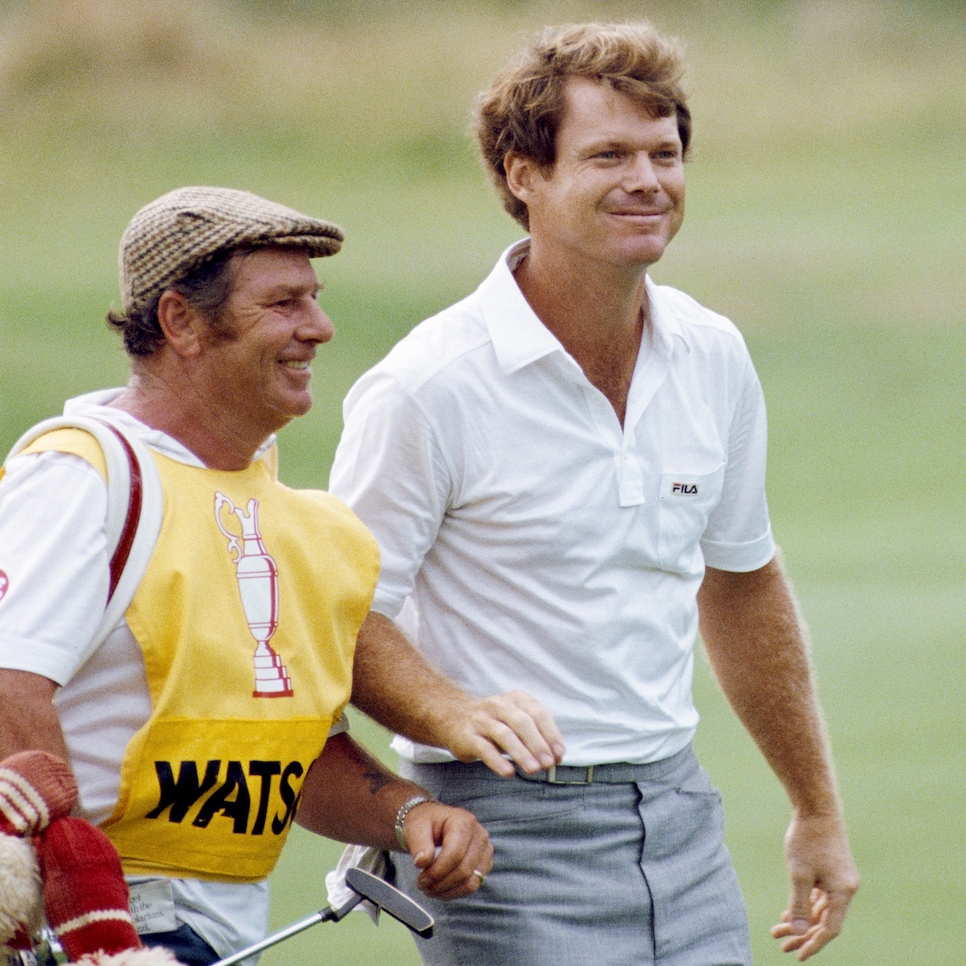 Photo by David Cannon/Getty Images
FANNY SUNESSON
The first great female caddie, she spurred Nick Faldo to four major championships. Smart and authoritative, she had short spells with Fred Funk and Sergio Garcia before concluding her career with Henrik Stenson.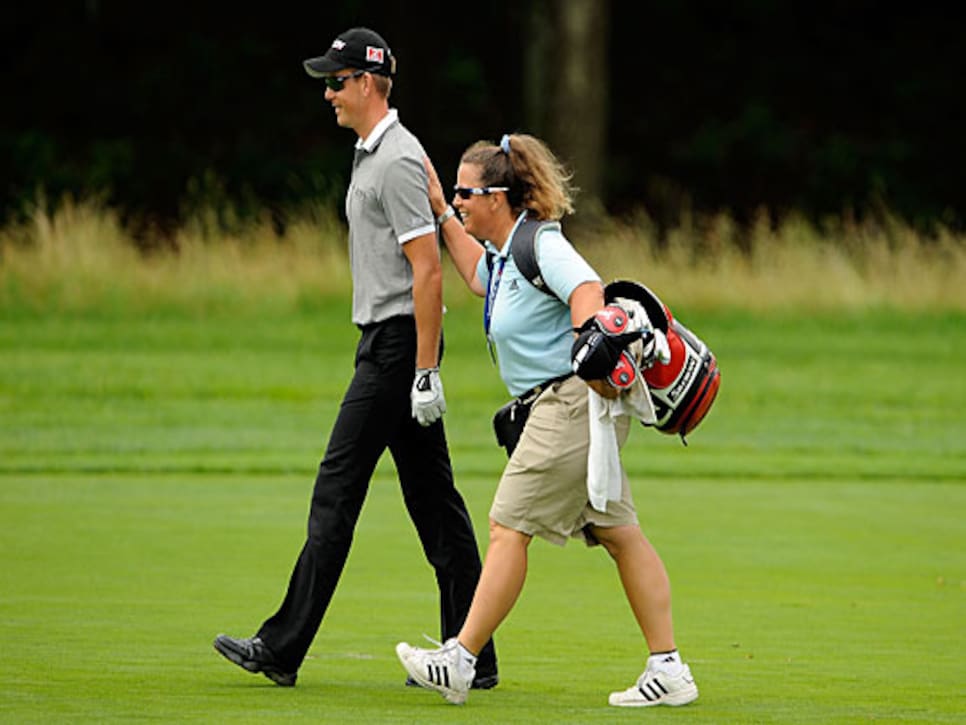 ALFRED (RABBIT) DYER
Dyer was Gary Player's primary caddie for 18 years. But Dyer worked for a fleet of other top players, including Ben Hogan, Tony Lema, Dave Stockton and, occasionally, Arnold Palmer.
CARL JACKSON
Ben Crenshaw's caddie at the Masters from 1976 to 2014. He was sick and unable to caddie for Crenshaw's final Masters in 2015, but he did show up at the conclusion, and the hug he gave Crenshaw made for one of golf's most endearing moments.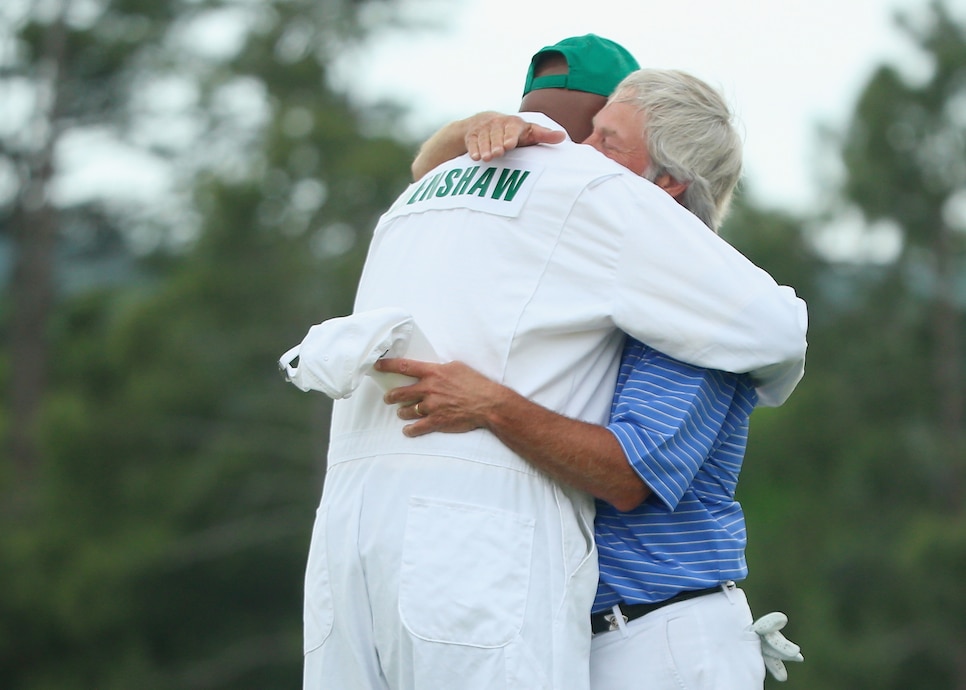 Photo by Andrew Redington /Getty Images
JEFF (SQUEEKY) MEDLEN
The caddie with the cartoon-character voice was with Nick Price for all three of his major titles. When Price couldn't play in the 1991 PGA Championship at Crooked Stick, Medlen picked up alternate John Daly's bag and promptly guided him to an improbable victory.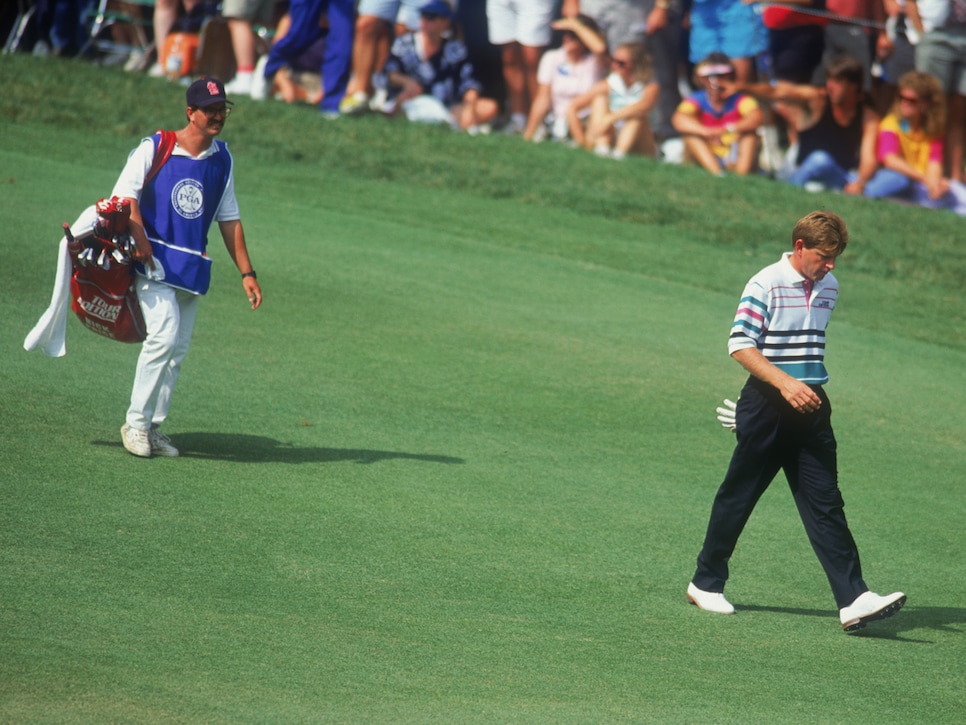 Photo by Stephen Munday/Getty Images
JIM (BONES) MACKAY
His 25 years with Phil Mickelson made for the most famous player-caddie relationship of all time. Their verbal exchanges amplified to the public the finer points of the caddie's contribution.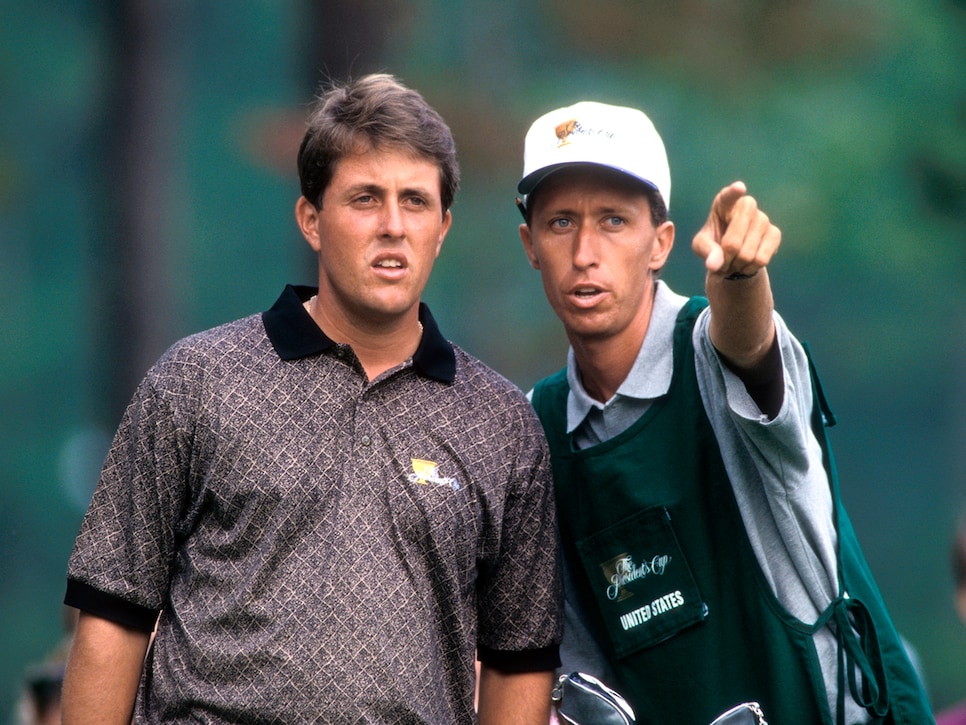 Photo by PGA Tour/PGA/Getty Images
PETE BENDER
Highlights of his 45 years on tour included the 1986 Open Championship with Greg Norman and 1991 Open with Ian Baker-Finch. Bender also worked for Raymond Floyd and Lanny Wadkins and in total won with eight players.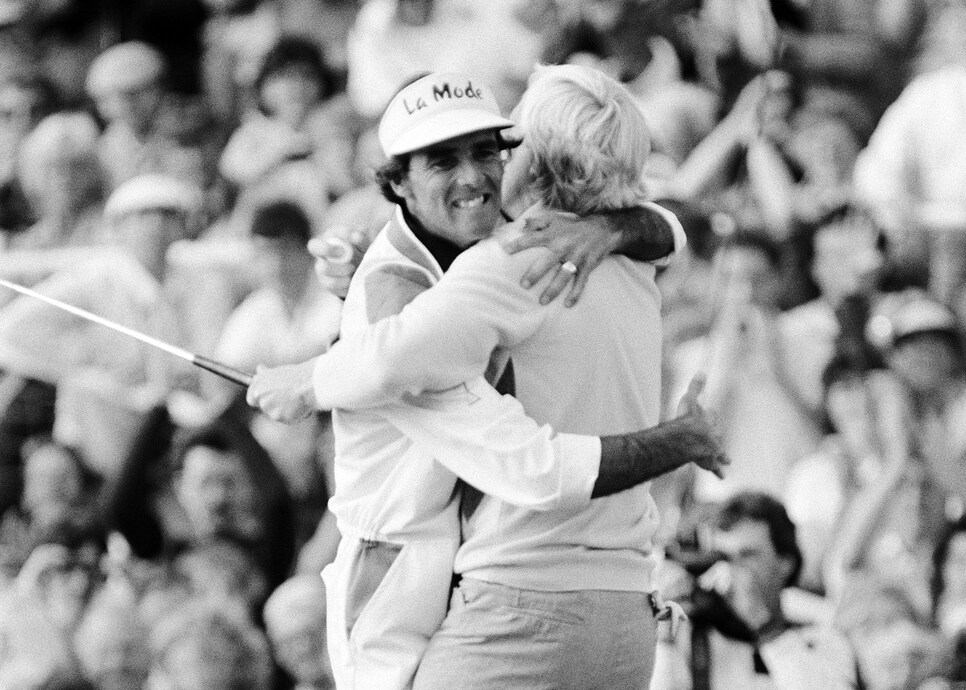 Photo by Peter Dazeley/Getty Images
STEVE HULKA
Since 1972, Hulka has carried bags for more than 150 players. He's still at it and has a side business of getting players' equipment to the next tour stop.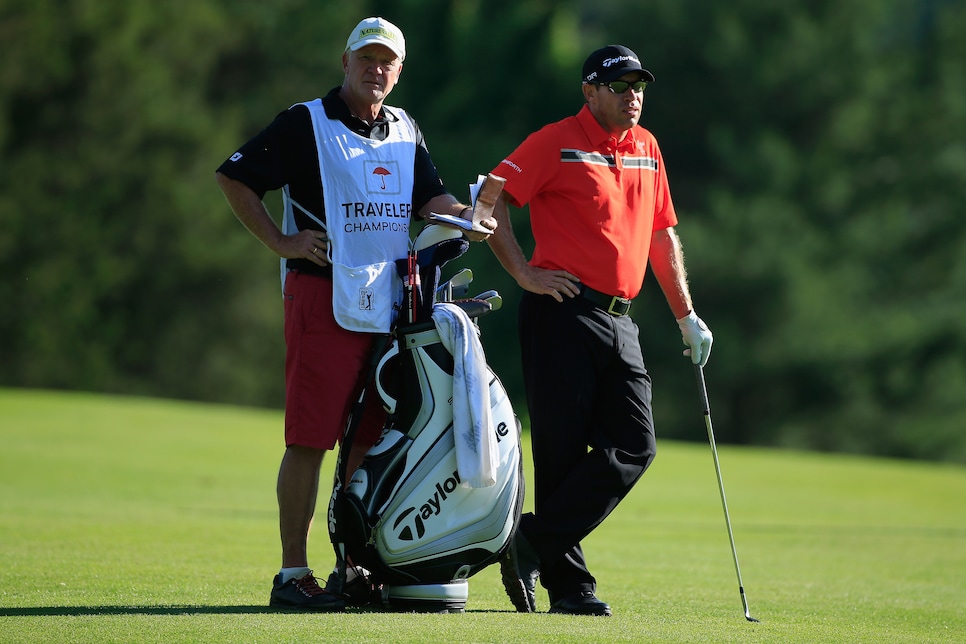 Photo by Michael Cohen/Getty Images
SAM (KILLER) FOY
Had 36 wins in 45 years with three players and was with Hale Irwin for his 1979 U.S. Open victory. Foy's nickname derived from his earlier boxing career, in which he claimed to have knocked out Sugar Ray Robinson when a sparring session turned serious.
FREDDIE BENNETT
Retired as caddiemaster at Augusta National in 2000 after more than 40 years on the job. No one knew the course better. Mentor to hundreds of caddies, his wisdom was saved for posterity in the memorable Freddie & Me book by Tripp Bowden.
PETER COLEMAN
Had 59 victories with nine players, many during 22 years with Bernhard Langer. Coleman also hauled for Seve Ballesteros and, later, Lee Westwood.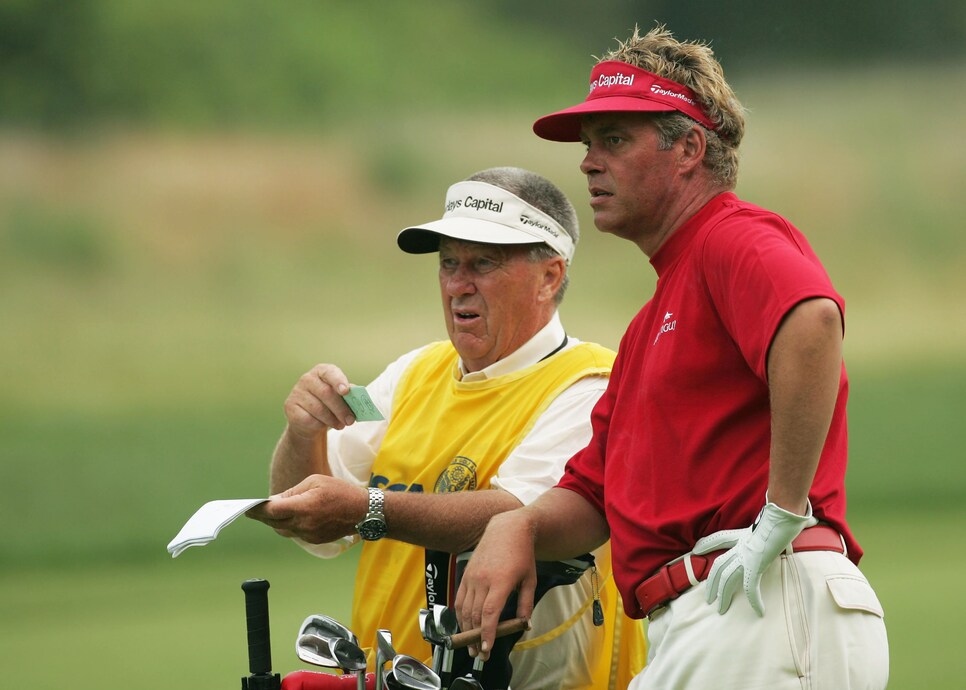 Photo by Stuart Franklin/Getty Images
TERRY MCNAMARA
It helps to be an employee of Annika Sorenstam, one of the greatest players in LPGA history. But when a player wins 48 tournaments in a six-year stretch, as Sorenstam did from 2000-'05, it's fair to say the caddie—in this case, McNamara—had something to do with it.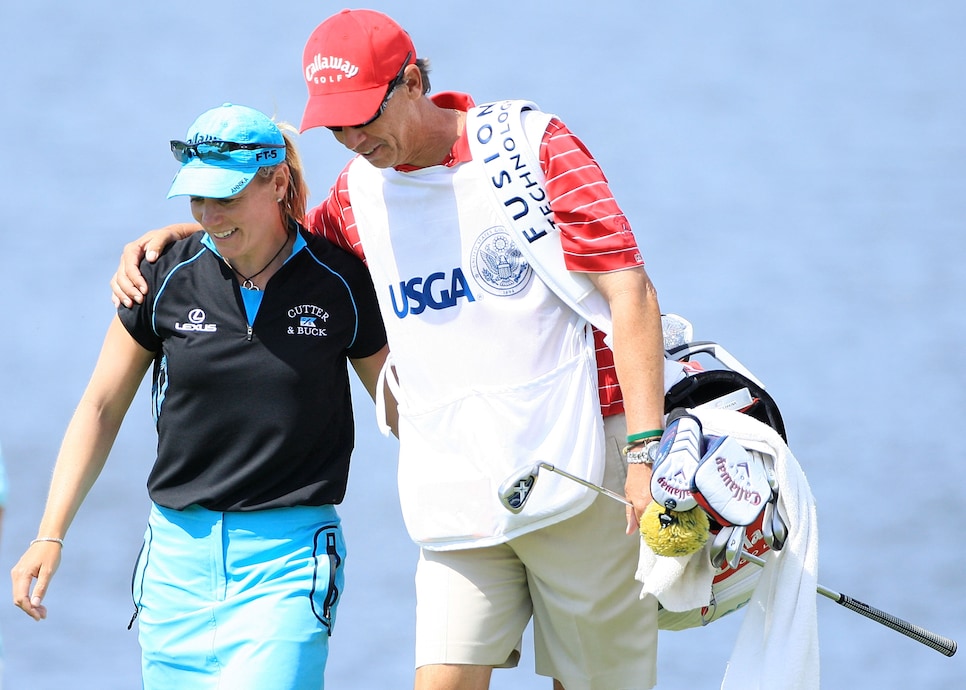 Photo by Travis Lindquist/Getty Images
JOE LACAVA
LaCava spent more than 20 years on Fred Couples' bag, caddied briefly for Dustin Johnson, then in 2011 took up the most prized job of all: working for Tiger Woods. Not much has happened for LaCava lately, but his body of work earns him a plaque in the pantheon.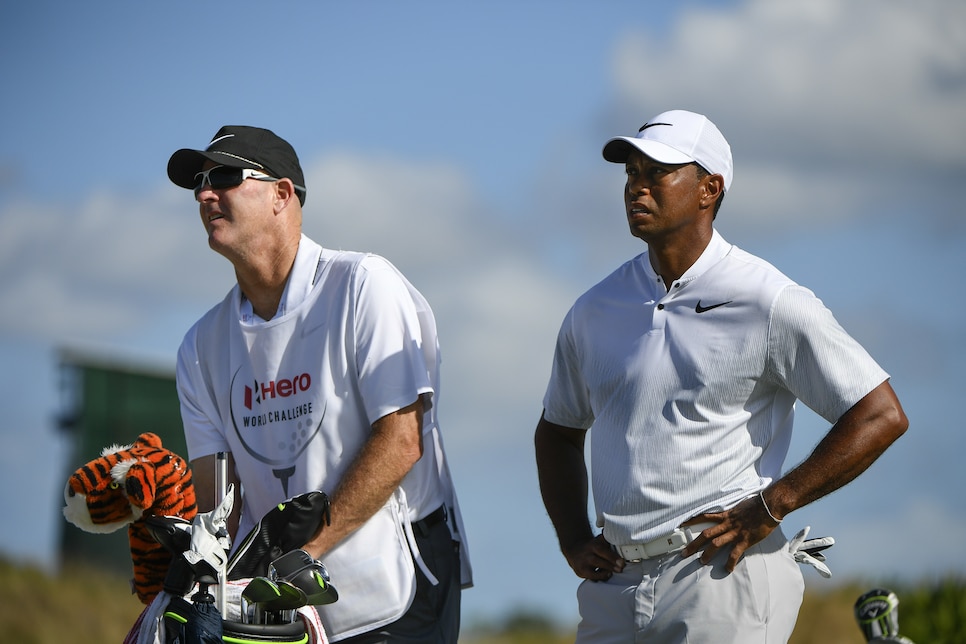 Photo by Ryan Young/PGA TOUR
WILLIE AITCHISON
He caddied Michael Bonallack to victory at the 1961 British Amateur. Aitchison later worked for Sam Snead, Gary Player, Tony Lema, Tom Watson, Lee Trevino and Roberto De Vicenzo. That's some lineup. When De Vicenzo won the 1967 Open Championship, he had Aitchison in tow.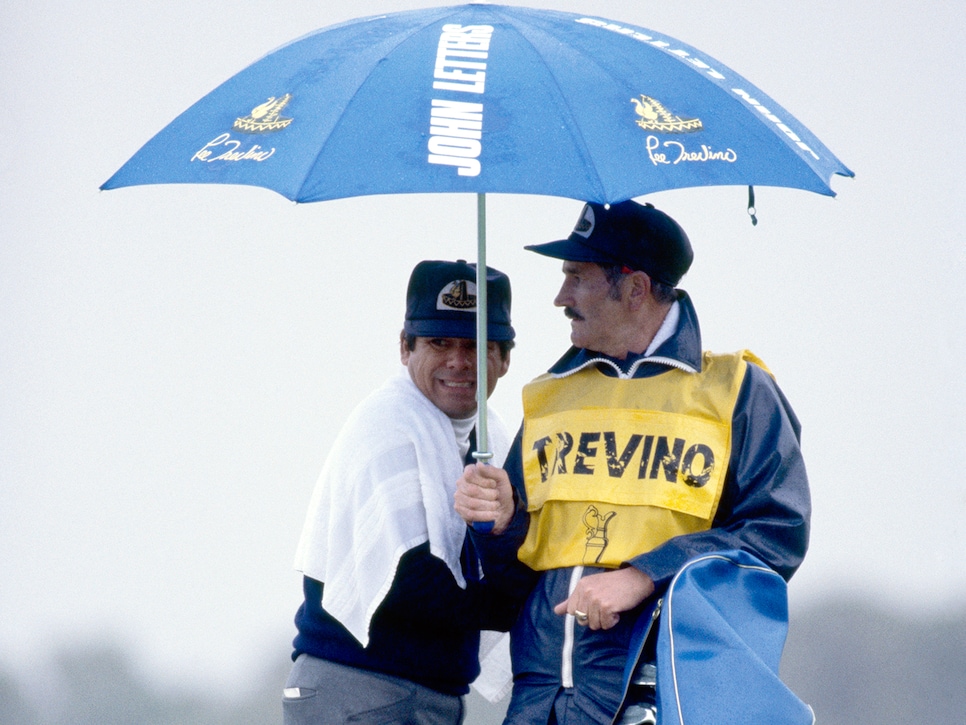 Photo by popperfoto/Getty Images
RICCI ROBERTS
An on-again, off-again 20-year relationship with Ernie Els might have been irregular, but Els brought Roberts back so many times, his value became indisputable. All four of the Big Easy's majors came with Roberts pulling the clubs.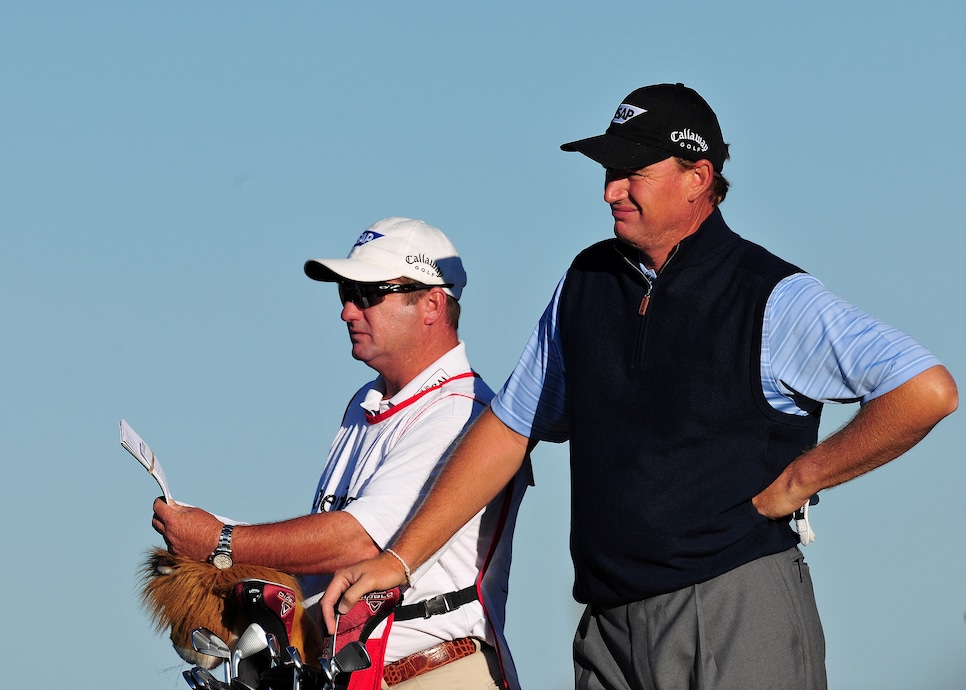 Photo by Stuart Franklin / Getty Images
NATHANIEL (IRON MAN) AVERY
Arnold Palmer's regular caddie at the Masters from his first appearance in 1955 through each of his four victories. Endearing moment: Winnie Palmer once accidentally added a "0" to Iron Man's payment check, making it $14,000 instead of $1,400. Avery complained when he had trouble cashing it.
LINN (THE GROWLER) STRICKLER
His throaty, frank comebacks long a fixture on tour, the Vietnam vet carried for a number of top players, including Curtis Strange, Fred Couples, Craig Stadler, Payne Stewart, Nick Price and Greg Norman.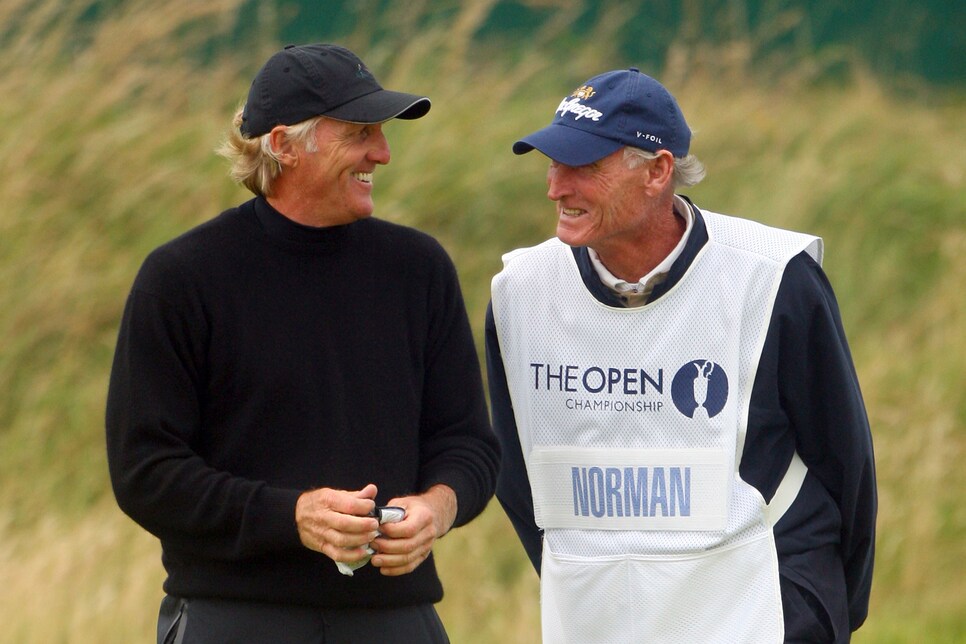 Photo by Andrew Redington /Getty Images
LEE (TWO SHOT) LYNCH
The perpetually grumpy caddie acquired his nickname because, as Al Geiberger said, "Having him on your bag was like being penalized two shots." In truth, he was coveted. Lynch toted for countless players, and, in 1977, he was on the bag for Geiberger's famous round of 59.
DOLPHUS (GOLF BALL) HULL
Raymond Floyd reportedly fired Hull six times, only to watch his wife, Maria Floyd, hire him back each time. Also worked for Jerry Pate, Lee Elder and Calvin Peete.